Would you like to program your subconscious to lose weight? Do you face stubborn inner resistance when trying to melt excess fat? Here are the weight loss affirmations that helped me lose 42+ pounds effortlessly.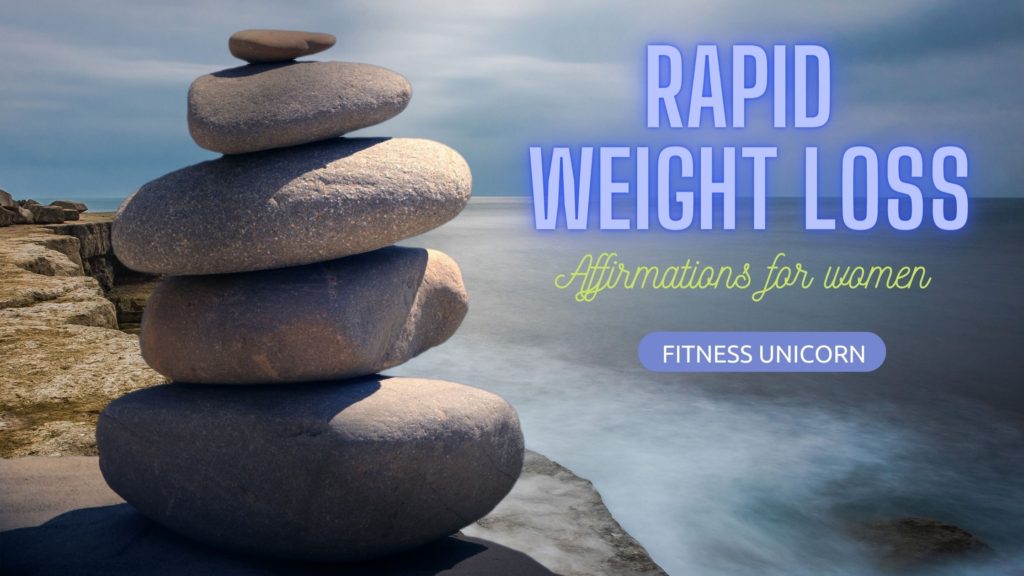 This post may contain affiliate links, which help keep this content free. (Full disclosure)
What are Weight Loss Affirmations
An affirmation is a positive statement in present tense that is repeated intentionally until it becomes a belief. Although they sound quite simple, but these powerful weight loss mantras have a profound role to play in your success.
The beliefs you hold in your mind manifest in the outside world. Successful people, from top salesmen and business experts to bestselling authors and Olympic champions, have known this secret for ages.
Positive affirmations for weight loss, when repeated daily, will transform your mindset and pave your path to the ultimate physique you have always dreamt of.
A simple weight loss affirmation would be: "I am losing weight effortlessly."
(Recommended: How to melt down love handles)
Do Affirmations Really Work?
This is the tricky part which might sound awkward at first, but that is how our subconscious operates:
The affirmations work if you believe them to work!
If you believe that losing weight is hard and grueling, it will be that way for you. If you believe that weight loss is a cakewalk, you'll start finding it to be true…
Positive affirmations for weight loss actually hold the key for unlocking the Law of Attraction and having the universe work in your favor. But you have to TRUST the process and BELIEVE in the infinite powers of your subconscious mind.
Affirmations will dislodge the deep-rooted beliefs that make you think losing weight is the most difficult thing in the world.
I used to jump from one diet to another, one weight loss program to another, and still fail every time due to these stubborn unconscious beliefs sitting in the back of my mind:
"Weight loss is a big struggle. I have to give up everything to lose weight."
"It is very hard to lose weight and slim down."
"Losing weight requires years of dedication and I can never eat good food again."
These thinking patterns held me back for years with little to no decrease on the scale. Daily repetition of weight loss affirmations completely changed my life and boosted my confidence.
"It is super easy to lose weight."
"Losing weight is effortless for me."
"I am following the right strategies. Hence I am bound to succeed."
See the difference?
How to use positive affirmations for weight loss
Whether you have realized it or not, most of us have ingrained limiting beliefs dating back to our childhood.
You might have been told "You can't do anything right!" or "You aren't worthy enough." Or maybe your mind is conditioned by societal thoughts like "Everyone knows that losing weight is very difficult."
These restraining thoughts are the number one reason people fail miserably while trying to lose weight. An average human being gets 60,000 thoughts a day, and most of them come from your past experiences or societal thinking.
In order to neutralize them and shift towards a more optimistic thinking pattern, you need to use daily affirmations for weight loss.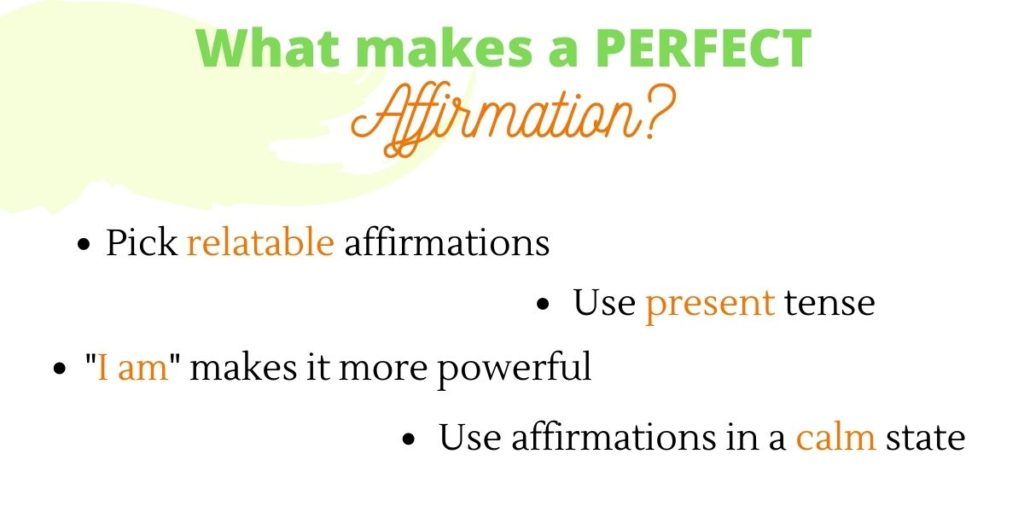 Pick Relatable Weight Loss Affirmations
A perfect affirmation is a statement that feels close to your heart. An affirmation that is "good" for me might not be that effective for you.
For example, I always used to feel that I can't ever survive without junk food. I would feel miserable without having a high-sugar meal in the evening.
"I can't live without junk food." – That was a belief that I needed to change in order to strengthen my will power. So I included this powerful and highly effective affirmation in my daily routine: "I love eating light and healthy foods."
If you are someone who hates even the slightest idea of physical exercise, you may want to affirm- "I really enjoy how I feel after a workout.
Use Present Tense in Affirmations
An ideal weight loss affirmation is one that is based in the present.
For example, If you say "I will lose weight", it will not serve you enough to shift your subconscious TODAY.
But if you affirm something like "I am releasing weight from my body." – It will send a magnetic signal to the universe and your wishes will start manifesting in the present.
Using "I am" is essential
Starting your weight loss affirmations with the words "I am" will super charge the manifestation of your desires. Our spiritual energy pays special attention to the "I am" statements. That is the reason saints and gurus claim – "You become what you believe."
So whether you say "I am a lazy person" or you affirm "I am a fit and healthy individual", you'll reap your results accordingly.
"I am" weight loss affirmations like "I am slimming down day by day" will synchronize your desires with the universe and you'll be amazed to see the results.
Be Calm and Relaxed During Affirmations
Affirmations penetrate our unconscious mind (and into the universe) when more easily when we are in a calm state.
Develop trust and belief into the universe to stay peaceful. Eliminate worry and connect with the higher powers.
Think about it this way – When you place an order in the restaurant, do you go every few seconds to check whether your food is being made? Then why don't you trust the desires that you have sent out into the universe?
Sit back, relax, and give your best efforts to make your dreams come true. A slimmer version of you is being prepared as you recite your daily affirmations.
Another effective way to be calm is to take 10 deep breaths before saying your affirmations.
Weight Loss Affirmations List
Weight loss affirmations include diet affirmations, healthy eating affirmations, affirmations for weight loss and self-esteem, positive affirmation for weight loss and many more!
Positive affirmations for Weight Loss
Weight loss comes naturally to me.
I am thankful that I am slimming down.
I am getting to my ideal physique.
I clearly see myself with my ideal weight.
I can easily change my body.
I am worthy of a slim and attractive body.
I feel so much confident in my skin.
I choose to be slim.
I love the energy rush from morning workouts.
I happily put efforts in my weight loss.
I easily reach my body goals.
I am a success magnet and all my desires come true.
My body is charmingly attractive to the opposite gender.
I surprise everyone with my new physique.
I am thankful to the universe for making me 20 pounds thinner within a short amount of time.
I am thankful to God for giving me my ideal physique which makes heads turn.
I find it very easy to lose weight and maintain it.
I always attract appreciation for my slim and attractive body.
I enjoy an excellent metabolism that burns fat very fast.
I am loved by everyone. I deserve to feel confident about my body.
It feels awesome to workout and I do it every day.
Diet Affirmations
I love to eat healthy and exercise daily.
I eat only when I feel hunger.
I happily follow my diet every day.
I am in control of what I eat.
I am getting slimmer day by day.
I choose to follow my diet every day.
I am patient and consistent in my diet.
I feel satisfied at the end of the day for following my diet.
I am feeling ecstatic as I have lost 10 pounds within 4 weeks.
I eat fruits and vegetables every day.
I drink at least 8 glasses of water every day happily.
I always eat within my macros and gradually I am reaching my dream physique.
I deserve a slim and attractive body and I am manifesting it.
I am becoming a weight loss success inspiration for many people.
Following a diet plan comes naturally to me.
Healthy Eating Affirmations
Healthy foods make me happy.
I eat healthy foods that boost my wellbeing.
I like to eat light and healthy foods.
I love the effects of whole foods in my body.
I have developed healthy eating habits.
I like to eat only nutritious food.
I choose to eat healthily.
I eat foods that make me look good.
I am getting slimmer and healthier every day.
I love nutritious foods because they make me happy and calm.
My body radiates health and wellbeing.
I appreciate my food choices and I enjoy eating whole foods.
Executing Weight Loss Affirmations
Pick 5 affirmations that you can relate to the most, or create your own top 5 weight loss affirmations.
Repeat these affirmations three to five times a day, either mentally or speaking out loudly.
Place these weight loss affirmations on easy-to-see areas such as desktop background, phone home screen, or keep post-it notes in frequent areas like the bathroom mirror, bedroom, or your car.
Doing it just before sleeping and right after waking up, will magnify the effects on your subconscious mind.
Numerous studies have proved that affirmations can MAGICALLY program your subconscious mind to start shedding body fat. However, you do need a good diet and workout regimen to accompany your affirmations practice.