When thinking of Reese's Puffs, I bet your mind wanders to those amazing childhood memories of this morning breakfast!
Yes, we are talking about the super crunchy, sweet cereal made out of corn and dipped in chocolate or peanut butter.
So are Reese's puffs gluten-free?
Generally, Reese's Puffs cereal is gluten-free because it is made of whole grain corn flour rather than wheat flour.
But people with extreme gluten allergies should avoid the product since it may have come into contact with other gluten particles during the manufacturing process (aka cross-contamination).
Keep reading to know whether you should consider them in your gluten-free diet. We'll go through their ingredients to form a detailed opinion, and also look at other gluten-free alternatives for the perfect breakfast!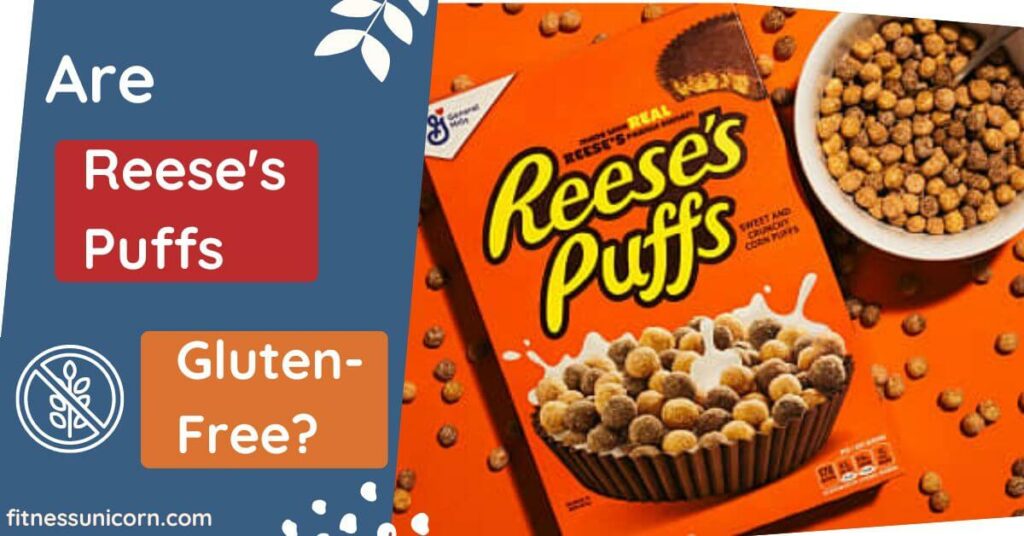 This post may contain affiliate links, which help keep this content free. (Full disclosure)
Reese's Puffs' Ingredients and WHY They Matter
If you have never heard of the name Reese's puff and are confused about this fancy-sounding product, don't worry, I got you. Reese's puff is nothing but a cereal brand that the General Mills company forms.
They are made of corn and are generally coated in chocolate or peanut butter. You can find both flavors in one packet of Reese's puff only.
As we are now familiar with what Reese's puff is, let's have a look at the list of ingredients present in Reese's puff cereal. Please note that mentioned ingredients are listed on the official website of General Mills.
Whole grain corn
Reese's peanut butter (peanuts, sugar, monoglycerides, peanut oil, salt, molasses, corn starch)
dextrose
corn meal
corn syrup
canola oil
Salt
Hershey's cocoa
Caramel color
Trisodium phosphate
Vitamin E (mixed tocopherols)
Vitamins and minerals present in Reese's puff cereal, as mentioned on the official website, are listed below:
Tricalcium Phosphate
Calcium Carbonate
Zinc and Iron (mineral nutrients
Vitamin C (sodium ascorbate)
A B Vitamin (niacinamide)
Vitamin B6 (pyridoxine hydrochloride)
Vitamin B2 (riboflavin)
Vitamin B1 (thiamin mononitrate)
Vitamin A (palmitate)
A B Vitamin (folic acid)
Vitamin B12
Vitamin D3
Nutritional Index:
If you want to learn more about the nutritional index of Reese's puff, here we have mentioned the nutritional value present in one bowl serving:
Dietary Fibre – 1 g
Protein – 2 g
Fat – 3 g
Sugar – 9 g
Carbohydrates – 22 g
Potassium – 70 g 
Calories – 120 g
Sodium – 160 g
RECOMMENDED: EVERYTHING Gluten-Free at Dave and Buster's
Are Reese's puffs gluten-free?
Before getting in-depth to know if Reese's puffs are gluten-free, let's first understand the meaning of gluten-free.
The flexibility we see in the dough is due to gluten. It provides pattern, resilience, and texture to bread and other grain products. Apples and sweet potatoes are two examples of nutritious, naturally gluten-free foods.
Other gluten-free products may still be heavy in calories, loaded with chemicals, and poor in fiber even though they have been treated to eliminate the gluten or processed without using gluten-free components.
The FDA mandates that food have no more than 20ppm (parts per million) of gluten to be declared gluten-free. Now coming back to our question – Are Reese's puffs gluten-free?
No ingredient is listed in Reese's puff package, which contains gluten. But also, there is no label on the box, which signifies that it's gluten-free.
Also, earlier, the package of Reese's puffs had a note stating "may contain wheat ingredients." This note acknowledged that the product might have come in contact with wheat or similar substances during the manufacturing process.
Suppose you are exceptionally sensitive to gluten and want to take every caution in consuming a gluten-free diet. In that case, it is recommended to avoid the consumption of this cereal for breakfast or snacks.
FIND MORE: Is Bear Naked Granola REALLY Gluten Free?
Are Reese's puffs dairy-free and vegan?
If you like to have your Reese's puff cereal with milk, then obviously, it would not be a dairy-free option. But if we talk about the ingredients present in Reese's puffs, it can be said with surety that the cereal is dairy-free.
Also, the ingredients used to make the peanut butter are not associated with dairy.
If you are on a vegan diet, you must exclude Reese's puff from your breakfast options. Lanolin, the layer between the skin and the wool of wool-bearing animals like sheep, is a source of vitamin D3, an ingredient of Reese's puff cereal.
It's never a good sign when "sugar" appears on a food's ingredients label. Because white sugar is treated with bone char during its production, a sizable amount of it is not vegan (bones from cattle).
Keep in mind that this primarily only relates to North America.
Even though the finished sugar product doesn't contain any animal products, animal bones were employed in its production, and their sale brought in money for the producers.
Now, it is possible that bone char was not used to make this sugar. However, big businesses typically have several sugar suppliers, and there are chances that one of them will probably filter the sugar using bone char.
Are Reese's puffs healthy?
There is no doubting that Reese's Puffs are tasty, but few people would consider them to be a very nourishing meal.
The chocolate-flavored cereal is certainly not the healthiest choice, but you probably were unaware of the potential consequences for your body.
If eating something that resembles a big bowl of Reese's peanut butter cups as breakfast cereal sounds too sinful, it's because it is.
Reese's Puffs contain 13 grams of sugar per one-cup serving, which equals 33 percent of the cereal's total calories. This is similar to the candy for which the cereal is named; both are pretty sweet.
Oh my God, that's a lot! And over time, ingesting too much sugar can result in various health issues, including diabetes, sudden increment in weight, and obesity warns Healthline.
However, Reese's Puffs also have synthetic flavors and colors.
Yellow Nos. 5 and 6 have been identified as two of those that may raise the likelihood of kids acquiring attention deficit disorder (ADD). Some European nations have outright banned them for that reason.
Gluten-free cereal options from Mills
If you are looking for cereal options from Mills that can be included in your gluten-free diet, there is good news.
To make their cereal available for everyone, Mills has created three entirely gluten-free varieties – Rice Chex, Cheerios, and Lucky charms.
These three varieties were not always gluten-free but are now made without stray wheat, rye, and barley grains from the oat supply used in the manufacturing process.
Gluten-free products from Reese's
You must be aware that hundreds of Reese's products are available in the market, ranging from cereal, cookies, brownies, sauces, etc.
With so many products available, you might be curious which Reese's products you can include in your gluten-free diet.
So that you do not have to spend hours checking ingredient lists and labels here, we have provided a list of all the gluten-free products of Reese's.
Reese's Peanut Butter Cups – A clear label of 'gluten-free' can be seen on the original Reese's peanut butter cups.
Reese's Pieces – if you are on a gluten-free diet, you can continue enjoying Reese's pieces as a snack option. You can find the gluten-free label on the back of Reese's bite-size peanut butter snack.
Reese's Big Cup Peanut Butter Cups – this substantial version of the original Reese's peanut butter is also gluten-free
Reese's Big Cup With Potato Chips – though many people do not like this snack option, if you wish to give it a try and want to incorporate it into your gluten-free diet, then go for it
Reese's Fast Break – is a combination of a peanut butter cup and a candy bar and people love to consume it as an evening snack.
Reese's Big Cup With Pretzels – you might be shocked after seeing this product under the gluten-free category, but it is true. If you love to eat pretzels, it will be your gluten-free diet's go-to snack.
Alternatives to Reese's Puffs for Breakfast and Snacks
You may be disappointed after learning that Reese's puff is not an ideal food option for someone who can not consume gluten and is on a gluten-free diet.
But there is nothing to worry about because many cereal brands use gluten-free ingredients and clearly label their products gluten-free.
If a product has a gluten-free label on it, it helps consumers to know for sure what they are purchasing and consuming. Here we have provided a list of several cereal brands that you can easily incorporate into your gluten-free diet.
Annie's – Cinnabunnies cereal
Arrowhead Mills
Barbara's Bakery
Cheerio's
Chex
Envirokidz organic cereal
Erewhon
Forager project
Love grown foods
Lucky charms
Nature's path
One degree of organic foods
Pebbles
Thrive market
Conclusion
After reading the complete article, we hope that most of your queries about "Are Reese's puffs gluten-free?" have been answered.
Ingredients listed on Reese's puffs package do not contain gluten, but cross-contamination is probable during the manufacturing process.
If you do not want to exclude Reese's puffs from your gluten-free diet, check out the gluten-free varieties mentioned above.