If you've clicked on this post, chances are you are a fan of quick and healthy breakfast options. Speaking of, what is more nutritious, delicious, and convenient than granola?
Whether in its traditional cereal form or its on-the-go energy bar form; granola never disappoints.
However, if gluten is not exactly your best friend, you can find yourself worrying if that tempting bag of Bear Naked granola, sitting in the shopping aisle, is gluten-free or not.
Not all granola is gluten-free and it is the same with bear-naked granola. However, the bear naked brand has tons of gluten-free options including cacao + cashew butter and the cinnamon + sunflower butter variety.
All gluten-free bear naked granolas have a gluten-free tag in the upper right corner.
In this article, we will discuss why granola is not always gluten-free.
We will also take a look at the gluten-free options offered by the bear naked brand and other gluten-free alternatives to ensure that your gluten allergy does not limit your food choices. So let's dive in.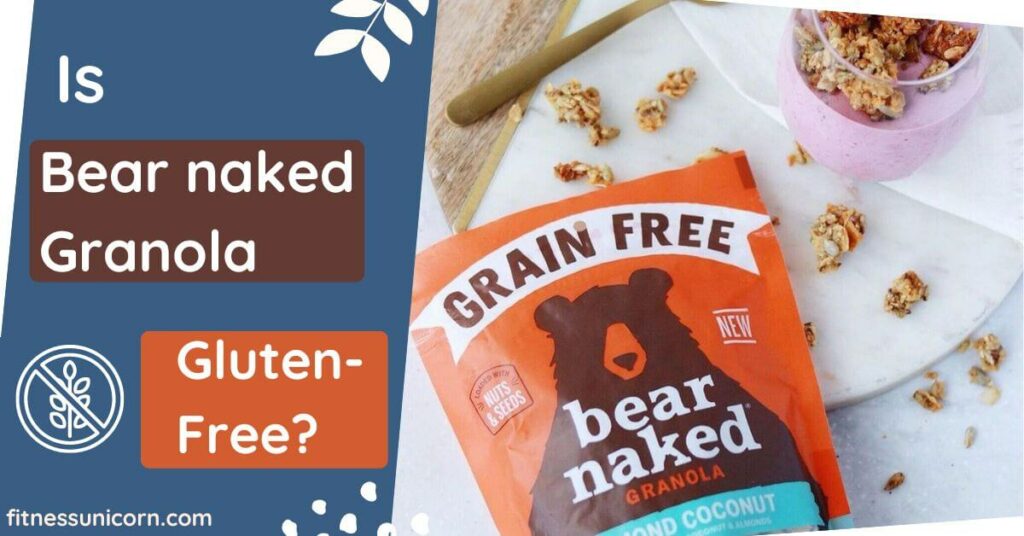 This post may contain affiliate links, which help keep this content free. (Full disclosure)
What is Granola?
Granola is a healthy and popular snack that is packed with tons of essential nutrients and energy. Add yogurt and fresh fruit to it and you have yourself a lovely breakfast, guaranteed to give you that morning energy boost.
It is also a delicious snack for hikes, road trips, or when you randomly feel like munching.
Typically made with rolled oats, dried fruits, and nuts, it is baked with a little oil or butter until it's crispy yet the clumps are still moist. A sweetener such as honey, maple syrup, or sugar is also added.
Many people add chocolate chips and seeds for that extra something.
If you are making it at home, you can pretty much add anything you like from cashews, pecans, sunflower seeds, almonds, and walnuts to raisins and cinnamon.
If you are into health and fitness, you can make it as healthy as you want by choosing ingredients with a higher protein and fiber value and low sugar.
However, if spending hours in the kitchen isn't your thing, there are plenty of options available in the market as well.
Bear Naked granola is one of these brands which is not only popular for its uniquely moist granolas but for its wide range of options as well.
What is Gluten and why is it such a bad thing?
Gluten is a type of protein that is found in most grains such as wheat, barley, etc. It is the reason why flour stretches when you make dough. While it is not necessarily a bad thing, many people are naturally allergic to it.
This disease is called celiac disease and causes problems, such as bloating, bowel issues, and skin rashes.
So the best course of action is sticking to a gluten-free diet by finding gluten-free alternatives to your favorite foods such as gluten-free granola.
Is all granola gluten-free?
As mentioned earlier, all granola is not gluten-free. The chief ingredient in granola is oats and while oats themselves are mostly not the culprit when it comes to gluten, they can still cause allergies in some people.
Moreover, oats are stored with other grains which contain gluten. Hence, consuming products made with such oats can be harmful to those who are sensitive to gluten.
Many traditional granola recipes also use wheat flour as a binding agent which is a huge source of gluten and a big No for those on a gluten-free diet.
But fear not for there is a wide range of gluten-free granola, sitting on the shelves of your grocery store, waiting to be devoured.
Gluten-free granola is made from oats that are harvested and stored following strict protocols to ensure that they are free of gluten.
If you are interested in learning about the journey of the oats in your gluten-free granola, you can find more at gluten.com.
Many people also stick to grain-free granola which does not use any grains at all. Instead, it is made with coconut chips, nuts, seeds, and fruit. 
ALSO READ: Are Bugles Gluten Free?
Gluten-free Bear Naked granola:
Bear naked is a household name when it comes to granola. It is full of flavor and vitamins, minerals, protein, and fiber. With almost every flavor under the Sun, there is a bear-naked granola for everyone.
An easy way to ensure you pick the right granola is to look for the gluten-free label in the right upper corner of the package. There is also a sign at the back which says gluten-free in caps.
Butter granolas by Bear Naked are made from gluten-free oats and are certified gluten-free. It includes the following two varieties.
Bear Naked Cinnamon + Sunflower Nut Butter Granola
Made with gluten-free oats, almonds, pecans, and sunflower seeds with black strap molasses, sweet potato, and a dash of cinnamon for the flavor, this granola is gluten-free and vegan.
Creamy sunflower seed butter binds all the deliciousness together.
Ingredients:
WHOLE GRAIN OATS
INVERT CANE SYRUP
RICE CRISPS (RICE FLOUR, CANE SUGAR, SALT)
SUNFLOWER BUTTER
EXPELLER PRESSED SUNFLOWER OIL
CASHEWS
PECANS
ALMONDS
DRIED SWEET POTATO
BLACKSTRAP MOLASSES
BROWN RICE SYRUP
SUNFLOWER SEEDS
DRIED CANE SYRUP
SEA SALT
CINNAMON
ROSEMARY EXTRACT FOR FRESHNESS.
Nutritional Value:
Serving Size
0.33 cup
Amount per serving
Calories 140
| | |
| --- | --- |
| Amount per serving | % Daily Value* |
| Total Fat 6g | 9% |
| Saturated Fat 0.5g | 3% |
| Trans Fat 0.0g | |
| Polyunsaturated Fat 1.5g | |
| Monounsaturated Fat 3.5g | |
| Cholesterol 0.0mg | 0% |
| Sodium 60.0mg | 3% |
| Total Carbohydrate 18g | 6% |
| Dietary Fiber 2.0g | 9% |
| Sugars 4.0g | |
| Protein 3.0g | |
| Vitamin A | 2% |
| Vitamin C | 0% |
| Calcium2 | 2% |
| Iron | 4% |
Bear Naked Cacao + Cashew Butter
A tempting combination of silky smooth cashew butter with rich high-quality chocolate chunks and gluten-free rolled oats for that added crispiness makes this a must-have granola.
Ingredients:
Whole grain oats
Semi-sweet chocolate (cane sugar, chocolate, cocoa butter, soy lecithin, vanilla extract)
Invert cane syrup
Rice crisps (rice flour, cane sugar, salt)
Cashew butter
Expeller pressed sunflower oil
Cashews
Pepitas Seeds
Whole oat flour
Brown rice syrup
Cane sugar
Sea salt
Ginger
Rosemary extract for freshness
Nutritional Value:
Calories: 250
Total Fat: 11g
Saturated Fat: 2.5g
Trans Fat: 0g
Polyunsaturated Fat: 1.5g
Monounsaturated Fat: 6g
Cholesterol: 0mg
Sodium: 115mg
Total Carbohydrate: 34g
Dietary Fiber: 3g
Total Sugars: 11g
Includes 11g Added Sugars
Protein: 5g
Vitamin D: 0.1mcg
Calcium: 30mg
Iron: 2.6mg
Potassium: 170 mg
Phosphorus: 10%
Magnesium: 10%
Zinc: 10%
FIND MORE: 14 BEST Gluten Free Bakeries in Austin, TX
Bear Naked Dark Chocolate and Almond grain-free.
This innovative take on granola uses no grains at all. Instead, it is made with a bunch of nuts, seeds, and glorious pieces of dark chocolate. Not only is this variation gluten-free but it is also paleo-friendly.
Ingredients:
Sunflower seeds
Coconut
Coconut sugar
Flax seeds
Almonds
Chocolate
Expeller pressed sunflower oil
Almond flour
Chia seeds
Pumpkin seeds
Cocoa
Sea salt
Natural flavors
Rosemary extract for freshness
Nutritional Value:
Calories
330
| | |
| --- | --- |
| Amount per serving | % Daily Value* |
| Total Fat 27g | 35% |
| Saturated Fat 11g | 55% |
| Trans Fat 0g | |
| Polyunsaturated Fat 3.00g | |
| Monounsaturated Fat 8.00g | |
| Cholesterol <lt/> 5mg | 1% |
| Sodium 150mg | 7% |
| Total Carbohydrate 21g | 8% |
| Dietary Fiber 6g | 11% |
| Sugars 11g | 20% |
| Includes Added Sugars 10g | |
| Protein 8g | 7% |
| Calcium 50mg | 4% |
| Potassium 320mg | 6% |
| Iron 2.8mg | 15% |
| Vitamin D 0.1mcg | 0% |
| Phosphorus | 15% |
| Magnesium | 20% |
| Zinc | 10% |
What are some other brands which offer gluten-free granola?
While Bear Naked granola is power packed and full of flavor, there are many other brands offering a gluten-free variety of gluten as well.
Let's take a look at some of these choices and help you pick your favorite gluten-free granola.
Nature's Path
The nature's path brand has tons of gluten-free granola options including the following flavors;
Nature's Path Caramel Pecan Grain Free Granola
Nature's Path Coconut & Cashew Butter Granola
Nature's Path Golden Turmeric Superfood Granola
Nature's Path Honey Almond Granola
Nature's Path Ketola Crunch Organic Blueberry Cinnamon Granola
Nature's Path Ketola Crunch Organic Dark Chocolate Chip Granola
Nature's Path Ketola Crunch Organic Toasted Pumpkin Seed & Vanilla Granola
Nature's Path Maple Almond Grain Free Granola
Nature's Path Smoothie Bowl Superfood Granola
Nature's Path Summer Berries Granola
Nature's Path Vanilla Poppy Seed Grain Free Granola
Safe + Fair
Gluten-Free All American Granola
Bakery on Main
Bakery on Main also offers many gluten-free options including but not limited to the following;
Cranberry Almond Maple Granola
Dark Chocolate Sea Salt
Decadent Monster Cookie
Decadent White Chip Raspberry Swirl
Extreme Nut & Fruit Granola
Grain-Free Chocolate
Grain-Free Maple Vanilla
Many other brands such as Annie's, Kind Kids, Clif Kid ZBar, and Nature Valley also offer gluten-free granola bars which are a great way to ensure you never go hungry, no matter where you are.
Easy to carry, convenient, and quick way for an energy boost, granola bars are the perfect power food.
For a more detailed list of other brands which offer gluten-free granola, you can check out celiac.com.
Home Made Granola
In case, you are not happy with the store-bought versions, you can easily make them at home. Just remember to choose gluten-free oats or skip them altogether for a grain-free version.
There are many wonderful gluten-free recipes available on the internet like this recipe from love and lemons.
Making informed food choices is your right and hopefully, this article will help you find the right gluten-free granola without any hassle.
With recent advances in the world of food technology, plenty of options are available in the market. Here's wishing you happy gluten-free shopping and eating experience.