Cooking regular keto meals on a busy life can be quite overwhelming! Quest offers a practical backup solution with their frozen keto pizzas. But, is Quest pizza keto?
I'm generally NOT a fan of frozen foods. But sometimes my pizza cravings tend to get to my nerves!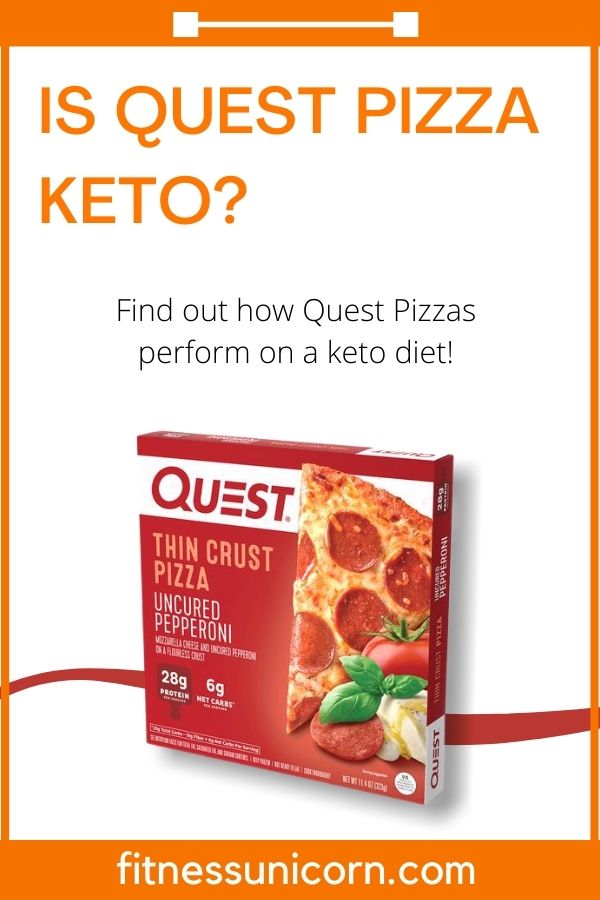 Tired of searching whether certain foods are keto? Download my keto cheat sheet with 210+ keto-friendly foods!
I miss those days when I could eat things WITHOUT checking their carb count. I would easily finish a full medium-sized pizza all by myself!
Well, the keto diet has its own set of benefits and I feel the sacrifices we make here are DEFINITELY worth it!
Without any further ado, let's jump to the main question!
In this article, we'll explore how Quest's frozen pizza's fit into the keto diet, whether you should eat them or you're better of without them.
This post may contain affiliate links, which help keep this content free. (Full disclosure)
Is Quest Pizza Keto Friendly?
Quest Pizza is keto friendly as it has just 6g of net carbs per serving. It also has 21g of fat which fits well in the low-carb high-fat diet.
A single serving (half pizza) of Uncured Pepperoni contains 21g fat, 6g net carbs, and 28g Protein.
Quest pizza may be a great way to break the monotony of your low-carb diet in an exotic way.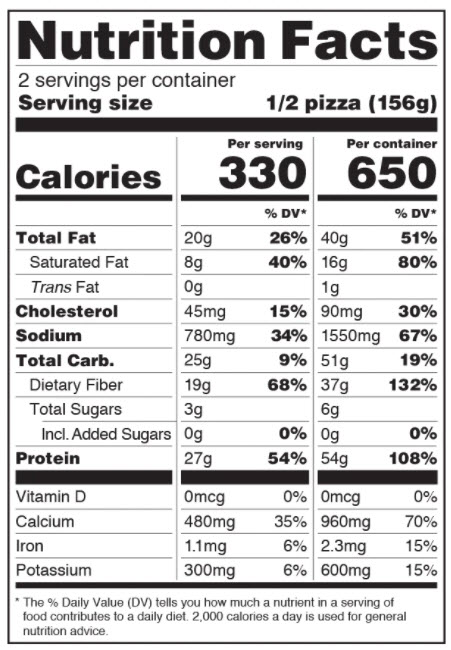 It is a thin crust pizza that surprisingly DOESN'T taste artificial like most frozen food items! It's definitely not the same as a freshly baked pizza, but does a great job of satisfying your cravings on keto!
So the next time you're craving some pizza on keto, don't think too much and go with Quest pizza. Make sure you compensate for the "processed" food by eating natural foods for the rest of your day.
I would say that Quest's pizza should be considered a "cheat" meal instead of a regular meal. I consider it a cheat meal because it's still a highly processed food item.
You shouldn't be consuming it regularly just because it has very few carbs! There are other factors that come into play that impact your overall health.
Frozen foods in particular contain a lot of preservatives to increase their shelf-life. A fresh pizza would go bad in just about a few hours. Imagine what all goes into making it last so much longer!
It also contains a lot of soluble fiber. If you decide to go crazy and have 2-3 servings, your stomach is going to revolt!
Also Read: Everything Keto at Marco's Pizza
How Many Carbs are in Quest Pizza?
Quest Nutrition offers 4 varieties of their low-carb thin-crust pizzas.
Here is a breakdown of their nutritional values individually:
4-Cheese Pizza: 27g protein, 6g net carbs, 3g sugar, 19g fiber, 20g fat
Supreme Pizza: 20g protein, 5g net carbs, 2g sugar, 13g fiber, 27g fat
Uncured Pepperoni: 28g protein, 6g net carbs, 3g sugar, 19g fiber, 22g fat
Meat Lovers Pizza: 22g protein, 5g net carbs, 2g sugar, 13g fiber, 17g fat
About Quest Nutrition
Quest Nutrition was started by a few software engineers who happened to be great fitness enthusiasts!
Their initial products were nutrition bars for the average gym-goer who sometimes want a quick meal replacement on the go!

The company grew rapidly through excellent marketing tactics like giving free review samples to fitness influencers. Even today, the company tries to focus on fitness enthusiasts who are looking for healthy food on the go!
After seeing huge success in their nutrition bars segment, Quest Nutrition further expanded into various categories.
In 2014, they launched Quest Protein Chips and Quest Protein Powder.
In 2015, they started mass marketing their protein bars via local grocery and chain stores.
In 2018, they came out with Quest Protein Cookie, Tortilla Style Protein Chips and Thin Crust Pizza.
By the time of writing this in 2021, Quest Nutrition offers a wide range of healthy snacks catering to fitness buffs!

They began with a vision to replace sugar with protein in most on-the-go snacks available in the market.
Quest Nutrition also wanted to replace those unhealthy sugars with more fiber so that people can live a healthier life!
One of their major USPs in the early days was: They made a gluten-free protein bar with no soy, wheat, sugar alcohols, or hydrogenated fats. On top of it, it doesn't even taste artificial!
Anyways, without diverting from our main topic, let's focus back on their frozen pizzas!
ALSO READ: Everything Keto at Giordano's Pizza
Review of Quest Pizzas on Keto Diet
Quest Pizza is the only low-carb frozen pizza I've ever come across!
Here's the interesting part: They do not promote their pizzas as "keto pizzas" since they want everyone to eat healthier and low-carb foods, whether keto or not.
Quest pizza has a thin crust, which may not be "satisfactory" to many people. I personally am a fan of thin-crust pizzas so they work out in my favor!
I also love crispy things and you can heat Quest pizzas to a certain degree that ensures a crisp top without burning the bottom!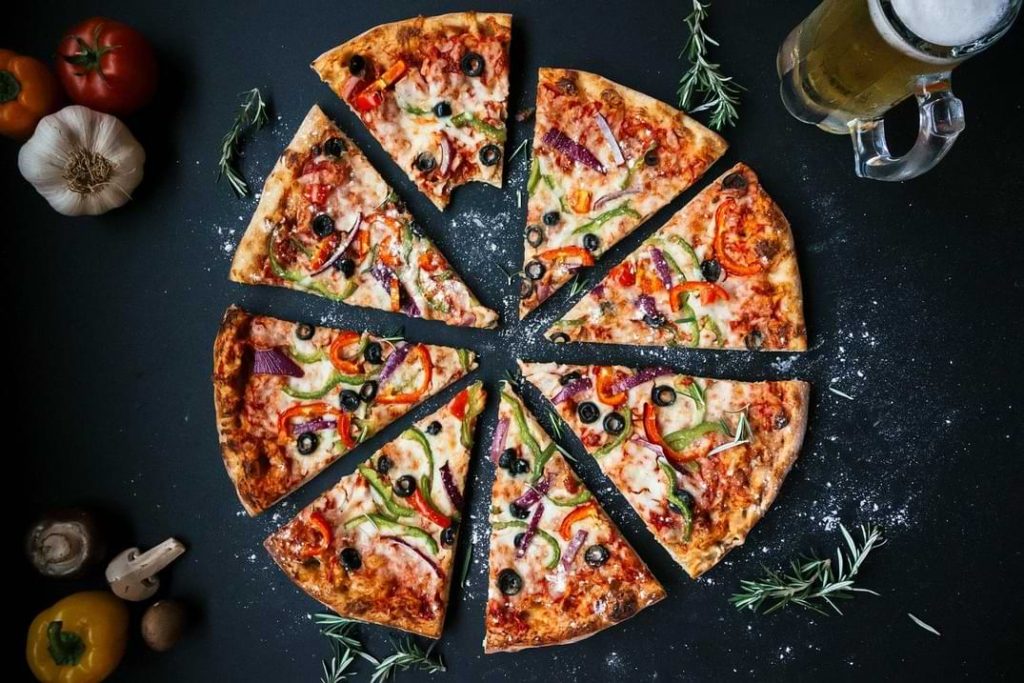 Another thing to note is that they have mild flavors with light sauce. You may want to add more seasonings or herbs like pepper to enhance the taste.
I really like their Uncured Pepperoni pizza that has just the right sauces and toppings for me! They have ample protein content to supplement your keto diet.
In conclusion, I would say that Quest pizza is worth it if you have it in moderation on keto. Considering the high sodium and lack of healthy nutrients, this should definitely not be a part of your everyday diet!
Pricing
When it comes to pricing, Quest Nutrition's pizzas can be disappointing in this segment!
One pack having 2 servings is priced at $7.49 which seems like a bit too much for the quantity! You can get freshly baked pizzas from a local joint for much cheaper.
But then again, they won't be keto-friendly at all!
So if you want to cheat on your keto diet WITHOUT actually cheating, that's the price you have to pay!
And if you want to order online, your cart value should be more than $65 to qualify for free shipping. You need to order at least 6 pizzas per flavor to get them delivered at your doorsteps!
I personally think the price justifies the value you are getting here! A few years back, who thought you could enjoy a PIZZA on a low carb diet like keto?
How to Heat Quest Pizza
Here's how you can prepare your Quest Pizza right from the freezer:
Preheat oven to 400 F while the pizza is still in the freezer.
Remove the packing and bake the pizza for approx 20 minutes.
Let it sit for 3 minutes to gain the perfect texture.
How to know if the pizza has been heated well?
The cheese should melt completely and also turn a little brown on the surface. Bottom crust of the pizza will turn golden brown indicating that it has been cooked perfectly!
Also keep in mind that just because their pizzas are keto-friendly, it doesn't make their every product keto approved! Some of them still have a lot of carbs and can't be considered keto!
Quest pizza can be your tiny get-away from a monotonous keto diet! Don't make it a full-time meal because it's devoid of nutrition and lacks the minerals and vitamins you get from whole foods.
Where to Buy Keto Quest Pizza
You can find the 4-Cheese and Pepperoni variant in most Target stores with a few exceptions: Alaska & Hawaii.
Supreme variant can also be found in some Target stores but it's not very common to spot!
If all else fails, you can place the order online on their official website. Your order should be for a minimum of $65 to qualify for free delivery.
Homemade Keto Pizza Recipe
I bet most of you have only heard about the common fathead pizza when it comes to keto recipes!
But something which is very common doesn't necessarily mean it's best!
In fact, today I've brought you a Keto Pizza recipe that is as light and thin as a Quest pizza. Also, it is free from any preservatives or additives as against the frozen one!
The usual way of making pizza crust involves a lot of tedious work, which is an endless cycle of mixing and melting cheese again and again!
This thin-crust keto pizza recipe is going to bypass all that extra work. All you need to do is mix ingredients in a bowl and start rolling the dough! You couldn't make things easier!
We're going to make 12″ crusts which require less than 5 minutes to bake perfectly.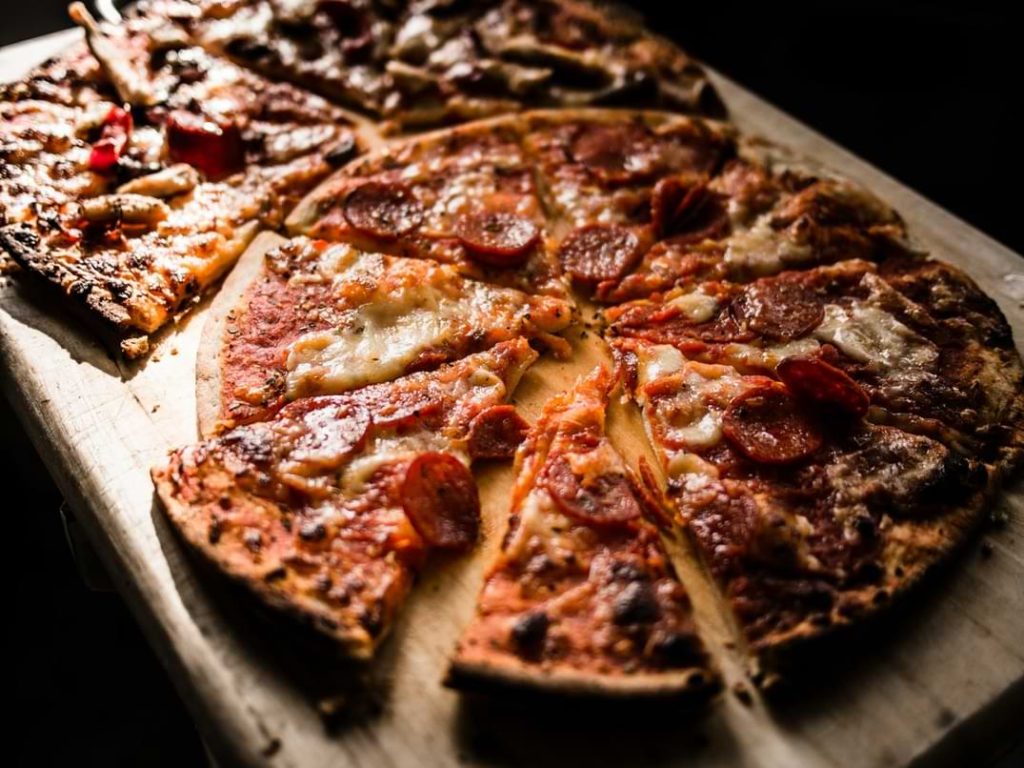 When the crust turns golden brown, its time to add toppings and put it back in the oven.
Guess how long you have to wait now? You just need another 4 minutes and your Keto pizza is ready!
Since white flour is out of the equation, we are going to use a combination of almond flour, protein powder & coconut flour.
Trust me, you don't want to interchange these flours as it will mess up your pizza! Both almond and coconut flour have different properties and they can't be substituted for each other.
Without any further ado, here are the ingredients required:
170g Almond Flour
2 Tbsps (15g) Coconut Flour
20g Unflavored Whey Powder
A dash of Onion Powder
Half tsp Xanthan Gum
Half Tsp Baking Powder
2 Whole Eggs
1 Tbsp Coconut Oil
125g no-sugar pizza sauce
A dash os salt

Pinch of Garlic powder
If for some reason you don't want to use protein powder, you can replace it with almond flour in equal portions.
Recipe:
Add all ingredients (except oil and eggs) into a bowl and whisk them together to combine.
Now add the eggs and melted coconut oil to the bowl.
Mix everything well until a soft dough is formed. You may have to use your hands for dissolving the yolk.
Now take two parchment sheets and place your dough ball between them.
Roll out the dough to 14 inches diameter and then fold the edges (2″) to make the outer crust.
Now bake the crust for approx 3 minutes (if using protein powder) or 5 minutes (without whey protein).
Add the sauce, cheese, and toppings of your choice.
Now put it back in the oven at "broil" mode till the cheese melts and the crust becomes golden brown.
This keto pizza can be cut into 8 slices and each slice contains:
225 calories
16g fat
6g carbohydrates
3g fiber
11.5g protein
Each pizza slice has effectively 3g of net carbs (excluding the toppings!).
Make sure you count the extra carbs from these toppings to determine the overall carbs in your pizza!
Other Low Carb Snacks for Keto
While Quest pizza can make a great keto-friendly snack, here are a few more options to satisfy those taste buds on a tight carb budget!
Tuna Packets
These are packed with protein and have zero grams of carbs!
Grab a pack of tuna and have it with keto condiments like mayo, hard cheese, lemon, or a serving of sauerkraut.
Some brands like StarKist provide seasoned tuna snacks that are super low in carbs and taste utterly delicious! Tuna is an excellent source of omega-3 fats and also fulfills your protein requirements.
You can add these Tuna pouches to your other keto salads or simply have them as-is.
Pork Rinds
We can't talk about low carb snacks and ignore this ultimate gift to mankind!
There are more than a million pork rind recipes out on the internet. The Keto community has been relying on pork rind as a true keto snack for ages!
Pork rinds are bits of a pig's skin that are fried or roasted in fat. They are high in fat and super low in carbs, making them great keto food. Think of them as an alternative to potato chips on keto!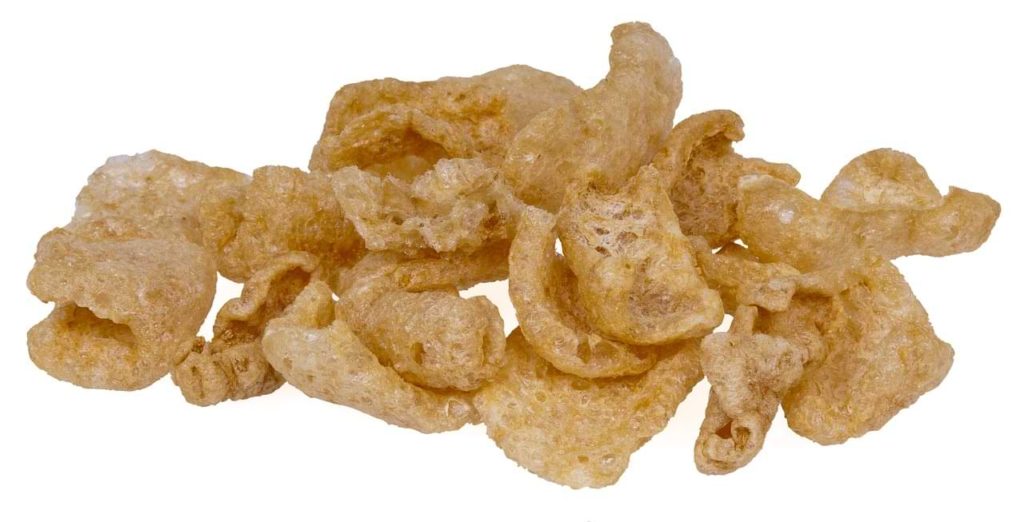 You can find a lot of pork rinds variants in grocery stores with different seasonings and flavors.
A 1 ounce (28g) serving of pork rinds contains:
Calories: 150
Fat: 9 g
Carbohydrate: Zero
Protein: 17.2 g
Fiber: 0 g
Sodium: 515 mg
Beef Jerky
Beef jerky is the perfect keto snack for times when you're not in a mood to cook!
Meat jerky is a piece of meat that has been cooked, dehydrated, and flavored to serve it as a dry snack. It has a long shelf-life which is why it is commonly sold as an on-the-go snack.
True keto-friendly beef jerky has 0 sugars and 0 carbs. So you need to apply your due diligence while shopping. It's easy to be misled by commercials and get your hands on sugar-laden beef jerky.
Next thing you know, you're out of ketosis and wondering what went wrong!
---
Conclusion
Is Quest pizza keto?
Quest pizza is a keto friendly snack that has 6g of net carbs per serving. It has good amounts of fat and protein that makes it a great keto snack.
Though it's pricier than your local pizza shop, it is made with soluble corn fiber that doesn't affect ketosis. You can think of it as a cheat meal that can be enjoyed in moderation on a keto diet.
However, it is still a processed food and has high amounts of sodium. You can make your own crispy keto pizza with a combination of coconut and almond flour.