Struggling to keep up your protein intake? You're not alone! Protein supplements can be really helpful on a low carb diet. But is premier protein keto?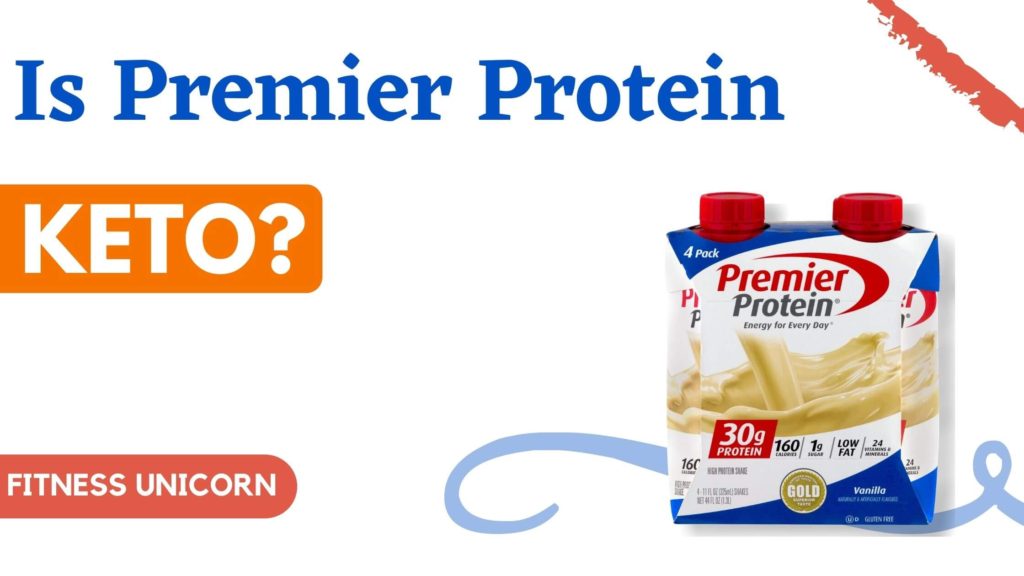 Tired of searching whether certain foods are keto? Download my keto cheat sheet with 210+ keto-friendly foods!
If you are physically active or regular to the gym (which you should be proud of!), or your doctor suggested you have more protein, it can be quite tasking to accommodate on the keto diet.
In the quest of balancing fats and carbs in every damn meal, protein sometimes seems to be lagging behind in our nutrition charts. Hence we turn to supplements in order to match those deficiencies.
Most protein powders are compatible with the keto diet as they are low in carbs. But today we are going to look at Premium Protein and find out how they fit into our all-fat diet.
Premier protein is a ready-to-drink protein shake that's immensely popular in the U.S. You can easily find it in stores like Costco, Sam's Club, and other warehouse clubs.
They also offer protein in powder form just like other bodybuilding protein supplements.
This post may contain affiliate links, which help keep this content free. (Full disclosure)
Is Premier Protein Keto?
Premier protein shakes are keto friendly with 3g of net carbs per serving. Their powdered protein having 2g carbs per scoop is also keto friendly.
So what makes it compatible with the keto diet? The fact that it has 2-3g of carbs per serving means you can easily accommodate it within your daily carb limit.
Other than just carbs, there are some elements in processed foods that can spike your insulin and disturb ketosis. These include cellulose gel, cellulose gym and soluble corn fibre, which are present in Premier Protein products. However, their quantity is very tiny to make an impact.
Hence, it's safe to say that Premier Protein is okay on the keto diet.
Is Premier Protein Bar Keto-Friendly
Premium Protein Bars have more than 10g of net carbs per serving and hence they are in no way keto-friendy.
So it's better to stick to their protein shakes or go for a keto-friendly protein bar like the ones from Think Products.
Protein Shake with Oats
Premier Protein also offers "Protein Shakes with Oats". At first glance, the word "oats" may trick you into believing that these shakes are enemies to keto! However, the reality is otherwise!
You see, one 11 fl oz serving of the oats protein shake from Premier Protein has merely 8g of oats! So that means they have very few carbs coming from oats and most of the carbs are from oat fiber.
Each protein shake with oats contains 20g of protein, 150 calories, and 8g of carbs. But the good news is that 7g out of that 8g is dietary fiber, giving you just 1g of net carb per serving! They are available in three flavors: Blueberries & Cream, Apple Cinnamon, Oats, and Maple.
Lets look a little deeper into the importance of protein in the keto diet and how much you need per day.
Protein and Keto Diet
As per the norms of keto, your meals should have 5% carbs, 25% protein, and 70%. And if you are physically active, that raises your protein requirement even more. So for an average 2000-calorie diet, your daily consumption of protein comes down to around 70-80g of protein.
I can bet most of your common keto meats are high fat but low in protein. Since we are always scrounging for fat-bombs, it gets difficult to accommodate the right amount of protein in our diets.
(Take this Keto Quiz to analyze the exact amount of protein and other macros needed for your body!)
Here are some of the high protein meats along with their protein content:
| Meat | Grams of protein per 150g serving |
| --- | --- |
| turkey / chicken breast, raw | 37 |
| chicken thighs, raw | 29 |
| beef, lean steak, raw | 31 |
| tuna, raw | 37 |
| pork loin (chops), raw | 31 |
| venison steak, raw | 32 |
| lamb chops, raw | 28 |
So look for recipes that include these meats in order to have a protein-packed keto-friendly meal.
And if you want to go the supplement route, there are a few checks required to judge whether a protein is keto-friendly or not. I have discussed more about these checks further down the post.
Can Too Much Protein Kick Me Out of Ketosis?
We have often heard that excessive protein on a keto diet can be an obstacle for getting into ketosis. But how much is exactly too much? Let's dig a little deeper!
When you eat much more protein than is required by your body, some of it will be turned into glucose by a process called gluconeogenesis. But the catch here is that the body only does this when you are not feeding it enough!
If you are following a well-formulated keto diet, eating a sufficient amount of fats, and not starving yourself, there won't be any problem! So whether you are having 100g protein per day or 200g, the body will only convert it when it needs to.
Now you must be wondering "Aren't there any health issues with having a lot of protein?". Health experts have always theorized that having too much protein could lead to kidney issues (that too over 300g). However, recent studies conclude that there is no ill effect of high protein on to kidneys!
Bodybuilders usually go up to 2g of protein per pound of bodyweight (imagine a 300lbs guy eating 600g per day) but that is an extreme case.
Let me put it straight: The cons of not eating enough protein greatly outweigh the risk of being thrown out of keto with a high protein diet. I mean you can't possibly have enough protein to halt your ketosis. But not having a sufficient amount of protein can lead to all sorts of problems like hair fall, brittle nails, skin peeling off, hunger through the roof, etc.
All About Premier Protein
Now without diverting from the main topic, let's get back to Premier Protein on the Keto diet.
Premier Protein shakes are a great source of protein for those looking to supplement their diet. One 11 oz. pack gives you a whopping 30g of proteins coming from a blend of 3 different types of protein: milk protein concentrate, calcium caseinate, and whey concentrate.
The blend has a great amino acid profile that contains all the essential amino acids along with 24 minerals and vitamins.
Other than ready-to-drink shakes, they also offer protein powders which is a great way to increase the protein content in your beverages like milkshakes or smoothies, or even in baked goodies.
This is how they introduce themselves: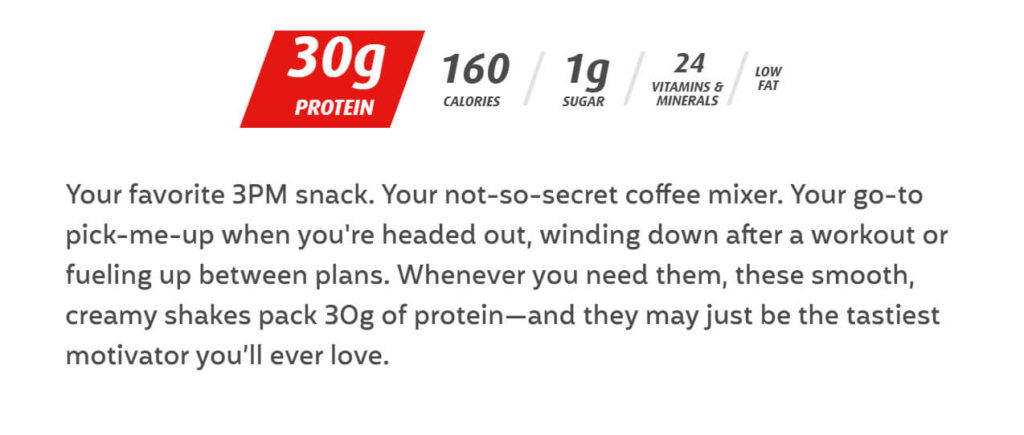 Their exotic range of flavors includes Chocolate, Vanilla Caramel, Café latte Cookies, Cream Strawberries, and Cream Bananas Cream Peaches and Cream Pumpkin spice, with each having 2-3 grams of net carbs.
Other than Keto, Premier Protein is also highly famous for folks in the Weight Watcher's community.
My Review of Premier Protein on a Keto Diet
Along with its high protein content, Premier Protein shakes also pack 24 vitamins and minerals as well as calcium. It has just 4 g of total carbs and 1g of fiber, giving only 3g of net carbs per serving.
I honestly love the chocolate flavor which feels like I'm having a smooth chocolate milkshake (just a little bit thicker). I use it as a meal replacement or a 5 p.m snack when I'm want to break the monotony of home-cooked meals (other than going to Wingstop).
It's ease and convenience has to be the top most factor for me. I always keep one in my car to cater to sudden cravings! It's a ready to drink shake which doesn't even need to be refrigerated (though it tastes much better when chilled!). Also, you don't need to mess up your kitchen with blenders or powders spreading everywhere.
Sometimes I find the sugar in these shakes to be a little "artificial" and I wish they had unflavored versions so that I could add my own sweeteners. Anyways, wishes are just wishes!
Premier Protein Keto Recipe (My Favorite!)
Here are some of the healthy and keto friendly premier protein recipes that are super easy to make.
Premier Protein Citrus Smoothie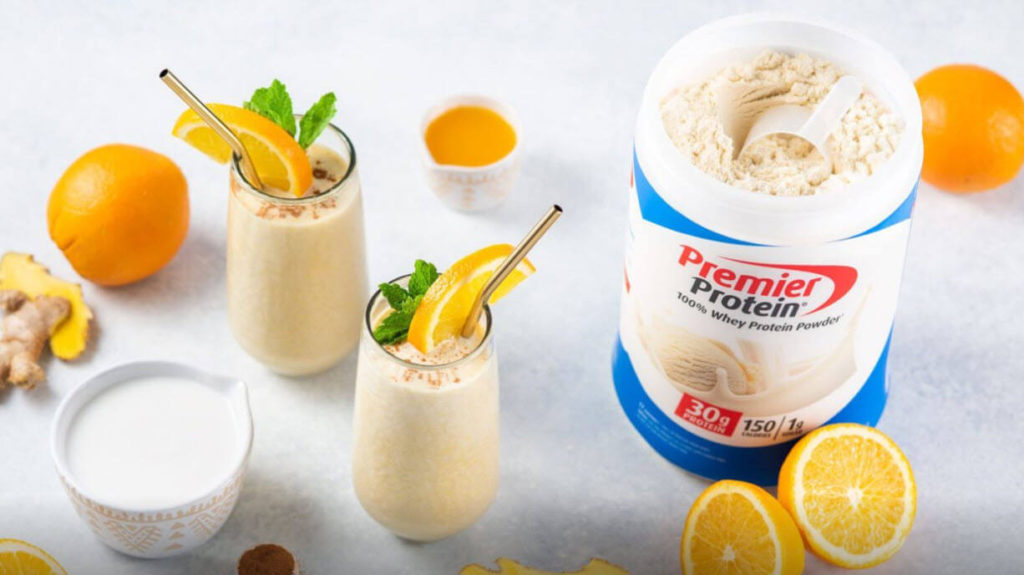 Ingredients:
1 scoop Vanilla Milkshake Protein Powder
2 oranges
1 cup sugar-free coconut milk
1 tbsp turmeric juice
1 tsp ginger juice
1 tsp vanilla extract
1/2 tsp ground cinnamon
Few ice cubes
Simply blend all the ingredients in a blender to get a smooth finish! Enjoy your very own Keto Friendly citrus smoothie made from Premer Protein powder!
Premier Protein Chia Pudding
This insanely yummy Chia pudding has less than 3g of net carbs and can be prepared with the blink of an eye!
This is a wholesome cool and creamilicous pudding that can be enjoyed as a snack, dessert, or a meal replacement when you aren't in the mood for tedious cooking!
Fun fact about chia seeds: All of their carbs come from fiber. It means you get 0 net carbs from chia seeds!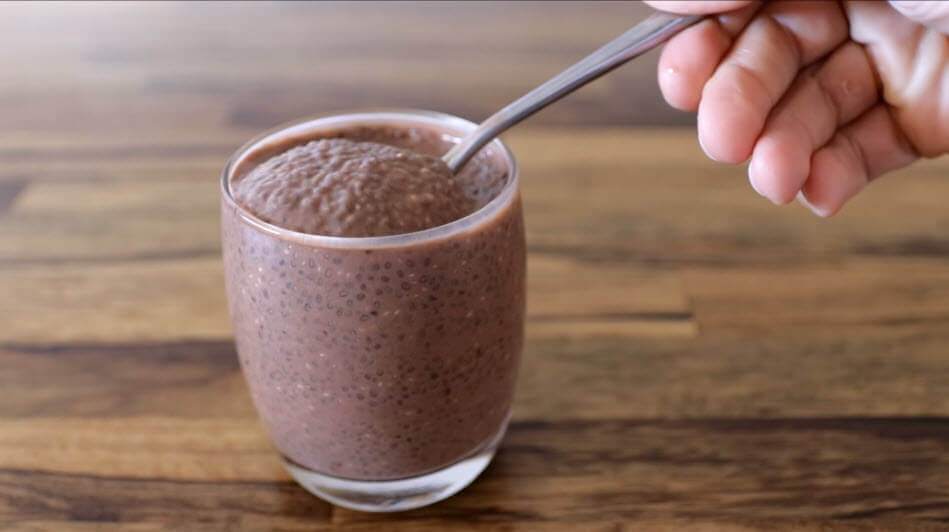 This pudding requires just 3 ingredients:
1 Premier Protein Ready-to-Drink Chocolate Shake
1 tsp Cocoa
3 tbsps Chia Seeds
Steps:
✔️ Put all the ingredients together in a bowl.
✔️ Mix them together and let it sit in the fridge overnight
✔️ Enjoy the goodness of cool protein and fiber packed Chia pudding!
This recipe gives you less than 3g of net carbs, which scores really high on my carb worthy meals!
Strawberry Protein Smoothie
This is a super easy Keto protein shake made using Vanilla protein powder from Premier Protein!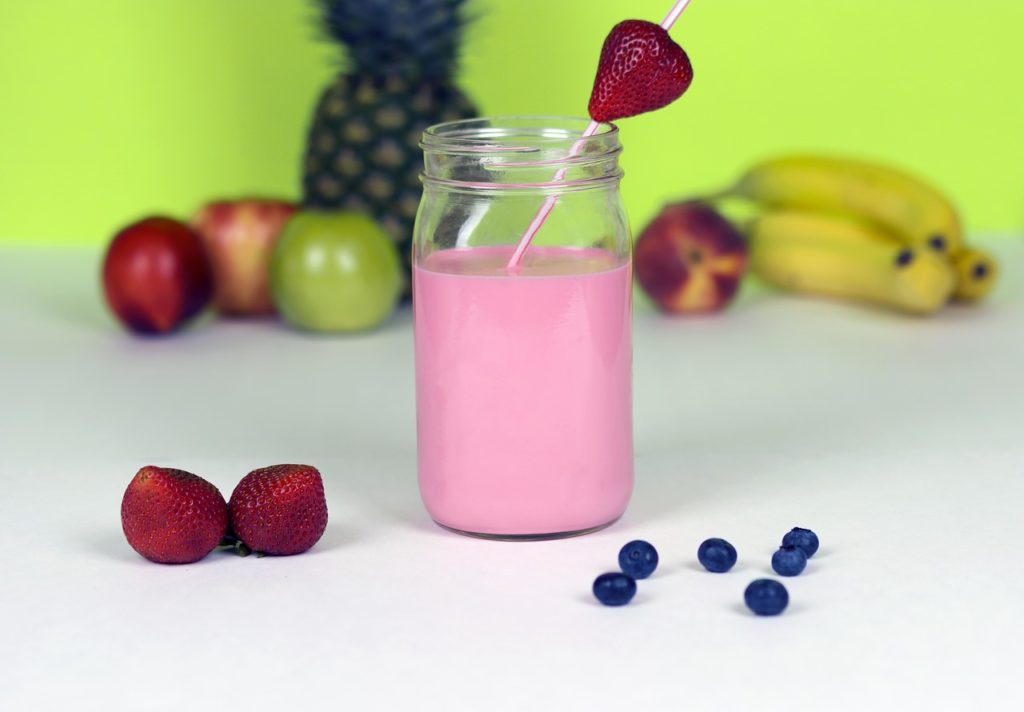 Ingredients:
1 scoop Vanilla Protein Powder
1 cup chilled strawberries
1 fresh lime squeezed
1 cup unsweetened yogurt
a few ice cubes
Blend all the items together and enjoy your chilled Strawberry citrus smoothie on Keto.
What Makes a Protein Powder Keto Friendly
Whether its Premier Protein or some other brand you are eyeing on Amazon, you need to look at a few things to judge whether its good for Keto. Buying random protein powders loaded with hidden sugar might kick you out of ketosis!
Sometimes fulfilling your macros becomes a huge struggle on the Keto diet and protein is often the one that takes a hit!
A protein shake comes in handy for times like these and even when you want a healthy meal replacement on the go.
Choose from any of these 7 sources of protein powders to supplement on your Keto diet:
Whey Protein Isolate
Whey protein isolate is the purest form of dairy protein that contains very few or even zero carbs.
Casein Protein
Casein will not only fulfill your protein requirements, it also has tons of calcium to support bone health and muscle contractions! It also has very few carbs per serving. Casein is a milk protein that is slowly digested by our body over time.
Pea Protein Isolate
We all know peas are prohibited on keto because they have a lot of carbs! So why am I recommending pea protein on the Keto diet?
Pea protein isolate is made by grinding peas and extracting out all the carbs. This results in a smooth protein powder perfectly adapted to the Ketogenic diet!
Rice Protein Isolate
This is one of the best options to choose if you are Vegan! Rice protein isolate is highly famous because it's a hypoallergic source of protein, meaning that it's unlikely to cause any allergic reactions.
Rice is quite a carb-rich food, but the rice protein isolate is free from any carbs, thanks to the enzymes that separate protein from carbs in the manufacturing process.
Egg Protein
Egg is the ultimate superfood on this planet! They are so versatile and can be used in almost any diet hassle-free, not to forget the soft and fluffy textures they bring to the recipes!
Ideally, you should go with the egg-white protein powders, which are made by removing the yolks and dehydrating the whites, turning them into thin powder.
Collagen Protein
Collagen is the most dominant protein in your body. It can be widely found in your tendons, ligaments, skin, hair, and muscles.
Collagen protein powders, also called collagen peptides are made from animal byproducts — usually cowhide, cow bones, chicken bones, eggshell membranes, and fish scales.
Most of these supplements are flavorless, which is a good thing as you can use them in any way. The flavored ones also contain medium-chain triglycerides (MCTs), which can get you deeper into ketosis.
Soy Protein Isolate
Soy is naturally high in protein and a staple for many vegans out there!
Soybeans are ground into a meal and then into soy protein isolate, giving you a powder that is 95% protein and technically free from carbs.
So far you've seen 7 sources of protein to supplement on your keto diet.
The catch here is that your pick has to be sugar-free and unflavored in order to enjoy the Keto benefits! It sounds easy but as soon as you enter the store you realize how difficult it is to get an unflavored good quality protein.
Always make sure to read labels and scan for hidden sugars, gluten, artificial sweeteners, or even milk from hormone-fed cows. They all mean red flags!
Other Keto Protein Powders
Here I've listed a few Keto-approved protein powders to make things even simpler for you!
Isopure Zero Carbs
This is probably the most famous protein powder among health and fitness enthusiasts. It definitely lives up to its name i.e zero carbs.
Isopure gives you 100% Whey Protein Isolate with 25g per serving to support muscle building and recovery
Whether you are a gym freak looking to lean down, or a keto dieter who sees carbs as enemy, this is the perfect choice for you!
It is gluten-free, aspartame free and lactose free.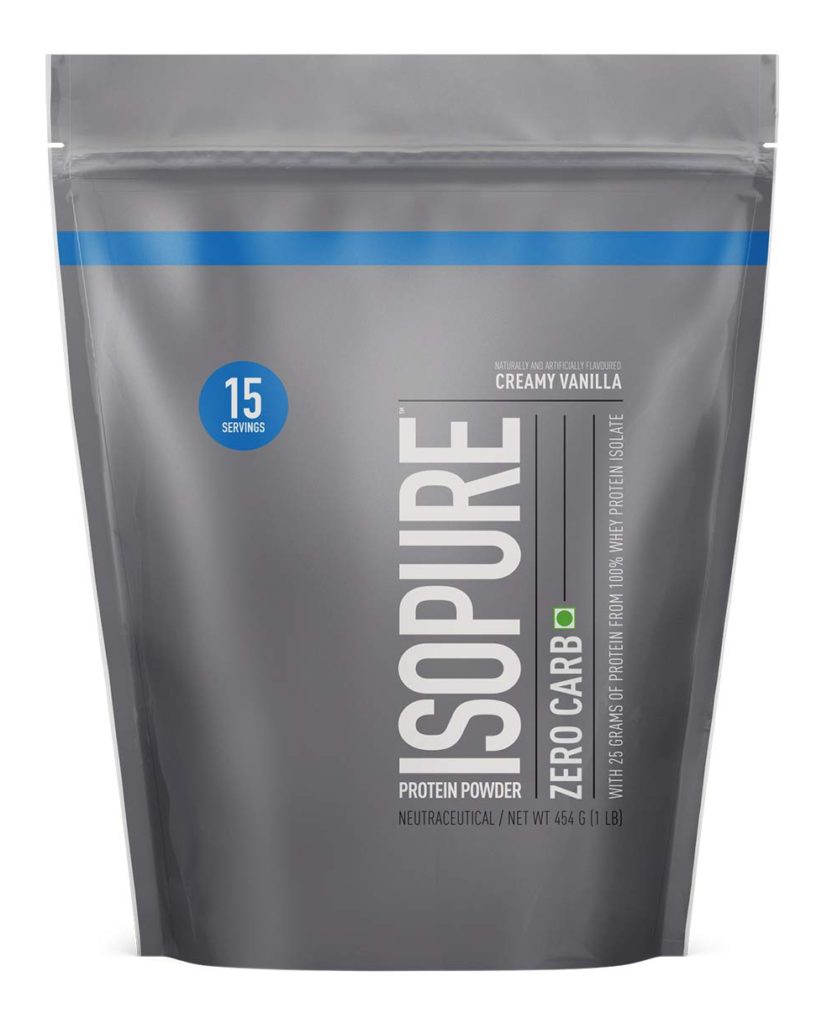 Keto Collagen Protein Powder with MCT Oil
This offering from Preferred Elements contains just 80 calories and 2 grams of carbs per scoop, which makes it an amazing keto-friendly powder.
Its combination of MCT Oil Powder and electrolytes will provide you with the perfect punch of extra energy and boost ketosis.
The grass-fed collagen hydrolysate is good to regain your skin elasticity, promote healthier hair growth, and boost nails production. It also improves digestion and promotes healthy bone and joints.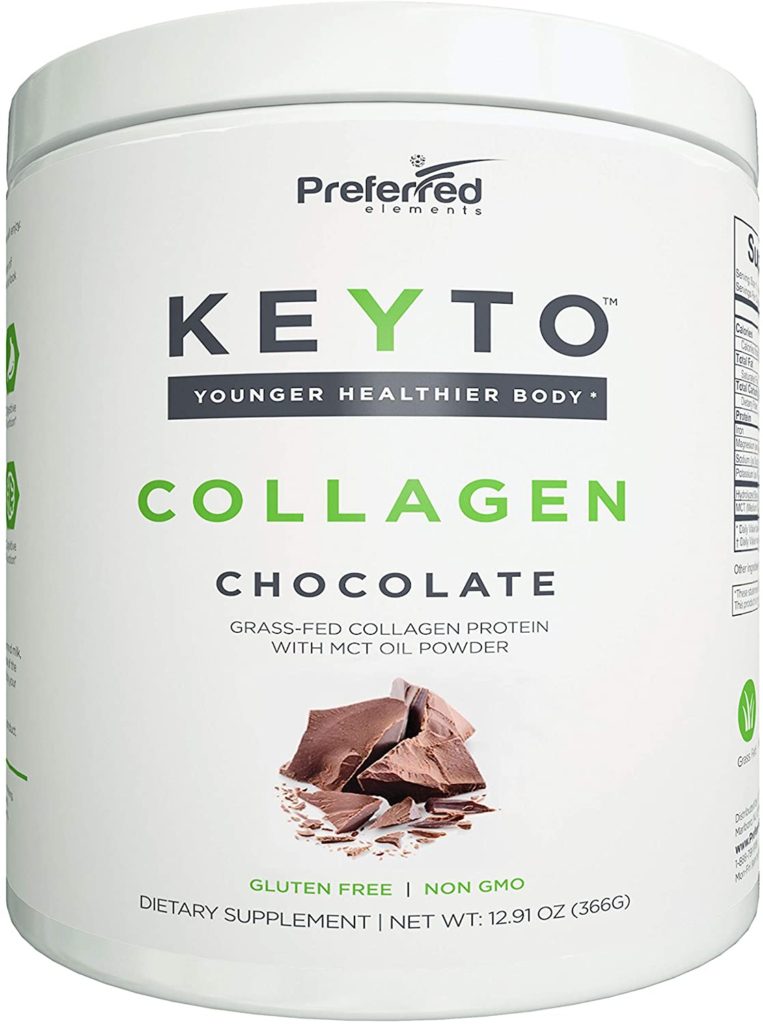 Vanilla Keto Protein
Ancient Nutrition vanilla keto protein powder is the ultimate superfood for the keto dieter since its loaded with protein and other essential nutrients!
This is a performance-boosting blend that provides high-quality proteins and fats from chicken bone broth and coconut MCTs.
KetoPROTEIN is non-GMO, gluten-free, dairy-free, soy-free, and grain-free. Each serving provides 15g protein, 11g fats, 3g of carbs, and 170 calories!
It easily mixes in shakes, smoothies, or almond milk in under 50 seconds. This is the perfect blend if you want to have a nutritious drink on-the-go!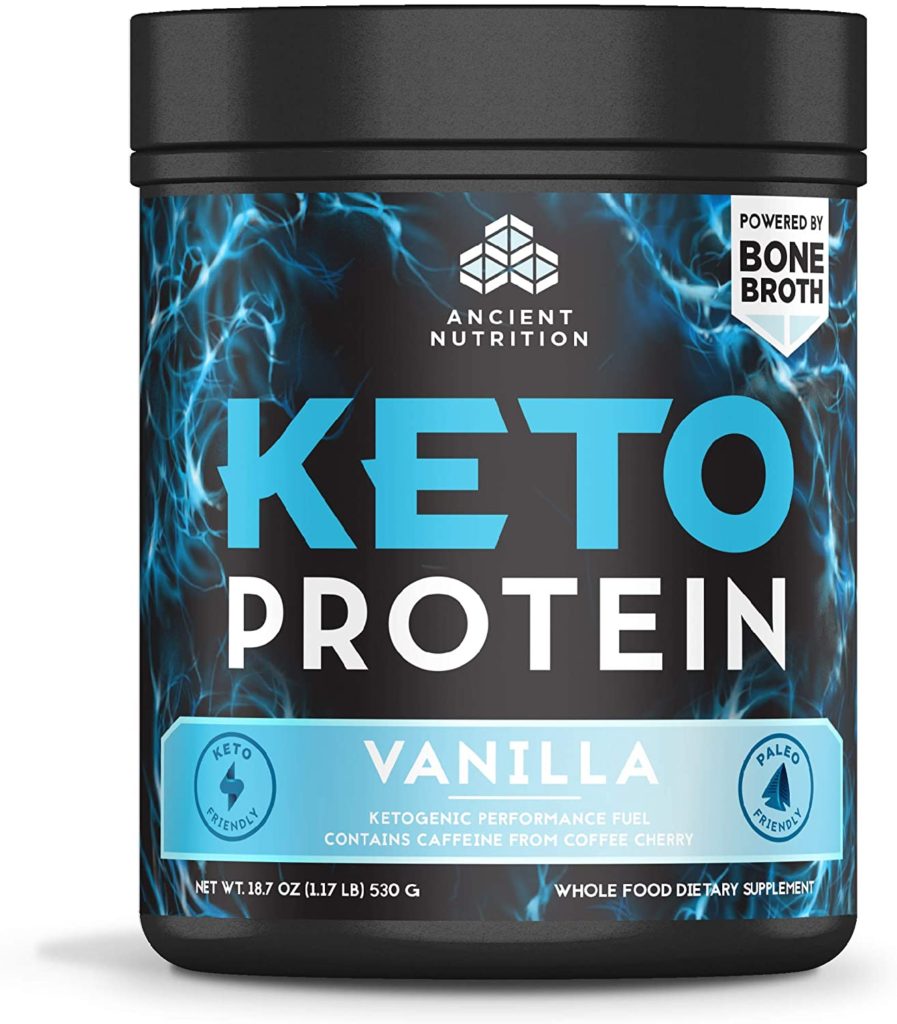 Ketologie Chocolate Keto Shake
Ketologie's Chocolate Shake comes with a whopping 75 percent fats, which is a good news for the keto dieters!
Pour 350ml (10-12 oz) of either water or unsweetened almond milk (or any other nut milk). Add 2 scoops (60g) of keto chocolate shake powder and blend it into a smooth shake.
A keto diet essentially has 75% of fats in any meal, be it breakfast, dinner, or lunch. The keto chocolate shake fits perfectly into these norms giving a great number of fats!
I usually have it while going to work if I am occupied with a lot of pre-work stuff. It is sugar-free and has no artificial sweeteners. Plus it tastes heavenly in coffee!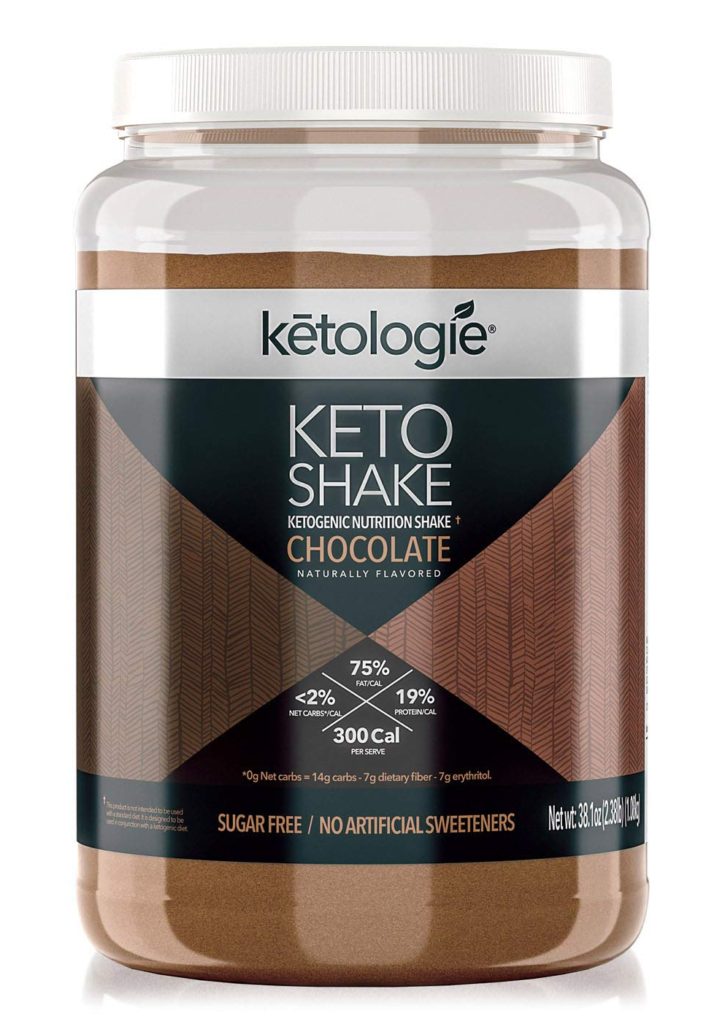 Conclusion
Is Premier Protein Keto?
All variants of Premier Protein are keto friendly as they have less than 3 net carbs each. You can go for their protein powder or the ready-to-drink protein shakes that have a lot of different flavors to choose from!
Stay away from Premier Protein Bars in order to maintain your ketosis. They have high amounts of carbs that can kick you out of ketosis! (minimum 10g of net carbs per bar)
Other keto-friendly protein supplements are: Whey protein isolate, casein protein, pea protein isolate, rice protein isolate, egg protein, collagen protein, and soy protein. Make sure to only go for unflavored and sugar-free variants and scan the label for any hidden sources of carbs.