Egg Foo Young is a Chinese omelette dish made of veggies and some delicious gravy! But is Egg Foo Young keto?
If you also love Chinese food (just like me!), you must be wondering whether you could have this egg delicacy on the low-carb diet.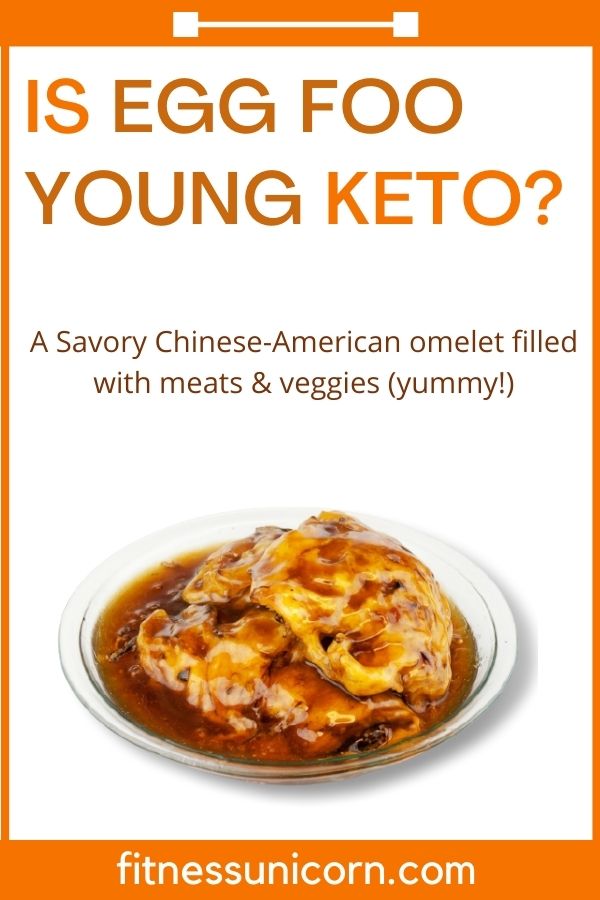 Tired of searching whether certain foods are keto? Download my keto cheat sheet with 210+ keto-friendly foods!
Here's a fun fact: Did you know that Egg Foo Young is a "leftover-friendly" dish? It means that there is no set recipe for veggies and the chef tosses in all the leftover choppings into the pan.
That's the reason why you always find a different ratio of veggies every time!
In this article, we'll find out whether Egg Foo Young is keto, and which variation has the least amount of carbs.
This post may contain affiliate links, which help keep this content free. (Full disclosure)
All About Egg Foo Young
Egg Foo Young literally translates to "Hibiscus egg", and it is usually made with beaten eggs. It is a Chinese omellete with a mixture of veggies and meats.
These are the most common veggies used:
Mushrooms
Green onion
Peas
Carrots
Bell pepper
Water chestnuts
Bamboo shoots
Bean sprouts
And if you opt for meats, these are the most common additions to Egg Foo Young:
Roast Pork
Shrimp
Chicken
Beef
Lobster
It is a highly versatile item and you will find endless variations of this egg delicacy. Traditionally, Egg Foo Young is served with a sweet and sour sauce, which really enhances its flavor!
In America, it is often served with a sauce or gravy, which is also sweet sometimes.
If you go to American-Chinese restaurants, you'll find a variation of Egg Foo Young called the St. Paul Sandwich. It includes some pickle, lettuce, tomato, and is often served between two slices of bread.
Egg Foo Young has a savory flavor, thanks to the umami touch of soy sauce. And it is really easy to make this recipe in the comfort of your home!
Now without any further ado, let's find out whether Egg Foo Young is keto or not!
Suggested: Are Water Chestnuts Keto?
Is Egg Foo Young Keto Approved?
The original Egg Foo Young is keto-friendly because it is made of all low-carb ingredients. A single serving without gravy has just 4g of net carbs. (Source: USDA)
Egg Foo Young is basically an omelette stuffed with meats and veggies and occasionally served with some gravy.
Since eggs are highly keto-friendly, it's your choice of toppings that really decide the number of carbs going in your plate!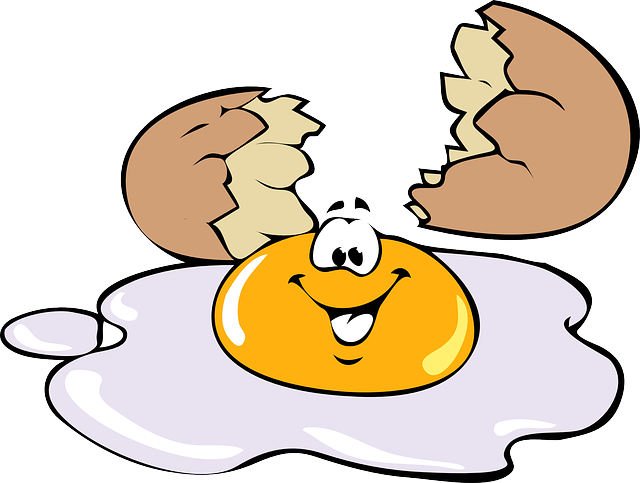 Opt for keto-friendly veggies like scallions or Chinese cabbage. Replace the high-carb water chestnuts with something like Jicama or Bamboo Shoots.
You have to be really careful about the gravy though because it mostly contains cornstarch, which is entirely made up of carbs!
As a rule of thumb, make your own Keto Egg Foo Young at home and avoid eating at restaurants. But if you really have to eat out, make sure the restaurant doesn't add any flour or cornstarch.
I've shared an easy-to-cook recipe further down this post. You can make a delicious batch of keto egg foo young within 30 minutes!
Carbs in Egg Foo Young With Gravy
Egg Foo Young is an omelet filled with meat (like shrimp, pork, chicken) and veggies (scallions, water chestnuts, etc).
They are served as individual patties accompanied with a special gravy (yumm!), which is the major source of carbs in an Egg Foo Young dish.
An Egg Foo Young made of 2 eggs, served along with Gravy has 9-11g of net carbs. The carbs greatly vary depending on your selection of meats and veggies in the mixture.
This seems quite surprising because this simple dish without any gravy contains less than 4g of carbs!
And the reason is obvious: Cornstarch!
You see, the gravy of an Egg Foo Young contains 2 tsp of cornstarch, which adds 5g net carbs to your meal.
Other ingredients in the gravy include soy-sauce and water, both of which have minimal carbs.
So it's best to avoid cornstarch in order to enjoy a low-carb Keto Egg Foo Young! Xanthan gum is an excellent alternative which we'll use in our keto recipe.
How Many Carbs are there in Shrimp Egg Foo Young with Gravy?
Shrimp is a highly keto-friendly seafood item because it contains NO carbs at all!
Yup, you read that right!
So even if you add Shrimp to your Egg Foo Young, it doesn't impact the level of carbs in your meal.
Shrimp Egg Foo Young with gravy has 9-11g of net carbs per serving, and the majority of carbs come from the gravy (thanks to cornstarch!)
Shrimp is the most frequently eaten shellfish, and it is super low in carbs. Other than carbs, shrimp is also low in calories. That's why it's so popular among fitness enthusiasts.
It is a lean source of protein and is loaded with a variety of minerals and vitamins. A shrimp egg foo young with gravy has the same number of carbs but higher protein.
Having said that, you can easily cook a keto-friendly egg foo young with slight modifications to the original recipe.
Here's the much-awaited recipe straight out of my keto handbook!
MORE: Surviving Keto at Wingstop
Keto Egg Foo Young Recipe
While an egg foo young is already keto-friendly, the additional gravy adds up a lot of carbs!
But in this recipe, I'll share with you how to make a keto-friendly Egg Foo Young WITH the gravy (yes!)
I've brought this takeout meal straight to your kitchen! You can prepare this savory delight within half an hour.
My keto Chicken Egg Foo Young has minimal carbs but retains the authentic Chinese flavor! It is the perfect Chinese-American omelet stuffed with chicken and low-carb veggies.
Ingredients:
For the Omelet Patty:
Six beaten eggs
One-fourth cup chopped scallions
Four tbsp avocado oil
Half cup shredded Chinese Cabbage
Half cup chopped water chestnuts
Half lbs minced chicken
One tbsp Soy Sauce
For the Savory Gravy
Two cups Chicken Broth
Two tbsp Soy Sauce
One tbsp Monkfruit
One tbsp Vinegar
Half tsp Xanthan gum
Let's get to the cooking!
Instructions
Mix all the veggies, chicken, soy sauce, and eggs in a bowl.
Heat half tbsp avocado oil in a skillet over medium heat. Now make the patty just like you make pancakes by taking 1/4th cup of the mixture at a time.
Cook the omelet till it turns brown (average cooking time – 4 minutes er patty)
Repeat the process for the remaining mixture. You'll get 7-8 pieces of Egg Foo Young from this mixture.
It's now time for the gravy – add all the listed ingredients to a pan and bring to a boil. Then remove from heat.
Voila! You have your savory Keto Chicken Egg Foo Young ready with just 3g net carbs per serving!
(This recipe yields 4 servings. Each serving contains two patties and a portion of gravy.)
Nutrition
This keto chicken egg foo young is extremely delicious and packed with nutrition!
Here is the complete nutrition profile per serving:
Calories: 290 kcal

Carbs: 4g
Protein: 16g
Fat: 21g
Saturated Fat: 5g
Fiber: 1g
Sugar: 1g
Net Carbs: 3g
You can further experiment with various meats and toppings but make sure you count each carb!
What Chinese Food is Keto Friendly?
Who said you can't order Chinese on keto?
This is a very common myth revolving in the low-carb community. And it stands on this single assumption: All Chinese food is packed with carbs and sugar!
While this is right to some extent, it's not the complete truth!
You can definitely enjoy some authentic Chinese cuisine even while on a low-carb diet like keto.
As a rule of thumb, you should stick to buffets and hot pots because these are the places where you can easily customize your food. And controlling your portions is also much easier there!
Going to any other place, you'll have a tough time explaining "keto" to the waiter, lol!
So these are some of the dishes that are keto-friendly right off the bat:
Beef and Broccoli
Black Bean Sauce
Clear thin soups (it's mostly water)
Mongolian BBQ: It's highly customizable and you can easily order your favorite meats and veggies without sugary sauces.
Egg Foo Yung: A simple Chinese-American omelet topped with meats and veggies. Avoid the gravy if it contains cornstarch.
Pork Belly
Steamed meat and green veggies (no peas)
Walnut Chicken
Mu Shu Pork: Ditch the wrappers to keep things low-carb.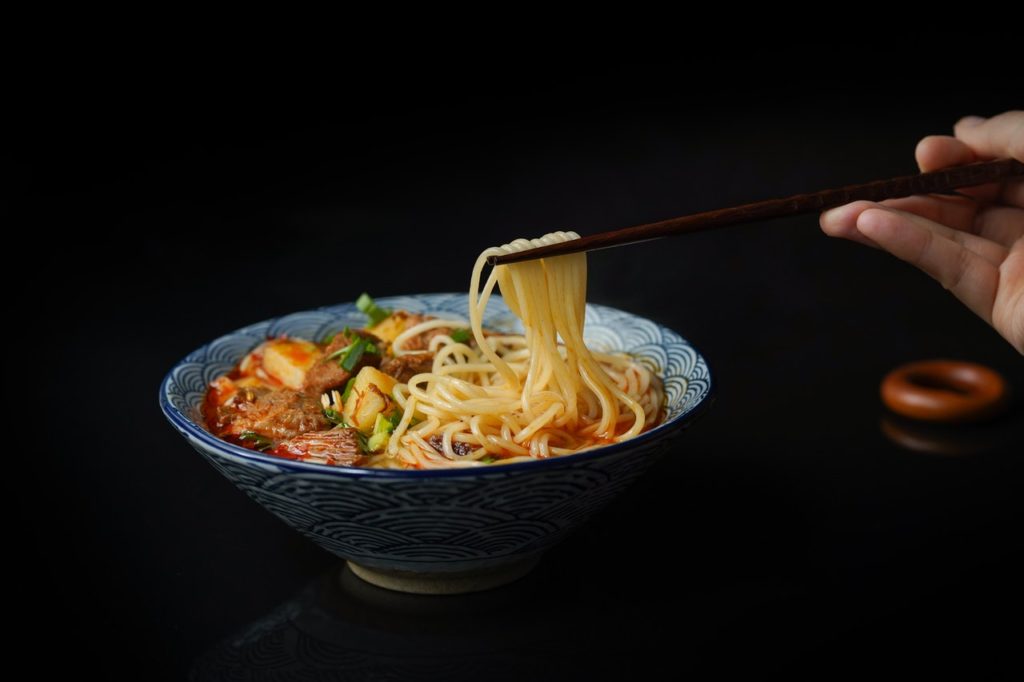 Important tips to keep in mind while ordering Chinese on Keto:
Request them to make your gravies without cornstarch (a major source of carbs!)
Ditch anything that has a breading around it (such as Chinese chicken tenders)
Soy sauce, vinegar, and garlic sauce are your friends!
Replace noodles and rice with high-fiber steamed veggies like bok Choy.
Pick lean meats like pork, beef, chicken, and shrimps.
Always plan your meals well in advance because you may be tempted to overeat and overindulge!
There is a huge variety when it comes to Chinese food, ranging from the spiciest Szechuan to milder dishes of Canton.
Other than the obvious noodles and rice, most Chinese sauces contain a good amount of carbs!
Avoid these Chinese food options at all costs when eating keto:
Sauces like duck sauce, sweet & sour sauce, and oyster sauce
All kinds of rice (steamed, fried, stir-fried, etc.)
Meats with breading
All kinds of Wontons
READ: Is Miso Soup Keto?
Conclusion
Is Egg Foo Young Keto?
Traditional Egg Foo Young (without gravy) is keto-friendly because all the ingredients are low-carb in nature. But the accompanying gravy mostly contains cornstarch and adds a lot of carbs.
So you should stick to a gravy-less egg foo young while dining out.
However, you can replace the cornstarch with Xanthan gum to enjoy a keto-friendly egg foo young with gravy!