The popular chain of restaurants Seasons 52 is scattered all over the U.S. and is one of those places that you may want to check out if you are looking for delicious foods that fit your keto lifestyle.
Despite the fabulous starters, soups, and salads on Seasons 52's menu, are there any keto-friendly options on it?
When you come to Seasons 52 you won't have problems if you're on the Keto diet. This restaurant offers a number of tasty and interesting Keto-friendly options. You'll find plenty of low-carb options to satisfy your cravings!
The Wood-Grilled Maine Lobster Tail has the lowest amount of net carbs. Additionally, you may want to consider the Steak Salad or Asparagus Soup.
The difficulty of eating out on keto arises from the fact that you are constantly being bombarded with carbohydrates everywhere you go. So, we have organized some of Seasons 52's best keto-friendly dishes to make your job a whole lot easier.
After reading this article, you'll definitely know what to order at this restaurant on a ketogenic diet!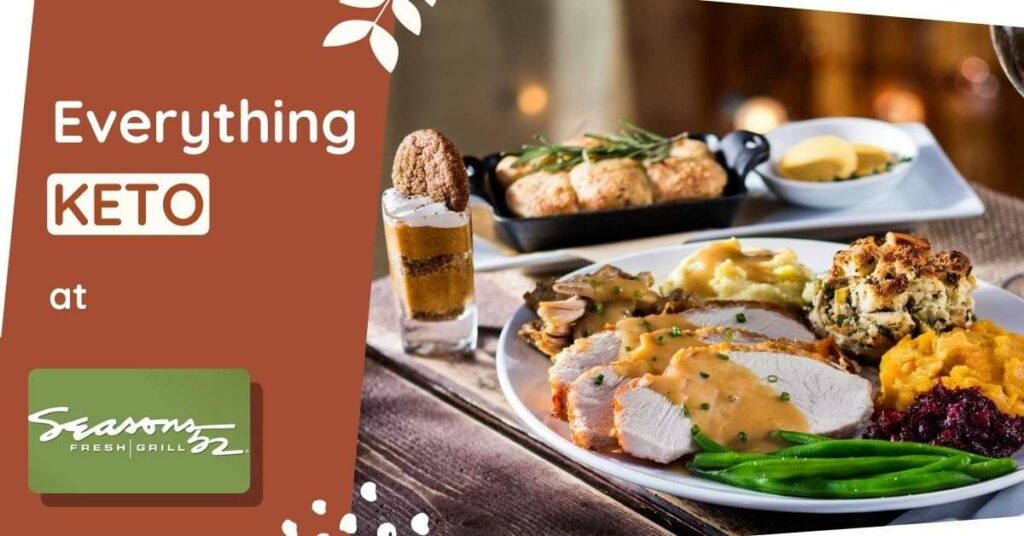 Tired of searching whether certain foods are keto? Download my keto cheat sheet with 210+ keto-friendly foods!
This post may contain affiliate links, which help keep this content free. (Full disclosure)
How to Survive Keto at Seasons 52
The concept of Seasons 52 is to deliver an atmosphere of casual sophistication, present a seasonal menu, and use the freshest ingredients to produce delicious menu items.
It is estimated that there are over forty Seasons 52 locations in the U.S.
Menus change every four months with the seasons. The magazine's weekly menu includes limited-time seasonal features called "What's Good Now."
Seasons 52's advanced sommelier visits a variety of vineyards to select the wines for Seasons 52's menu. The menu offers over 100 bottles of wine, including 52 by the glass.
Seasons 52 has a decent selection of low-carb starters, meals, and beverages, so finding low-carb and keto-friendly options will be easy.
On the keto diet, you have to watch out for carbs. You are allowed no more than 25g of net carbohydrates per day on this diet. To calculate net carbohydrates, deduct the amount of fiber from the total carbohydrate amount.
You can make major mistakes with this calculation in your Keto diet even if you make a small calculation error.
Some of the delicious keto-friendly dishes available at Seasons 52 are Lump Crab Cake, Naked Cheddar Burger, Spinach, and Strawberry Salad, among others.
The best part is that the restaurant provides all of the nutritional information online, so we can see how many net carbs are in each meal.
Although Seasons 52 has many dishes with less than 20g of net carbohydrates, much to your joy. However, that doesn't mean you can eat whatever you want and get away with it because it's under your daily carb limit.
Coconut Cream Pie, for example, offers 21g of net carbohydrates in the sweets area. So, do you believe it's keto-friendly to have 21g of carbs in one meal? Not only is it not keto-friendly but eating a meal full of sugar is unhealthy for your body.
The idea is to stay under 20g of carbohydrates while still getting enough fats and proteins to keep your body healthy and functioning.
With that said, let's check out some of the keto-friendly menu items at Seasons 52!
ALSO READ: Everything Keto at Longhorn Steakhouse
Keto-Friendly Options at Seasons 52
Let's take a look at the Seasons 52 selection of low-carb choices. when you're trying to stay below your daily carb restriction, these keto-friendly meals can help. Each item has its net carbs listed beside it for your convenience.
Keto-Friendly Starters, Soups, and Salads
Lump Crab Cake ( 7g )
Lump Crab and Shrimp-Stuffed Mushrooms ( 15g )
Asparagus – Cup ( 15g )
Spinach and Strawberry ( 13g )
Steak Salad ( 15g )
ALSO READ: Everything Keto at Yoshinoya
Keto-Friendly Meals at Seasons 52
Lemon-Grilled Shrimp Skewer ( 1g )
Wood-Grilled Maine Lobster Tail ( 1g )
Caramelized Grilled Sea Scallops ( 4g )
Naked Cheddar Burger ( 6g )
Wood-Grilled Shrimp and Grits ( 17g )
Wood-Grilled Boneless Rainbow Trout ( 18g )
Keto-Friendly Cocktails at Seasons 52
Hawaiian Pineapple Cosmopolitan ( 9g )
Strawberry Basil Martini ( 16g )
Rose Lemonade ( 16g )
Pomegranate Margarita ( 11g )
Bloody Mary ( 12g )
Mimosa ( 9g )
Keto-Friendly Wine and Beer at Seasons 52
Wine, Red 6oz Glass ( 5g )
Wine, White 6oz Glass ( 4g )
Wine, Sparkling 5oz Glass ( 8g )
Wine, Dessert 3oz Glass ( 12g )
Wine, Port 3oz Glass ( 11g )
Light Beer ( 6g )
Regular Beer ( 13g )
High Alcohol Beer ( 15g )
Non-Alcoholic Beverages at Seasons 52
Don't want to drink anything with alcohol? Prefer something non-alcoholic instead? At Seasons 52 you can get the following low-carb drinks:
Sweet Tea Lemonade: ( 13g )
Diet Coke: ( 0g )
Coke Zero ( 0g )
Unsweetened Tea ( 0g )
Black Coffee ( 0g )
Cappuccino ( 0g )
There aren't many options for sugar-free drinks. You can still sweeten your coffee or tea without adding carbs by carrying stevia sachets with you to the restaurant.
RECOMMENDED: On The Border KETO Friendly Options
Can You Drink Alcohol on a Ketogenic Diet?
Many people believe that any alcoholic beverage would knock you out of ketosis! Is it true though?
On the keto diet, you can absolutely have a cocktail now and then, as long as you stay under your daily carb limit!
To begin with, alcohol alone will not knock you out of ketosis. The only way you will be kicked out of ketosis is if you consume too many carbohydrates, which will result in a spike in your blood sugar.
However, it's important to note that consuming cocktails promotes alcohol as a fuel source rather than ketones.
When you follow a ketogenic diet, your body creates ketones from fat, which are then used to meet your energy needs.
But, as soon as you begin to consume alcoholic beverages, your body shifts into high gear in order to burn off the alcohol. As a result, ketone production is put on hold until the alcohol has been completely digested.
Many alcoholic beverages also contain carbs, therefore you must be mindful while picking out your alcohol.
Keto Ordering Tips at Seasons 52
Because Seasons 52 features flatbreads and carb-rich sides, it can be overwhelming to choose what food to order. Below we will share some tips for ordering keto food at this restaurant.
Avoid flatbreads
It's obvious that if you are on the keto diet, you can't eat too many carbs. You can get tempted by the flatbreads you'll find on the restaurant's menu, but just remember that you'll kick yourself out of ketosis if you eat them.
So flatbreads are a BIG no.
Avoid all the side dishes
Unfortunately, all the side dishes listed on the menu are loaded with carbs and therefore not suitable for a keto diet. Alas, you must avoid them indefinitely.
Don't be afraid to get creative with your order!
You've got to be brave and think outside the box. In the beginning, you might scramble around the menu frantically looking for keto options. But it doesn't hurt to ask them if they can tweak the dish for you to make it low carb.
For example, check if they can serve the main entrees without any sides or replace the sides with low-carb vegetables.
Conclusion
Low-carb options are plentiful in Season 52. You simply need to know the right adjustments to minimize carbohydrates.
Steer clear of any breading or sauces, and instead opt for fresh wood-grilled dishes without any seasoning. Do your best to avoid sugary drinks, flatbreads, and all the side dishes.
You shouldn't have a problem going keto at Seasons 52 as long as you follow our tips.
Now that you are armed with the knowledge of what to eat and what to avoid, you are prepared to put them into action at Seasons 52.