Paul Fleming and Bill Allen envisioned a unique premium steakhouse focused on hospitality, a fantastic atmosphere, and the finest aged beef America has to offer. Come 1998, Fleming's Prime Steakhouse & Bar was born.
Since its conception, Fleming's has been satisfying meat lovers at 70 locations across the United States.
So what's gluten-free at Fleming's Steakhouse?
Fleming's Steakhouse boasts an incredible gluten-free menu with a delectable variety of salads, starters, famous steaks, sides, and even dessert!
Keeping their gluten-free customers in mind, they've created a menu that encompasses everything Fleming's offers without making people feel like they're missing out on anything because of their diet.
With over six cuts of premium USDA prime beef and twenty-six gluten-free options altogether, Fleming's menu will have you scratching your head because there is so much you'll want to try.
This is coupled with fantastic service and a delightful ambiance, making Fleming's the perfect destination for a romantic date or family get-together.
Even though Fleming's has a detailed gluten-free menu and allergen guide, the restaurant still warns its customers of possible cross-contact during meal prep since the kitchen space is shared.
Therefore, the restaurant advises its customers to inform the staff of their allergies so they can follow adequate protocols to avoid contamination.
Suppose you have Celiac disease or severe gluten sensitivity. In that case, we advise you to stay cautious by ordering strictly from the gluten-free menu and reiterating the importance of cross-contamination protocols for your health.
In this write-up, we'll be carefully analyzing the Fleming's Steakhouse menu. We'll go over all of the gluten-free options and discuss some beneficial tips to steer clear of any cross-contamination while you're there.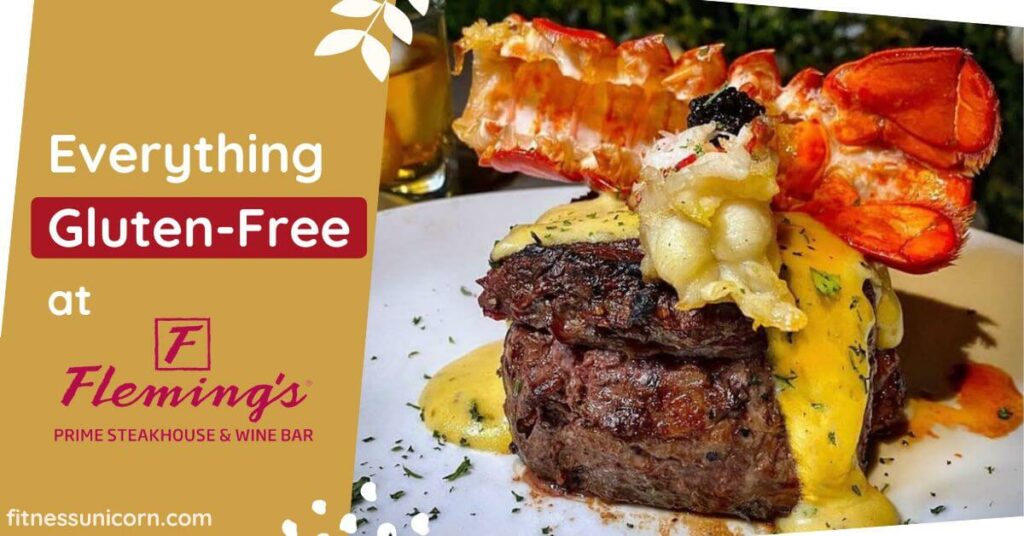 This post may contain affiliate links, which help keep this content free. (Full disclosure)
Gluten-Free Options at Fleming's Steakhouse
Everything at Fleming's is prepared to order with top-quality fresh ingredients. The gluten-free menu was designed with the consultation of registered dieticians who advised the team on the best and safest gluten-free ingredients.
The servers will guide you through the menu, briefing you about what the dish contains and how it is prepared, helping you choose the best possible dish according to your preference.
The team at Fleming's follows immaculate cross-contamination protocols to ensure that your meal is free of gluten. However, due to the shared kitchen space, the risk of cross-contact is always present, especially during a busy shift.
Hence, if you have Celiac disease, you should stay alert and carefully inspect what you consume.
Let us now go over the mouth-watering gluten-free options available at Fleming's!
Note: Fleming's Steakhouse strongly advises that you inform the manager of your health condition before ordering. This allows the staff to make adequate arrangements.
Starters
Warm up your tastebuds with Fleming's unique and delectable starters. Perfect for sharing and getting your appetite started! These are tweaked to make them gluten-free and safe for consumption.
Chilled Seafood Tower (without ahi tuna poke and lavash crackers)
Beef Carpaccio (without crostini)
Burrata with Proscuitto (without croutons)
Shrimp Cocktail
Seared Pork Belly (without fig demi-glace)
ALSO READ: Sweetgreen's Gluten-free Menu Items
Salads
You can enjoy the fresh green salads that are entirely gluten-free. The salads compliment the juicy steaks perfectly, or you can even enjoy them on your own.
They're that flavorful! Just remind the server to exclude the croutons for your health and safety.
Caesar Salad (without fried capers & croutons)
Fleming's Salad (without croutons)
Wedge Salad
Steaks & Beyond
Now for the crown jewel! The steaks are what Fleming's is known for and built its reputation over. The best possible USDA prime beef is sourced to prepare the most succulent, juicy, and mouth-watering steaks.
You'll surely get addicted if you love meat.
The steaks are entirely gluten-free and the perfect high-protein meal to devour. Once you've selected the cut of meat, the steak is grilled to perfection and served with a choice of Fleming's signature butter.
If you're not big on beef, you can order the poultry and seafood options.
Steaks
Petite Filet Mignon 8oz
Main Filet Mignon 11oz
Certified Angus Beef Ribeye 14oz
Prime Bone-In Ribeye 20oz
Prime New York Strip 16oz
Prime Tomahawk 35oz
Prime Dry Aged Ribeye 16oz
Steak Butter
Bearnaise
Smoked Chilli
Herbed Horseradish
Beyond Steak
Double Breast of Chicken
Seasonal Featured Lobster Tails
Over the Top
Fleming's offers some unique gluten-free dishes for you to enjoy.
Diablo Shrimp
Jumbo Lump Crab Meat
Truffle-Poached Lobster
Seared Pork Belly (without fig demi-glace)
Sides
Fleming's offers some scrumptious gluten-free sides that are the perfect companion to your perfect steak. The huge variety of delicious sides will make you want to try all of them!
Fleming's Potatoes
Roasted Asparagus
Cauliflower Mash
Mashed Potatoes
Baked Potato Plain or Loaded
Sauteed Mushrooms
Desserts
Yes, you're reading this right. They even have gluten-free desserts! For all of you with a sweet tooth who can't satisfy your cravings due to your allergies.
Fleming's offers the most decadent, indulgent gluten-free desserts made with the most premium, top-quality ingredients on the market.
These desserts are the perfect way to end your night at Fleming's on a high.
Chocolate Lava Cake (without pistachio tuille)
Fresh Fruit & Chantilly Cream (without pistachio tuille)
Creme Brulee
Wines & Cocktails
Fleming's is also famous for its exquisite and expansive wine collection. Ask the server for the perfect gluten-free wine that will superbly compliment your cut of meat.
Sparkling
White Wines & Blends
Chardonnay
Pinot Noir
Merlot
Red Wines of Interest
Cabernet Blends
Cabernet Sauvignon
Hand-Crafted Cocktails
Fantastic Tips for a Gluten-Free Meal at Fleming's Steakhouse
Fleming's Steakhouse has a detailed gluten-free menu, knowledgeable servers, and strict cross-contamination protocols. But, due to the shared kitchen spaces, the chances of cross-contact cannot be eliminated entirely.
Therefore, we've come up with a few practical tips to help you steer clear of any possible contamination and enjoy a hearty gluten-free dinner at Fleming's.
Research the Restaurant
Before visiting any restaurant, you should always research a few crucial aspects that will help you decide whether the place is allergy friendly or not.
Keep the following aspects in mind when looking for a decent gluten-free restaurant;
Is there a detailed gluten-free menu and allergen guide?
Are there strict cross-contamination protocols in place?
Is the staff trained and well-informed about gluten allergies?
Is there a dedicated space for gluten-free meal prep?
Are there dedicated utensils and pans for gluten-free meals?
Fleming's passes every criterion except having a dedicated kitchen space. It's a pretty safe place to dine if you don't have any gluten-related severe disorders.
Inform the Manager
Fleming's Steakhouse asks customers to inform them of any food-related allergy before ordering. This allows them to understand the seriousness of your condition and make adequate arrangements.
When the staff knows of your condition, the chances of confusion and hence contamination go down significantly.
Fleming's staff is outstandingly courteous and will go to any length to fulfill your needs.
Specific Instructions
If you request the servers to follow a few simple instructions to follow for your meal prep, it'll help you build confidence and reduce the stress that accompanies possible contamination. Here are the instructions to ensure a gluten-free meal;
Request a single chef to prep your meal to limit confusion and accidents
Request the server to wear a fresh pair of gloves before prepping your order
Request the server to clean and disinfect the prep surfaces and utensils before prepping your order
Ask the server to pick out ingredients from a fresh batch if possible
If you're with a group of people, ask for your order to be prepped first to avoid unnecessary contact
Keeping it Simple
Order strictly from the gluten-free menu, and don't try to experiment too much. If you stick to simple items that are made with certified gluten-free ingredients, the risk of contamination goes down.
Avoid complex dishes that might contain hidden gluten in the form of thickeners and breading.
If in Doubt, Throw it Out
If you have Celiac disease or severe gluten sensitivity, only consume items that you're sure of.
Avoid any dish or ingredients that spark doubt because jeopardizing your health is not worth any kind of meal, no matter how enticing it may seem.
Visit During Off-Peak Hours
As the orders start to pile up, the stress and confusion in the kitchen go up. This leads to increased mistakes and increased chances of contamination.
Hence, it is better to visit during off-peak hours when the servers are more relaxed and can follow protocols more strictly.
Cross Contamination Risk at Fleming's Steakhouse
Cross-contamination can be an absolute nightmare for people with Celiac disease. Contamination occurs when gluten-free food items come into contact with gluten particles through gloves, utensils, pots, surfaces, and other items.
This can be easily avoided by having strict contamination protocols for gluten-sensitive customers' safety and well-being.
Fleming's Steakhouse has stringent protocols in place, but the shared kitchen spaces increase the risk of contamination. But, the restaurant is equipped to handle gluten-free orders in all other aspects.
The servers are incredibly knowledgable and well-trained to handle food allergies. The chefs make sure to avoid all possible contaminants while prepping your order.
All in all, Fleming's is a pretty safe place to eat if you're on a gluten-free diet. If you have Celiac disease, we advise you to be extra cautious and order only off of the gluten-free menu while emphasizing the importance of contamination control.
The Public Opinion
We scoured the internet to find reviews on Fleming's Steakhouse by Celiacs and gluten-sensitive customers. These reviews help us gauge how allergy-friendly a restaurant is and whether it is worth visiting or not.
All of these reviews are sourced from the internet based on real experiences.
The majority of the reviews were extremely positive, and people had satisfying experiences at Fleming's. Many customers mentioned the staff's outstanding knowledge about Celiac disease and gluten-free diets in general.
Moreover, they reported that the servers went above and beyond their capacity to make sure the meal was safe and free of contamination.
People were pleased by the extensive gluten-free options that even included dessert! Another positive takeaway was that multiple Celiacs mentioned visiting Fleming's multiple times with no reports of getting sick.
However, like all restaurants, Fleming's, too, is prone to mistakes. A few customers had unpleasant experiences due to avoidable mistakes.
Overall, Fleming's Steakhouse is a fantastic place to dine out on a gluten-free diet. Just be cautious and communicate with the staff for an exceptional fine dining experience.
Gluten-Free Alternatives to Fleming's Steakhouse
Fleming's Steakhouse is a great option if you're looking for an upscale gluten-free dining experience. Let's discuss a few fantastic fine dining alternatives where you can get excellent gluten-free meals.
Bonefish Grill
Bonefish Grill is a fantastic seafood restaurant serving some of the freshest seafood. It boasts and an impressive variety of gluten-free dishes that you can enjoy without risking your health.
However, keep in mind that the kitchen space is shared.
Mussels Josephine
Salads – Bonefish House Salad, Florida Cobb Salad
Wood-Fire Grilled Meats – Atlantic Salmon, Rainbow Trout, Chicken Breast, Pork Chop
From the Sea & Land – Lobster Tails, Filet Mignon, Sirloin Steak, Fontina Pork Chop
Premium Sides – Jasmine Rice, Garlic Whipped Potatoes
Macadamia Nut Brownie
Check out our gluten-free guide to Bonefish Grill here.
The Capital Grille
The Capital Grille is another upscale steakhouse that boasts a variety of gluten-free options to choose from. They have a dedicated gluten-free menu, but the kitchen spaces are shared, which might lead to contamination.
Appetizers – Steak Tartare, Roasted Corn Bisque, Fresh Oysters, Shrimp Cocktail, Grand Plateau
Salads – Caesars Salad, Bibb Stack Salad, Wedge Salad
Main Courses – Dry Aged Strip, Filet Mignon, Bone-In Ribeye, Lamb Rib Chops, Seared Tenderloin with Butter Poached Lobster Tails
Seafood – Fresh Maine Lobster, Chilean Sea Bass, Seared Citrus Glazed Salmon, Pan Seared Sea Scallops
Accompaniments – Au Gratin Potatoes, Mashed Potatoes, Grilled Asparagus with Lemon Mosto