Bonefish Grill is a popular American seafood restaurant serving some of the tastiest and freshest seafood. It was founded in 2000 and has since grown to over 180 locations spread across the United States.
The restaurant is known for its casual atmosphere which is ideal for intimate dates, dinners with family, and reunions with friends.
They boast an expansive menu offering a plethora of fresh seafood dishes along with some amazing sides, salads, and desserts. There's something for everyone to enjoy and devour!
So what's gluten-free at Bonefish Grill?
Bonefish Grill has a fantastic gluten-free menu with an impressive range of dishes that are free of gluten. They have a variety of gluten-free seafood entrees along with some of your favorite sides and salads. The best part is that they even have a dessert that is gluten-sensitive.
Other gluten-free items on the menu include a unique seafood starter and a variety of grilled meats if you're not big on seafood. If you're on a gluten-free diet, there is a wide variety of scrumptious options for you to choose from.
Even though Bonefish Grill has a dedicated gluten-free menu, the restaurant still warns its customers of possible cross-contact.
This is due to the fact the restaurant doesn't have dedicated prep surfaces, which means the gluten-free food is prepared with the regular menu items.
Hence, you should practice caution if you have Celiac disease or severe gluten sensitivity. Risking your health to satisfy your hunger is never worth it.
This article will be an in-depth analysis of Bonefish Grill's gluten-free menu. We'll briefly examine all the delicious gluten-free options available and a few tips to avoid contamination while you're there.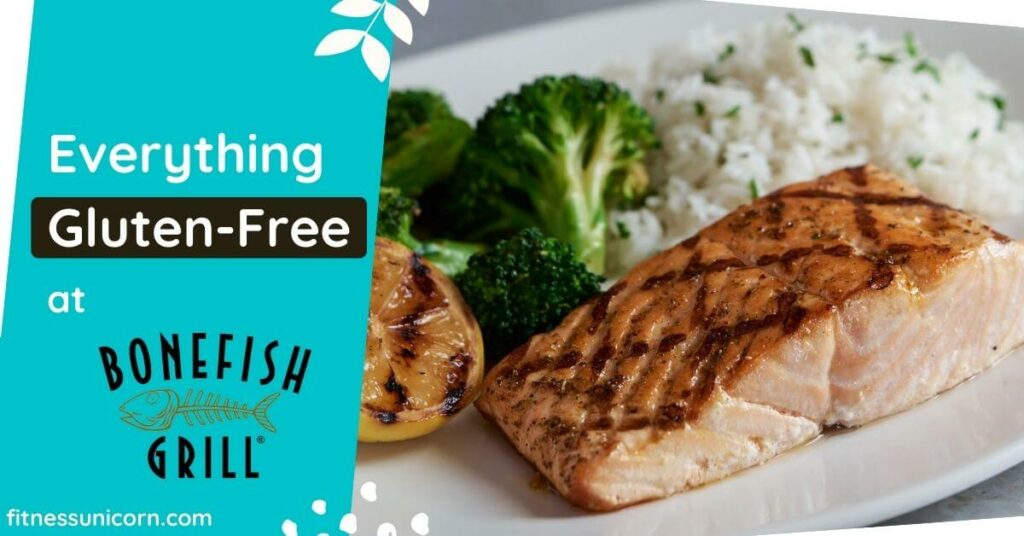 This post may contain affiliate links, which help keep this content free. (Full disclosure)
Gluten-Free Options at Bonefish Grill
The dishes at Bonefish Grill are prepared with the freshest seafood from its gluten-free suppliers. The staff is friendly, and the Anglers (waiters) guide you through the menu, helping you pick the perfect dish for yourself.
It's an excellent restaurant if you're looking for a place with great gluten-free variety.
The staff at Bonefish Grill is well-trained and follows strict cross-contamination protocols to keep you and your family safe. Let us now take a look at the various gluten-free options available at this fantastic eatery.
Remember, if you have Celiac disease or severe gluten allergies, it's best if you stay wary since the risk of contamination is always present.
Note: Bonefish Grill advises you to inform the manager about your allergy before ordering so the restaurant can make adequate arrangements.
Starters & Sharing
Get yourself started with the delicious gluten-free starter at Bonefish Grill.
Mussels Josephine (without bread)
These delicious mussels are fresh from the sea and served with tomatoes, red onion, garlic, basil, and lemon wine sauce. Perfect for sharing!
RELATED: What's Gluten-free at Twin Peaks Restaurant?
Greens
Bonefish Grill has a variety of different fresh gluten-free salads on the menu. You can enjoy these salads as a side or as a complete meal.
Bonefish House Salad
This delicious salad comes with hearts of palm, Kalamata olives, tomatoes, and citrus herb vinaigrette. You can add some blue cheese or feta to elevate the flavor further.
Classic Caesar Salad (no croutons)
Fresh crispy romaine lettuce is tossed with the Bonefish Caesar dressing and parmesan cheese to conjure up a mouth-watering salad. You can add on some grilled meats to make the salad even better.
Florida Cobb Salad
Fresh chopped greens are mixed in with mango, tomatoes, and blue cheese crumbles tossed in Bonefish Grills' special citrus herb vinaigrette. You can top this delicious salad with wood-grilled shrimp or chicken. 
YOU MAY ALSO LIKE: On the Border's Gluten-free Menu Items
From the Wood-Fired Grilled
Bonefish Grill offers a variety of sumptuous wood-grilled seafood and meats served with two gluten-free sides and some sauces to take the flavor up a notch.
The signature gluten-free sauces include lemon-caper butter, mango salsa, lemon butter, and chimichurri.
Atlantic Salmon
Rainbow Trout
Mahi-Mahi
Chilean Seabass
Chicken Breast
Bone-In Pork Chop
Scallops & Shrimp Skewer
From the Sea & Land
Bonefish Grill has some excellent gluten-free entrees from the sea and land that are served with a choice of two signature sides.
Cold Water Lobster Tails – seasoned and steamed lobster tails served with warm drawn butter
Filet Mignon – seasoned wood-grilled steak cooked to perfection
The Anglers Sirloin Steak
Lily's Chicken – cooked with goat cheese, spinach, artichoke, and lemon basil sauce
Chicken Marsala – wood-grilled chicken with prosciutto, mushrooms, and marsala wine sauce
Fontina Pork Chop – cooked with Fontina cheese, garlic prosciutto, and mushroom marsala wine sauce
Perfect Pairings
A combination of meats and seafood makes for the perfect combo. These are also served with a choice of your favorite gluten-free sides.
Mahi-Mahi & Shrimp
Filet & Lobster Tail
Sirloin & Shrimp
Chicken & Shrimp
RECOMMENDED: Gluten-Free Options at California Pizza Kitchen
Premium & Signature Sides
The signature gluten-free sides at Bonefish Grill compliment all of their delectable main dishes.
Jasmine Rice
Seasonal Vegetables
Steamed Asparagus
Garlic Whipped Potatoes
Macadamia Nut Brownie
Not many places have a gluten-free dessert, but Bonefish Grill has your sweet tooth sorted. You can enjoy their flourless Macadamia Nut Brownie with raspberry sauce, vanilla ice cream, and macadamia nuts.
Fantastic Tips for a Gluten-Free Meal at Bonefish Grill
Bonefish Grill boasts an impressive gluten-free menu along with a knowledgeable staff capable of accommodating your allergies. Here are a few helpful tips to further enhance your gluten-free experience at Bonefish Grill or any other eatery.
Know the Eatery
Whenever visiting a new restaurant, it's vital to keep a few questions in mind. What kind of food is being served? Is there a gluten-free menu available? Is the staff adequately trained? Are the contamination protocols up to par?
A quick search over the phone will answer all these questions and help you work out how allergy-friendly a restaurant is.
Bonefish Grill has an excellent, extensive gluten-free menu to satisfy all your cravings. The staff is adequately trained and follows adequate protocols. The only downside is the absence of dedicated surfaces for gluten-free items in the kitchen.
Communicate your Concerns
Bonefish Grill advises its customers to inform the manager about their allergies prior to placing their order. This allows the staff to make proper arrangements to prepare a safe and gluten-free meal for you.
Always communicate any concerns you have so that there is no miscommunication or confusion between you and the restaurant. The team at Bonefish Grill is accommodating and friendly.
They will make sure your concerns are addressed, and you leave the restaurant satisfied.
Personalized Orders
The staff at Bonefish Grill is well equipped to follow adequate protocols to avoid contamination. But, despite the restaurant's best efforts, contamination is still a lingering risk.
To ensure your order is gluten-free, here are a few precautions you can ask the staff to follow.
Ask for a single server to prepare your gluten-free meal from start to finish to eliminate any confusion and the risk of contamination.
Request the server to clean and disinfect the prep surfaces before prepping your meal since the surfaces are shared.
Request your server to wear a fresh pair of gloves before preparing your order.
Ask your server to fetch ingredients from a fresh batch to reduce contamination further.
If you're with a group, ask your order to be prepared first to avoid contamination.
Keeping it Simple
Whenever you're out to eat, it's essential to keep your order simple. Stick to the gluten-free menu and the options with the safest ingredients, for instance, grilled meats.
Ordering from the regular menu poses a higher risk of cross-contamination since many dishes contain ingredients with hidden gluten like thickeners.
If in Doubt, Throw it Out
Following your gut feeling is the best thing you can do. Only consume dishes that you're confident of. If you're doubtful of an ingredient not being gluten-free, it's better to avoid it altogether.
No food is worth risking your health and well-being over.
Avoid Rush Hours
Restaurants are usually packed during rush hours; this means the staff is swarmed with orders and a mistake is almost inevitable.
It's always better to visit during off-peak hours when the staff can give you their undivided attention to ensure there's no contamination.
Cross Contamination Risk at Bonefish Grill
Cross-contamination is a living nightmare for Celiacs and people with severe gluten sensitivity. It occurs when gluten-free foods come into contact with gluten through contaminated gloves, utensils, surfaces, and gluten-containing foods.
Cross-contamination is a serious risk to the health of Celiacs and people with severe gluten allergies. Therefore, strict measures are paramount in order to avoid any kind of contamination at restaurants.
Bonefish Grill has stringent cross-contamination protocols. Everything on their gluten-free menu is prepared with great care, and the ingredients are sourced from gluten-free suppliers.
The staff is well-trained and educated on cross-contamination control, enabling them to practice adequate safety measures. Hence, Bonefish Grill is a relatively safe restaurant to eat at if you have gluten allergies.
Keep in mind that the Bonefish Grill does not have dedicated equipment and kitchen space to handle gluten-free items; hence cross-contact is still possible.
If you have Celiac disease, it is extremely important to stay cautious and monitor your order closely.
What is the Public Saying?
We thoroughly explored the internet for reviews on the Bonefish Grill to find out how satisfied the public is with its gluten-free menu and its protocols.
We reviewed over a hundred reviews from individuals with Celiac or some gluten sensitivity.
Bonefish grill boasts an overall 4-star rating from over a hundred reviews. This signifies its popularity amongst people with gluten allergies. Almost all reviews reflected upon the amazing gluten-free variety, including dessert!
An overwhelming number of reviews praised the knowledgable and well-trained staff who followed strict protocols to ensure safety.
Many of these reviews were from Celiacs; this shows that Bonefish Grill is working towards providing the best possible experience to their customers with dietary restrictions.
Negative reviews were few and far between. These reviews didn't have much to do with the food itself but the slip-ups from servers at specific locations caused a few people to get sick.
Bonefish Grill is a great location to dine out for gluten-free options, but you must practice caution since people did get sick at some locations.
Other than that majority of customers were highly satisfied with the food and service at Bonefish Grill.
Gluten-Free Alternatives to Bonefish Grill
Bonefish Grill is a fantastic restaurant with an impressive gluten-free menu. But, if you're unable to find one near you, then worry not because we've compiled a list of excellent alternatives for great gluten-free seafood.
Long John Silvers
Long John Silvers is a popular American fast-food chain specializing in seafood. They boast a decent variety of gluten-free options, including various sides and grilled seafood options.
Baked Alaskan Cod
Baked/Grilled Shrimp
Grilled Salmon
Sides – Coleslaw, Rice, Green Beans, and Baked Potato
Red Lobster
Red Lobster is a fantastic option if you're looking for some delicious gluten-free seafood options. The casual atmosphere and amazing service make it a great place to visit with friends and family.
Shrimp Scampi
Maine Lobster
Oysters
Crab Legs
Oven-Broiled Flounder
Grilled Salmon
Captain D's
Captain D's is a casual American seafood restaurant. They specialize in a variety of delicious fresh fish. The gluten-free options at Captain D's are bound to satisfy your seafood cravings.
Grilled Salmon
Grilled Shrimp
Grilled White Fish Filet
Grilled Shrimp Skewers
Seasoned Tilapia
Salads – Shrimp Salad and Wild Alaskan Salmon Salad
Sides – Coleslaw, Broccoli, Seasoned Rice, Corn on the Cob