The special thing about Cici's is that you can order slices of different flavors of pizza rather than a whole pizza of one. This way, you get to try different flavors of pizza before you decide on ordering a full size.
But can you even eat Cici's pizza if you're on a gluten-free diet?
The answer is no. It's because Cici's doesn't sell gluten-free pizzas. Although Cici's has a few varieties of crusts, none of them are gluten-free. Their list of side items is also small. So, what can you order at Cici's, if not pizzas?
We'll discuss just that. However, if you have celiac disease or you're highly sensitive to gluten, I'd recommend you not eat at Cici's.
But if you avoid gluten because of dietary preference rather than allergic reasons, here are a few tips and gluten-free options you can order at Cici's.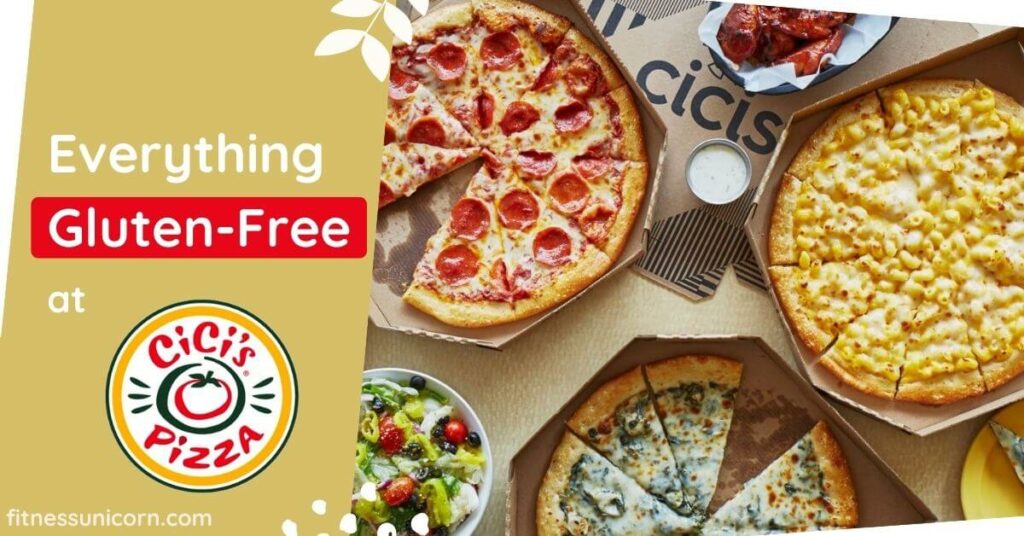 This post may contain affiliate links, which help keep this content free. (Full disclosure)
Cici's gluten-free menu items
Cici's is known for its low-priced unlimited buffet-style pizzas, salad bar, wings, and soft drinks. They've more than a dozen varieties of pizzas and four kinds of crusts.
Their traditional crust is available in three sizes- 14", 12", and 9". You could order all types of pizzas on the traditional crust. However, the options are limited to other crusts like flatbread, deep dishes, and stuffed crust.
But on a gluten-free diet, wings are where you should look at. Cici's offers two kinds of wings- traditional bone-in and boneless. They're available in one, five, 10, and 20 sizes per order.
Cici's boneless wings aren't gluten-free because they're breaded. But the bone-in wings are gluten-free. However, they might be fried in the same cooking oil.
It may not be an issue if you're not allergic to gluten, but if you are, confirm with the staff before you order them.
Another great option for you would be salads. Cici's salad bar has a wide selection of fresh fruits, vegetables, pickles, beans, and dressings. You can be creative here and create yourself a plate of salad with any of these ingredients.
In terms of beverages, you can go all in. Cici's has almost two dozen soft drinks which are available in three sizes- 12 fl oz, 18 fl oz, and 32 fl oz. And all of these beverages are gluten-free.
Beware, they charge for the drinks with adult meals. Their availability may vary by location.
Here is the list of items you can order at Cici's if you aren't sensitive to gluten but avoid it for dietary preference.
Wings – Traditional Bone-In
#1. Naked – no sauce
Nutritional Value
Calories: 70 kcal
Fat: 4.5 g
Carbs: 0 g
Protein: 7 g
#2. Hot Buffalo
Nutritional Value
Calories: 70 kcal
Fat: 4.5 g
Carbs: 0 g
Protein: 7 g
READ MORE: 12 BEST Gluten-Free Bakeries in Knoxville, NT
#3. Mild Buffalo
Nutritional Value
Calories: 80 kcal
Fat: 5 g
Carbs: 0 g
Protein: 7 g
#4. Garlic Parmesan
Nutritional Value
Calories: 100 kcal
Fat: 7 g
Carbs: 0 g
Protein: 7 g
#5. BBQ
Nutritional Value
Calories: 80 kcal
Fat: 4.5 g
Carbs: 2 g
Protein: 7 g
Salad dressings
Ranch
Lite Italian
1000 Island
Blue Cheese
Signature Italian
French Dressing
Catalina French Dressing
FIND MORE: What's Gluten-free at Bonefish Grill?
Beverages
Sprite
Diet Coke
Coca-Cola
Mello Yello
Fanta Apple
Fanta Orange
Diet Dr. Pepper
Barq's Root Beer
Cicis Brewed Tea
Cherry Coca-Cola
Dr. Pepper Fountain
Gold Peak Peach Tea
Canada Dry Ginger Ale
Gold Peak Raspberry Tea
Powerade Mountain Berry Blast
Hawaiian Punch Fruit Juicy Red
Gold Peak Sweetened Black Tea
Cicis Brewed Sweet Tea (No Ice)
Minute Maid Premium Lemonade
Gold Peak Premium Unsweetened Tea
Tips for ordering gluten-free at Cici's
Bring a gluten-free crust with you.
Whenever you go to Cici's, bring a gluten-free crust with you. Then, ask the staff to make your pizza using that crust. For example, Take Udi's gluten-free crust to Cici's and ask them to make a spinach alfredo pizza.
Or another type of pizza using gluten-free toppings.
RECOMMENDED: Gluten-Free Options at Twin Peaks Restaurant
Inform the staff about your allergy.
When ordering a pizza at Cici's, Inform the person at the counter that you're allergic to gluten.
Request the staff to take safety precautions such as changing their gloves, taking toppings from the bottom of the container, using a separate baking pan, and arranging the pizza in a clean place to prevent cross-contamination.
Stay away from Cici's pizza buffet.
You might have seen a variety of traditional, flatbread, and deep-dish pizzas displayed at Cici's counter. Keep your eyes away from them because none of them are gluten-free.
Stay away from Cici's sides & desserts.
Cici's side items like soup, pasta, garlic cheese bread, or desserts such as brownies contain wheat, so they're not safe to eat.
Create a plate of salad but don't add these.
The salads at Cici's are safe to eat. Their large selection of ingredients gives you the freedom to customize your plate to your liking. However, there are a few ingredients that you shouldn't add to your salad.
They are croutons, saltine crackers, pasta, and the lite ranch.
Cross-contamination risk at Cici's
The salad bar at Cici's is self-serve, meaning everyone takes the food with the same spatula. People may serve themselves on the same plate multiple times, which can lead to cross-contamination.
Also, the pizza crusts and desserts at Cici's contain wheat flour which can also spread to other toppings.
In addition, Cici's is not a dedicated gluten-free pizza chain, and nor do they follow allergy protocol. This means, there are no strict rules or training in place to deal with cross-contamination or serve people with special dietary needs.
So, if you've celiac disease or high gluten intolerance, don't eat at Cici's.
What do people say about the gluten-free options at Cici's?
Before we try something new, it's good to know what the experience is going to be like from people who have already tried that thing. So, here is what people with celiac and non-celiac gluten sensitivity have said about Cici's.
Surprisingly, there aren't many reviews about Cici's given by people with gluten allergies. This indicates that they don't consider this place to be ideal for them.
Those who went there said, " they prefer not ordering anything here because of the danger of cross-contamination."
A reviewer also said that they brought a gluten-free pizza crust to Cici's and the staff made them a pizza of their choice. But not all locations may allow it.
Gluten-free alternatives to Cici's
Does eating at Cici's sound like a nightmare to you? Don't fret! You can try these other pizza places instead.
Jet's Pizza
On their website, Jet's pizza has an allergen menu where you can filter out the gluten and wheat-containing products. Jet's pizza offers lots of options to customize your pizzas. They offer different styles of crusts in various flavors.
They also have a physical menu indicating various gluten-free items. On this menu, they've lots of toppings, traditional wings, salads, cheeses, and sauces. Gluten-free items also come with a marking while being served.
Jet's pizza has two types of gluten-free crust, one is called the cauliflower crust and another is the regular gluten-free crust. The gluten-free crust is thin and 6" in size.
It's available in six flavors- butter, cajun, sesame, garlic, turbo crust, and romano.
People sensitive to gluten have given good reviews about the taste and after-effects of Jet's gluten-free pizza. They've also said that the staff was knowledgeable about their allergy and took proper precautions.
Blaze Pizza
Blaze Pizza has three types of gluten-free crusts- cauliflower, keto, and gluten-free dough. The gluten-free crust is made up of brown rice flour and Tapioca flour, whereas the other two crusts have cauliflower as a common ingredient.
Each of them is available in an 11" size.
Their selection of gluten-free pizza toppings is also large. Apart from pizzas, you can order traditional chicken wings, salads, and beverages on the side.
The staff at Balze pizza are trained about allergies and follow an allergy protocol. If you tell them that you're allergic to gluten, they'll change their gloves, clean the cooking area, and use separate utensils to prepare your pizza.
But you may have to be physically there to watch over them. If you order online, they may or may not be that diligent with your order.
Giordano's
Giordano's offers a variety of pizzas on its thin and small gluten-free crust. They have a wide selection of vegetable, meat, and cheese toppings.
You can either select pizzas from their pre-made recipes or customize them as per your liking.
Apart from pizzas, they also have gluten-free kinds of pasta, salads, and non-alcoholic beverages.
Giordano's has also got good reviews from people with celiac and non-celiac gluten sensitivity, however, your experience may vary based on location.
The staff at Giordano's are knowledgeable about allergies, so if you tell them that you're allergic to gluten, they'll follow their allergy protocol.
Pizza Guys
Pizzas Guys are relatively a small pizza chain with under 100 locations throughout the country. But if you happened to be at one of their locations, you can give them a try.
Pizza Guys offers all of their medium-sized pizzas on a gluten-free crust.
Their pizza crust is made up of rice and potato flour and is 100% gluten-free. Apart from that, they also have wings, salads, and beverages.
They also take proper measures to ensure there is no cross-contamination. However, they warn people with celiac or high gluten intolerance to not eat there, but rather choose another pizza place.
Papa John's
Papa John's is a renowned pizza chain with over 5,500 locations worldwide. They offer a gluten-free crust made up of grains like Sorghum, Amaranth, Quinoa, Teff flour, etc.
They offer a decent selection of gluten-free toppings such as cheeses, vegetables, and meats. Apart from pizza, you can order wings, salads, and beverages on the side.
However, like any non-dedicated gluten-free chain, Papa John's pizzas may also contain traces of wheat due to cross-contamination. So, always visit their store when making an order.
And ask the staff to take necessary precautions while making your pizza.