Do you crave Cici's Pizza right now, but are on a keto diet? No, I don't feel sorry for you because I have all the necessary weapons you need to enjoy a keto-friendly meal at Cici's.
Yes! you can even eat a pizza at Cici's while on keto (but with a twist of course!)
Cici's has a wide range of crustless pizzas that are extremely fit for the keto diet. What's more, you can even have your fully customized low-carb salad at their salad bar.
In this article, you'll find EVERYTHING Keto at CiCi's. I'll not just talk about their low-carb options (which are many!), but also take you through some tips and tricks to minimize your carbs at this buffet place!
Without further ado, let's jump right into it.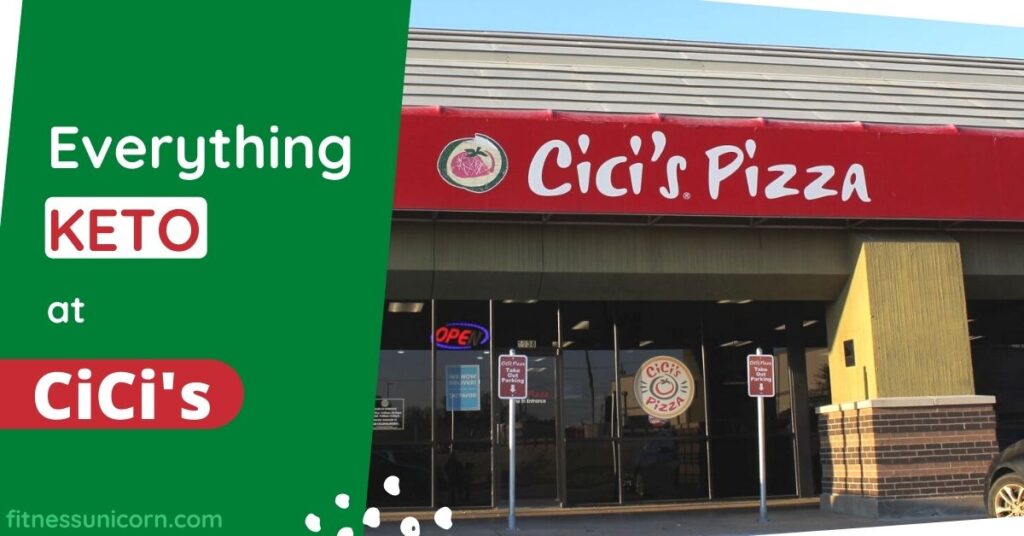 Tired of searching whether certain foods are keto? Download my keto cheat sheet with 210+ keto-friendly foods!
This post may contain affiliate links, which help keep this content free. (Full disclosure)
Surviving Keto at Cici's
Carbs are what strike your mind when I say the word "PIZZA". Even if they don't, at least you know pizzas – especially pizza crusts – are full of carbs and are not suitable for a keto diet.
Cicis has done a great job with its Salad Bar and Crustless pizzas, to give some options to their fitness-conscious audience. They also have chicken wings, both bone-in and boneless, and low-carb side dishes like the cheesy garlic bread, along with refreshing diet drinks to help you maintain your keto streak even while dining out.
A standard slice of pizza contains 22g net carbs. And with the toppings and sauces added to it, it will definitely cross your daily allowed carb limit (25g). For your body to remain in ketosis, you can't have more than 25g of net carbs per day, which roughly translates to 7-8 g carbs per meal.
If you're at Cicis for their pizza, you can ask them to avoid the crust and they'll be happy to do so. You can customize the toppings as per your need, and they'll put it in a mini pie tin and bake it. No kidding, the thing tastes just like a regular pizza. Even if it doesn't, the difference in carbs is definitely worth giving up the crust!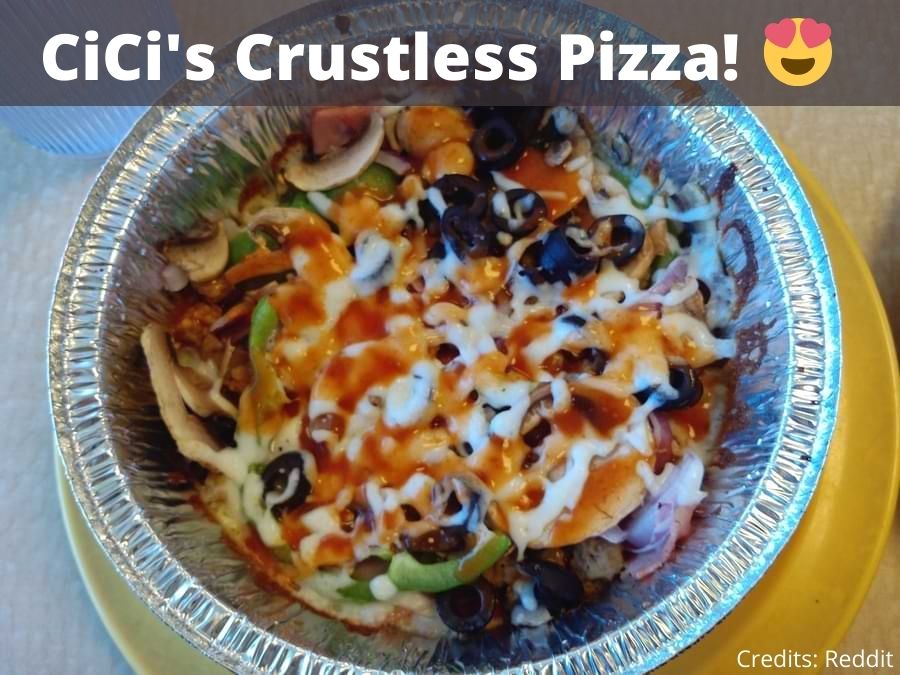 They have plenty of low-carb meat options that are a staple on keto: beef, bacon, pork, chicken, and pepperoni.
But, the standout at Cici's is their epic salad bar! With so many varieties of toppings and dressings and the 'customize as you like' option, you can fix yourself a delicious and refreshing salad that's also low in carbs!
If you are a sweet tooth, you might be a little disappointed, since there are no keto-compatible desserts here. If you can manage with the zero-carb drinks to satisfy your sugar cravings, nothing like it.
Carrying on with that information, let's have a look at the available keto-friendly options Cici's has in store for us. I have also mentioned dishes under the 15g carb mark, which you can have only when you've consumed around 10g carbs from your other meals of the day.
Also Read: MOD Pizza Low-Carb Guide
Keto-Friendly & Low-Carb Options at CiCis
Although you can't have the traditional pizza at Cici's, you can still ask for a crustless pizza. Choose from the various keto-friendly toppings mentioned below and add them to your crustless pizza.
Low-Carb Sauces
Red Tomato (1g)
Alfredo (2g)
Zesty (2g)
Creamy Buffalo (2g)
Keto-Friendly Cheese at Cicis Pizza
Pizza Cheese (2g)
Cheddar Cheese (0g)
Meat Toppings
Anchovies (0g)
Bacon (0g)
Beef (1g)
Chicken (0g)
Ham (1g)
Pepperoni (1g)
Pork (1g)
Sausage (2g)
Low-Carb Veggie Toppings
Black Olives (0g)
Diced Tomatoes (2g)
Green Peppers (1g)
Jalapeno Peppers (0g)
Mushrooms (1g)
Pineapple (4g)
Red Onions (3g)
RELATED: Cici's Gluten-free Menu Items
Do keep in mind, whatever you choose out of the lot, do not cross the allowed carb limit after adding them up. (Cause guess who wanted to be fit as hell?)
Chicken Wings
Traditional Bone-in Wings (per piece)
Naked no-sauce (0g)
Hot Buffalo (0g)
Mild Buffalo (0g)
Garlic Parmesan (0g)
BBQ (2g)
Boneless Wings (per piece)
Naked no-sauce (5g)
Hot Buffalo (6g)
Mild Buffalo (5g)
Garlic Parmesan (6g)
BBQ (8g)
Chicken Wings are undoubtedly one of the perfect keto meals with high fat and high protein content. But be cautious about the boneless ones (that crunch is too addictive!)
Low-Carb Sides
Garlic Cheesy Bread (9g)
Soup (12g)
Marinara Sauce (5g)
Alfredo Sauce (3g)
If you are allowed cheese garlic bread on keto, you can never complain about life being unfair!
Salad Bar with Fully Customizable Salads
Cici's standouts with this segment of their menu. Almost all the ingredients are keto-friendly and will make a delicious salad together. You can choose from the many options mentioned below –
Salad Mix – 3 part (2g)
Black Olives (0g)
Green Olives (1g)
Saltine Crackers (8g)
Imitation Bacon Bits (4g)
Jalapeno Peppers (0g)
Red Onions (3g)
Green Bell Peppers (1g)
Banana Peppers (0g)
Mushrooms (1g)
Baby Spinach (2g)
Carrots (6g)
Cucumbers (1g)
Brocolli Florets (1g)
Pickle (0g)
Tomatoes (1g)
Radishes (1g)
Pineapple (4g)
Cheddar Cheese (2g)
Beets (2g)
Garbanzo Beans (3g)
Sunflower Seeds (3g)
Blue Cheese (3g)
Ranch (3g)
Lite Italian (6g)
Lite Ranch (3g)
1000 Island (12g)
Signature Italian (8g)
Keto-Friendly Beverages at CiCis
Diet Coke (0g)
Gold Peak Premium Unsweetened Tea RTD (0g)
Cici's Brewed Tea (0g)
Diet Dr. Pepper (0g)
To get your dopamine kicking, Cici's has these zero-carb beverages only for you.
Tips for Ordering Keto at Cici's
Always go for the bone-in chicken wings because the boneless ones have a ton of breading (hence the carbs!). And when it comes to sauces, anything is fine except the BBQ sauce (loaded with sugar).
All of their pizza slices have 2-3g of net carbs WITHOUT the crust.
Most of the salad bar ingredients are low in carbs, except Pasta salad, croutons, and the 1000 island dressing. As a rule of thumb, avoid any sweet tasting dressing because you don't know how much sugar is in that bad boy!
The Anchovios, Bacon, and naked chicken wings are the truely Zero-Carb meal options. You can have them as much as you want and still be in keto! Watch out for the dressings and toppings though.
Conclusion
Cici's definitely has given thought to its keto customer base. With crustless pizzas and a salad bar, you can customize your meal as you like and still maintain your keto streak while dining out.
Although, I feel there's still a long way to go. If they can come up with a keto-friendly pizza crust, nothing like it. Keto-friendly desserts can also attract more customers who crave sugar and want to remain healthy at the same time. But for now, you are free to devour their crustless pizza for minimum carbs (cheese and toppings baked on a tin).
With all the necessary information in your arsenal, you can now enjoy a wholesome meal at Cici's guilt-free. Want more details on anything from their menu? Check out their official nutrition guide here.
Read Next: Ordering Keto at BJ's Restaurants