I grew up in the mid-west and Culver's has always been my go-to fast food restaurant! Their ButterBurgers are every foodie's dream come true! But how do you survive on keto at Culver's?
Culver's can satisfy all types of cravings ranging from savory snacks to lip-smacking desserts! In fact, their frozen custards can take you to the seventh heaven (they literally melt inside your mouth!)
But before you get all excited, let me remind you the basics of the Fast Food World: With great taste, comes a great amount of carbs!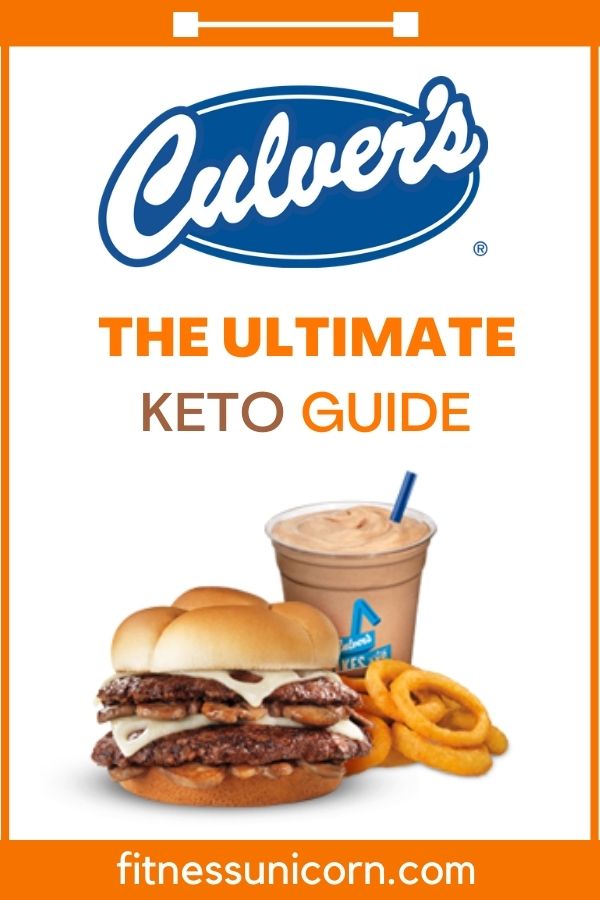 Tired of searching whether certain foods are keto? Download my keto cheat sheet with 210+ keto-friendly foods!
In this article, we'll explore some low-carb options at Culver's and also find out what to STRICTLY avoid!
Once you step foot into a restaurant, it's really easy to fall off the keto wagon! But having the right knowledge about their menu is more than half the battle won.
Check out our Keto at Restaurants section to enjoy your favorite fast food while staying within your carb limits!
This post may contain affiliate links, which help keep this content free. (Full disclosure)
All About Culver's
The very first time I visited Culver's, their hospitality really touched my heart! Their staff really helps you throughout your meal, whether it's ordering the food or clearing away your trash.
Culver's began as a small restaurant in Wisconsin specializing in made-to-order burgers and frozen custards.
Thanks to their lip-smacking taste, they received so much love that now Culver's has more than 700 outlets across the U.S. In fact, they received the award for America's most loved restaurant chain in 2017!
So what distinguishes Culver's Butterburgers from competitors like McDonald's?
Well, the name of the dish has all the answers! ButterBurgers are amazingly rich in flavors because their buns are buttered rather than simply toasted!
Let me ask you a question: Given a chance, would you choose frozen custard over the original ice cream? You'll probably say no!
But when it comes to Culver's frozen custard, you'll not take a second to change your mind!
They slow-churn their frozen custards themselves. And the best part is that they use egg yolks which results in a product much smoother than the ice cream.
And not to forget their cheese curds (yum!), those crispy little balls of happiness made using white Wisconsin cheese.
Even though they are rapidly expanding, Culver's is still more of a regional chain and most of their raw materials are locally sourced.
So what does Culver's has to offer to us keto folks?
While the terms "fast food" and "low carb" are poles apart, you can eat keto at most places with just the right knowledge.
And that's why this blog exists! Let's find out how to eat keto at Culver's while staying under your carb limits!
MORE: Red Robin Keto Guide
Keto Options at Culver's
Culver's has a wide range of delicious fast food which is loaded with carbs and calories!
But you don't have to sit idle while your friends are relishing their favorite ButterBurgers!
Here are some low carb options to survive at Culver's on keto:
ButterBurgers
As tempting as they sound, those buttery buns don't really go well with the keto diet!
But you can still enjoy their juicy meat patties wrapped inside lettuce (just like at Wendy's!)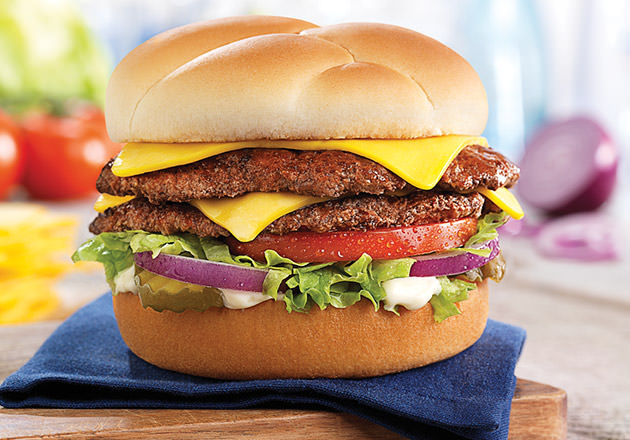 Remember, you have to get your burger without the bun or any sauces! They are the most common source of hidden carbs and you should always be careful (It's really the little things that add up big time!)
If you think your wrap feels a little "dry" and is lacking flavor, you can add their low carb dressings:
Mayonnaise Packet (1g carb)
Chunky Bleu Cheese Dressing (2g carbs)
Ranch Dressing (2g carbs)
All the burgers at Culver's average at around 40g carbs per serving. But here's the truth: Most of their carbs come from buns and sauces.
So if you take out these two things and instead get your patties served in a lettuce wrap, you can really eat delicious keto food at Culver's!
According to MyFitnessPal, the bun itself contains a whopping 37 grams of carbs!
So following our strategy, you can enjoy a lip-smacking, lettuce-wrapped burger within 5-6g of carbs.
Choose from the following burgers and get them ketofi-ed while ordering:
ButterBurger Cheese
ButterBurger "The Original
Cheddar ButterBurger
Cheddar ButterBurger with Bacon
Mushroom & Swiss ButterBurger
Sourdough Melt
Swiss ButterBurger
The Culver's® Deluxe
The Culver's® Bacon Deluxe
Wisconsin Swiss Melt
Let me remind you of the warmth and hospitality at Culver's. Here is a tweet from a customer asking whether they'd provide a bunless burger (one of our keto folks, I guess!)
Their prompt reply shows that they are highly flexible in terms of customizations and you can easily modify your meals to suit the low carb diet!
Now that we have the ButterBurgers figured out, let's move on to the sides!
RECOMMENDED: Surviving Keto at Chipotle
Sides
Even in the lettuce wraps, Culver's burgers are really satisfying! If you go for the double or triple patty ones, there won't be any need for sides (unless you are a hungry bear like me, lol!)
I've figured out some delicious low-carb sides to pair with your ButterBurgers at Culver's on keto:
Steamed Broccoli (4g net carbs)
Wisconsin Cheddar Cheese Sauce (3g net carbs)
And you can also add a "side salad" for just 4g net carbs.
Strictly avoid any fries, mashed potatoes, or onion rings as they are filthy rich in carbs without any significant fats!
Salads and Dressings
Salads are a superfood for the fitness enthusiasts. And keto is no exception!
They are loaded with healthy vitamins and minerals, and most of them are pretty low-calorie, low-carb.
For eating keto at Culver's you just have to follow this simple checklist:
No Croutons
No Onions
No Tomatoes
And you should keep the dressings to a minimum to avoid unnecessary carbs!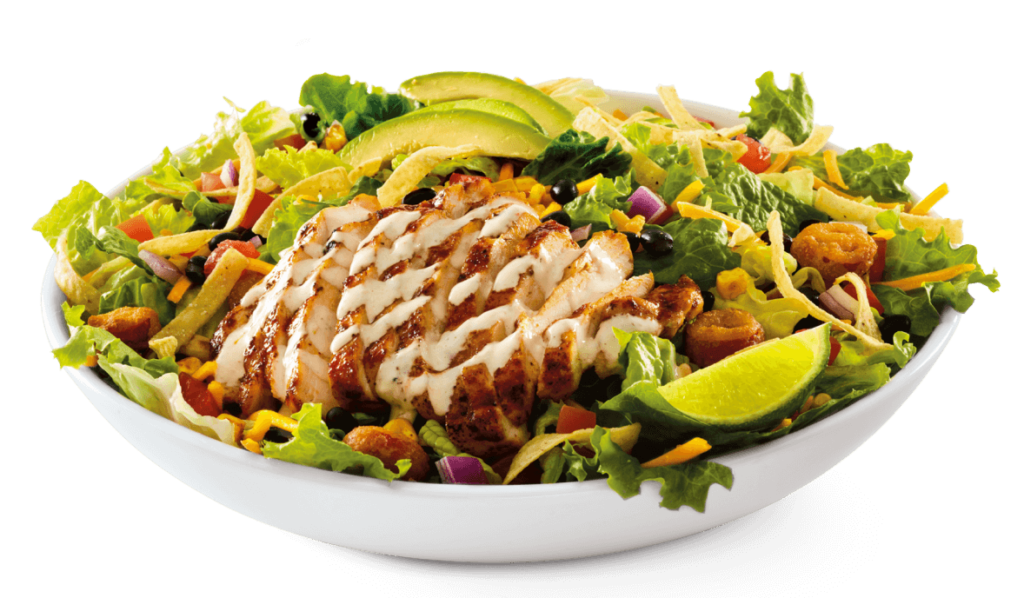 Choose from the following salads and ask them to remove the extra carb stuff:
Chicken Cashew with Grilled Chicken
Cranberry Bacon Bleu with Grilled Chicken
Garden Fresco
Garden Fresco with Grilled Chicken
Strawberry Fields Salad
If possible, ask them to ditch all their "standard dressings" and choose from the low-carb ones listed below:
Horseradish Sauce (2g carbs)
Malt Vinegar (0 carbs)
Mayonnaise Packet (1g carbs)
Mustard (0 carbs)
Spicy Brown Mustard (0 carbs)
Steak Sauce Packet (2g carbs)
Tartar Sauce (3g carbs)
Chunky Bleu Cheese Dressing (2g carbs)
Ranch Dressing (2g carbs)
Note: There's a HUGE carb difference between Mustard and Honey Mustard dressings! Culver's traditional mustard sauce has ZERO carbs whereas the honey mustard packs in a whopping 20g per packet!
It's really easy to enjoy a keto-friendly salad at Culver's within 4-5 grams of net carbs.
READ: Wawa Low Carb Guide
Drinks
As a rule of thumb, you should stick to black coffee, water, and unsweetened tea at most restaurants.
But luckily, you have tons of low carb options at Culver's to quench your thirst:
Bottled Water (the most obvious, lol!)
Coffee (unsweetened)
Culver's® Diet Root Beer (0 carbs)
Diet Dr Pepper® (0 carbs)
Diet Mountain Dew® (1g net carbs)
Diet Pepsi® (0 carbs)
Fresh Brewed Tea – unsweetened (0 carbs)
Tropicana® Light Lemonade (0 carbs)
(Is Zevia the BEST Keto-Friendly Drink?)
Foods To AVOID When Eating Keto at Culver's
Culver's is a fast food chain, and by nature, most of their offerings are filthy rich in carbs!
They take pride in their frozen custards and cheese curds, but sadly, you can't have of those on the keto diet.
STRICTLY avoid these items when dining out at Culver's on keto:
All types of bread and buns (their gluten-free bun has up to 45 grams of carbs!)
Chicken Tenders and Sandwiches
Seafood Sandwiches & Dinners
All forms of pot roast
Most sides including potato-based dishes and onion rings
All of their soups have tons of carbs!
Drinks and Beverages other than the ones listed above.
And lastly, there's no "low-carb" dessert available at Culver's. That means no sundaes, no concrete mixers, and no lemon ice!
When it comes to desserts, you'll rarely find a low-carb version at fast food chains.
So you're better off eating keto-friendly icecreams like Enlightened, at the comfort of your home! Each half-cup serving of Enlightened's keto collection has just 1g net carbs.
IMPORTANT Keto Tips for Culver's
Most dressings in Culver's salads have a high sugar count. And hence it's best to turn them down and instead choose from the low carb ones I listed above.
Saying goodbye to all the sugary fun can be hard, but that's the harsh reality of the low carb diet. Afterall, all the discipline is well worth it in the end!
Beef pot roast is generally considered a low-carb delicacy. But you may have noticed that I excluded it from my Culver's list of recommendations.
Here's the reason: Pot roast at most fast food restaurants contains a lot of additives! And Culver's is no exception! According to Google, Culver's beef pot roast dinners contain sodium phosphate, sugar, dextrose, hydrolyzed corn gluten, and caramel color.
And that's why each serving has more than 45 grams of net carbs!
Culver's also has a "mindful choices" section for gluten-free options. But don't mistake it to be a "healthy food" section (I made this mistake when I first scanned their menu!)
Conclusion
It's a bit hard to eat low-carb at Culver's, but its not impossible!
You can have their famous ButterBurgers wrapped in lettuce (no bun). Enjoy salads with minimum dressings and no croutons, and pick any diet beverage to pair with your meal.
Don't be tempted by their "value baskets" as they mostly contain fries and other sugary stuff.
As delicious as they taste, frozen custards and cheese curds have no place in the keto diet!
Suggested: