Rice cakes are surely one of the best low-fat snacks out there! But are rice cakes Keto?
They were the unbeatable champion of the weight-loss industry back in the 90s!
And the reason is pretty simple: Rice cakes are low-calorie and low-fat snacks made with puffed rice.
Even to this date, they enjoy huge popularity and are available in plenty of different flavors.
However, when it comes to keto, the general weight-loss principles are thrown out of the window!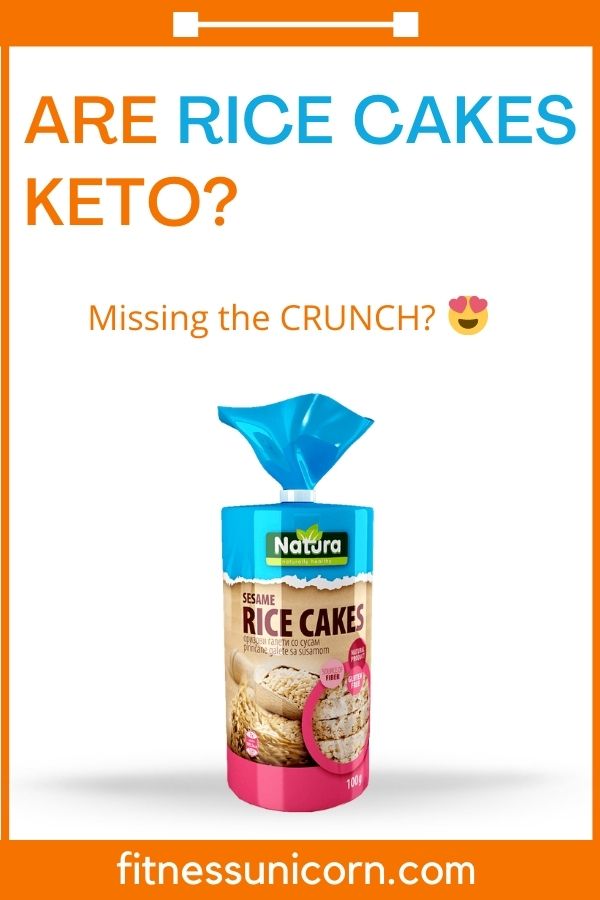 Tired of searching whether certain foods are keto? Download my keto cheat sheet with 210+ keto-friendly foods!
As you might have guessed, rice cake is filthy rich in carbs! And it doesn't have much of the fats either.
In this article, we'll find out how rice cakes fit into the keto diet and also look at some promising alternatives!
This post may contain affiliate links, which help keep this content free. (Full disclosure)
Are Rice Cakes Keto?
Rice cakes are not at all keto-friendly because a single piece has up to 7 grams of net carbs.
What's more, on a scale of 1 to 100, rice cakes have a glycemic value of 87! It means they can surely kick you out of ketosis in no time!
Rice cakes are widely advertised as low-fat snacks. They may benefit those on a traditional weight-loss diet, where each calorie matters!
However, the keto diet is all about high-fat, low-carb foods with little significance to calories. And hence there is no place for rice crackers or rice cakes!
If you think just having half a cracker would be fine, trust me it's not worth it!
Even though you'll be getting just 3.5 grams of net carbs, the storm of cravings that follow will be quite overwhelming!
And god forbid, you might even end up cheating on your diet!
Rice Cakes Nutrition
Here is how the macros in a single rice cake (made from brown rice) look like:
Calories: 35
Carbs: 7.3 g
Fiber: 0.4 g
Protein: 0.7 g
Fat: 0.3 g
(Source: Nutrition Self Data)
As you can see, rice cakes are devoid of any nutrition and all of the calories come from carbs! That's not something the Keto gods would be proud of.
And we have just talked about the plain rice cake. If you go out in the market, there are all sorts of flavors with various hidden sugars and additives!
But if brown rice is considered "healthy", why are the rice cakes such a mess?
The simple answer is: Industrial Processing
Rice cakes are made using puffed rice, which goes through very high temperatures and pressure. This process makes it expand like popcorn but also strips it of many essential nutrients!
What remains is a snack with simple carbs that can quickly trigger an insulin spike in our system.
Rice cakes and peanut butter was one of my favorite evening snacks during childhood!
I still miss their ever-so-unique crunch sometimes! But thankfully I've found some keto-friendly alternatives that taste just as good.
More: Are Quest Chips Keto?
Are Caramel Rice Cakes Keto-Friendly?
Quaker's Caramel Rice Cakes are super-crunchy yet low in fat and calories!
What's more, they are made with 5g of whole grain. That sure as hell seems like a healthy snack to me!
But what about keto?
Sadly, there is no place for caramel rice cakes on the keto diet. A single cake has more than 11g of carbs!
Even a plain rice cake with 7g of carbs is off-limits. And the caramel ones take the carb game to a whole new level!
Here's the nutrition label for Quaker's Caramel rice cakes: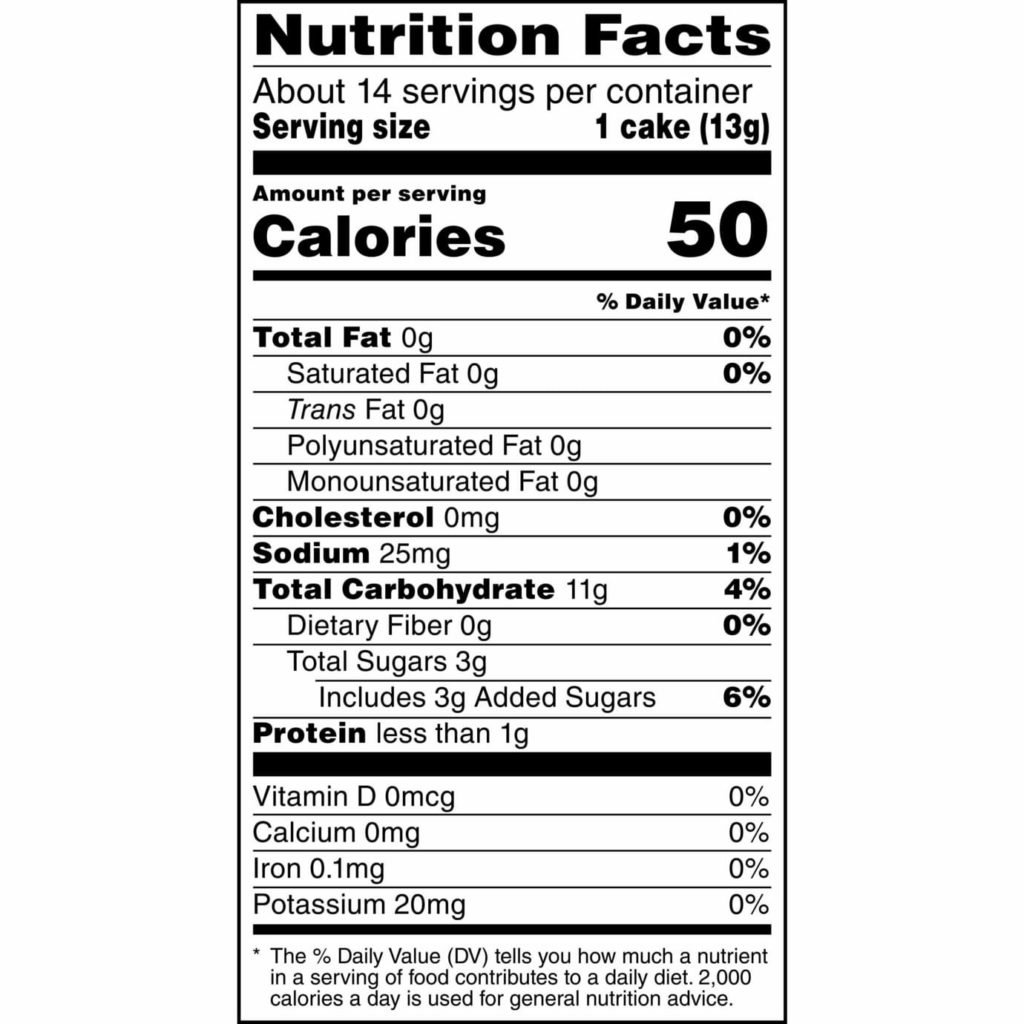 Out of the 11g of carbs, there is ZERO dietary fiber! There's no way the keto gods would ever forgive you for eating this!
And even if they are made from brown rice (as the label says), the added sugar compensates for the low G.I.
So that means you should look for other options to satisfy those crunch cravings on keto!
Though you may be able to fit them on a cyclical keto diet where you aren't as strict in terms of carbs!
Caramel rice cakes make for an excellent snack for a low-calorie diet. Pair it with some cream cheese and you into the seventh heaven!
They go well with jello, peanut butter, turkey, mayo, and pretty much any topping you can think of.
Can You Eat Quaker Rice Cakes on Keto
Quaker rice cakes are a very trendy low-fat snacking options for the fitness enthusiasts!
They have a very wide range of 11 different flavors. And the best part about them is that they don't taste like freaking cardboard!

But don't mistake them to be keto-friendly!
Rice cakes are almost 100% carbs. It means they'll exhaust your daily carb quota without giving you the required fats, protein, or fiber.
Each flavor of Quaker's rice cakes has 50 calories and 8-10 grams of net carbs.
While it's a healthy low-calorie snack, the carbs can easily eat up half of your daily allowance.
So it's safe to say that most rice crackers do not make it to the keto snack list.
But wait, before you make that long face and start cursing the keto diet, I have some good news!
There is one brand that heard our pain! They have come out with a low-carb version of rice cakes!
More: Are Okra Chips Keto-Friendly?
KIM'S MAGIC POP Low Carb Rice Cakes
Rice cakes were one of the hottest health-snacks in the 80s and 90s.
Back then, anyone trying to lose weight simply focused on calories! The rule of the thumb was to eat low-calorie and low-fat foods to get in better shape.
But today there is a huge variety of weight-loss diets including the LCHF or the keto diet.
And when companies adapt to the growing trends, innovations like low-carb rice cakes happen!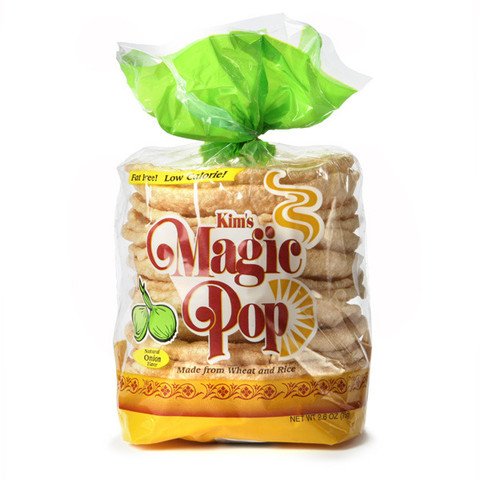 Kim's Magic Pop is a crunchy, low-carb, multigrain snack that is keto-friendly in moderation.
You can enjoy a single cake in a day which will set you back by just 2-3 net carbs (depending on the flavor).
And the most shocking fact about these rice cakes is that they have just 15 calories per serving, whereas Quaker's clocks at 50!
They also make terrific desserts! Top it with some all-natural peanut butter or sugar-free jello to satisfy your sweet tooth cravings.
In fact, they can even replace low-carb tortillas in a delicious open-face sandwich.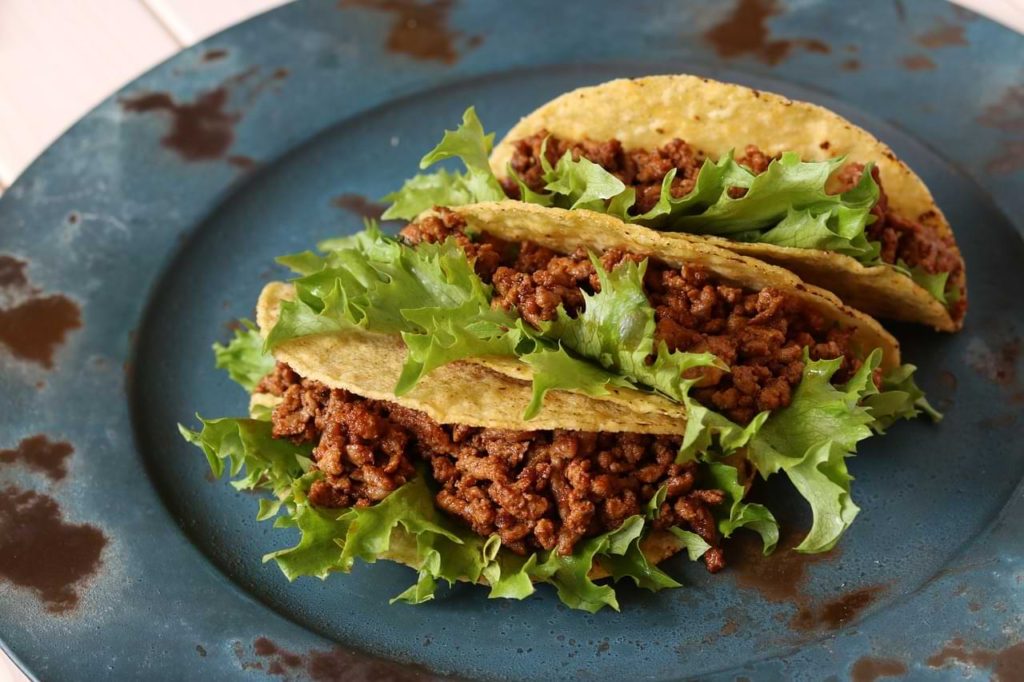 All you got to do is pick up Kim's Magic Pop and choose a meat and a dressing!
For the protein, you can go with any keto-friendly meats like pork, bacon, chicken, fish, etc.
And the only toppings I ever have on my open sandwich are shredded cheese, sour cream, and avocado.
Honestly, there are countless ways you can experiment with these low-carb rice cakes!
Here's my number one tip: Put the toppings on the rice cakes just before serving, or else you risk losing all the crunch!
Recommended: Keto Guide for Chipotle Mexican Grill
Keto Rice Cake Substitute
Most of the rice cakes sold today are filthy rich in carbs! And that is something the keto diet forbids!
So what options do you have? How do you satisfy those crunch cravings without exhausting your carb budget?
Luckily, I have some pretty good keto-friendly alternatives that'll make you forget the rice cakes!
Flaxseed Crackers
Flaxseed crackers are crunchy-crisp and come with a lot of healthy fats and fiber.
Each serving of store-bought flaxseed crackers contain:
170 calories
12 g fat
9 g carbs
1 g sugar
10 mg sodium
5 g fiber
5 g protein.
It has a great fat-to-net carbs ratio which makes it an excellent keto appetizer!
Flax crackers are crunchy bite-sized snacks made from flaxmeal. And you can easily make your own with just 4 basic ingredients:
Ground Flaxseed
Water
Spices
Sesame seeds
Here's the best part: Each cracker has less than 0.5g of net carbs!
What's more, these crackers are gluten-free, vegan, and completely keto-friendly!
Get the complete recipe from Sweet as Honey
Flaxseed is known as the most powerful plant seed on earth! In fact, it's one of the oldest cultivated seeds that date back to 3000 BC!
And today it's a very common appearance in breakfast cereals and health bars.
Flaxseeds get their super-food title due to these three primary nutrients:
Omega-3 fatty acids: The heart-healthy fat that keeps bad cholesterol away
Fiber: Rich in both soluble and insoluble fiber that boosts satiety and gut health
Lignans: Bioactive compounds that have anti-inflammatory and antioxidant properties
There's also evidence that flaxseed can help lower your chances of heart disease, cancer, stroke, and diabetes!
Keto Cheese Crackers
This is simply one of the easiest homemade crunchy snacks with minimum carbs!
These parmesan cheese crackers have less than 0.6g of net carbs per bite. And they require just 20 minutes of kitchen time.
The beauty of this recipe is that you can make your own variations by changing the herbs and spices!
While most crackers use the carb-laden wheat flour, our keto cheese crackers are made with almond flour.
All you need are 4 basic ingredients: Almond flour, parmesan cheese, butter & water. That's it!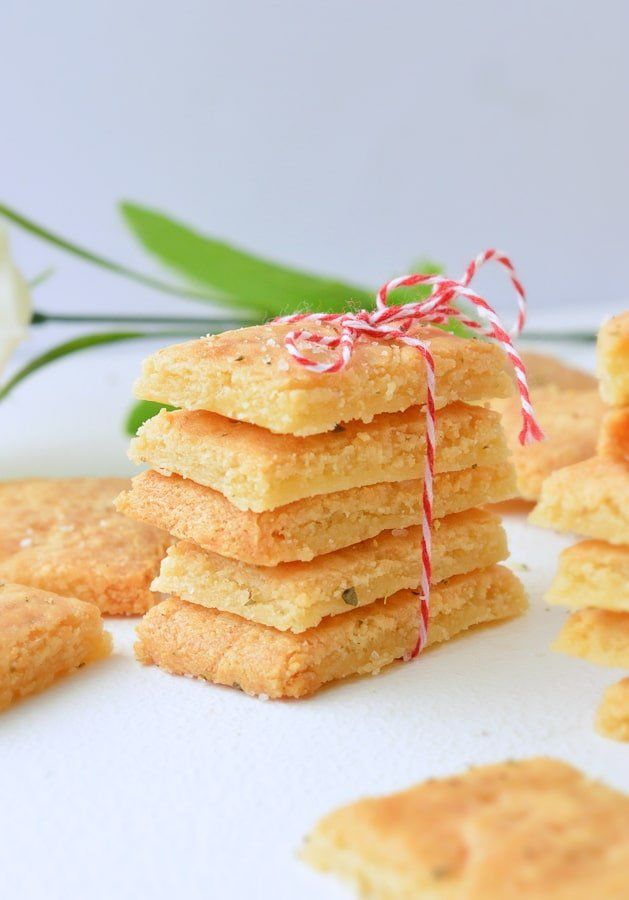 These little delights taste amazingly well with cream cheese or avocado dip!
Get the complete recipe from Sweet as Honey
Conclusion
Are rice cakes keto?
Rice cakes are ridiculously high in carbs. A single piece can have up to 7 grams of net carbs!
They are great for someone on a calorie-restricted diet but there's no place for them on keto.
However, Kim's Magic Pop offers really low-carb rice cakes which can be enjoyed in moderation.
To satisfy those crunch cravings, look out for keto-friendly alternatives like flaxseed crackers or keto cheese crackers.