If you are a fan of tacos, burritos, or salad bowls, the low carb enthusiast in you might be wondering: Can I eat Keto at Chipotle Mexican Grill?
The answer is YES! ABSOLUTELY 😉
Not only can you customize your own keto meals at Chipotle, but you can also choose from their wide range of Lifestyle Bowls (including the Keto Salad Bowl).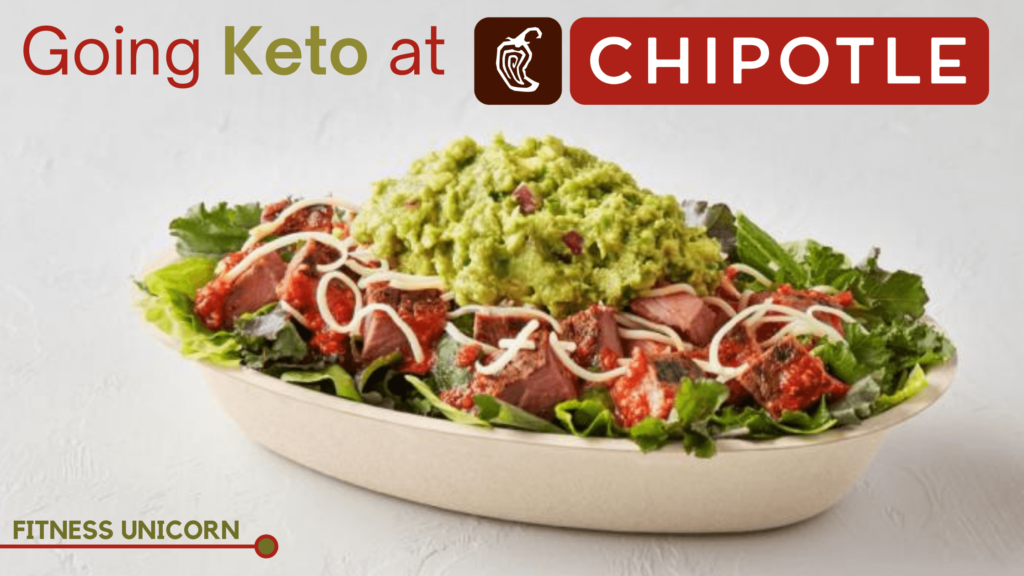 Tired of searching whether certain foods are keto? Download my keto cheat sheet with 210+ keto-friendly foods!
Two decades ago, who thought fast food could mean something other than calorie-packed Pizzas and Burgers? Given the nature of most fast foods, we usually associate them with loads of carbs and unhealthy fats!
Luckily for us, restaurants like Chipotle offer fresh and healthy delicacies that don't necessarily taste like the typical "diet foods". It is much easier to stick to your New Year's resolution if you have plenty of options when it comes to dining out.
So is it possible to eat keto at Chipotle?
Simply follow this in-depth guide to eat keto at Chipotle Mexican Grill and break the monotony of your home-cooked meals!
Find out the best and the worst ingredients so that you can make the most out of your keto chipotle order!
---
This post may contain affiliate links, which help keep this content free. (Full disclosure)
Is Chipotle Mexican Grill Keto Friendly?
Before answering this question, let us cover some of the very basics of the keto diet:
Fat, protein, and carbs should be 70%, 25% & 5% respectively in your meals
Generally consuming less than 25g of carbs per day
Since the world of fast foods is loaded with bread and sugar, it often makes us wonder if we can maintain ketosis while eating at these restaurants!
Chipotle is actually one of the best fast food options if you are following the diet!
And the reason is very simple: You have tons of options which are hard to find in other fast-food chains, where you are usually limited to just plain salads or burger patties.
One can choose from a plethora of healthy protein and fat sources on the menu. On top of it, every order is freshly prepared right in front of you, giving you complete freedom of removing any unwanted carb sources.
And if all that was not enough, they also added the "Lifestyle Bowls" range in their menu which comes as a gift for people on Keto, Whole30, Paleo, Vegetarian, and Vegan diets. I was lucky to have cauliflower rice as an optional ingredient in one of my meals when it was in the testing phase.
Eating keto at chipotle is so much healthier as their health standards are top-notch. For example, they don't use meat that was injected with hormones and overall focus on organic whole foods.
Also check out: Wendy's Keto Guide
---
Make the Best Keto Chipotle Bowl (No RICE or BEANS)
Simply follow my step-by-step guide to build your own low carb yet highly satisfying meal for Keto at Chipotle:
Step 1: Go for a salad or a burrito bowl (no rice, no beans).
Step 2: Pick your protein – steak, carnitas, chicken, barbacoa but NOT sofritas (having a whopping 9g carbs).
Step 3: Fill your plate with Romaine lettuce or fajita veggies and skip the beans.
Step 4: Time to add healthy fats in your meal. Choose from Queso (4g carbs), Monterey jack cheese (1g carbs) or sour cream (2g carbs).
Step 5: To spice things up, choose any of the salsas – tomato salsa (1g carbs), green-chili salsa (4g carbs) or tomatillo red-chili salsa (4g carbs). But leave the chili-corn aside, as it has a massive 16g carbs per serve.
You can mix and match different items to create your own unique keto bowls from Chipotle. Feel free to double the meat or add up on the vegetables! Here are the exact nutrition details for each item: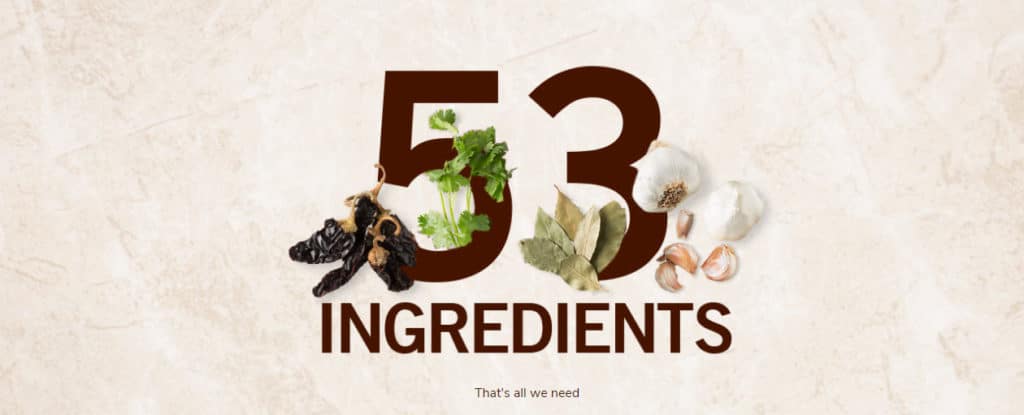 MEAT
Barbacoa | Fat: 7g, Protein: 24g, Carbs: 2g, Calories: 170
Carnitas | Fat: 12g, Protein: 23g, Carbs: 0g, Calories: 210
Chicken | Fat: 7g, Protein: 32g, Carbs: 0g, Calories: 180
Steak | Fat: 6g, Protein: 21g, Carbs: 1g, Calories: 150
VEGGIES & SALSA
Fajita Veggies | Fat: 0g, Protein: 1g, Carbs: 5g, Calories: 20
Tomato Salsa | Fat: 0g, Protein: 0g, Carbs: 4g, Calories: 25
Tomatillo Green Chili Salsa | Fat: 0g, Protein: 0g, Carbs: 4g, Calories: 15
Tomatillo Red Chili Salsa | Fat: 0g, Protein: 0g, Carbs: 4g, Calories: 30
Romaine Lettuce | Fat: 0g, Protein: 0g, Carbs: 1g, Calories: 5
Super Greens | Fat: 0g, Protein: 1g, Carbs: 3g,
FATS
Queso Blanco | Fat: 9g, Protein: 5g, Carbs: 4g, Calories: 120
Monterey Cheese | Fat: 8g, Protein: 6g, Carbs: 1g, Calories: 110
Sour Cream | Fat: 9g, Protein: 2g, Carbs: 2g, Calories: 110
Guacamole | Fat: 22g, Protein: 2g, Carbs: 8g, Calories: 230
Having so many customizations is great, but sometimes giving so many instructions just to enjoy a simple meal seems too tedious. After all, fast food restaurants are meant to serve food fast, right?
Luckily, Chipotle is offering just the right solution in their Lifestyle Bowls i.e. preset bowls for Keto, Paleo, Whole30, Vegan, etc. Now you can order your favorite low carb bowls on the go without having to worry about time-killing customizations.
READ: How Much Water on Keto
---
Chipotle's Keto Salad Bowl
Chipotle has launched a wide variety of Lifestyle Bowls catering to specific diets so that you can have wholesome fast food on the go without compromising on your diet.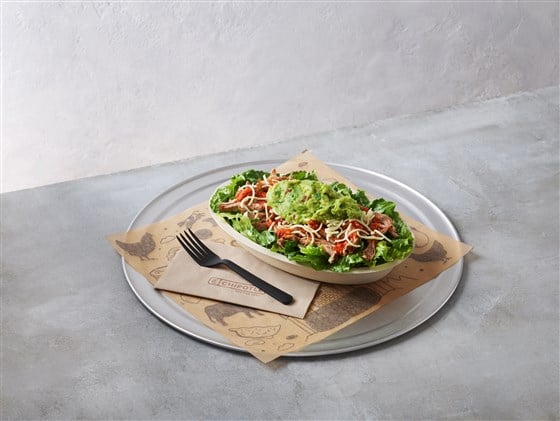 Since most of their ingredients are whole, organic and healthy foods, they have curated several bowls to cater to each diet. There offerings include:
Whole30 Salad Bowl having romaine lettuce, carnitas pork, fajita veggies, tomato salsa and guacamole
Paleo Salad Bowl has romaine lettuce, barbacoa (shredded beef), fajita veggies, green salsa and guacamole (No dairy)
Keto Salad Bowl is loaded with carnitas pork, red salsa, cheese and guacamole
Vegan Bowl having Brown Rice, Sofritas, Black Beans, Fresh Tomato Salsa, Roasted Chili-Corn Salsa and Shredded Romaine Lettuce
Vegeterian Bowl offering Supergreens Lettuce Blend, Brown Rice, Black Beans, Fajita Veggies, Fresh Tomato Salsa and Guacamole
Double Protein Bowl consisting of white rice, black beans, salsa, lettuce, sour cream and double chicken and steak.
The Keto salad bowl from Chipotle is the best choice when you want quick food on the go or simply not feeling like cooking that day!
Here is a snapshot of macros in a Keto Salad Bowl: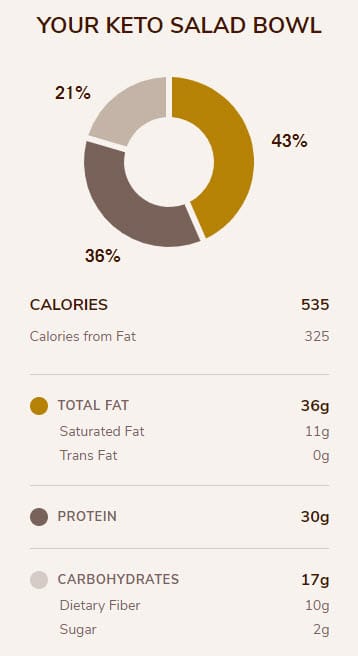 Now you don't have to try and remember which items are low carb. Simply order the Keto Salad Bowl for a quick keto meal at chipotle.
You could further customize your meal with the ingredients mentioned in the previous segment. Feel free to use their nutrition calculator available on their official website.
TRENDING: Going Keto at Red Robin
---
Chipotle Launches Cauliflower Rice
Chipotle has given us the BEST new year gift of all times! Cilantro-lime cauliflower rice is now available in US and Canadian outlets starting January 2021.
First the Lifestyle Bowls and now this! Chipotle really has all my heart for caring about the low carb community!
The cauliflower rice costs an additional $2 and you can order it via the app, website, or even through other delivery apps.
It is made using grilled and riced cauliflower and contains fresh cilantro, lime, and some salt.
But, this isn't a sudden launch by any means! Chipotle had been testing out this new entrant since July 2020 in select restaurants.
Thanks to the popularity of low carb diets, their trial received instant validation! And now the cauliflower rice is available in all Chipotle outlets!
ALSO READ: Everything Keto At Taco John's
---
Foods to STRICTLY AVOID When Eating Keto at Chipotle
Seeing so many options can sometimes tempt you towards the unhealthy path and you might even end up being thrown out of ketosis!
That's why it is necessary to stay away from these 6 ingredients while eating keto at chipotle:
White Rice: 1 cup (160g) of white rice contains a whopping 45g carbs and 210 calories
Tortilla Chips: 1 ounce (28g) of tortilla chips has 23g carbs, and 116 calories.
Black Beans: 1 cup (172g) contains 41g carbs and 227 calories.
Taco Shells: 1 large taco shell (21g) adds up to 13.3g carbs and 98 calories.
Pinto Beans 1 cup (171g) of pinto beans has 45g carbs and 245 calories.
Salad Dressing: A single serve of Chipotle salad dressing has 220 calories and 18g of carbs.
Swap these carb-rich items with the previously mentioned keto-friendly options while eating Keto at Chipotle.
---
My Favorite Go-To Chipotle Low Carb Meal
My go-to meal at Chipotle includes shredded Romaine lettuce, chicken, Fajita veggies, fresh tomato salsa, cheese, sour cream, and a good portion of guacamole. The meal size is so huge that it is enough to cover two of my meals in a day!
---
Conclusion
When it comes to fast foods on the low carb diet, eating keto at Chipotle is a great option. You can opt for their Keto Salad Bowl or simply make your own low carb bowl that is healthy yet delicious!
Pick a base: Steak, carnitas, chicken, carne asada, or barbacoa
Add in some romaine lettuce or fajita veggies for lots of tasty, low carb nutrients.
Choose from these keto-friendly toppings: Monterey jack cheese, sour cream, freshly made guacamole, or any of their salsas (except the roasted chile-corn)
The key here is saying NO to carb-laden items like rice, beans, and tortillas and replacing them with their low-carb alternatives such as Fajita veggies, avocado. Fast food and low carb doesn't sound good together, but Chipotle takes the game to a whole new level!
When I'm busy working on weeknights, having food delivered is a godsend! You can now order via the chipotle app or their website!
NEXT: Cafe Rio Low-Carb Menu