Café Rio is one of the best places to dine out on keto! It's a Mexican grill restaurant that allows you full freedom to choose your own ingredients. Their famous queso and the super-creamy Tomatillo dressings are both low in carbs and high in fats.
If you are in a hurry, simply follow these tips to minimize your carbs at Café Rio:
Ditch the tortillas and have your meals served in a bowl.
Swap your dressings with guacamole, sour cream, or Pico De Gallo.
Low carb protein options include shredded chicken, grilled steak, roast beef, & carne asada.
No rice, beans or tortilla strips!
Fill up your bowl with fresh greens, Cheddar Jack Cheese, and some peppers!
In this article, we'll look at some of the best keto options at Cafe Rio! And I'll also share with you my favorite keto order at this Mexican grill.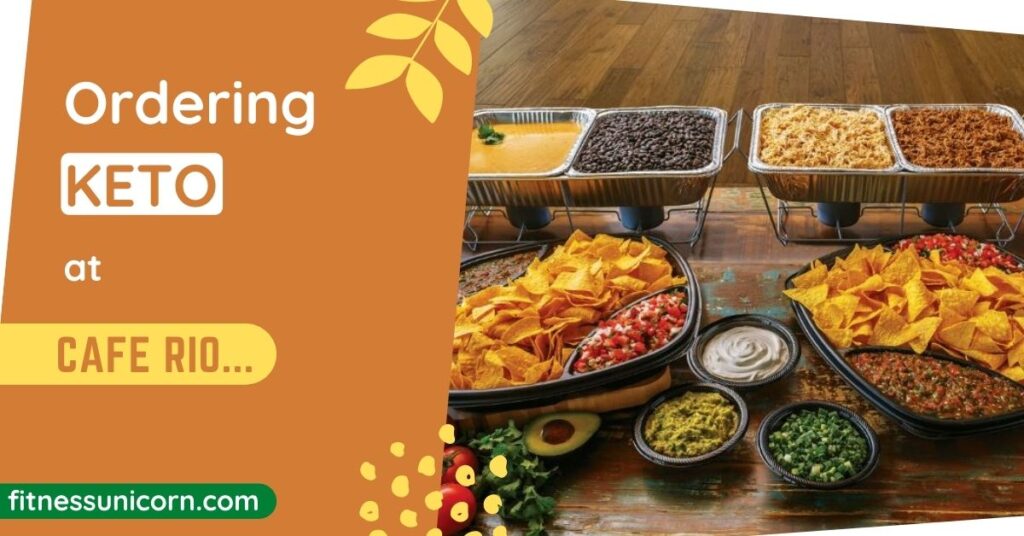 Tired of searching whether certain foods are keto? Download my keto cheat sheet with 210+ keto-friendly foods!
This post may contain affiliate links, which help keep this content free. (Full disclosure)
How to Eat Keto at Cafe Rio Mexican Grill
Ordering keto at Cafe Rio is quite similar to ordering at a Chipotle Mexican Grill. In fact, they both serve enchiladas, tostadas, wet burritos, nachos, quesadillas, and desserts.
The best part about these restaurants is that you get to pick your own ingredients! This ensures that you have plenty of options whether you are on Keto, Atkins, Paleo, or any other restrictive diet.
All you have to do is pick a protein source and add your favorite toppings to the bowl! Fill it up with some cheese and greens for a satisfying keto-friendly meal.
If you really want to add sauces, the Tomatillo sauce and the Creamy Tomatillo have the least amount of carbs (3g per serving). But wait! How can we forget the amazing Pico De Gallo?
Your bowl of Mexican goodness is incomplete without pico de gallo! The Pico De Gallo at Cafe Rio is the most keto-friendly dressing with just 1g net carbs per serve. It has a mild taste and adds a splash of freshness to your Mexican bowls!
Some of the high-fat toppings include sour cream and Guacamole. You just can't go wrong with avocadoes on the keto diet!
What distinguishes Cafe Rio from other Mexican restaurants is their famous Sweet Pork salad. It is made using their secret Pork Barbacoa recipe, which gets me drooling every time! However, a single serving has 13g of net carbs which is why it's not at all keto-friendly.
Related: Yard house Low-Carb Options
My Favorite Cafe Rio KETO Order!
Now, just like I promised, I'm going to share with you my all-time favorite low-carb order at Café Rio!
When dining out on keto, it's always a battle between your taste buds and your daily carb limit! The keto gods have restricted us to a maximum of 25g of carbs per day. So if you are splurging on a lunch bowl with over 20g of carbs, there won't be much quota left for the rest of your day!
Over time, I have learned to control my "carb cravings" and opt for high-fat options at restaurants. The goal is to keep me full for the next few hours so that I can take the focus away from food!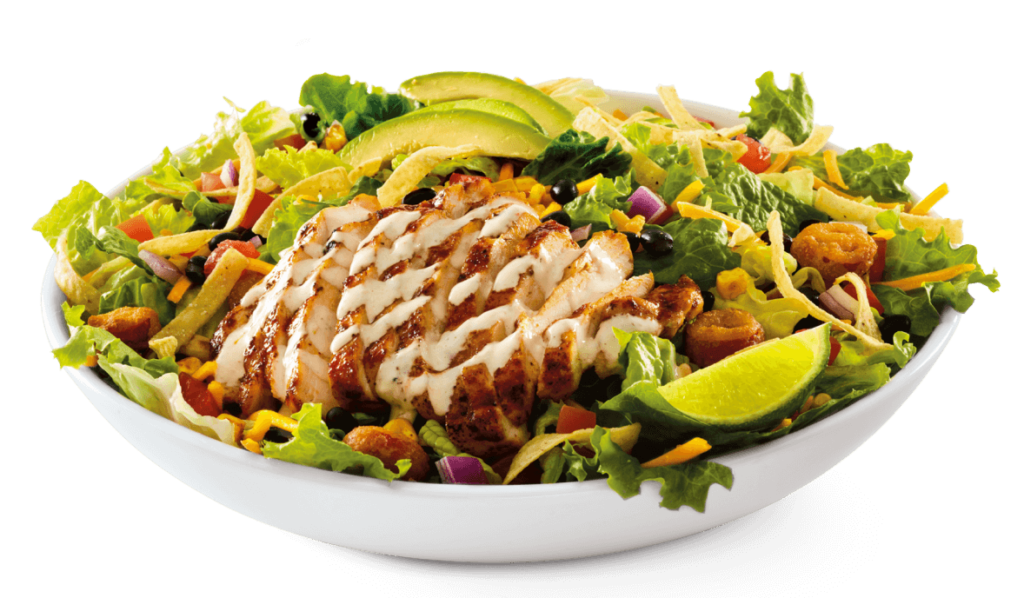 My staple Café Rio Keto bowl includes:
Fire Grilled Steak
Fresh Lettuce
Pico De Gallo
Sour Cream
Guacamole
Shredded Jack Cheese
Nutrition: 337 calories | 25g protein | 8g carbs | 3g fiber | 5g net carbs | 23g fat
Sometimes I would also throw in some peppers and grated Cotija cheese! Cotija is a salty and crumbly cheese that pairs extremely well with Mexican bowls! Also, since it's a hard cheese, there are ZERO added carbs. It's a great way to amp up your fat content!
Note: Your nutritional values will greatly vary with the serving size. Their official calculator uses different potions sizes for enchiladas, burritos, salads, and quesadillas. For the purpose of this guide, I am using the serving size for salads.
Keto Friendly Ingredients at Cafe Rio
The beauty of Café Rio is that you can build your own bowl from scratch! There's no need to be awkward while making special requests for your diet meals. Simply dictate your items and the server would be happy to fix you a bowl!
Choose from the following low-carb items:
Proteins:
Start by picking a protein as a base for your keto bowl. There are plenty of keto-friendly meats to choose from:
Shredded Chicken: 0g net carbs
Fire Grilled Chicken: 4g net carbs
Roasted Beef: 2g net carbs
Fire Grilled Steak: 0 carbs
The fire-grilled steak has 6g of high-quality fats without any carbs. That's one hell of a deal if you look at it from a keto perspective! Avoid their sweet pork barbacoa which has a whopping 13g of carbs per serving. Plus, the Keto Gods won't be really happy with the sugar it contains!
RELATED: Captain D's Keto-Friendly Items
Cheeses:
I really love cheese for its ability to make you feel fuller! If you are afraid that you might indulge in a cheat meal, adding more cheese is always the solution. They also add good quality fats to your bowl. So it's a win-win!
Luckily, Café Rio has three varieties of low-carb cheese:
Cheddar Jack Cheese: 1g net carbs
Grated Cotija: 0g carbs
Shredded Jack Cheese: 0 carbs
Extras and Toppings:
This section includes all the condiments, cheese, and dressings. Luckily, you have a lot of low-carb options to add variety to your salads:
Lettuce: 1g net carbs
Pico De Gallo: 1g net carbs
Salsa Fresca: 2g net carbs
Guacamole: 2g net carbs
Sour Cream: 2g net carbs
Cilantro: 1g net carbs
Creamy Tomatillo Dressing: 4g net carbs (along with 20g of good fats!)
Serrano Pepper: 0 carbs
Queso: 2g net carbs
Lime: 1g net carbs
Pretty much all the extras at Café Rio are super low-carb. The only exception being the Cilantro-Lime Vinaigrette which has a whopping 32g of carbs per serving!
And here comes the most frequently asked question: Can I add Tortilla chips strips to my keto bowls?
I get that you are missing the crunch factor, but tortilla strips are far from keto! A single serving would mean an extra 26 grams of carbs in your bowl!
YOU MAY ALSO LIKE: Gluten Free options at Cafe Rio
Conclusion
Ordering keto at Café Rio is a cakewalk, thanks to their open customizations! They have tons of keto-friendly meats, toppings, and veggies that ensure a wide range of variety.
Café Rio also has an online nutrition calculator which helps you keep track of your macros! Simply input your ingredients and it'll present you with all the nutritional details.
Always plan your meals ahead of your visits. You are much more likely to cheat if you enter without planning. Our monkey minds would almost ALWAYS justify a cheat meal!
Next up: The Best Tortillas for Keto