We love Portillo's for their Chicago-style hot dogs and the beefy sub sandwiches! But did you know how easy it is to eat Keto at Portillo's?
Portillo's allows you the freedom to create your own order! Simply combine their "Nudies" with your favorite condiments and dressings for a filling low-carb meal. Or if you are in a hurry, just order a Chicago Combo Bowl as-is which contains just 6g of net carbs.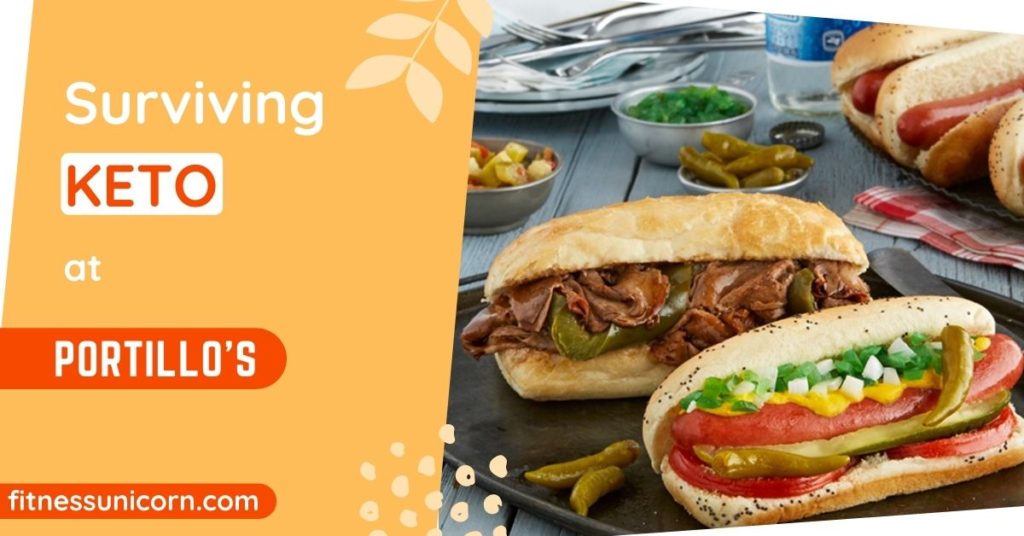 Tired of searching whether certain foods are keto? Download my keto cheat sheet with 210+ keto-friendly foods!
Follow these simple strategies to survive KETO at Portillo's:
Make your own keto order with nudies, condiments, dressings, and some greens.
Their keto-friendly bowls include the Chicago Combo (6g net carbs) and Classic Beef bowl (9g net carbs).
Ditch the bread and get your favorite burgers & sandwiches served in a bowl instead.
Low-Carb dressings at Portillo's include: Greek Vinaigrette, Lite Ranch & Caesar Dressing.
For beverages, just stick to the Diet Coke, Iced Tea, or Coffee.
Use this nutritional table to determine the exact number of carbs in your order.
These were some of the easiest tips to implement on your next keto order at Portillo's.
Now we will break down the entire menu and present you with the most keto-friendly options at this restaurant!
This post may contain affiliate links, which help keep this content free. (Full disclosure)
Portillo's Menu: An OVERVIEW
Portillo's is a fast-food restaurant chain serving beef, burgers, hot dogs, fries, and shakes.
They started way back in 1963 with just hot dogs, french fries, and soft drinks. Fast forward to today, their vast menu now includes Italian beef sandwiches, char-grilled burgers, salads, and the ever-so-famous Chocolate Cake Shake!
They very creative with their gravy and you have so many ways to order your beef sandwiches:
Dipped in the gravy and submerged for a few seconds.
"Easy Dip": Where your sandwich is i nthe gravy for exactly one second.
"Splashed" with extra gravy.
You can get the gravy as a side item.
Or, you can opt for a "dry" sandwich where they remove as much gravy from the beef as possible!
If you've ever been to Portillo's, I'm sure you tasted their Chocolate Cake Shake! In fact, it has always been one of my guilty pleasures before I jumped on the keto wagon! (Now it is reserved for my rare cheat-meals!)
Luckily, Portillo's allows you full freedom to customize your orders the way you want. That means whether you are on Atkins, keto, paleo, or any other diet, there's at least something you can order in the middle of an exhausting day!
Their "nudies" section has all the meats and sausages that are super low-carb. Pair them with your desired toppings and veggies for a perfectly keto-friendly meal!
Portillo's also experiments with their unique Limited-Time menu items. At the time of writing this guide, they have a tuna salad bowl for just 3g net carbs that provides you with 21g of the much-needed fats. Now that's something truly keto which is rare to find in a fast-food place!
Related: Chicken Salad Chick Keto Options
Portillo's Low Carb Bowls for the Keto Diet
Looking at the sudden rise of low-carb diets, Portillo's came out with their whole new range of beef bowls back in August 2020 (after all, the consumer is king!)
These keto-friendly bowls contain all the meat with no extra fluff. It's just the sauces that make up the majority of the carbs. If you are in no mood for experimenting, consider ordering these pre-set low-carb bowls!
#1. Classic Combo Bowl (6g net carbs):
The classic combo bowl has the least amount of carbs compared to the other two options. It contains a serving of their famous beef along with some sausage!
I have ordered this bowl twice and the taste was pretty consistent. However, the beef and the sausage aren't in a 1:1 ratio. The sausage is completely drowned by the beef and its gravy. So you may want to add an extra sausage to balance the taste.
Nutrition: 380 calories | 26g fat | 6g carbs | 0g fiber | 29g protein
#2. Classic Beef Bowl (9g net carbs):
The classic beef bowl has Portillo's famous beef as its main ingredient. However, there are 3g more carbs than the classic one simply because it has more beef and gravy.
Portillo's had already been serving "beef in a cup" as a side dish since the beginning. It's simply their Italian beef served in a soup bowl. This had been my keto staple for a very long time before they came out with these low-carb bowls.
The classic beef bowl has a generous amount of beef along with your choice of peppers and cheese.
Nutrition: 220 calories | 11g fat | 9g carbs | 0g fiber | 21g protein
#3. Italiano Bowl (14g net carbs)
This is the third bowl that you can find at Portillo's Barnelli's locations. Unfortunately, it's not really a keto-friendly option because the meatballs and the marinara sauce add up to significant carbs.
An average keto-er should stay within 20-25g of net carbs per day. The Italiano bowl will exhaust the majority of your carb quota for the entire day!
Nutrition: 550 calories | 38g fat | 15g carbs | 1g fiber | 36g protein
MORE: Keto-Friendly Options at Boston Market
Keto & Low Carb Options at Portillo's
The staff at Portillo's is pretty open to customizations. As a result, you can pick your own meats and toppings wrapped inside a lettuce or have them served in a bowl.
Here are all the keto-friendly ingredients to add to your keto bowl at Portillo's:
Nudies:
A "Nudie" at Portillo's is your favorite protein option without any added sauce or toppings (no extra carbs, phew!)
I can't emphasize enough the importance of nudies when eating out on a keto diet! A lot of other restaurants just outrightly refuse to provide you these "singles". Good luck explaining to them why you need a burger patty added to your salad!
Portillo's makes it so much easier to combine your choice of meat with your favorite toppings, and still keep it low carb.
Choose from the following meat options:
Barnelli's Char-Broiled Chicken: 3g net carbs
Bratwurst: 1g net carbs
Burger Patty: 0 carbs
Char-Grilled Italian Sausage: 0 carbs
Char-Grilled Polish Sausage: 3g carbs
Cup of Italian Beef: 7g net carbs (I recommend using it in moderation!)
Grilled Tuna: 1g net carbs
Hot Dog: 2g net carbs
Jumbo Hot Dog: 3g net carbs
Portillo's Char-Broiled Chicken: 3g net carbs
Extras & Condiments:
These little additions can light up your diet bowls and salads at Portillo's. However, keep in mind that every carb counts!
Slice of American Cheese: 2g net carbs
Cup of Cheese Sauce: 8g net carbs (go for a half serving!)
Side of Gravy: 1g net carbs
Side of Sweet Peppers: 2g net carbs
Dressings:
Finally, it's always the dressings that add that last magical touch to your salads. Since you can't have bread or bun on the keto diet, dressings help us add variety to those meats and veggies!
If you are at Portillo's pick any of the low-carb dressings:
Caesar Dressing: 2g net carbs
Chipotle Ranch Dressing: 5g net carbs
Garbage Vinaigrette: 3g net carbs
Greek Vinaigrette: 0
Lite Italian Dressing: 4g net carbs
Lite Ranch Dressing: 3g net carbs
Ranch Dressing: 4g net carbs
Note: The carbs mentioned above only relate to a single serving. If your server is really generous, it may increase your carb count! Also, dressings often contain added sugar which is not conducive to keto.
Conclusion
Eating keto at Portillo's is now easier than ever! Either choose from their pre-set beef bowls or simply make your own using a protein source and some toppings.
The staff is very open to customizations and there is no need to be awkward while making any requests!