It's lunchtime, and you only have an hour to grab a quick bite. Even though you are tempted by all the fast-food restaurants, you still want to honor your low-carb diet (which is great!). So what's keto-friendly at Chicken Salad Chick?
Chicken Salad Chick is an American chain of restaurants known for their healthy Southern-inspired salads. Their menu boasts every kind of chicken salad known to man!
They have over a dozen varieties of chicken salads along with pimento cheese and egg salad. Not to forget their delicious and healthy side dishes.
Since chicken is extremely low-carb, most of the salads at Green Salad Chick are also keto-friendly. A single scoop (4 oz) contains anywhere between 0-10g of net carbs depending on your selection. As long as you avoid bread, crackers, and desserts, you are good to go!
This article talks about the best keto ordering strategies for Chicken Salad Chick. In the end, I'll also share a detailed carb guide containing each menu item.
So let's begin!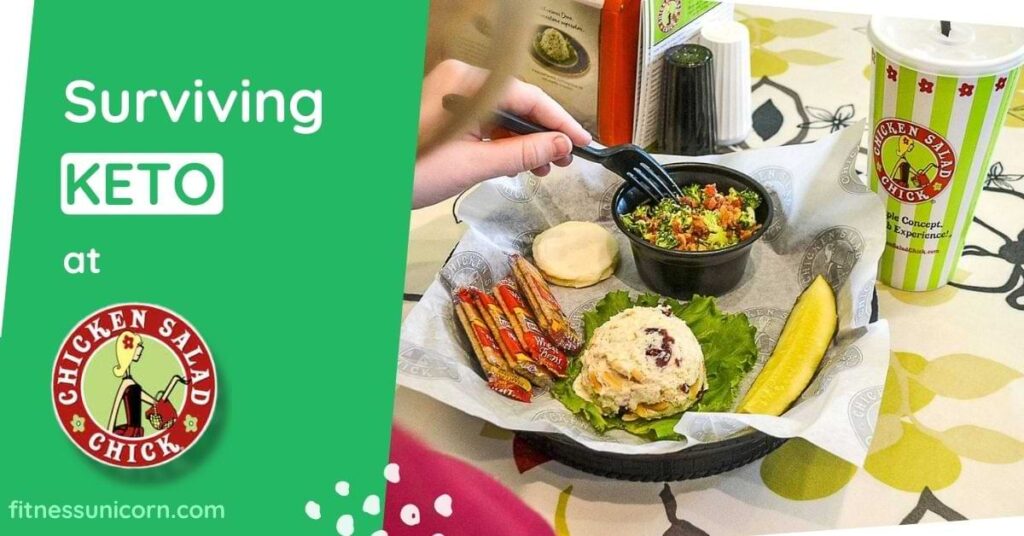 Tired of searching whether certain foods are keto? Download my keto cheat sheet with 210+ keto-friendly foods!
This post may contain affiliate links, which help keep this content free. (Full disclosure)
How to Survive Keto at Chicken Salad Chick
For Southerners, the chicken salad is an all-time staple – whether it's lunchtime, party time, or when you are in a mood for some light snack.
Well, who doesn't love chicken salad?
Chicken Salad Chick brings you a much healthier alternative to junk food, that's also lower in carbs! They have all shades of chicken salad including the nutty, fruity, and spicy flavors.
The company uses fresh ingredients and make all of their flavors from scratch every morning. That's quite a relief from the highly processed foods we get in fast-food restaurants!
If you are on a ketogenic diet, Chicken Salad Chick is a food heaven for you! They literally have zero-carb salads that you can devour until your appetite gives up (e.g. Classic Carol).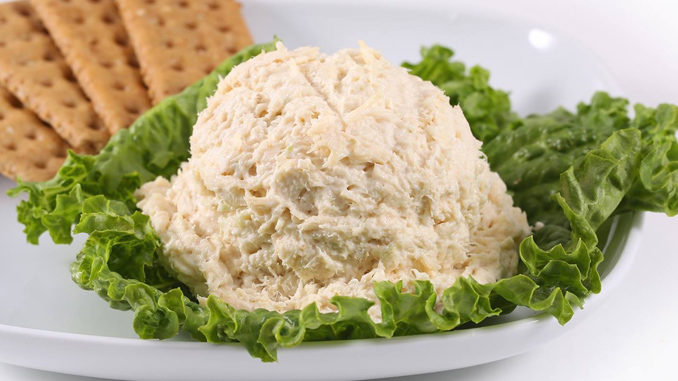 Here are the top 5 Keto-Friendly salads in order of their carb count (per 4 oz. scoop):
Classic Carol: 0g
Jalapeno Holly: 0g
Kickin' Kay Lynne: 1g
Lauryn's Lemon Basil: 1g
Sassy Scotty: 1g
Note: The crackers on the side can be really tempting. But it's a major carb disaster and you should avoid them at all costs.
A keto diet caps your daily carb limit to 20-25g carbs. That's why Chicken Salad Chick comes in handy for all your untimely cravings. You can have multiple scoops of the shredded salads and still get away with just 4-5g net carbs!
And that's not all. They also have pimento cheese and low-carb egg salad that greatly increases your options. You can have the salads as a scoop, in a bowl, or served as a sandwich. Skip the last option if you want to keep it low-carb, pal!
Chicken is too lean a meat for the keto diet. But the Salad Chick has a quick hack: Simply add a few slices of bacon to up your fat without added carbs.
Craving some warm soup on a cold, chilly day? This salad chain has a delicious Broccoli & Cheese soup for just 9g net carbs. (Avoid the crackers though!)
For the side items, the only low-carb option is a Broccoli Salad, which clocks in 8g net carbs per serving.
Avoid all the bread, crackers, and sweet treats if you don't want to upset the keto gods. But if you are really craving something sweet, a Small Buttercream Cookie is the most logical choice – with 11g of net carbs.
Remember, ultimately it all comes down to macros i.e. fat, carbs, and protein. When dining out on keto, your #1 priority is to eat below your daily carb limit!
More: Moe's Southwest Grill Keto Options
Spice it Up with Low-Carb Toppings
The best part about Chicken Salad Chick is that you can fully customize your salads. And that's what makes it so much more appealing on keto!
You have complete control over what goes on your plate. Want some cheese on your Classic Carol salad? You got it. Want to add some bacon slices? They've got you covered.
Here's a list of all the toppings along with their net carbs:
Bacon (2 Slices): 0
Caesar Dressing (1.8 oz): 2
Honey Mustard Dressing (1 oz): 4
Italian Dressing (1 oz): 3
Lettuce (1 Leaf): 2
Mayonnaise (1 oz): 0
Pesto Mayonnaise (1.4 oz): 1
Pickle Spear: 1
Poppyseed Dressing (1 oz): 10
Provolone Cheese (1 Slice): 0
Ranch Dressing (2 oz): 2
Tomato (2 Slices): 1
Related: Bojangles Low-Carb Menu
Chicken Salad Chick Carb Guide
As promised, here's a list of all menu items along with their carb count.
Whether you are on the keto diet or simply cutting down carbs, refer to this list to make wise decisions at Chicken Salad Chick.
Chicken Salad (4 oz scoop – no crackers)
Barbie-Q: 11
Buffalo Barclay: 0
Classic Carol: 0
Cranberry Kelli: 12
Dill-icious Diva: 1
Dixie Chick: 2
Fancy Nancy: 4
Fruity Fran: 6
Jalapeno Holly: 0
Jazzy Julie: 1
Kickin' Kay Lynne: 1
Lauryn's Lemon Basil: 1
Luau Lydia: 3
Madame Curry: 10
Nutty Nana: 3
Olivia's Old South: 6
Pam's Parmesan Caesar: 1
Sassy Scotty: 1
Pimento Cheese & More (4 oz scoop)
Pimento Cheese: 2
Spicy Pimento Cheese: 2
Egg Salad: 5
Side Items & Chips
Broccoli Salad: 8
Fresh Fruit: 18
Grape Salad with Topping: 29
Mac 'n Cheese': 32
Pasta Salad: 35
Baked Lays: 22
Doritos: 29
BBQ Chips: 21
Jalapeño Chips: 20
Sea Salt Chips: 21
Sea Salt & Vinegar Chips: 21
Green Salads
Caesar Salad: 18
Classic Salad: 6
Cranberry Apple Salad: 16
Strawberry Pecan Salad: 17
Gourmet Soups
| | Cup | Bowl |
| --- | --- | --- |
| Broccoli & Cheese | 9 | 15 |
| Chicken Artichoke Florentine | 11 | 16 |
| Chicken Tortilla | 13 | 21 |
| Loaded Potato | 14 | 25 |
| Tomato Bisque | 11 | 15 |
Bread & Crackers
Croissant: 32
Wheatberry Bread (1 Slice): 23
White Bread (1 Slice): 25
Kellogg's Wheat Crackers: 10
Keebler Club Crackers: 8
Keebler Wheat Crackers: 10
Lance Wheat Crackers: 8.5
Keto-Friendly Drinks at Chicken Salad Chick
I get it – sometimes you need a side drink to wash down your meals.
But don't worry at all! Chicken Salad Chick has a ton of low-carb beverages that you can enjoy along with your keto salads.
Coke Zero Sugar: 0
Diet Coke: 0
Unsweetened Tea: 0
Minute Maid Lite (10 oz): 2
Minute Maid Lite (24 oz): 4
Minute Maid Lite (36 oz): 5
Honest Kidz Apple Juice (6oz): 10
Vitamin Water Triple X – 10 oz: 16
Can You Eat Chicken on Keto?
Chicken Salad Chick is keto-friendly only because its main ingredient (i.e. chicken) is devoid of carbs.
In fact, meat and poultry are like bread-and-butter for a ketoer. Fresh meat & poultry have exactly zero carbs and they offer plenty of minerals and vitamins like Vitamin B3, Vitamin B6, phosphorus, and selenium.
The keto diet isn't just about high-fat low-carb foods. The third macro, aka protein, also has a very important role to play in your overall well-being.
Here are some essential roles of protein in our body:
Muscle repair & growth
Maintaining healthy skin, hair, nails, bones, and internal organs.
Creation of hormones and enzymes.
A Chicken salad is your best tool to reach your protein goals on a ketogenic diet.
Opt for dark meat chicken since it has more fat and iron. For example, a 4 oz serving of Chicken Thigh has 20g fat, 17g protein, and zero net carbs!
Conclusion
Is Anything from Chicken Salad Chick Keto? Hell yeah!
Most of the salads from Chicken Salad Chick have 0-2g net carbs per scoop, which makes them extremely keto-friendly. You can also enjoy Pimento cheese, egg salad, and Broccoli & Cheese Soup.
Stay away from all kinds of bread, crackers, and go easy on the dressings. When in doubt, follow the nutritional guidelines published by the company.
NEXT: