A restaurant famous for its Korean Fried Chicken might not be on your list for keto-friendly places. And that's where I come in, to help you pick the right dishes with the right strategy for a keto-friendly meal at Bonchon Chicken.
Their signature fried chicken dishes like Spicy Wings or Soy Garlic Drumsticks, come with just around 13g carbs inclusive of all the sauces. They also have low-carb starters like Miso Soup and Edamame, along with keto-friendly salads. Just take care of the sugary sauces, and you are good to go.
They have many dishes here that are high in protein and fat content. Therefore, it's the perfect place for your keto outing. Without any further ado, let's dive straight in and look at EVERYTHING keto at Bonchon Chicken.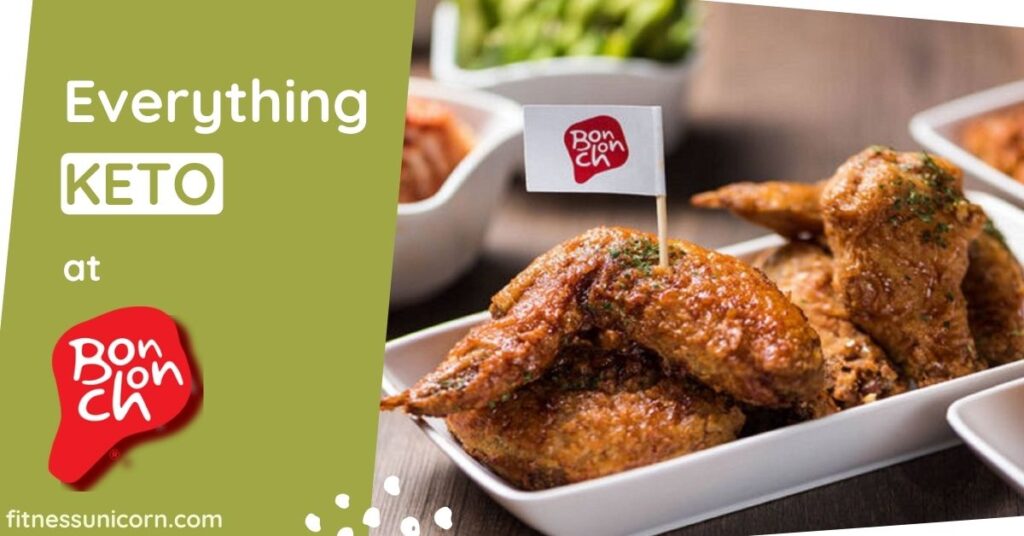 Tired of searching whether certain foods are keto? Download my keto cheat sheet with 210+ keto-friendly foods!
This post may contain affiliate links, which help keep this content free. (Full disclosure)
EVERYTHING Keto at Bonchon Chicken
There are many fried chicken restaurants in the US but due to the high carb sauces, they do not remain fit for keto. Dishes like Kimchi, Pickled Radish & Miso Soup are on any Asian keto menu and it's no different here at Bonchon. Their chicken wings is what you have for your keto main course.
The secret is that most of the calories come from the total fat count of the meal, and keto is all about consuming as much fat and as you can~ So, the increased calorie count for the fried dishes should not be a major concern for you.
Fried Chicken is mostly served in a sea of high-carb sugary sauces. So you should be mindful and not indulge too much in these sauces. Thankfully, Bonchon Chicken provides you with a free side, and you can choose from any option that fits under your carb limit. You can choose something like kimchi or pickled radish to go with it, instead.
Koreans also have their favorite Mochi Ice Cream, but only one piece of it carries around 20g carbs with it, and can not be consumed on Keto. If any store provides you with packaged low-carb drinks like Coke Zero or Diet Pepsi, you might as well rely on them to settle your sugar cravings.
So what really makes a meal keto-friendly?
There's no concrete rule here. A ketogenic diet generally recommends consuming less than 30g of carbs per day. Most people see significant weight loss with a 20-25g daily limit.
That translates to roughly 8g carbs per meal – there's your answer! However, you can sometimes have more in one meal and cut back on others, while still maintaining your overall daily carb limit!
So, without any delays, let's explore what all low-carb options Bonchon Chicken has in store for you.
YOU MAY ALSO LIKE: Gluten Free options at Bonchon
Keto-Friendly Options at Bonchon Chicken
Bonchon Chicken has plenty of low-carb options to please your appetite. Let me take you through all of them:
Low-Carb Starters & Sides
#1 Edamame
Carbs: 20g
Fiber: 12g
Net Carbs: 8g
Total Fats: 12g
Protein: 27g
Calories: 270Kcal
Soybeans are a very versatile food – it gives soybean oil, tofu, soy protein, and whatnot! But they also taste heavenly when cooked as an appetizer! Edamame refers to immature soybeans that look bright green in color. It's a popular Asian dish prepared with some salt, which is also an excellent appetizer.
Surprisingly, it's also quite low in carbs which makes it extremely keto-compatible.
#2 Miso Soup
Carbs: 1g
Fiber: 0g
Net Carbs: 1g
Total Fats: 1g
Protein: 2g
Calories: 20Kcal
Miso soup is another low-carb appetizer that has soybean paste at its heart. It's a simple combination of two items: Dashi Stock and Miso paste.
The Dashi stock is made with dried bonito flakes, kelp, and anchovy. On the other hand, miso paste is a smooth mixture containing soybeans, salt, and rice koji.
#3 Kimchi
Carbs: 13g
Fiber: 7g
Net Carbs: 6g
Total Fats: 0g
Protein: 4g
Calories: 67Kcal
Kimchi is as Korean as it gets! No wonder it's the most frequently ordered dish at this Korean Fried Chicken chain.
Kimchi is naturally very low in carbs because it's made with fermented vegetables and salt. But every restaurant has its own unique addition to the recipe and hence the nutrition profile keeps changing.
Luckily, a single serving of Bonchon Chicken's kimchi has only 6g of net carbs – which you can devour guilt-free on keto!
#4 Coleslaw
Carbs: 5g
Fiber: 2g
Net Carbs: 3g
Total Fats: 10g
Protein: 1g
Calories: 120Kcal
#5 Kimchi Coleslaw
Carbs: 10g
Fiber: 2g
Net Carbs: 8g
Total Fats: 7g
Protein: 2g
Calories: 120Kcal
#6 Pickled Radish
Carbs: 3g
Fiber: 1g
Net Carbs: 2g
Total Fats: 0g
Protein: 1g
Calories: 15Kcal
#7 Korean Cheese Corn
Carbs: 15g
Fiber: 1g
Net Carbs: 14g
Total Fats: 16g
Protein: 7g
Calories: 221Kcal
Check Out: Is Sauerkraut Keto Friendly?
Salads & Soup
#1 Caesar Salad
Carbs: 15g
Fiber: 2g
Net Carbs: 13g
Total Fats: 31g
Protein: 12g
Calories: 380Kcal
Keto-Friendly Signature Fried Chicken
#1 Spicy Small Wings
Carbs: 14g
Fiber: 0g
Net Carbs: 14g
Total Fats: 43g
Protein: 45g
Calories: 640Kcal
#2 Spicy Small Drumsticks
Carbs: 12g
Fiber: 0g
Net Carbs: 12g
Total Fats: 59g
Protein: 56g
Calories: 766Kcal
#3 Spicy Small Combo
Carbs:11g
Fiber: 0g
Net Carbs: 11g
Total Fats: 500g
Protein: 55g
Calories: 767Kcal
#4 Soy Garlic Small Wings
Carbs: 14g
Fiber: 0g
Net Carbs: 14g
Total Fats: 43g
Protein: 45g
Calories: 680Kcal
#5 Soy Garlic Small Drumsticks
Carbs: 12g
Fiber: 0g
Net Carbs: 12g
Total Fats: 59g
Protein: 56g
Calories: 806Kcal
#6 Soy Garlic Small Combo
Carbs: 13g
Fiber: 0g
Net Carbs: 13g
Total Fats: 51g
Protein: 50g
Calories: 743Kcal
Is Fried Chicken Keto-Friendly?
You might argue that fried food can never be keto, and rightly so, with so much oil, sauces, coating, and whatnot. But it's not exactly how it looks. Yes! Fried Chicken can actually be keto-friendly.
Bonchon Chicken stands out with its technique. They apply a very thin layer of batter and deep fry their chicken twice until all the fat is removed from the skin. It also makes the chicken more tasty and crispy.
Fried Chicken by itself might fit under your carbs, but you'll have to be careful with the sugary syrups that are poured over it. Sugar is nothing but carbs, and even a teaspoon full is enough to get you off the track.
As said earlier, Bonchon provides you with a complimentary side dish with your fried chicken. It becomes equally important to choose the right low-carb side to stay on track!
Conclusion
Bonchon Chicken does have a good variety of keto-friendly dishes to cater to your needs. Being able to have fried chicken on keto is not something you can complain about. They also have a good amount of side dishes and salads too, for a perfect keto outing.
That's more than enough knowledge for you to indulge in a keto-friendly meal at Bonchon Chicken. Still, if you want more details about the nutritional components of your food, check out their nutrition guide here.