Chicken Express is a fast-food chicken delivery business that started back in 1988 in Texas.
Now, it has scaled to several dine-in restaurants known for its fresh, hot, and juicy chicken items! It is a go-to place when you quickly want to grab something to munch on.
But is there anything keto-friendly at Chicken Express?
For a quick brunch, you can order two pieces of chicken wings with chipotle ranch and seasoned Italian green beans on the side. They account for 25g of fat, 11g of net carbs, and 12g of protein in total. This makes them the lowest carb option available in the combo meals section of its menu.
It is hard to spot a low-carb dish on the menu of a fast-food restaurant like Chicken Express. So, here I've shared some tips on how to order keto-friendly food and make sure you stay into ketosis (to keep burning fat!)
Let's get started!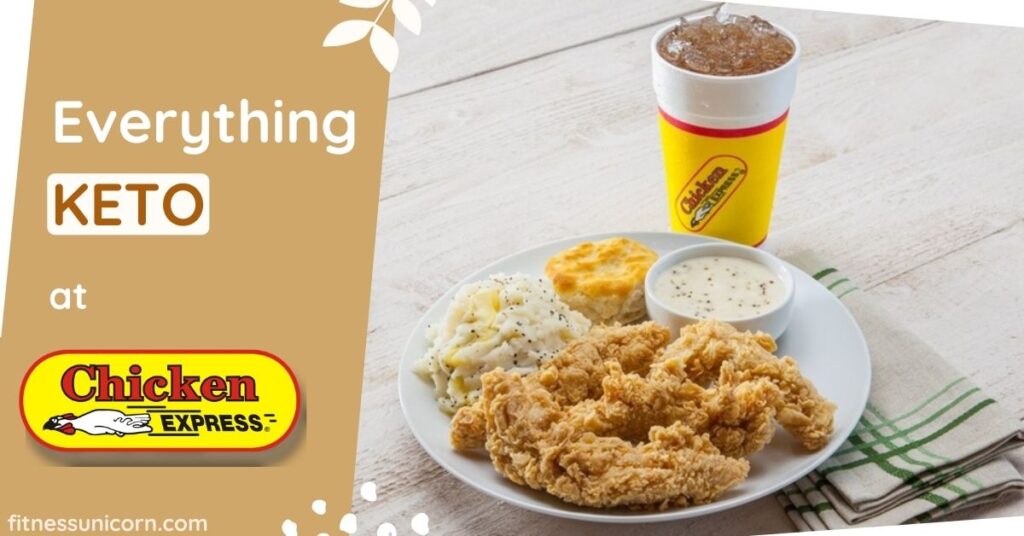 Tired of searching whether certain foods are keto? Download my keto cheat sheet with 210+ keto-friendly foods!
This post may contain affiliate links, which help keep this content free. (Full disclosure)
How to Survive Keto at Chicken Express
The specialty of Chicken Express is its fresh chicken products, marinated in their secret batter mix and cooked perfectly until golden brown.
Even though the restaurant is named after chicken, it also offers some other American favorites that are too hard to resist! Think about the fried fish fillets or those savory hushpuppies.
The best thing about Chicken Express is that they use fresh chicken instead of the frozen ones that you find at most cheap places. As a result, your chicken is completely free of carbs and also rich in B vitamins.
Fishes are also low in carbs and a good source of B vitamins along with selenium, magnesium, and omega 3 fatty acid. All of these are great choices for you on the keto diet.
From the combo meal section on their menu, you can choose the quantity and the type of chicken pieces you want. They come with a regular side order of choice like green beans, fried pickle slices, etc. Along with a drink of up to 32oz to 44oz.
One can also order a huge quantity of chicken pieces as they desire from the family meals section. But you must resist the temptations for those crispy biscuits or the rolls!
And even though chicken is a carb-free meat product, you can't have anything and everything in this restaurant.
The main problem is that their method of preparation is unideal for someone following a ketogenic diet. First, the chicken pieces are coated with batter and bread which increases its carb count. Secondly, the chicken pieces are deep-fried in vegetable oil, which is the biggest drawback of any fast-food item. This way, they absorb too much oil which increases their caloric and saturated fat content.
And almost all of the meals on their menu have low to no dietary fiber. Dietary fibers help with the easier digestion of food, while the lack of it can cause stomach issues.
That's why you should moderate your consumption even if it's "just chicken!".
But due to the time constraints, we are left with no other choice than to eat out. In this case, you should have some practices in place that will support your hard-earned state of ketosis. So here you go:
Keto Tips for Chicken Express
Practice portion control. Either order less high carb food or distribute them among different meals of the day. In this way, you will prevent overeating and consume less amount of carbs throughout the day.
Hold the biscuits, rolls, and gravy. These options come along with the express tenders as a combo. Consuming them along with the tenders can hike the carb count.
Order only from the chicken section of the menu. It has the least amount of carbs among all options. Though, even consuming more of those can hike the carb count.
Ask them to not bread or marinate the chicken in batter before frying (they probably won't agree, but it's worth a try!). This will reduce the carb count dramatically.
Their desserts, drinks & tea, and side add-on section of the menu are also dominated by high-carb dishes. It is good if you avoid them or don't eat any carbs throughout the day after that.
Check out the nutritional info section of their online menu. There you will find a chart mentioning the nutritional facts and potential food allergens inside each dish. If you have any allergies, reading through the chart will help you avoid dishes with allergenic ingredients.
Fill up your plate with more greens and load your glass with water. This will help you feel fuller without any added carbs.
Now without any further ado, let's take you through all the keto-friendly options available at Chicken Express!
ALSO READ: Keto-Friendly Options at Flower Child
Keto and Low-Carb Options at Chicken Express
Note: All the nutritional facts are as per the data given on their official website. Expect slight variations across the branches because preparation methods might differ.
#1.

Fried Chicken Wing
Calories: 165kcal
Total Fats: 10g
Net Carbs: 5g
Protein: 12g
Cholesterol: 61mg
Sodium: 573mg
#2. Fried Chicken Thigh
Calories: 435kcal
Total Fats: 33g
Net Carbs: 12g
Protein: 25g
Cholesterol: 150mg
Sodium: 1035mg
#3. Fried Chicken Tender
Calories: 140kcal
Total Fats: 7.5g
Net Carbs: 7.5g
Protein: 10.5g
Cholesterol: 30mg
Sodium: 400mg
#4. Fried chicken leg
Calories: 198kcal
Total Fats: 12g
Net carbs: 7.2g
Protein: 18g
Cholesterol: 99mg
Sodium: 684mg
ALSO READ: Keto Guide for California Chicken Cafe
#5. Fried chicken liver
Calories: 112kcal
Total fats: 7g
Net carbs: 6g
Protein: 5g
Cholesterol: 51mg
Sodium: 157mg
#6 Fried chicken gizzards
Calories: 126kcal
Total fats: 8g
Net carbs: 7g
Protein: 7g
Cholesterol: 72mg
Sodium: 315mg
#7. Fried hot wings
Calories: 280kcal
Total fats: 16g
Net carbs: 9g
Protein: 24g
Cholesterol: 115mg
Sodium: 1120mg
#8 Coleslaw
Coleslaw means, cabbage salad. It is made of finely shredded raw cabbages along with a salad dressing like mayonnaise or vinegarette.
Calories: 140kcal
Total fats: 12g
Net carbs: 5g
Protein: 0g
Cholesterol: 20mg
Sodium: 3400mg
#9 Cheese sticks
This dish is made by marinating the cheese sticks in the batter and frying it till the required texture is achieved.
Calories: 70kcal
Total fats: 2.5g
Net carbs: 6.5g
Protein: 3g
Cholesterol: 10mg
Sodium: 280mg
#10

S

easoned Italian Green Beans
It is prepared by sauteing the green beans with black pepper, red pepper flakes, salt, and some other spices to add flavor. This dish will provide you with healthy carbs.
Calories: 40kcal
Total fats: 0g
Net carbs: 3g
Protein: 0g
Cholesterol: 0mg
Sodium: 600mg
#11 Mini poppers
Calories: 130kcal
Total fats: 5g
Net carbs: 13.5g
Protein: 5g
Cholesterol: 10mg
Sodium: 550mg
#12 Gravy
Calories: 140kcal
Total fats: 8g
Net carbs: 15g
Protein: 0g
Cholesterol: 10mg
Sodium: 840mg
Some of the low-carb dips and sauces available at Chicken Express are ranch sauce and jalapeno ranch sauce. In terms of beverages, opt for plain water instead of sodas or teas. They will unnecessarily add more carbs without any health benefits.
Having said that, chicken Express is not a place where you go to have fancy dinners (especially on a low-carb diet!). Rather it is a place where you go to quickly grab something to eat. Their menu has limited keto-friendly options to choose from. Even if you find something within the nutritional range, you would not want to binge on them.
Conclusion
There are limited keto-friendly food options on the menu of Chicken Express. I have shared with you a total of 12 main and side dishes that I found appropriate for someone on a ketogenic diet. Following the tips shared in this article will help you easily order low-carb at this chicken joint!
Sometimes it is okay if you splurge a bit and end up exhausting your daily carb limit. Don't be so hard on yourself and get back on track as soon as possible.
If you can not freshly prepare your meals at home, try to do meal prep. Prepare several meals in advance and store them in the refrigerator for convenient snacking. Meal prepping helps you save time and prevent you from having to eat unhealthy food.
Happy Keto-ing 🙂
Recommended: Dickey's Barbecue Pit Keto Options