American culture wouldn't be the same without barbecue. Everything about barbecue is grand: the flavors, the portions. So you may think that it might be difficult to find keto-friendly options at a Barbecue restaurant.
How about if we tell you it's not exactly true.
There are a number of low-carb options available at Dickey's Barbecue Pit. Dishes like Brisket with Cabbage Slaw fit the bill.
Additionally, you can choose from Chicken Breasts, Pulled Pork, and Turkey, which are all keto-friendly options. However, you should be cautious when it comes to sauces.
Although keto-diets can sometimes be very challenging, they can also be very rewarding. Not every restaurant will be able to accommodate a keto-friendly diet.
You're in luck since we make it our mission to make it so. Here's a rundown of all the keto-friendly options at Dickey's Barbecue Pit.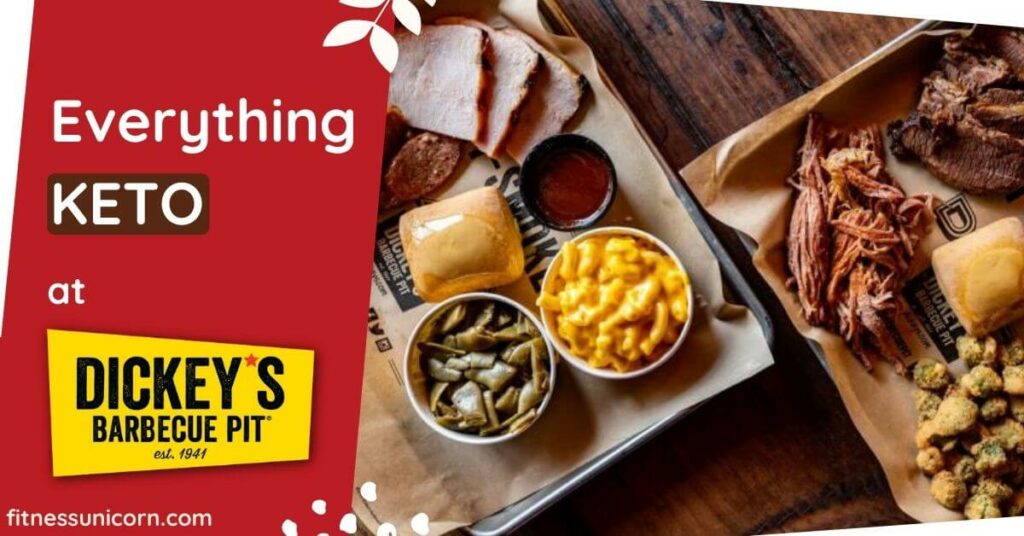 Tired of searching whether certain foods are keto? Download my keto cheat sheet with 210+ keto-friendly foods!
This post may contain affiliate links, which help keep this content free. (Full disclosure)
How to Survive Keto at Dickey's Barbecue Pit
The Dickey's Barbecue Pit, as indicated by its name, serves barbecue dishes mainly consisting of chicken, beef, and pork.
Dickey's Barbecue Pit has been around for several generations, it is a family business. In 2017, Laura Rey Dickey became the next member of the Dickey family to serve as CEO, continuing a long tradition.
The ingredients used by Dickey's are of the highest quality. Besides not containing artificial colors, flavors, or nitrates, both their chicken as well as their pork are also free of hormones and raised in cage-free conditions.
A keto diet is not a quick way to lose weight. Instead, it can be viewed as a marathon that requires both short-term and long-term changes in your dietary habits.
Eating out when on keto is a big no-no for many people. If you prefer to follow a strict home-cooked keto diet, we respect your preference. However, many people find it uncomfortable eating the same meals every day.
Most people can't imagine their lives without dining out. It's an essential part of their social life. Even though you have to be picky at a restaurant while following a keto diet, you can maintain your diet using the following tips.
Here are a few things to keep in mind:
Try not to visit the restaurant on an empty stomach. At the very least, drink two glasses of water before going. The sugar cravings will be much less likely to occur.
Sandwiches, buns, slider rolls, and cornbread should be avoided.
Sauces and curries should be used sparingly.
You have to forget about rice every time you look through the menu.
If you're unsure, go for more meat. It won't hurt you to eat more meat, but loading up on sauces will!
Focus on increasing fat consumption while reducing carbohydrates to remain in ketosis.
Keto carb limits are the most important thing to keep in mind. They form the cornerstone of a keto diet! Overconsuming carbs can kick you out of ketosis rapidly.
It is recommended that you consume less than 25g of net carbs per day, or not more than 8g per meal, to maintain your ketosis.
Do you think we have been too harsh with all the rules? Don't give up on us just yet. Of course, you can still eat some yummy stuff that falls within your daily carb allowance.
Let's take a look at some of the low-carb options you can have at Dickey's Barbecue Pit.
RECOMMENDED: KETO Friendly Options at BJ's Brewhouse
Keto-Friendly Options at Dickey's Barbecue Pit
Dickey's Barbecue Pit provides a good range of keto-friendly meals such as sides, salads, and meat. So with that in mind, let's look at all the low-carb options they offer. Net carb values are listed next to each dish.
Sides and Salads
Cabbage Slaw (6.8g)
Caesar Salad (4g)
Creamy Spinach (11g)
Brisket Chilli (6.5g)
Dill Pickle Slices (0.7g)
Dicky's Barbecue Pit offers a good selection of keto-friendly salads, which you can use as a base for your keto bowl, then garnish with low-carb toppings.
Keto-Friendly Dishes
Smoked Chicken Wings (0.3g)
Pork Butt (1.6g)
Beef Brisket (0.7g)
Marinated Chicken Breastplate (9.6g)
Turkey Breast Plate (3g)
Polish Kielbasa Sausage Plate (3g)
Jalapeno Cheddar Kielbasa Plate (6g)
Red Hot Pork and Beef Sausage Link (3g)
While the above meats are keto-friendly, watch out for the high sugar sauces, instead pick the ones that are low-carb like the ones below.
ALSO READ: Keto-friendly Smoky Delights at Ono Hawaiian BBQ
Sauces and Rubs
Buffalo Barbecue Sauce (1.4g)
Buffalo Hot Barbecue Sauce (2g)
Carolina Barbecue Sauce (8.2g)
Rub Choice Lemon Pepper (1.2g)
Rub Choice Rib Rub (3g)
The net carb values are based on the serving size of 2 fluid ounces.
Beverages
Coke Zero (0g)
Diet Coke (0g)
Unsweetened Iced Tea (0g)
While the keto-friendly beverage options are limited, you can still make do with the options mentioned above and maintain your ketosis.
RELATED: EVERYTHING Keto at Yogurtland
Can You Have Barbecue Food on a Keto diet?
The only person who can answer this correctly is you. Do you mind giving up those sauces and delicious curries? You've made it here, so we are assuming that you are determined enough to sacrifice whatever it takes to maintain your ketosis.
Barbecue meat is generally high-fat and carb-free. As a result, it is exceptionally keto-friendly. When it comes down to it, keto involves eating below your carb limit.
The only thing that can stop ketosis is a sugary sauce slathered on top of a smoked piece of meat!
Food chains have noticed that their menus have to be changed with people getting more serious about their health and fitness. The trend is slowly shifting in that direction.
Until then, stick to those options mentioned above, and you won't have any trouble getting through those cravings!
When deciding on a dish, we typically look at its nutritional value and see if it fits in with our daily carbohydrate quota.
We often get too harsh on ourselves when we are on this keto journey, which can lead to problems with both our mind and body if we restrict those carbs too much.
While it is necessary to restrict carb intake on keto it is equally important to find the right balance and enjoy your meals.
Even though we have attempted to answer the majority of your questions, we have included a few additional answers for your convenience.
Take a look at them and take comfort in the fact that you can now enjoy barbeque food whenever you feel like it.
RELATED: Gluten Free Options at Dickey's Barbecue Pit
FAQs
Why is barbecue sauce not Keto Friendly?
To be fair not all barbecue sauces are incompatible with a ketogenic diet. However, many of them are stuffed with sugar, as a result of which they taste so delicious!
Barbecue sauces are usually high in sugar, carbs, and preservatives, which makes them a no-go for keto since you are required to strictly follow a high-fat, low-carb diet.
The best way to find a low-carb barbecue sauce is to scan the grocery store for those with the lowest sugar content. Sugar-free sweeteners are also used by some brands to limit carb intake.
During your meal at Dickey's Barbecue Pit, you may want to consider other options, such as ranch dressing or mustard dressing.
What exactly is ketosis?
Ketosis is a state in your body, where your body burns fat for energy instead of carbohydrates.
Ketosis occurs when the amount of carb intake in your diet is low due to which the body starts to rely on burning fat as fuel. As fat is broken down, ketones or ketone bodies are produced, which provide energy to your brain and body.
Your body can burn fat at a higher rate when you are in ketosis since your metabolism shifts and you rely on fat for energy. As a result, your weight loss goal may be achieved sooner if you reduce your carb intake.
Is there a limit to the number of carbs I can have?
Maintaining ketosis requires you to restrict your carb intake to 25g a day. So even if you consumed only five grams of net carbs for breakfast and lunch, you can still consume that fifteen grams of remaining net carbs for dinner without feeling guilty.
Just make sure that you don't exhaust all of your carb quotas at once. It all comes down to how many net carbs a person consumes in a day. Your keto routine is rocking as long as you are under 25g!
Conclusion
There's a decent amount of foods that are keto-friendly at Dickey's Barbecue Pit, as we've seen.
You can get a fair amount of options from keto salads to keto grill foods like brisket and pork, all the way to keto sides like chicken wings at Dickey's Barbecue Pit!
It goes without saying that you should avoid high-carb beverages and barbeque sauces with added sugar. Rather, you should opt for low-carb alternatives, such as diet drinks and keto-friendly sauces whenever available.
We believe using the information we provided, you will be best prepared to continue your keto journey at Dickey's Barbecue Pit.