Barbecue is a staple of American culture, and one of its flag bearers has been Ono Hawaiian BBQ. But when you're following a keto diet, it doesn't sound like a great idea, or does it! So are there any keto-friendly dishes at Ono Hawaiian BBQ, let's find out!
Dishes such as Kalua Pork with Cabbage could very well serve the purpose. Other keto-friendly options at Ono Hawaiian BBQ include the traditional Chicken Breast, Island Curry Chicken, and BBQ chicken. Although, sauces on the side are to be avoided.
Keto-diets can sometimes be very demanding though. Finding a perfect fit at your favorite restaurant might not always be possible. Well, guess what, we make it possible for you. In the article following, you will find the best game plan to continue your keto journey at Ono Hawaiian BBQ.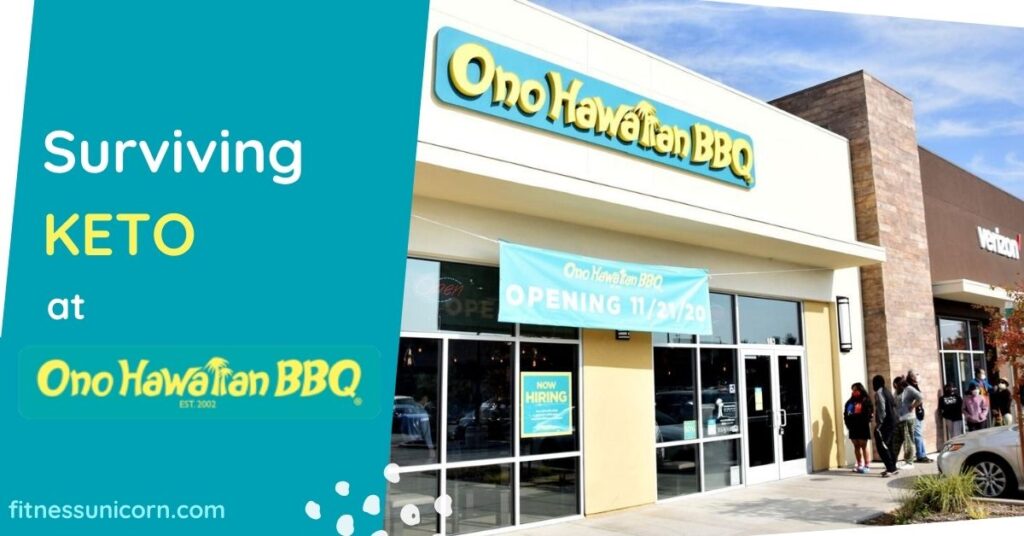 Tired of searching whether certain foods are keto? Download my keto cheat sheet with 210+ keto-friendly foods!
This post may contain affiliate links, which help keep this content free. (Full disclosure)
Keto Survival Guide for Ono Hawaiian BBQ
As the name suggests, Ono Hawaiian BBQ is a barbecue restaurant with mostly chicken, beef, and seafood dishes. Though there are not many dishes you can fancy as a keto practitioner, but using the following tips, you can surely maintain your keto diet.
Here's what you should know:
Go easy on sauces and curries.
Avoid asking for breads, since they are loaded with carbs.
Rice has to be overlooked every time you scroll through the menu.
Gourmet Salads and appetizers are a 'No-No' (lathered those sugary sauces and dressings!)
By now if you feel we are being too harsh, give us a second chance. There are some absolute delicacies too which fit well under your daily quota of carbs.
To maintain a keto diet, you'll have to consume less than 25g net carbs per day, which roughly means 7-8 grams of net carbs per meal.
Except for seafood, which contains some amount of dietary fiber that lower net carbs, other options such as chicken, beef, and pork are devoid of fiber. So, the net carbs are equal to your total carb intake and there's no "discounting"!
Having said that, let's have a look at the keto-friendly options we have at Ono Hawaiian BBQ.
Related: Is Beef Brisket Keto Approved?
Ono Hawaiian BBQ Keto-Friendly Options:
#1. Grilled Chicken Breast
Carbs: 0g
Fiber: 0g
Net Carbs: 0g
Total Fats: 6g
Protein: 70g
Calories: 330Kcal
By far the best option here, with absolutely no carbs and a high amount of protein. If your tongue is fond of taste, then you might as well check out other options listed below.
#2. Kalua Pork with Cabbage
Carbs: 4g
Fiber: 1g (From the cabbage)
Net Carbs: 3g
Total Fats: 30g
Protein: 50g
Calories: 480Kcal
Go with it for a better taste and if you are a Pork fan. Do not add it into a meal with other stuff on the side.
#3. BBQ Chicken
Carbs: 7g
Fiber: 0g (oops!)
Net Carbs: 7g
Total Fats: 10g
Protein: 29g
Calories: 230Kcal
Again, a tasty option with carbs under check. Remember not to go overboard with the sauce.
#4. Irish Curry Chicken
Carbs: 7g
Fiber: 3.4g
Net Carbs: 3.6g
Total Fats: 10g
Protein: 29g
Calories: 230Kcal
Similar to BBQ Chicken in terms of nutrition, but it is served with a curry on the side which you might wanna avoid to keep it low-carb and keto-approved!
#5. BBQ Beef + Kalua Pork
Carbs: 8g
Fiber: 2.3g
Net Carbs: 5.7g
Total Fats: 21g
Protein: 40g
Calories: 376Kcal
It's the best of both worlds, considering the variety it serves and the low net carbs.
#6. Fresh Mix Salad
Carbs: 6g
Fiber: 0.5g
Net Carbs: 5.5g
Total Fats: 1g
Protein: 1g
Calories: 35Kcal
If you're looking for sides that do not get you off-track, then Fresh Mix Salad is definitely the one to consider.
Apart from these, there are also some more chicken dishes like Teriyaki Chicken and Hawaiian BBQ Chicken, both serving around 9g carbs or the Hawaiian BBQ Chicken Noodle Soup. But keep in mind, no curries and no sauces, and you're good to go.
Can I dine out frequently on Keto?
The clear answer to this is "NO". Avoid outside food as much as you can while practicing keto but landing in situations when you have no other option but to eat outside, specifically at Ono Hawaiian BBQ, go for the dishes mentioned above, otherwise watch that belly grow sweetie.
Is BBQ Keto-Friendly?
The answer to this lies with you, more than us. Are you willing to skip on the sauces and your favorite luscious curries? Are your goals big enough to sail through this keto journey, and if you've landed here, they sure are.
Most BBQ meats are high-fat and zero-carb. That's what makes them extremely keto-friendly! More often than not, keto is all about eating below your carb allowance. A smoked piece of steak is as low-carb as it gets, but if you lather it with sugary sauces, bid goodbye to ketosis!
With people getting ever serious about their fitness and their bodies, even food chains have realized that there's a need for amendment in their food menu. Slowly and gradually, we are moving in that direction. Till then, go with the options mentioned above, and you'll get through those cravings just fine!
We tend to look at the nutritional value of a dish and if it fits under our daily quota of carbs, we go for it. During this whole keto journey, we sometimes get too harsh on ourselves which might affect both our mind and our body to restrict those carbs as low as possible.
It's fairly important to love yourself at every stage, not just during your keto journey, but throughout the journey of life. (Oh yes I love Philosophy!)
Although we've tried to answer almost all your queries, below are some more questions we've answered for you. Go through them and be rest assured that now whenever you feel like having barbeque food, you can.
Suggested: Ruby Tuesday Low-Carb Guide
FAQs
Are sauces and curries not allowed on Keto?
Barbecue food can sometimes be immersed in BBQ sauce. These sauces might contain a lot of sugar which will do your keto no good and move your body out of the Ketosis state.
Go easy on the sauce, avoid any side dishes or bread, and Voila!! Your keto diet is absolutely on track.
What do you mean by Ketosis?
In simple terms, Ketosis occurs when the human body does not get enough carbs from food, and hence, the body uses fat reserves to turn them into Ketones, which can then provide the required energy to the body.
What does it take to suceed at Keto?
Not everyone can stick to keto long-term. But still, you gotta practice it for some weeks to see the results which can sometimes be bad news for your taste buds. If you do not have control over your tongue, you might dip your chicken in some dips or curries and fall out of ketosis!
RECOMMENDED: Dickey's Barbecue Pit Keto-friendly options
Can I have drinks on the side?
Again, the answer is a big "NO". Most drinks contain sugar and even a sip sometimes contains more sugar than your entire keto meal. But you can have water, it is a ZERO carb drink. ( You probably knew it but we just wanted to make you feel better )
How many carbs can I have in a meal?
Haha, we knew you were waiting for this, and to your surprise, the answer is YES. ( Terms and Conditions apply* and you can't skip these )
So, the daily net carbs limit to maintain a Keto diet is around 25g for an individual. Now suppose, you had just 5g each of net carbs for your breakfast and lunch, guess what, you can still have that 15g carb dinner without any guilt.
It all boils down to the total amount of net carbs consumed in a day. If you're somewhere under that 25g mark, you've nailed the keto routine!
But again, Keto in itself is difficult to follow and this method might not prove to be sustainable for everyone. Others may feel a lot more comfortable when following a well-defined diet plan. So try it out and see what works best for you!
Conclusion
Looking at it, Ono Hawaiian BBQ actually has plenty of low-carb options for champs like you, who want to maintain their keto diet even while dining out.
With all the high-fat and low-carb meat, the traditional BBQ is as keto-friendly as it gets! But watch out for temptations like curries, bread, and rice.
We've equipped you with all the necessary knowledge to order keto at Ono Hawaiian BBQ. Whenever in doubt, check out their official nutrition guide here.