Visiting Freddy's but worried about losing your hard-earned ketosis? Well, hang on! No need for that as I'll take you through all the Keto-friendly options available at Freddy's. Let's jump right into it!
If you love those lettuce wrap burgers and are willing to ditch the bun, then it's a walk in the park for you. From cheesy steak-burgers and bacon to low-carb hot dogs, they've got you covered! You can also have refreshing drinks like Diet Pepsi or a sugar-free beverage to keep the ketosis absolutely on track.
In this article, you'll learn everything about keto at Freddy's and how to minimize your carb intake (without sacrificing on taste!).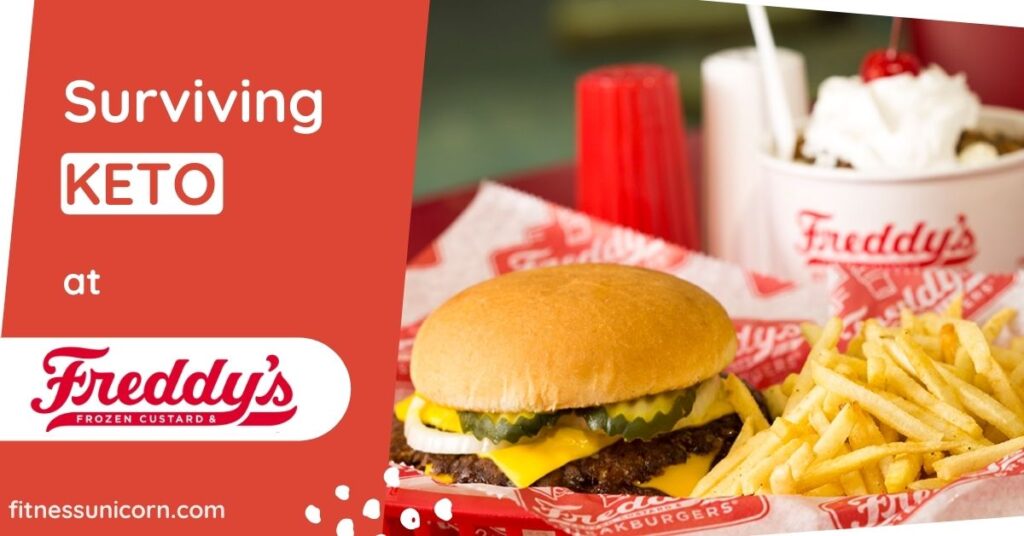 Tired of searching whether certain foods are keto? Download my keto cheat sheet with 210+ keto-friendly foods!
This post may contain affiliate links, which help keep this content free. (Full disclosure)
Surviving Keto at Freddy's
Freddy's is known for its mouth-watering steak-burgers and tasty frozen custards. Sticking to your Keto-diet might be difficult here but if you have a set plan for the same, it won't be something to worry about.
That's where I come in and help you pick the right keto-friendly items from Freddy's menu.
Follow these strategies for a perfect low-carb meal:
Buns are a 'NO-NO', since they are loaded with carbs.
Go easy on the sauces. (go for the low-carb ones, more on this later)
Bid adieu to the frozen custards.
If you have a sweet tooth, go for a Diet Pepsi instead of Shakes, Sundaes, or Concretes.
If all the above points feel too restricting, give me a chance. I'll provide you with an amazing game plan to keep your carbs under the keto range.
A keto diet requires you to eat around 25g of net carbs per day, which translates to 7-8g carbs per meal. (Net Carbs = Total Carbs – Dietary Fiber). But if you are dining out, you can even go up to 15g carbs, only if you cut down carbs from other meals during the day!
The best part about Freddy's is that they have lettuce wrap versions available for all burgers and sandwiches.
Today, most fast-food places will hold the bun if you request them. But sometimes things can get pretty awkward and your server might not really understand what you want! Luckily, that's not the case at Freddy's!
Without any further delays, let's jump to the keto-friendly options available at Freddy's.
Freddy's Keto-Friendly Options:
There are many bunless burgers available at Freddy's, let's have a look:
#1. Grilled Chicken Breast (lettuce-wrapped)
Carbs: 3g
Fiber: 1g
Net Carbs: 2g
Total Fats: 2.5g
Protein: 22g
Calories: 130Kcal
Grilled chicken is your go-to dish when practicing Keto. The lettuce wrap further brings the net carbs down by adding dietary fibers to your Keto-diet.
#2. Single Steakburger with cheese (lettuce-wrapped)
Carbs: 3g
Fiber: 0g
Net Carbs: 3g
Total Fats: 19g
Protein: 24g
Calories: 280Kcal
Finally, some Keto-item your tastebuds can relish. You can order this with double or even triple patty, and still, keep your carbs under check. The increased protein value with each patty will further help in seeing those Keto results.
RELATED: Gluten Free options at Freddy's Frozen Custards
#3. California Style Steakburger (lettuce-wrapped)
Carbs: 8g
Fiber: 1g
Net Carbs: 7g
Total Fats: 22g
Protein: 25g
Calories: 320Kcal
Same as the normal steak burger, California Style Steakburger also comes with single, double, and triple patty options. All of them are well under your carbs quota (even with cheese).
#4. Single Bacon Steakburger with Cheese (lettuce-wrapped)
Carbs: 3g
Fiber: 0g
Net Carbs: 3g
Total Fats: 24g
Protein: 29g
Calories: 350Kcal
For all the bacon fans out there, this is something you can't miss. Bacon is the flag-bearer of keto – high in fat and extremely low on carbs. Plus, it's a highly versatile food item that goes well with every topping and condiments.
#5. Hot Dog (lettuce-wrapped)
Carbs: 2g
Fiber: 0g
Net Carbs: 2g
Total Fats: 14g
Protein: 8g
Calories: 170Kcal
An all-time American favorite, that too a healthier version. Very low on carbs and a perfect fit for your Keto diet.
#6. Chicago Style Hot Dog (lettuce-wrapped)
Carbs: 11g
Fiber: 0g
Net Carbs: 11g
Total Fats: 14g
Protein: 8g
Calories: 210Kcal
With a different set of keto-friendly toppings from the traditional hot dog, this one's a treat for your tastebuds.
#7. Chilli Cheese Dog (lettuce-wrapped)
Carbs: 12g
Fiber: 0g
Net Carbs: 12g
Total Fats: 23g
Protein: 20g
Calories: 330Kcal
You can add cheese too and still be under the 15g carb mark, so you'll still be under the keto limits.
More: Visiting Portillo's On a Keto Diet
Low-Carb Drinks and Beverages at Freddy's
While the frozen custards are out of the equation, you can still spoil your sweet tooth with some keto-friendly drinks at Freddy's.
Here's a complete list along with their carb counts:
Diet Pepsi: 0
Diet Dr. Pepper: 0
Tropicana Light Lemonade: 0
Luzianne Iced Tea Unsweet: 0
Sugar Free Sweet Tea with Splenda: 0-1
Lipton Brisk Peach Tea: 0
Diet Mountain Dew: 1
Sobe Lifewater Yumberry Pomegranate: 0-1
Wow! Freddy's really has a lot of options for the low-carb dieters!
Keto-friendly toppings at Freddy's
There are a lot of low-carb toppings you can add to your burgers and spice things up. Below is a list of all the keto-friendly toppings at Freddy's:
Zero-Carb Toppings:
Jalapenos, Sport Peppers, Pickle, Monterey-Cheddar Cheese, Bacon.
Toppings with Little Carbs:
Sauerkraut(1g), Relish(5g), Onions(2g), Grilled Onions(2g), American Cheese(1g), Swiss Cheese(1g), Cheese Sauce(3g), Chili(4g), Thousand Island Dressing(3g), Hatch Green Chiles(2g).
Keep in mind that the above carb count only represents a single serving. Those carbs can really add up if you go all-in!
Are Steakburgers Keto-Friendly?
Steakburgers are made of Beef, which is very high-fat and high-protein meat. That's what makes steakburgers extremely keto-friendly!
When dining out on keto, your top-most priority is maximizing fats and minimizing the carbs. A steak patty is as low-carb as it gets, but if you lather it with sugary sauces and sandwich it in a white bun, it won't help your cause.
Although I've tried to answer most of your queries, below are some FAQs to paint a clearer picture. Go through them and be rest assured that you can nail your keto order at Freddy's!
FAQs
What is a bunless burger?
A Bunless burger is a low-carb burger that uses lettuce instead of the traditional burger bun, to wrap the patty, veggies, and cheese. Lettuce and other leafy greens make for the perfect bun substitute as they have minimal carbs.
What are some low-carb sauces at Freddy's?
Sauces can make or break your keto game. Most fast-food places have sauces laced with sugar and thickeners, which don't go well with keto.
At Freddy's, you can have Mustard, Fry Sauce, and Ranch Dressing in moderation to spice up your Lettuce burgers.
Go easy on Ketchup and Marinara and you won't have much of a problem.
Is there no Keto-Friendly custard at Freddy's?
As of now, Freddy's does not have any keto-friendly custard per se. If you have a sweet tooth, you can go for the low-carb drinks mentioned above. Maybe in the near future, we might see some low-carb custards too, but not right now.
Is 15g of carbs good for keto?
The net-carbs limit per day is around 25g while practicing Keto. So a 15g carb meal is only good as long as you cut down carbs from other meals during the day.
Should I have Freddy's daily when on a keto-diet?
During Ketosis, you should try eating as much food at home as you can, because you're not as vulnerable to extra carbs as you are while eating outside. Although, you can use the above-mentioned keto-friendly tips while dining out.
Conclusion
Freddy's definitely allows you to keep your Keto journey on track, with a variety of high-fat and low-carb dishes on their menu for a determined person like you.
You can get almost everything in a lettuce wrap and significantly bring down the total carbs! Just steer clear of sugary drinks, burger buns, and those tempting custards.
All the information mentioned in this article will help you sail through your keto journey at Freddy's. For any additional info on the nutritional facts, visit their official nutrition guide here.
Read Next: