Famous for their Caribbean-inspired seafood, chicken & steaks, Bahama Breeze also has a huge variety of keto-friendly options for a successful keto outing. I'll help you pick items from the menu that fit well under your daily carb limit.
You can literally have a burger for less than 5g carbs and also fishes like Salmon and Tilapia, just for a gram each. They have keto-friendly soups and salads too to cater to your keto needs. Also, with a variety of low-carb dressings and sauces, you can enhance the taste without adding more carbs to your meal.
Bahama Breeze will certainly impress you and prevent you from slipping on your keto streak. Without any delay, let's look into the survival guide for going keto here.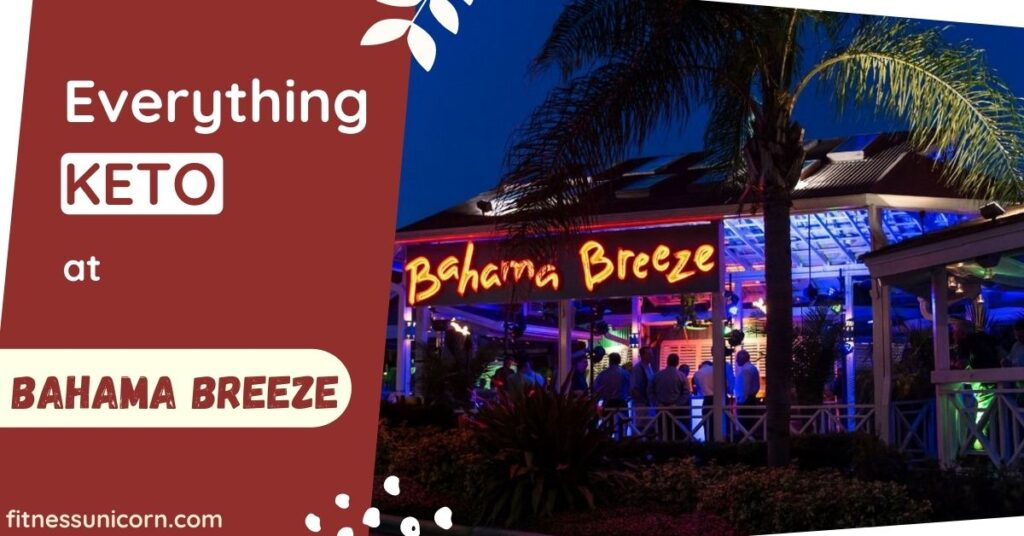 Tired of searching whether certain foods are keto? Download my keto cheat sheet with 210+ keto-friendly foods!
This post may contain affiliate links, which help keep this content free. (Full disclosure)
Surviving Keto at Bahama Breeze
Bahama Breeze has an ample number of keto-friendly American dishes like burgers, fish, sandwiches, salads, and your favorite beverages. It should not be too difficult for you to get into keto mode here.
Talking about their burgers, if you can ditch the high-carb bun (that contains 35g net carbs), then you can easily enjoy burgers for as little as 5g carbs. Remember also, not to lather its insides with sugary sauces, and you would be good to go.
Their fishes are served during both lunch and dinner with grilled and sauteed versions. These are the most keto-friendly dishes here, with just a gram of carb each. You can also add various low-carb toppings to your fish and make it a tastier keto meal.
As far as their salads are concerned, just stay away from sugary sauces and you're good to go. They already come with some sort of dressing, so there's actually no need to add more to them.
Bahama Breeze also has tacos and sandwiches, but even if you remove the tortilla or bread (very high in carbs), it'd still count way above your daily allowed carb limit.
They also have a huge variety of beverages, both alcoholic and non-alcoholic. It's important to choose the low-carb drinks and also keep a check on the quantity. It's highly likely to fall for more than one glass of wine or beer, so please do not cross the limit.
So, without any delays, let's explore what all keto-friendly options Bahama Breeze has in store for you.
Bahama Breeze Keto-Friendly Options
Bahama Breeze has plenty of low-carb options to please your appetite. Let me take you through all of them –
Keto-Friendly Burgers (bunless)
Applewood Bacon & Cheddar Burger ( 5g )
Guacamole & Goat Cheese Burger ( 15g )
Wood Grilled Burger ( 5g )
They have a lot of options when it comes to burger toppings with cheddar, pepper-jack, Swiss, American, goat cheese, grilled portobello mushrooms, guacamole and bacon, all for below 5 carbs.
Fish Options
L-Salmon grilled ( 1g )
L-Tilapia grilled ( 1g )
L-Mahi grilled ( 1g )
These dishes are available for both lunch and dinner, and with a sauteed version too.
Fish toppings & add-ons
Classic ( 1g )
Chimichurri ( 6g )
Creole ( 6g )
Lobster Tail ( 0g )
Jumb Lump Crabmeat ( 2g )
Sauteed Shrimp ( 0g )
You can also choose green beans on the side for just 5g net carbs.
Keto-Friendly Soups
Chicken Tortilla Soup-Cup ( 11g )
Cuban Black Bean Soup Cup ( 6g )
Bahamian Seafood Chowder-Cup ( 7g )
For Cuban Black Bean Soup, you can also choose the "bowl" size, since it hardly contains any additional carbs.
Salads & Dressings
Caesar Salad ( 11g )
Grilled Chicken Cobb Salad ( 1g )
Caesar Dressing ( 1g )
Blue Cheese Dressing ( 1g )
Ranch Dressing ( 2g )
Sauces
Tomato Salsa ( 2g )
Sour Cream ( 5g )
Seasoned Sour Cream ( 4g )
Red Pepper Fiery Sauce ( 1g )
Black Bean, Corn & Tomato Salsa ( 8g )
Low-Carb Beverages
White Wine Glass ( 5g )
Red Wine Glass ( 5g )
Zombie Cocktail ( 14g )
Diet Coke ( 0g )
Coke Zero ( 0g )
Coffee ( 0g )
Iced Tea ( 0g )
Hot Tea ( 0g )
Pomegranate Green Tea ( 0g )
Ginger Peach Decaf Tea ( 0g )
O'Doul's Non-alcoholic beer ( 15g )
Apart from all the above dishes, there are some other keto-friendly dishes like Steak Frites (1g), Wood-Grilled Top Sirloin Steak (2g), Key West Shrimp & Grits (5g), Cilantro Crema Chicken (1g).
Note – Though I've included meals around 10-15 g of net carb mark, an ideal keto meal should have around 7-8 g carbs, to keep your daily carb intake at around 25g. You can go for the 15g carb meals only if you have minimum carbs in other meals of the day!
Conclusion
Bahama Breeze Island Grille is definitely keto heaven. With keto-friendly fish meals, bun-less burgers, salads, and low-carb beverages, it tops my list as a place for a healthy keto outing.
You will have to keep in mind the necessary points that I mentioned in the article (like staying away from tacos and sandwiches). Apart from that, you should not have much of a problem going keto here.
That's more than enough knowledge for you to indulge in a keto-friendly meal here. Still, if you wanna know more about the different nutritional components of your food, you can scroll through their official nutrition guide here.
Also Read: