Bahama Breeze is a Caribbean-inspired restaurant that gives its customers a tropical island experience. The restaurant is home to mouth-watering dishes and exotic drinks like you've never had before.
Everything from the food, the drinks, the service, and the live music will transport you and your friends to an island in the tropics.
So what's gluten-free at Bahama Breeze?
Bahama Breeze has a dedicated gluten-sensitive menu that is concise but consists of some heavy-hitting dishes that will put your tropical food cravings to rest.
The menu includes various flavor-packed grilled meats, including beef, pork, chicken, and fish prepared with traditional Caribbean flavors and cooking techniques.
Other scrumptious gluten-sensitive offerings include Bahama's fresh green tropical salads, a variety of different appetizers that are perfect for sharing, and an endless selection of tropical beverages from their live bar.
All you have to do is ensure adequate cross-contamination protocols are in place to enjoy a hearty meal free of gluten.
The gluten-sensitive menu at Bahama Breeze isn't certified gluten-free. The dishes are prepared with gluten-free ingredients that are prepped in shared kitchen spaces, exposing them to gluten.
This increases the risk of cross-contamination manifold even though Bahama Breeze has strict measures to control contamination. If you have Celiac disease or severe gluten sensitivity, you should ideally stay clear of Bahama Breeze.
But, if you do end up visiting, stick to the gluten-sensitive menu and ensure the staff understands the severity of your condition and implements strict protocols to avoid contamination.
This article will be an in-depth analysis of Bahama Breeze's menu. We'll be filtering out all the possible gluten-free offerings and enlighten you with some amazing tips that will help you stay clear of gluten and cross-contamination.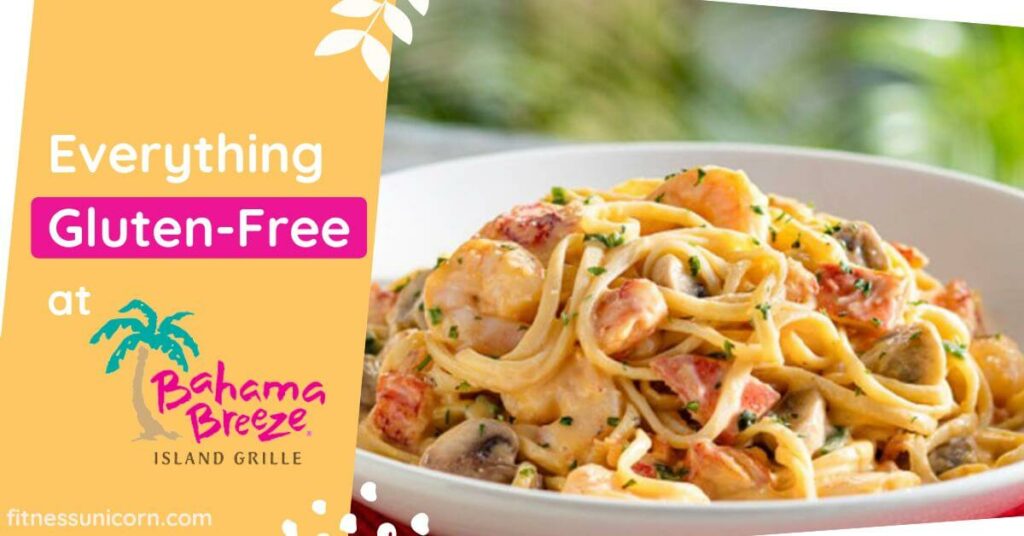 This post may contain affiliate links, which help keep this content free. (Full disclosure)
Gluten-Free Options at Bahama Breeze
Bahama Breeze was founded in 1996 in Orlando and has since expanded to over 40 locations nationwide. The energy and vibe of the restaurant will instantly transport you to an island in the Caribbean.
The aromas, the lights, and the music will all make you feel like you're on vacation, far away from the worries of life.
The fantastic service compliments the thrilling ambiance and delectable food. The servers will guide you through the mouth-watering menu and help you choose the perfect dish according to your preferences.
The team is well-trained to handle allergies and will ensure the necessary steps are taken to avoid contamination.
The dedicated gluten-sensitive menu boasts some unique dishes that will excite your tastebuds and leave you longing for more. Just be wary that there are no dedicated kitchen spaces, which might lead to accidental contamination.
Hence, if you're a Celiac, be careful while ordering and reiterate the need for adequate protocols.
Let us go through the exciting gluten-free tropical dishes on offer!
Appetizers
Bahama Breeze offers a selection of unique gluten-free appetizers perfect for sharing. You can order up a couple of options to enjoy while waiting for your main course.
Chicken Tostones
Classic Chicken Wings – Habanero BBQ, Classic Buffalo, Citrus Mustard
Skillet Simmered Jerk Shrimp (without Cuban bread)
Jamaican Jerk Wings
Homemade Guac (with plantain chips)
Note: The fried appetizers are only safe to consume if fried in dedicated fryers or fresh oil.
FIND MORE: Gluten-Free Options at Fuzzy's Taco Shop
Salads
If you're not up for a full meal, order yourself a refreshing green salad with a tropical twist. These salads are gluten-free and one of the safest options on the menu.
House Salad
Salmon Tostada Salad (without the crisp tortilla)
Chicken Tostada Salad (without the crisp tortilla)
Tropical Chicken Salad
Seafood
Bahama Breeze has some unique gluten-free seafood that you'll love if you're into seafood. These dishes will take you to the tropics with their distinct traditional flavors. Just make sure adequate contamination protocols have been followed.
Grilled Salmon
Seafood Paella
Tequila Sunburn Glazed Salmon
RECOMMENDED: Gluten-Free Options at Village Inn
Steak & Pork
Bahama Breeze has your fix if you're a meat lover. They boast a decent variety of gluten-free beef dishes that will satisfy all your red meat cravings.
Baby Back Ribs
Grilled Top Sirloin Steak
Skirt Steak Churrasco
Chicken
You can enjoy a few of the delicious gluten-free chicken entrees on offer at Bahama.
Grilled Chicken Breast
Grilled Chicken with Cilantro-Crema
Jamaican Jerk Chicken
Beverages
The beverage menu at Bahama Breeze is enormous. Drinks are a vital part of the atmosphere at Bahama; hence, the bartenders will craft you a drink of choice as you enjoy the live music and dance the night away.
Best part? The majority of these drinks are gluten-friendly!
Drinks are available in both alcoholic and non-alcoholic variants. Just ask the bartender for gluten-free options.
Non-Alcoholic
Specialties – Ultimate Pineapple, Bahamarita, Pina Colada, Tropical Ices
Lemonades & Teas
Alcoholic
Cocktails
Wine
Tropical Favorites
Frozen Cocktails
Legendary Island Cocktails
Margaritas
Mojitos
Sangrias
Cocktail Flights
Hard Seltzers
Practical Tips for a Gluten-Free Meal at Bahama Breeze
Since Bahama Breeze doesn't have any dedicated kitchen spaces for gluten-free meal prep, here are a few practical tips to help you control the risk of contamination.
These tips will give you peace of mind and help you stay safe from adverse reactions. The following tips are especially handy if you have Celiac disease or severe gluten allergies.
Research the Restaurant
Doing a little research before you visit a new restaurant can prove to be useful in helping you decide whether it's safe to eat at or not. Here are some of the critical aspects you should always research before visiting a new restaurant;
What kind of cuisine do they serve?
Is there a gluten-free menu or allergen guide?
Do they have a dedicated space for gluten-free meal prep?
Do they have dedicated pots, pans, blenders, and utensils for gluten-free dishes?
Are there stringent cross-contamination protocols?
Is the staff well-informed and trained to deal with allergies?
Bahama Breeze doesn't have dedicated kitchen space for gluten-free meals; hence, there is always a risk of contamination. However, the staff is well trained and will follow every possible step to ensure a safe meal.
Communicate
Having a clear line of communication while placing your order is crucial. Inform the manager and staff of your dietary restrictions and their severity.
This is a vital part of the ordering procedure because it allows the team to make adequate arrangements to tackle the contamination risk.
The team at Bahama Breeze is exceptionally courteous and will ensure proper safety protocols are followed for your meal.
The knowledgeable servers will guide you through the menu and answer all your queries regarding the gluten-free menu.
Follow Precautions
You can further ensure the safety of your meal by requesting the servers to follow a few precautions that will significantly reduce the risk of cross-contact.
If you keep an open line of communication, the Bahama Breeze staff will gladly follow these precautions.
Ask for a single server to prep your meal from start to finish to avoid any confusion
Request the server to wear a fresh pair of gloves before prepping your meal
Ask the server to use clean utensils and clean the grill tops before preparing your order
Ask the server to fetch ingredients from a fresh batch if possible
Request the manager to have the servers use clean cooking oil or separate fryers for fried gluten-free items
Request the server to have your meal prepped first if you're with a group of people to avoid unnecessary contamination
Keep it Simple
It is important to keep your order straightforward. Order simple menu items with the least processed ingredients to minimize contamination as much as possible. Items like salads, steaks, and grilled meats are the safest options.
Avoid dishes with thickeners and breadings that might contain hidden gluten.
Avoid Rush Hours
Avoid visiting restaurants during rush hours because that is when the kitchen is most busy and has the highest amount of gluten that may potentially contaminate your meal.
Therefore it is best to visit during off-peak hours for the safest dining experience possible.
Cross Contamination Risk at Bahama Breeze
Cross-contamination is every Celiac's nightmare; a seemingly gluten-free dish could be contaminated and cause an allergic reaction.
This occurs when gluten comes into contact with gluten-free items through contaminated gloves, utensils, pots, surfaces, and other food items.
This risk is ever-present in shared kitchens, which is precisely why stricter protocols and dedicated prep stations for gluten-free dishes should exist.
Bahama Breeze has strict contamination protocols and well-trained staff that tries its best to avoid any contamination. However, due to the lack of dedicated prep stations, there is only so much the servers can do.
The risk of contamination is always present in the shared kitchen.
If you're a Celiac or have severe gluten allergies, you should stay cautious and carry a pocket gluten detector to avoid consuming any contaminated meals.
What is the Public Saying?
We analyzed numerous reviews on Bahama Breeze to gauge how gluten-friendly the restaurant actually is. These reviews were sourced from the internet and are accounts of experiences gluten-sensitive people had at Bahama Breeze.
The majority of reviews were positive and reflected the amazing team at Bahama Breeze. All the servers and managers were courteous and made sure all safety procedures were followed to ensure safety.
People also mentioned that the dishes were very flavorsome and didn't report getting sick afterward. Customers loved the touch of live music, which made their experience even more special.
Unfortunately, a few negative reviews highlighted the absence of shared kitchen spaces and corn tortillas. Some people were disappointed with the restricted gluten-free variety.
A few people also reported getting sick due to cross-contamination and avoidable mistakes.
Therefore, if you're a Celiac, you need to practice vigilance because no amount of protocols can guarantee a safe meal unless the prep stations are separated.
Gluten-Free Alternatives to Bahama Breeze
Here are some alternatives to Bahama Breeze If you're looking for other great Caribbean food spots that also serve delicious gluten-free meals with adequate contamination measures.
Pollo Tropical
Pollo Tropical is a fantastic restaurant specializing in Latin-Caribbean cuisine. It's famous for its unique and customizable TropiChop bowls that you can load up with a variety of gluten-free ingredients.
TropiChop Bowls – Choose a base, add a protein of your choice, top it up with veggies and finish it off with your favorite sauce.
Platters – Fire Grilled Chicken, Roast Pork, Churrasco Steak
Salads – Caesar, Chicken Avocado
Sides
Imani Caribbean Kitchen & Bar
Imani's is a high-end restaurant serving some of the best Caribbean comfort food. They have plenty of delicious gluten-free options to satisfy your appetite. Just make sure to stay cautious and reiterate the need for contamination protocols.
Baked Wings
Caribbean Kale Salad
Spare Ribs
Jerk Caesar Salad (no croutons)
Chicken from the Yard
Sides
Beverages
Reggae Hut Cafe
Reggae Hut Cafe is a popular Caribbean restaurant serving some of the most mouth-watering authentic dishes from the tropics. The restaurant has a menu full of unique gluten-free dishes that will tantalize your tastebuds.
Jerk Chicken
Oxtails
Curry Goat
Garlic Shrimp
Curry Shrimp
Cuban Creole Shrimp
Fresh Green Tropical Salads
Drinks & Beverages