Village Inn has been serving some of America's favorite breakfast items since 1958.
Famous for its buttermilk pancakes, fresh eggs, sizzling bacon, and hot coffee, Village Inn has been attracting flocks of customers who come to enjoy the popular all-day breakfast.
In recent years the restaurant has also started serving some delectable lunch and dinner options.
So what's gluten-free at Village Inn?
Village Inn offers an expansive gluten-sensitive menu that ranges from a variety of its famous classic breakfasts, signature skillets, lunches, dinners, and much more!
You can enjoy many of its popular breakfast dishes prepared with gluten-free ingredients, allowing you to experience the authentic Village Inn experience without feeling restricted.
The gluten-sensitive menu at Village Inn is prepared with gluten-free ingredients. However, since there is no dedicated facility to prepare these items, the kitchen spaces are shared with regular menu items.
This facilitates the risk of possible cross-contact that may trigger allergies among customers. The staff at Village Inn is courteous and will help you navigate the menu according to your dietary preferences.
The team understands the importance of cross-contamination protocols and will ensure adequate steps are followed to avoid any contamination.
However, Village Inn cannot guarantee a certified gluten-free meal due to the shared kitchen spaces.
For the casual gluten-free dieter, Village Inn is a great place to enjoy awesome food and have a good old time with friends and family.
But, if you have Celiac disease or severe gluten sensitivity, you might want to re-think your decision to visit Village Inn due to the possibility of contamination.
However, if you decide to visit, it is crucial to stay cautious and ensure adequate protocols are being followed for your order.
This article is going to be an in-depth scrutinization of Village Inn's menu. We'll be shortlisting all the possible gluten-free options and teach you how to ensure a contamination-free meal every time you visit.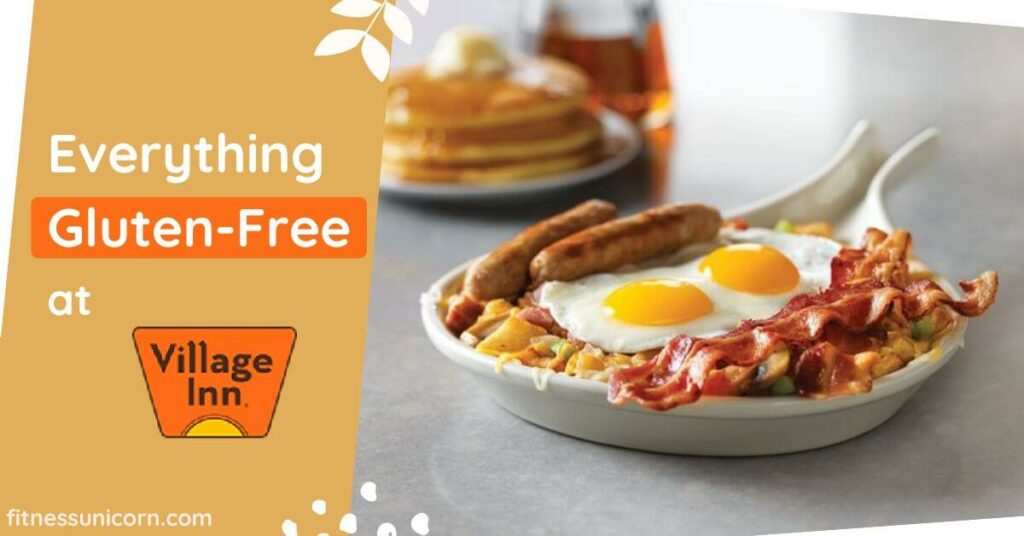 This post may contain affiliate links, which help keep this content free. (Full disclosure)
Gluten-Free Options at Village Inn
Village Inn has expanded to over 120 locations across the USA. Its consistent success over six decades is a tribute to the hard work and dedication to feeding customers.
The restaurant serves high-quality meals all day prepared with the freshest ingredients, and everything is made from scratch! This is coupled with the fantastic, friendly service and a cozy atmosphere to enjoy your meal.
The dedicated gluten-sensitive menu at Village Inn highlights the various menu items that are prepared with gluten-free ingredients and are safe for consumption barring any serious health concerns.
But, the restaurant clearly states the possibility of cross-contact due to shared kitchen spaces. Hence, it's paramount to stay cautious and order the most risk-free meal if you're a Celiac.
Let us now take a look at the mouth-watering gluten-free variety Village Inn has to offer.
Note: These dishes are gluten-free, barring any cross-contact.
Classic Breakfasts
Classic breakfasts should be your go-to if you want the true Village Inn experience. These are what put Village Inn on the map and are a must-try.
The gluten-free breakfast options are limited, and you can't enjoy the famous pancakes, but they'll still satisfy your cravings.
Eggs
Depending on your preference, you can order eggs at Village Inn in various styles.
Two eggs (any style)
Egg Whites
Low Cholesterol Egg Substitute
Poached Eggs
Bacon & Eggs
Sausage Links & Eggs
Sausage Pattie & Eggs
Three Egg Omelet
Ultimate Breakfast
The ultimate breakfast is the perfect hefty meal to start out your day. Enjoy two fried eggs with bacon strips, sausage links, and grilled ham steak. The best part is that it's all gluten-free!
RECOMMENDED: Gluten-Free Options at Fuzzy's Taco Shop
Top Sirloin & Eggs
The perfect high-protein breakfast if you're a meat lover. A 6oz Sirloin steak is served with two fried eggs and a side of your choice.
Skillets
The mouth-watering skillets at Village Inn are a must-try. Generous servings of your favorite veggies, meats, and cheese are served in one heaping skillet topped with two fried eggs.
There are plenty of gluten-free skillet options for you to choose from.
Ultimate Skillet – Eggs, Bacon, Sausage, Ham, Mushrooms, Peppers, Onions, Tomatoes, and Melted Cheese.
California Skillet – Eggs, Bacon, Mushrooms, Spinach, Tomatoes, Onions, Swiss Cheese, Hollandaise Sauce, and Avocado.
Garden Fresh Skillet – Eggs, Onions, Green Peppers, Mushrooms, Broccoli, Tomatoes, and Monterey Jack Cheese.
Lunches
You can enjoy a variety of fresh salads or burgers without the buns for a light gluten-free lunch at Village Inn.
Classy Cobb Salad
Celebrity Chef Salad – no croutons
Southwest Salad – no tortilla strips
All-American Cheeseburger – no buns
FIND MORE: What's Gluten-free at Huddle House?
Dinners
The gluten-free dinner options at Village Inn are unique and delicious. Unfortunately, gluten-free dinner options are limited.
6oz Top Sirloin
Lemon Artichoke Chicken – no rice pilaf
Slow Roasted Turkey – no cornbread stuffing, biscuits, and gravy
Pot Roast – no gravy and texas toast
Sides
You can enjoy scrumptious gluten-free sides that can be devoured on their own or paired with a meal.
Coleslaw
Fresh Fruit
Fresh Brocolli
Green Beans
Corn
Seasoned French Fries
Mashed Potatoes
Beverages
Village Inn boasts an expansive variety of gluten-free beverages that are free of contamination.
Premium Roast Coffee
Fruit Juices – Cranberry, Orange, Apple, Grapefruit, Tomato
Chocolate Milk
Hot Chocolate
Iced Coffee
Hot or Iced Tea
Lemonade
Strawberry Limeade
Blueberry Pomegranate Limeade
Shakes – Chocolate, Strawberry, Vanilla
Kids
Village Inn has a few gluten-free breakfast options for children, too, if your child is gluten sensitive.
Fantastic Tips for Gluten-Free Meal at Village Inn
Village Inn has a detailed gluten-sensitive menu, but the restaurant cannot guarantee a contamination-free meal due to the lack of shared kitchen spaces.
Here are a few useful tips to help you navigate the menu and order a gluten-free meal.
Research the Eatery
You should always assess how allergy or gluten-friendly a restaurant is before visiting for your health and safety. Here are a few aspects that should be on your checklist before deciding whether to eat there or not.
Is there a gluten-free menu?
What type of food is being served?
Are there strict cross-contamination measures in place?
Are there dedicated prep stations for gluten-free meal prep?
Is the staff trained and informed enough to handle food allergies?
Village Inn has a gluten-sensitive menu only; they cannot guarantee gluten-free due to shared kitchen spaces. Other than this, the restaurant checks out on all other aspects. Hence, practice due diligence if you have Celiac disease.
Communicate Your Concerns
Remember to inform the manager of your gluten allergies or Celiac disease and discuss the various gluten-free options they can serve.
This will ensure that the team is aware of your condition and will make the necessary arrangements to serve you a contamination-free meal.
The Village Inn staff is courteous and helpful. They will make sure you feel safe and ensure the implementation of proper protocols.
Special Instructions
Since the prep spaces at Village Inn are shared, you'll have to instruct the staff to follow specific instructions to avoid contamination as much as possible. This will reiterate the need for caution while prepping your order.
Ask for a single server to prepare your meal from start to finish to avoid confusion
Request the server to put on new gloves before prepping your order
Request the server to clean and disinfect the prep surfaces and utensils before prepping your meal
Ask for your ingredients to be fetched from a fresh batch to avoid prior contamination
Ask for your meal to be prepped first if you're with a group of people
Keep it Simple
Avoid complex dishes that you're unfamiliar with and may contain hidden gluten particles in the form of gravies and stuffings. Sticking to simple dishes with the least processed ingredients is always the safest option.
When in Doubt, Throw it Out
Only consume food items that you're certain of. If you're skeptical about any ingredient or dish, it's better to simply avoid it altogether because nothing is worth risking your health over.
Avoid Rush
Rush hours typically mean a flood of orders that might lead to mistakes that servers can typically avoid.
The staff is under a lot of stress, and messing up an order or accidentally contaminating a meal can be a real possibility, especially in a shared kitchen. Hence, it is wise to avoid rush hours for the safest possible experience while dining out.
Cross Contamination Risk at Village Inn
Cross-contamination is a real menace to Celiacs and people with severe gluten sensitivity when it comes to dining out.
It occurs when gluten-free items come into accidental contact with gluten through contaminated gloves, utensils, surfaces, and other food items.
Therefore, it is crucial for eateries to have strict contamination protocols to safeguard the health and safety of their customers.
The staff at Village Inn is knowledgeable, polite, and helpful. They will ensure that all your queries are answered and will guide you to place the safest order per your dietary restrictions.
They will also ensure adequate protocols are followed while preparing your food to avoid contamination as much as possible.
However, the risk of contamination is relatively high due to the shared kitchen spaces. With gluten particles abundant in the kitchen, there is only so much the team can do to avoid cross-contact.
Therefore, if you are going to eat at Village Inn, be sure to be extremely careful and bring a pocket gluten tester with you if possible.
Publics Verdict
At the heart of any eaterie's reputation is the public opinion of it. Likewise, the reviews and experiences of the Celiac community while visiting any restaurant should help you gauge how gluten-friendly a particular restaurant is.
We scoured through numerous reviews on Village Inn on the internet, so you won't have to.
We encountered a series of mixed reviews that reflected upon the inconsistency of different franchises being able to deliver the same level of gluten-free items across all locations.
Many people were satisfied with their experience and mentioned the amazing accommodating staff that made their experience worthwhile.
Moreover, people also appreciated the gluten-sensitive menu and the protocols in place to ensure customer safety.
However, there were also some negative reviews that were specific to some locations. People reported the staff being ill-informed about gluten allergies and not knowing about contamination protocols.
Moreover, some people highlighted the absence of dedicated kitchen spaces and that the gluten-free options were too limited for their liking.
Gluten-Free Alternatives to Village Inn
Village Inn has some fantastic gluten-free breakfast, lunch, and dinner options. But, if there isn't a location in your vicinity, here are some great breakfast alternatives to Village Inn.
IHOP
IHOP, or International House of Pancakes, is an immensely popular breakfast place worldwide. It's famous for its fluffy and delicious pancakes, waffles, and other breakfast items.
The good news for Celiacs is that IHOP serves gluten-friendly pancakes that enable you to fulfill your pancake cravings risk-free!
Original Gluten-Friendly Pancake Combo
Gluten-Friendly Belgian Waffle Combo
Hashbrowns
Crispy Breakfast Potatoes
Smoked Bacon Strips
Sausage Links
Bob Evans
Bob Evans is another popular restaurant serving breakfast, lunch, and dinner. They have a detailed allergen menu and serve a variety of tasty gluten-free items.
Omelets
Blackened Fish Fillet
Grilled Chicken
Grilled Salmon
Sirloin Steak
Salads
Sides
Dressings