Baja Fresh is a Tex-Mex restaurant famous for its farm-fresh ingredients.
It's quite thrilling that they don't have a single can opener, microwave, or even a freezer in their kitchen! Heck, they also claim to be MSG-free.
Baja Fresh hosts a vast menu including many healthy options like grilled meats, salads, soups, and the famous salsa bar.
But can you eat keto at Baja Fresh?
First of all, let me kick out the most obvious items that are NOT keto-friendly:
Corn & Flour taco shells
Burrito wraps
Chips
Nachos
Rice
Beans
Tortilla strips.
When I say they aren't keto-friendly, all I mean is that they have too many carbs which can quickly exhaust your daily carb budget (leaving you highly unsatisfied!).
But there's a reason why I love Baja Fresh on the keto diet: Their food is the most natural and it's highly customizable.
In fact, you'll see a lot of gym-freaks refueling their biceps at Baja Fresh. No matter what diet you are on, you can mix and match your favorite ingredients and call it a meal.
This is a guide for all things keto at Baja Fresh. We'll look at all the low-carb options and also highlight the pitfalls to avoid.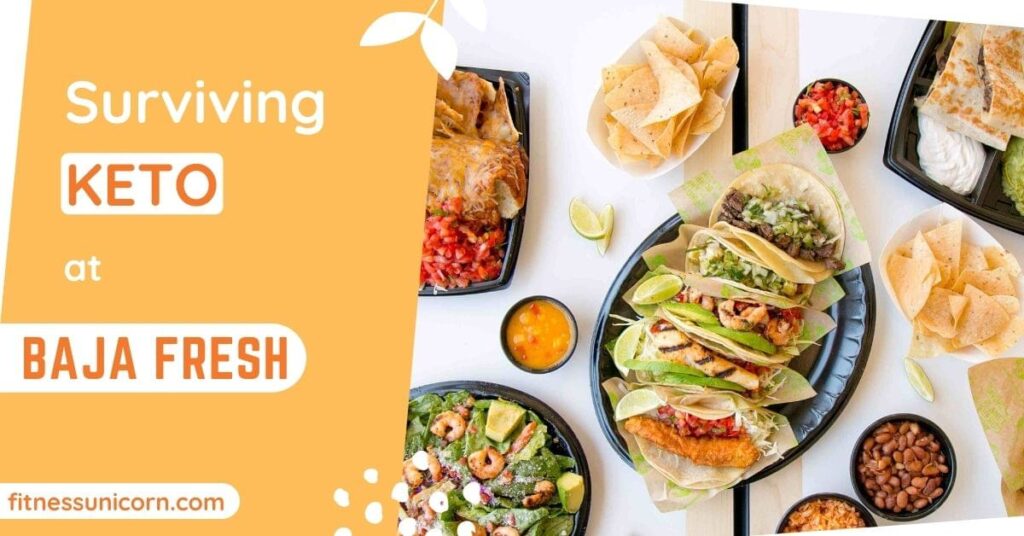 Tired of searching whether certain foods are keto? Download my keto cheat sheet with 210+ keto-friendly foods!
This post may contain affiliate links, which help keep this content free. (Full disclosure)
Is Baja Fresh Keto Friendly?
Baja Fresh is one of the best places to dine out on keto. Skip their pre-set meals and build your own salad bowl with low-carb ingredients and dressings. Some examples include shrimp, chicken, bacon, sausage, and much more.
In fact, you don't even have to look at the entire menu. Just flip over to the "individual items" section and mix and match your preferred ingredients.
At Baja Fresh, you'll never run out of keto-friendly options to drink!
They have pretty much all the zero-carb drinks that ever existed on the planet. Ranging from Caffeine-free diet coke to Coca-Cola Zero to Sprite Zero.
And wait, that's not all.
If you love experimenting with sauces and dressings, I have excellent news for you!
See, dressings have always been my weakest point on the keto diet.
It's easy to scan the nutrition guide and pick a low-carb salad. But resisting the urge to smother it with sauces is the hardest part!
Luckily, Baja Fresh's salsa bar is a godsend for ketoers! They've got salsa, pico de gallo, sour cream, ranch, and much more for just 1g net carbs each.
And how can we forget the magical Guacamole? It's my favorite part of Tex-Mex keto food which triumphs over all dressings.
Yup, you can use it as a main dish or even as a replacement for carb-laden sauces.
Baja Fresh's 8 oz guacamole provides just 6g of net carbs and 27g of high-quality natural fats.
While it's not the ideal fat-to-carb ratio, it's one of the best as per restaurant standards.
Here are some quick and practical tips to help you survive keto at Baja Fresh:
Avoid all beans, tortilla strips, nachos, taco shells, burritos, and chips.
Make your own bowl with a protein source, some veggies, and low-carb cheese & dressings.
Shrimp, steak, chicken, wahoo, and sausage are the proteins with least amount of carbs.
Consider adding avocado slices for a more filling meal (they add no extra net carbs).
The most keto-friendly cheese is the Jack Cheese mix with exactly zero carbs.
MORE: Taco Cabana Keto Guide
Pick Corn Tortillas Over Any Other Tacos
It sucks having Mexican food without those crunchy-crispy tacos! But the hard truth is that they are jam-packed with too many carbs.
Have a look at their taco shells along with the net carbs:
Flour Tortilla (6″): 15g
Whole Wheat Tortilla (10″): 30g
Tostada Shell: 42g
Flour Tortilla (12.5″): 42g
And if you really can't do without a taco, I feel you! In that case, you should stick to Baja Tacos and Fajita Tacos.
These two come wrapped in a corn tortilla shell and also have the minimum carbs.
Check our the exact carbs here:
| Taco | Net Carbs (g) |
| --- | --- |
| Chicken Fajita Taco | 14 |
| Chicken Steak Taco | 14 |
| Chicken Baja Taco | 15 |
| Shrimp Baja Taco | 15 |
| Steak Baja Taco | 15 |
| Wahoo Baja Taco | 15 |
Related: Mission Carb Balance Wraps on Keto?
Build Your Own KETO Bowl
Here comes the most interesting part.
It feels good to grab a low-carb salad and move on with your day. But the real kick comes from a customized meal where you decide each and every ingredient.
That's why Mexican restaurants are a boon to the ketoers!
In fact, if you play your card rights, you can have a highly satisfying meal at Baja Fresh within 5g net carbs.
RECOMMENDED: Gluten Free options at Baja Fresh Mexican Grill
Step No. 1: Pick your Protein
This is the first step to building your keto-friendly bowl at Baja Fresh. They have plenty of low-carb options and you can add multiple choices as you like:
| Item | Net Carbs (g) |
| --- | --- |
| Sausage (breakfast) | 0 |
| Bacon (breakfast) | 0 |
| Chicken (3.5 oz) | 1 |
| Shrimp | 1 |
| Steak (3.5 oz) | 1 |
| Wahoo | 1 |
Step No. 2: Select Add-Ons
Once you have chosen your meats, it's time to add the bulk to your bowl.
Choose from your favorite veggies and condiments before we top it with low-carb dressings.
| Add-on | Net Carbs (g) |
| --- | --- |
| Avocado Slices | 0 |
| Black Beans | 3 |
| Cilantro Onion Mix | 1 |
| Cilantro | 0 |
| Grilled Onions & Peppers | 2 |
| Jalapeno Slices | 0 |
| Lettuce Cabbage Mix | 0 |
| Diced Tomatoes | 1 |
| Jack Cheese Mix | 0 |
| Cheddar & Jack Cheese Blend | 1 |
| Lime Wedges | 0 |
| Pinto Beans | 3 |
| Romaine Lettuce | 2 |
| Mixed Veggies (4 oz) | 7 |
Step No. 3: Add Low-Carb Dressings
Baja Fresh Mexican Grill has this amazing Salsa Bar that completely changes the dine-out game on keto.
You don't have to swallow dry meats and lettuce again! They have plenty of low-carb options to light up your salad bowl.
| Item | Net Carbs (g) per serving |
| --- | --- |
| Avocado Salsa | 1 |
| Chili Lime Dressing | 4 |
| Cilantro Ranch | 1 |
| Corn Avocado Salsa | 3 |
| Diablo Sauce | 1 |
| Mango Salsa | 4 |
| Molcajete Salsa | 1 |
| Pico De Gallo | 1 |
| Ranch | 1 |
| Salsa Baja | 1 |
| Salsa Roja | 2 |
| Salsa Verde | 2 |
| Six Chile Salsa Crema | 2 |
| Six Chiles Salsa | 2 |
| Sour Cream | 1 |
Step No. 4: Sides & Extras
Yup, there's more than just guacamole to their sides section. Check out all the options below:
| Item | Net Carbs (g) |
| --- | --- |
| Pronto Queso (3 oz) | 5 |
| Pronto Romaine & Kale Salad | 8 |
| Side Salad | 8 |
| Somkey Queso Fundido (1 oz) | 2 |
| Guacamole (8 oz) | 6 |
| Pronto Guacamole (3 oz) | 2 |
Conclusion
So that's it!
You now have all the tools in your arsenal to design your keto bowl at Baja Fresh.
If you want a quick salad on the go, grab a Baja Ensalada for just 11g net carbs. And if those taco cravings are keeping you up at night, opt for a Baja Taco or Fajita Taco.
Alternatively, you can order a taco or burrito without the outer covering (i.e. in a bowl). Refer to the official nutrition guide to track your macros.
For beverages, just stick to water, unsweet tea, coffee, or diet soda.