I have very fond memories of Lazy Dog because it was my go-to hangout spot during my college days. You get such delicious food at super reasonable prices. What else does a freshman want?
Fast forward ten years and the company has still maintained that consistency.
Today, Lazy Dog restaurants are spread over 40 locations in 7 states: Colorado, Georgia, Illinois, Nevada, Texas, Virginia, and California.
And you know why they are so damn consistent? There are no franchises and the company independently operates each outlet (which is quite rare in the restaurant world).
Their menu is so vast that you can find something for every diet on planet Earth! And that includes our beloved ketogenic diet as well!
So what's keto-friendly at Lazy Dog?
Lazy Dog has a gluten-free menu which is also suitable for the keto diet. For example, the GS Hamburger replaces a high-carb bun with a lettuce wrap. Other keto-friendly options include salads, bacon, avocado, and more.
In this article, you'll find all the low-carb options available at Lazy Dog Bar & Restaurant.
RECOMMENDED: Keto-Friendly Options at Lou Malnati's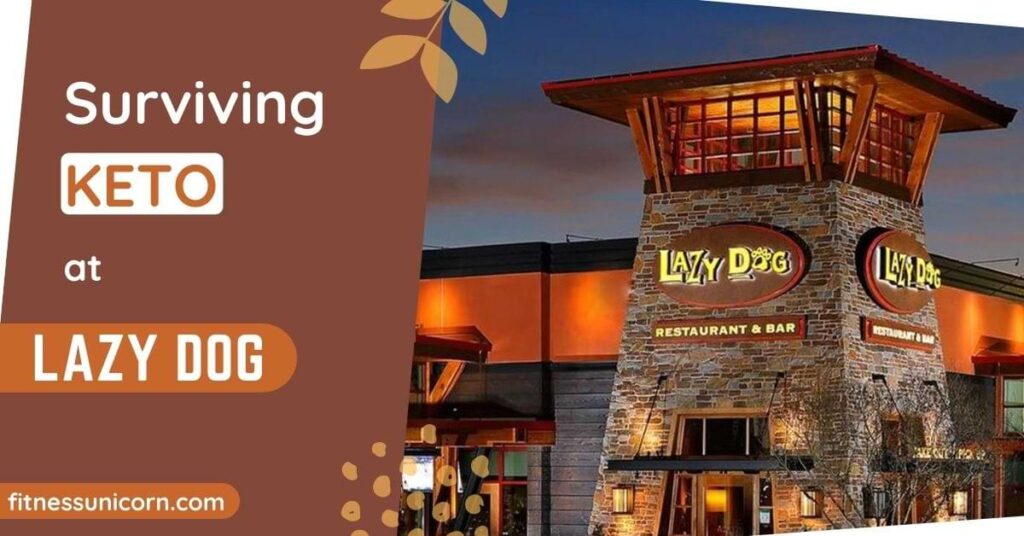 Tired of searching whether certain foods are keto? Download my keto cheat sheet with 210+ keto-friendly foods!
This post may contain affiliate links, which help keep this content free. (Full disclosure)
Lazy Dog Bar & Restaurant on KETO
For the uninitiated, Lazy Dog is NOT a hot dog restaurant. It's a dog-friendly place with some amazing lip-smacking food (which is also easy on the pockets!).
Don't have a pet but want to hang out with those cuties? You are more than welcome!
Their menu has everything ranging from noodles dishes to flatbreads to steaks and much more. If you have a picky eater in your group, they won't be complaining at Lazy Dog. Such is the vastness of their menu.
They also keep changing the menu regularly and you'll find a lot of freshly added seasonal items.
Did you know? Lazy Dog restaurants make their food fresh and 100% from scratch (yes, even the burger patties!). There's no centralized kitchen delivering old frozen food to the outlets.
If you are on the keto diet, Lazy Dog has a lot to offer. The gluten-sensitive menu has plenty of options that fit the keto bill.
They also have delicacies like chicken wings served with blue cheese (a mere total of 10g net carbs). What's more, you can customize the regular menu items and they're happy to comply with your requests.
For example, I really wanted a chicken salad but they only had the one with caesar dressing. So I asked them to replace it with Ranch and nix those croutons.
The end result is a 7g carb salad that keeps me full until dinner time (compare it with the 30g carbs in the original!)
Lazy Dog has a decent bar menu, and you may be tempted by the happy hour. My all-time favorite is the Deep Eddy vodka paired with some diet coke.
And guess how many carbs that is? ZERO!
You see, pure alcohol beverages like vodka, rum, gin, and tequila are completely devoid of carbs.
But that doesn't mean that you can have a liquor buffet and drink like fish.
A single shot of vodka (1 fl oz/30 ml) contains 64 calories. And they can really add up if you aren't careful. What's more, as you consume more and more alcohol, your body starts utilizing it for energy.
Your fat-burning superpowers (ketosis) are suppressed until all that liquor is exhausted.
So now that we have some ground rules, let's look at those low-carb options waiting for you at Lazy Dog.
Lazy Dog Keto Friendly Options
Here are the top 13 keto-friendly options you can savor at Lazy Dog:
1. Lettuce Hamburger
Lazy Dog's lettuce burger gets the No.1 spot on our list!
It is a juicy grilled half-pound patty wrapped inside lettuce. Toppings include fresh tomato, red onion, and pickle.
The meat patties are always innocent. It's just those devil buns that hike up your carb count.
Nutrition: 440 Calories | 28g fat | 4g carbs | 1g fiber | 41g protein | 3g net carbs
2. Bacon Candy
I've always loved that yummy sweet and hot, sticky finger experience.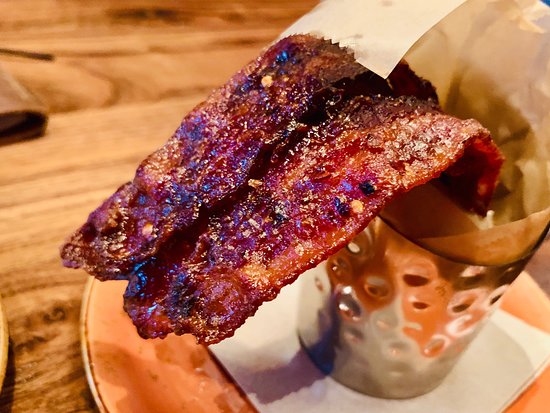 Bacon candy is just bacon baked with brown sugar, chili flakes, and black pepper. While the ingredients sound simple, do not underestimate the power of this combination!
You'll be left craving for more as you take the last bite.
But I wouldn't suggest you have more than one serving at a time. Even if it's below your daily carb limit, all that sugar can spike up your blood sugar and slow down ketosis.
Nutrition: 250 Calories | 20g fat | 9g carbs | 0 fiber | 7g protein | 9g net carbs
3. Cobb Salad
A cobb salad is a classic American salad that is also lower in carbs.
It contains shredded chicken breast, smoked bacon, hard-boiled eggs, and blue cheese crumbles. Toppings include tomatoes, avocado, and the famous blue cheese balsamic dressing.
Nutrition: 920 Calories | 70g fat | 22g carbs | 6g fiber | 52g protein | 16g net carbs
You can save up a few more carbs by eliminating those tomatoes.
4. Flat Iron Steak
The flat iron steak is a 10oz serving of certified Angus beef. That's it. No extra fluff!
Did you know? Angus cattle produce marbled meat, which contains high-quality Omega-3 fatty acids (unsaturated fats).
Our modern-day diet is full of processed foods made with cheap hydrogenated oils. As a result, we end up consuming a lot of saturated fats and little unsaturated ones.
To keep a healthier ratio, we must seek out sources of unsaturated fats like Omega-3.
Pair your steak with some mixed greens or blue cheese crumbles for a more filling meal.
Nutrition: 500 Calories | 30g fat | 0 carbs | 0 fiber | 54g protein | 0 net carbs
(Note: Choose the flat iron steak from the gluten-sensitive menu that comes without sides. The regular version comes with a whopping 38g of carbs!)
5. Grilled Chicken Breast
The grilled chicken breast is a lean source of protein with zero carbs. It's highly filling and protects you from untimely cravings throughout the day!
Ask for some blue cheese crumbles on the side to meet your fat goals. You can also pair it with steamed spinach or a low-carb dressing of your choice (i.e. blue cheese dressing or ranch)
Nutrition: 470 Calories | 10g fat | 0g carbs | 0 fiber | 88g protein | 0 net carbs
6. Grilled Salmon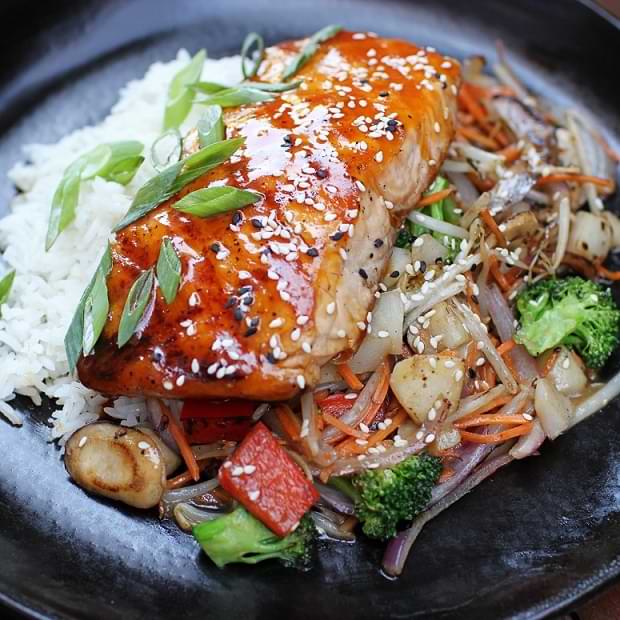 It is a simple grilled salmon that comes without any sides. Consider adding blue cheese or ranch dressing to break the boredom.
Or you could also go with mixed greens for a more filling meal. It will add an extra 5g of net carbs.
Nutrition: 490 Calories | 31g fat | 4g carbs | 2g fiber | 47g protein | 2g net carbs
7. Pickled Cucumber Salad
A pickled cucumber is a cucumber that has been kept in a brine/solution and left to ferment.
According to Healthline, salty pickles can help you combat diabetes, tackle weight loss, and even prevent cancer. Fermented pickles (including sauerkraut) are keto-friendly because the bacteria break down all the natural sugars in the process.
Nutrition: 30 Calories | 0.5g fat | 7g carbs | 1g fiber | 1g protein | 6g net carbs
8. Sauteed Spinach
Spinach is a super-healthy leafy vegetable. It is one of the most nutritious greens that you can have on the keto diet.
Well, it turns out Popeye was right!
Spinach is a powerhouse of micronutrients that are necessary for your body. From boosting your immune system to safeguarding your heart, spinach is a one-man army.
If you aren't much of a salad fan, the steamed or sauteed spinach can be a perfect replacement!
Nutrition: 210 Calories | 16g fat | 9g carbs | 4g fiber | 6g protein | 5g net carbs
9. Mixed Greens Salad
It is a bed of mixed green veggies like romaine lettuce, spinach, cilantro, field greens, and more.
If you are not sure what to order, always pick a base salad like this one. Then slowly add your favorite low-carb items as you scroll down the menu.
You may add steak, salmon, chicken, or even a Bacon candy to your bed of veggies. Heck, throw in some diced avocado for a more filling low-carb meal.
We can't just talk about salads and not mention dressings, right? Don't worry, I've got you covered!
Here's the complete carb guide for dressings at Lazy Dog:
| Dressing (2 fl oz) | Net Carbs |
| --- | --- |
| Chipotle Ranch | 6g |
| Asian Vinaigrette | 9g |
| Bleu Cheese | 3g |
| Ranch | 4g |
| Thousand Island | 10g |
Note: Don't forget to track your carbs with every added ingredient!
Nutrition (salad without additions): 50 Calories | 2g fat | 7g carbs | 2g fiber | 1g protein | 5g net carbs
10. Veggie Omelet
This egg 'n veggie combo is a part of their weekend brunch menu. It's high on fats and protein, and low in carbs – the perfect start for a cozy Sunday!
The vegetable omelet contains mozzarella, roasted red bell peppers, baby spinach, mushrooms, onions, basil, fresh tomatoes, feta, and toast.
It comes with a side choice of hash browns or watermelon. Sadly, both of these are too sinful for a keto diet (carb alert!)
But hey, how about some diced avocadoes or blue cheese crumbles?
Nutrition (including toast): 590 Calories | 47g fat | 11g carbs | 2g fiber | 32g protein | 9g net carbs
Note: Nix the toast and you'll free up another 4-5g of carbs
11. Country Quiche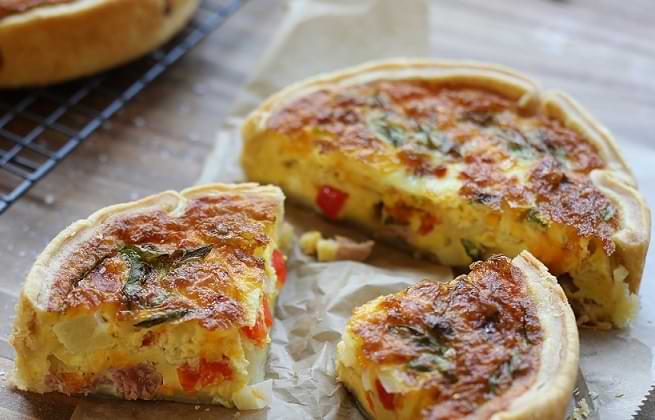 A quiche is an egg custard made with milk, cream, and eggs. Since it has dairy, expect a moderate amount of carbs in this savory delight.
But boy are they so worth it!
Lazy Dog's Country Quiche is baked with Beeler's ham. It contains jack+cheddar cheese and is topped with onions and bell peppers.
Oh, and they'll ask you whether you want it with hash browns or watermelon. But sweetheart, you've got to say "None, thanks." to praise the keto lords.
Nutrition: 1160 Calories | 81g fat | 15g carbs | 2g fiber | 74g protein | 13g net carbs
12. Chicken Wings High Altitude with Blue Cheese
Chicken wings are highly keto-friendly since they have ZERO carbs.
However, most restaurants smother it with bread crumbs that hike up your carb count (e.g. Wingstop or Red Robin).
Just for your reference, a medium-sized KFC chicken wing has 10g of carbs!
But that's not the case with Lazy Dog. While they do have breaded chicken wings, their happy hour food menu also contains the naked ones.
Order them with some blue cheese and you are good to go!
Nutrition: 1150 Calories | 88g fat | 11g carbs | 1g fiber | 74g protein | 10g net carbs
13. Keto-Friendly Drinks & Beverages
Here are all the low-carb beverages available at Lazy Dog:
| Drink | Net Carbs |
| --- | --- |
| Hair of the Dog Bloody Marry | 5g |
| Deep Eddy with Diet Coke | 0g |
| Cucumber + Mint Martini | 8g |
| Sailor Jerry Rum + Coke | 9g |
| Coconut Mojito | 12g |
| Moscow Mule | 14g |
| Cucumber + Mint | 8g |
| Pink Lemon Drop | 11g |
| Mango Chile | 13g |
Conclusion
Lazy Dog has a vast menu and there are a lot of keto-friendly options up for grab. You can choose from over 13 options mentioned in this article, or experiment with customized salads.
However, always stick to your daily carb limit i.e. 20-25g of net carbs for most people.