Caribou Coffee is the 2nd largest company-owned coffeehouse chain in the USA. Although it specializes in brewing delicious coffee, it also serves alcohol-free beverages and mouth-watering food.
They have a huge menu with specific diet-friendly choices for everyone.
Coffees, beverages, and foods are prepared for all sorts of customers. If you are on keto and want to avoid excess carbs, Caribou Coffee is a great place to start your day.
So what's keto-friendly at Caribou Coffee?
Caribou Coffee has low-carb options for both food and beverages alike. Their Gluten Free Spinach & Mushroom Souffle and Bacon & Gouda Souffle are well within 10g of carbs.  
When it comes to keto-friendly beverages, there are plenty of hot and cold options to suit your taste buds, e.g. Americano, Breve, Cold Press Iced Coffee and a lot more!
Caribou's blended recipes are truly unique and extremely delicious. You won't leave the store before trying a few things listed on the menu.
It not only serves amazing beverages but also delicious meals so that you get full before leaving the coffeehouse. 
But before your taste buds take control of your mind, read this complete guide containing every keto-friendly option at Caribou Coffee.
Let's begin!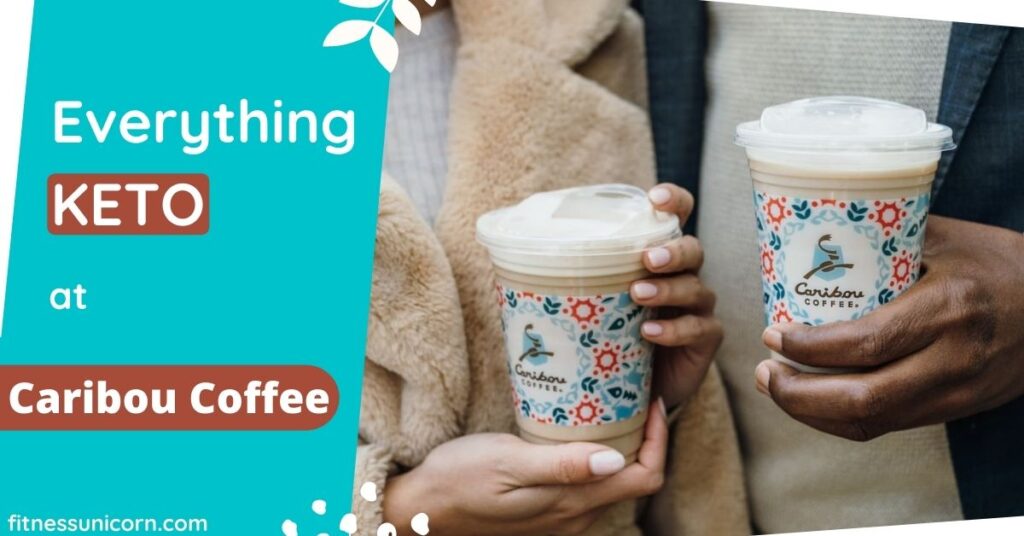 Tired of searching whether certain foods are keto? Download my keto cheat sheet with 210+ keto-friendly foods!
This post may contain affiliate links, which help keep this content free. (Full disclosure)
How to Survive Keto at Caribou Coffee?
John Puckett was a management consultant for a Boston-based company when he decided to start his own business. The goal was to become an Entrepreneur and his dream came true when the first Caribou Coffee store was established in Edina, Minnesota.
They served the best coffee and gained numerous daily customers. Thus, the company grew and became one of the USA's leading coffeehouse chains.
Even though demands for unhealthy fast foods haven't decreased dramatically, thousands of people have shifted towards a more health-conscious mindset. 
People have become quite conscious about what to eat and what to avoid to stay fit and healthy.
Restaurant owners are also paying attention to the customers' growing needs. Now, they offer all sorts of food options to ensure nobody leaves the store hungry or thirsty.
Caribou Coffee entertains millions of clients and it knows their dietary needs. Therefore, Caribou Coffee keto-friendly options are quite amazing.
It won't be daunting to stick to your dietary regimen if you are having a meal at Caribou Coffeehouse. 
What's more, they serve 100% Rainforest Alliance Certified coffee for which many customers admire this coffeehouse.
Now moving towards the keto menu, the first item you may like to try is Cold Press Iced Coffee.
Its variants offer only 2-4 grams of carbs and it tastes amazing. You should also try Iced Breve because it contains only 8-13 grams of carbs per serving, depending on the size of the coffee. 
Another keto-friendly coffee variant available at Caribou Coffee is Northern Lite Caramel Latte. It adds only 13 grams of carbs to your diet if you order the small variant.
Of course, larger variants contain more sugar and add more carbs. Skim Latte is a delicious alternative to Northern Lite Carmel Latte because it contains only 12 grams of carbs. 
Most fitness enthusiasts pick Iced Espresso when visiting this coffeehouse. It is keto-friendly, delicious, and prepared from fresh ingredients.
And if you want something filling, grab a Turkey Bacon Mini sandwich for just 12 grams of carbs and 4 grams of healthy fats. 
Gluten-Free Spinach & Mushroom Souffle is another mouth-watering dish many dieters have admired. It is keto-friendly and prepared from health-promoting ingredients.
You are going to discover several other beverages and dishes to have some healthy refreshments and appetizers at Caribou Coffee.
Also Read: Peet's Coffee Keto Guide
Caribou Coffee Keto-Friendly Options
You should try the following Caribou Coffee Keto-friendly options
1. Americano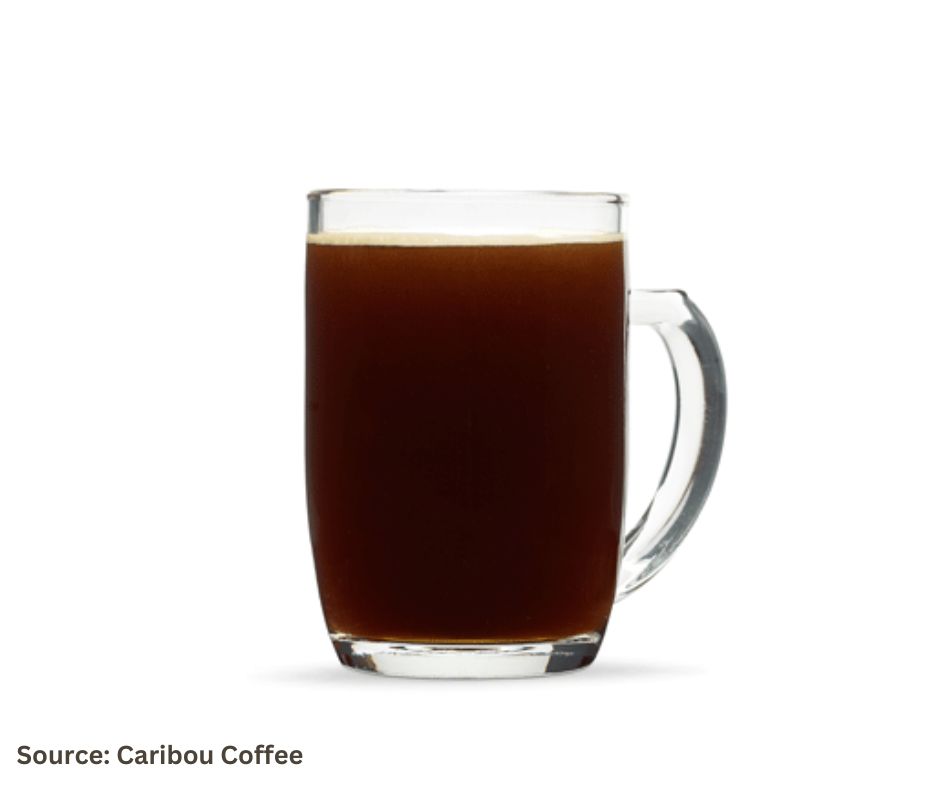 Carbs: 0g
Fiber: 0g
Net Carbs: 0g
Total Fats: 0g
Protein: 1g
Calories: 0 cal
It is one of the most loved types of coffee in the USA. You should also give it a try if you can't find any other beverage that meets your dietary needs.
ALSO READ: Keto-friendly options at Beans and Brews
2. Breve
Carbs: 8g
Fiber: 0g
Net Carbs: 8g
Total Fats: 0g
Protein: 10g
Calories: 350 cal
Offering an energy kick with 10 grams of protein, Breve served at Caribou Coffee is an ideal alternative to regular coffee. Try it if plan to visit this coffeehouse.
3. Cappuccino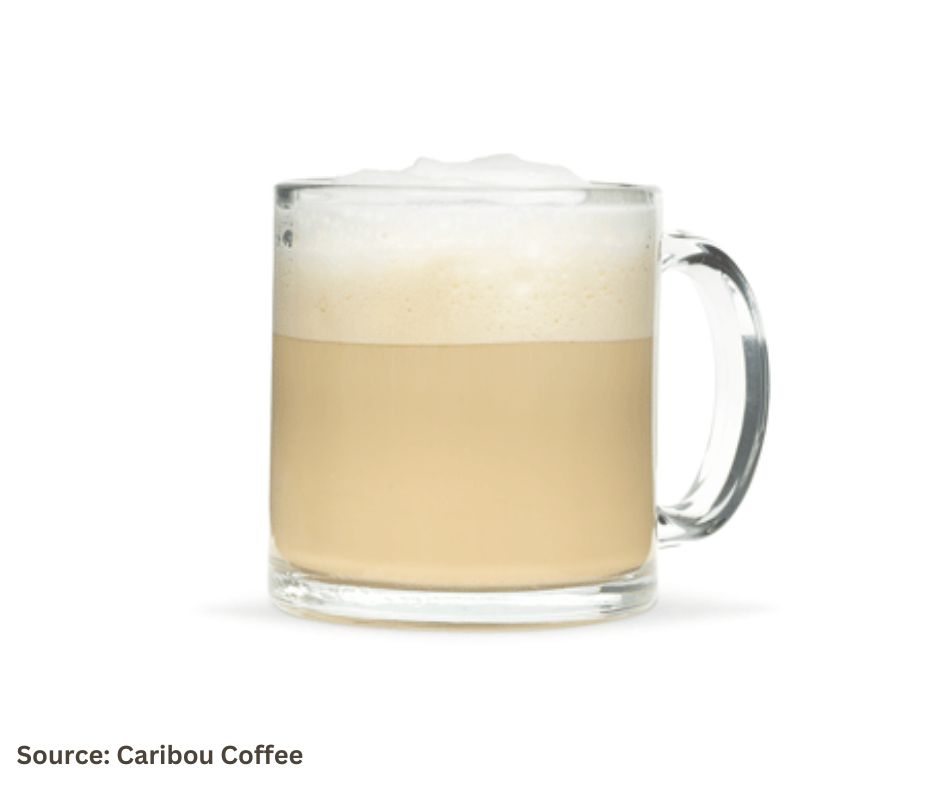 Carbs: 9g
Fiber: 0g
Net Carbs: 9g
Total Fats: 0g
Protein: 9g
Calories: 90 cal
Cappuccino fans won't regret visiting this coffeehouse because the small to large size variants offer only 9-11 grams of carbs. Besides, get amazing taste to kickstart your day.
4. Cold Pressed Iced Coffee
Carbs: 4g
Fiber: 0g
Net Carbs: 4g
Total Fats: 0g
Protein: 2g
Calories: 30 cal
Only 4 grams of carbs and flavor is truly amazing, it is truly a refreshing beverage for coffee lovers. Try it if you are looking for a low-carb alternative to Americano.
5. Crafted Press
Carbs: 8g
Fiber: 0g
Net Carbs: 8g
Total Fats: 6g
Protein: 3g
Calories: 100 cal
It is something unique served at Caribou Coffee that adds 100 calories to your meal without increasing your daily carb intake.
6. Depth Charge
Carbs: 0g
Fiber: 0g
Net Carbs: 0g
Total Fats: 0g
Protein: 1g
Calories: 5 cal
This low-calorie beverage is now available at most Caribou Coffee stores. You should look for it if you don't want to try a high-calorie beverage.
7. Espresso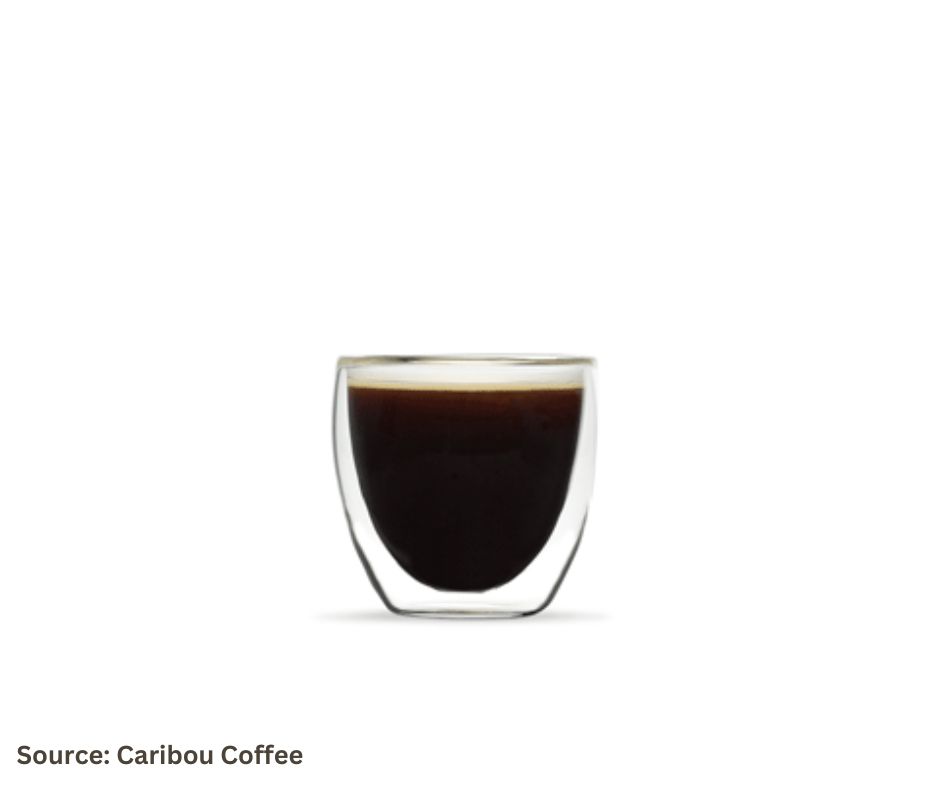 Carbs: 0g
Fiber: 0g
Net Carbs: 0g
Total Fats: 0g
Protein: 2g
Calories: 0 cal
If you do not get a chance to check the entire menu, simply order a keto-friendly espresso at this coffee house. As you can see, there won't be any carbs or fats in your diet but it will refresh you immediately.
8. Latte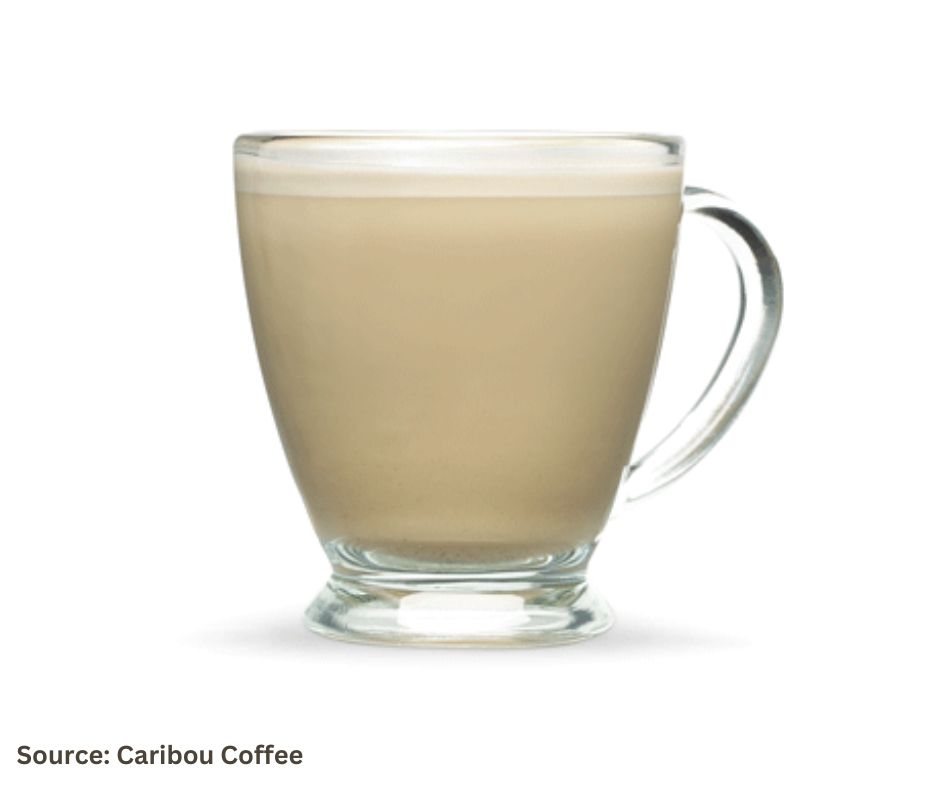 Carbs: 11g
Fiber: 0g
Net Carbs: 11g
Total Fats: 5g
Protein: 9g
Calories: 333 cal
Caribou Coffee's Latte (hot and cold) is quite amazing because it is perfect to lose weight, gain muscles, and gaining more energy. Try it if you want something delicious!
9. Turkey Bacon Mini
Carbs: 20g
Fiber: 1g
Net Carbs: 20g
Total Fats: 9g
Protein: 7g
Calories: 180 cal
Suppose you can't suppress your hunger, order a Turkey Bacon Mini. It is keto-friendly, delicious, and perfect to try with a zero-carbs coffee.
10. Gluten-Free Spinach & Mushroom Shuffle
Carbs: 10g
Fiber: 1g
Net Carbs: 9g
Total Fats: 21g
Protein: 8g
Calories: 270 cal
It's a simple and delicious meal that most fitness enthusiasts pick when they visit Caribou Coffeehouse.
ZERO-Carb Tea Options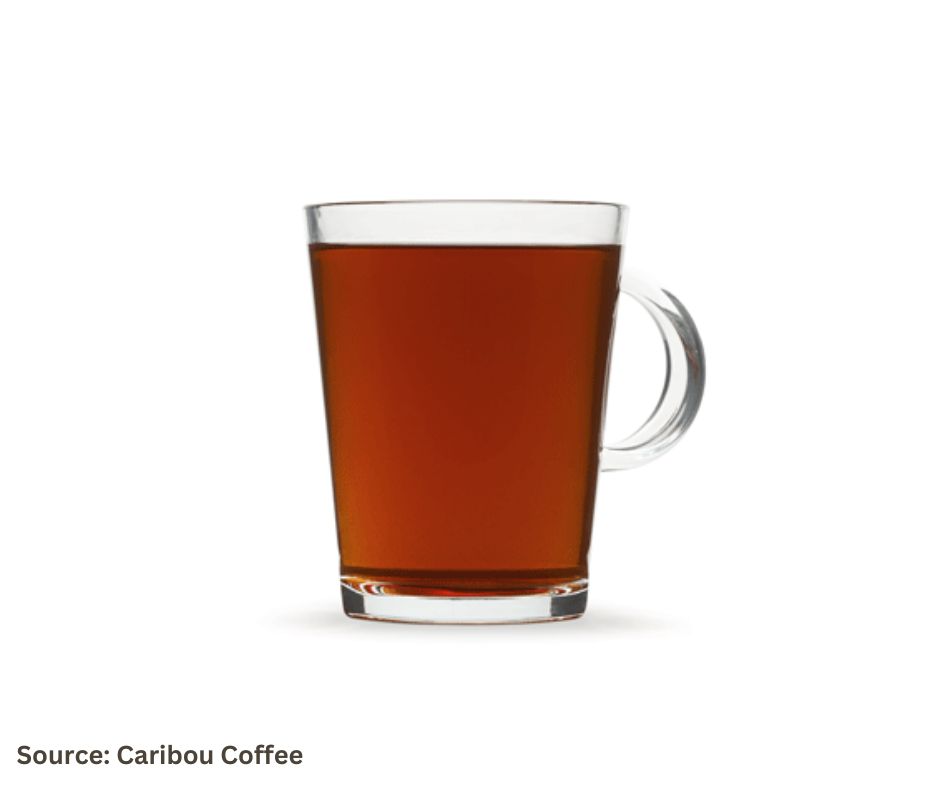 Chamomile Mint Tea: 0g
Earl Grey Tea: 0g
Hot Cinnamon Spice Tea: 0g
Orange Buzz Tea: 0g
Organic Black Tea: 0g
Raspberry Hibiscus Green Tea: 0g
Turmeric Ginger Tea: 0g
Classic Black Tea: 0g
Mango Black Tea: 0g
Tropical Green Tea: 0g
Final thoughts
The Caribou Coffee chain has served millions of customers and many of them picked the above-listed beverages and foods. You should try the suggested items if you want to stick to your ketogenic diet plan!