Caribou Coffee is a popular American coffeehouse operating in over 700 locations across the globe. It is famous for its cold-pressed coffee, amongst other exciting varieties.
They also serve some refreshing lemonades and teas along with a multitude of various breakfast items. Caribou Coffee is the place for you if you're looking for a quick coffee fix and some delicious gluten-free breakfast.
So what's gluten-free at Caribou Coffee?
Caribou Coffee boasts an impressive variety of mouth-watering gluten-free breakfasts. The best part is that these items are prepared in a certified gluten-free facility and are delivered to the stores in sealed packaging.
This ensures a safe meal as there isn't a risk of contamination.
The restaurant boasts an expansive beverage menu that includes various coffees, teas, and lemonades. The majority of these drinks are gluten-free if adequate cross-contamination protocols are followed during their prep.
The only drinks you'll need to avoid are the ones with cookies or syrup in them.
The staff at Caribou Coffee is courteous and will do their best to provide you with a gluten-free drink.
However, the risk of cross-contamination still remains since there's no dedicated gluten-free menu, and the drinks are prepared in shared blenders.
Hence, if you have Celiac disease or severe gluten sensitivity, it's better if you stick to simple drinks that aren't prepared in blenders.
This article is going to be an in-depth analysis of the Caribou Coffee menu. We'll be filtering out all the various gluten-free options on offer so that you can have a pleasant experience next time you visit.
We'll also look at some awesome tips to help you ensure your meal or drink isn't contaminated.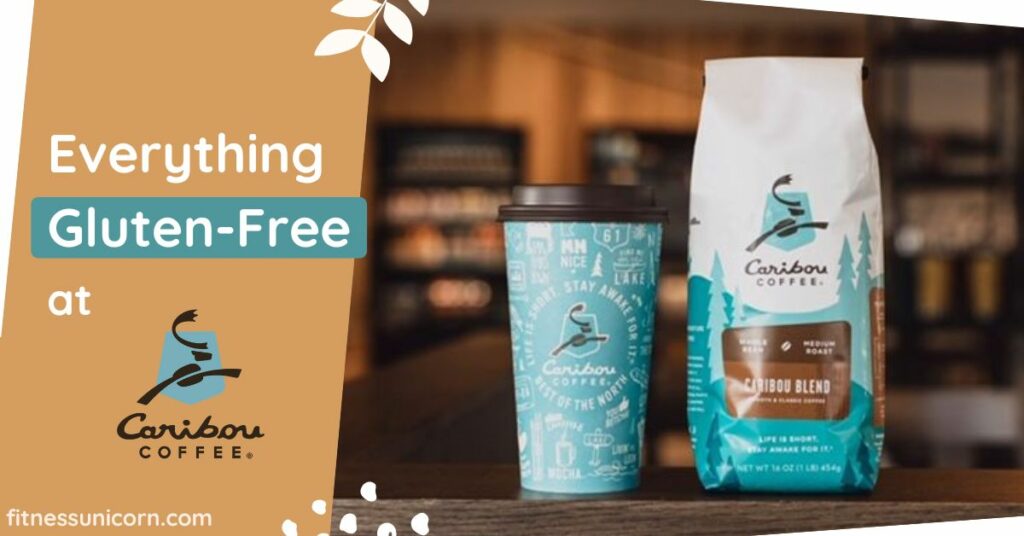 This post may contain affiliate links, which help keep this content free. (Full disclosure)
Gluten-Free Options at Caribou Coffee
There's nothing like an excellent coffee to start your day on the right foot. We've some great news; Caribou Coffee specializes in various kinds of coffee. You name it; they have it.
They've been serving up some of the finest coffee, tea, lemonades, and breakfast since 1992, putting them amongst the top coffee franchises in the United States.
Let us take a look at some of the amazing gluten-free options Caribou Coffee has to offer. Note that they don't have a specified gluten-free menu, but most of their drinks are in fact free of gluten.
If you have Celiac disease, you'll need to be on the lookout for any possible cross-contact that may ruin your experience.
Breakfast
Caribou Coffee has a couple of exciting gluten-free breakfast options. These are prepared at a gluten-free facility and arrive at the store in sealed packages.
If you order one of these, the staff will heat the breakfast in that sealed package, and it will be served for you to open the package yourself. This negates any risk of contamination, making the breakfast options safe for consumption.
Gluten-Free Bacon & Gouda Souffle
Gluten-Free Spinach, Artichoke, Egg & Provolone
Beverages
Caribou Coffee has a multitude of drinks on its menu. Most of these drinks are gluten-free and can be enjoyed if proper cross-contamination measures have been followed.
YOU MAY ALSO LIKE: Einstein Bros. Bagels' Gluten-Free Options
Nitro
The Nitro cold press is infused with nitrogen to give the coffee a smooth and creamy texture. You can enjoy the Nitro in a variety of gluten-free variants.
Nitro Campfire Mocha
Nitro Latte
Nitro Turtle Mocha
Nitro Cold Press
Nitro Highrise
Nitro Malted Mocha
Hot
You can enjoy your favorite hot coffee at Caribou Coffee, which is entirely gluten-free and available in various unique flavors.
Hot Honey Almondmilk Crafted Press
Latte
Mocha
Coffee of the Day
Turtle Mocha
Hot Crafted Press
Depth Charge
Hot Chocolate
Americano
Breve
Cappuccino
Espresso
Macchiato
Iced
Caribou Coffee has plenty of iced coffee and tea options, perfect for a hot summer day when you're looking to cool off.
Iced Latte
Iced Crafted Press
Cold Press Iced Coffee
Iced Mocha
Iced Turtle Mocha
Iced Americano
Iced Malted Mocha
Iced Breve
Classic Iced Tea
Iced Chai Tea Latte
Tropical Green Iced Tea
Mango Black Iced Tea
Blended
The blended options at Caribou are enticing, but you'll have to be cautious since they're prepared in shared blenders.
Turtle Mocha Caramel Cooler
Chocolate Caribou Cooler
Malted Mocha Caribou Cooler
Frozen Hot Chocolate
Espresso Caribou Cooler
Blended Crafted Press
Strawberry Banana Yogurt Smoothie
Caribou Bousted
Caribou Bousted is the name for the drinks like lemonades spiked with caffeine.
Bousted Green Tea Lemonade
Bousted Peach Black Tea
Bousted Strawberry Mango
Bousted Dragon Fruit
RELATED: Capriotti's Gluten-Free Options
Fantastic Tips for a Gluten-Free Meal at Caribou Coffee
Caribou Coffee has no dedicated gluten-free or allergen guide for their coffee and other beverages. They do have gluten-free ingredients and claim that most of their drinks are, in fact, free of gluten.
But, to be on the safe side and avoid contamination as much as possible, here are a few amazing tips to stay gluten-free at Caribou.
Know The Cafe
Keeping your health in mind, you should research certain aspects of a restaurant before visiting.
What kind of food and drinks is being served?
Do they have a gluten-free menu?
Do they have dedicated utensils and prep surfaces for gluten-free items?
Is the staff knowledgeable and sufficiently trained to handle food allergies?
Do they have stringent cross-contamination protocols, and are they being implemented?
This information is vital for deciding whether to visit a cafe or not. These points will help you establish how allergy-friendly a particular place is.
If you have Celiac disease, you should always be absolutely sure about a restaurant before visiting because nothing is worth risking your health over.
Caribou Coffee doesn't have a gluten-free menu, but most of its drinks are gluten-free. Moreover, they have an accommodating and courteous staff that will ensure your needs are met.
Just remind them to use clean blenders, and you'll be good to go.
Communicate Your Concerns
Making your preferences clear before placing an order is essential. Let the manager know about your allergy and how important it is for you to be served a gluten-free drink or meal.
This will allow the staff to take necessary precautions to ensure your safety.
Since Caribou Coffee doesn't have a dedicated gluten-free menu, you must share your concerns to avoid any confusion and possible contamination.
Special Instructions
In order to reduce the risk of contamination, here are a few special instructions you can ask the servers to follow while preparing your order.
Request a single barista or server to prepare your order from start to finish to avoid any confusion and possible contamination.
Request the barista to wear a fresh pair of gloves before prepping your order.
Ask for the ingredients to be fetched from a fresh batch to ensure there wasn't any previous contamination.
Ask for the ingredients to be handled with clean, washed utensils to further reduce the contamination risk.
Ask the barista to wash the blender before prepping your drink to ensure there aren't any leftover contaminants from the previous orders.
If you're with a large group, ask for your order to be prepped first.
Keeping It Simple
When ordering at Caribou Coffee, stick to simple drinks that don't contain possible contaminants like syrups, cookies, and any other gluten-containing items.
There's always a risk of contamination if you order a complex drink with multiple ingredients as the chances of cross-contact increase.
When In Doubt, Throw It Out
Don't consume anything you're not confident of if you have Celiac disease or severe gluten allergies. Risking your health over a food item is never worth it; hence, if you're doubtful of an ingredient, it's advised to avoid it altogether.
Avoid Rush
The baristas can't give you their full attention during rush hours. The heavy influx of orders increases the risk of mistakes that might lead to potential contamination. Hence, if you're planning a visit to Caribou, do so during off-peak hours.
Cross Contamination Risk at Caribou Coffee
Cross-contamination poses a serious health concern for people with Celiac disease or severe gluten allergies.
It occurs when gluten-free items come into contact with contaminated utensils, gloves, surfaces, blenders, and other food items.
This can be stress-inducing for certain people since a seemingly gluten-free drink could be contaminated with gluten.
Caribou Coffee has a few breakfast options that are prepared at dedicated gluten-free facilities and arrive at the cafe sealed. These are then heated inside the sealed package and served to the customer as is.
This ensures that no cross-contamination takes place in the cafe. Moreover, the staff is knowledgeable and follows adequate safety protocols.
The coffee and other beverages at Caribou are mostly gluten-free, but there aren't any dedicated utensils or blenders for preparing the drinks.
Hence, reminding the staff to use clean utensils and blenders before prepping their drink is essential to avoid contamination.
Suppose you have Celiac disease or severe gluten sensitivity. In that case, you'll have to stay vigilant at Caribou Coffee since they have many gluten-containing items in the kitchen that could possibly contaminate your drinks or food.
What is the Public Saying?
Reviews by the general public are a great indicator of how allergy-friendly a cafe really is. After conducting extensive research, we've compiled a series of reviews from Celiacs and people with gluten allergies all over the internet.
The majority of reviews praise the knowledgeable staff and excellent gluten-free options on offer.
Customers were particularly pleased with their gluten-free breakfast options that come in a sealed package from a dedicated facility preparing meals free of gluten.
This eliminates the risk of contamination at the restaurant, providing a safe experience for the customers.
Customers also mentioned that most drinks are gluten-free but prepared in shared blenders. The staff is accommodating enough to prep your drinks in clean blenders if you instruct them to do so.
None of the customers mentioned getting sick after consuming the drinks at Caribou Coffee.
There were a few negative reviews mentioning the ambiguity surrounding their syrups. The staff wasn't sure about the syrups being gluten-free. This posed a risk of possible contamination.
Despite the positive reviews, you should still be cautious if you have Celiac disease since there is no specific gluten-free drink menu.
Gluten-Free Alternatives to Caribou Coffee
Starbucks has an amazing gluten-free variety on offer. But, if you're looking to change things up a little, here are a few fantastic gluten-free alternatives to Starbucks.
Dutch Bros
Dutch Bros is a popular American coffee chain serving up some of the finest gluten-free coffee. Their menu features a variety of coffee along with gluten-free sodas, smoothies, and milkshakes.
The majority of Dutch Bros menu items are free of gluten–here are some of the most popular ones;
Dutch Classics
Cold Brew
Dutch Freeze
Tea
Smoothies
Lemonades
Dutch Soda
Starbucks
Starbucks is easily the world's most popular coffee shop. They serve various gluten-free drinks, including coffee, sodas, tea, and refreshers. They even do gluten-free brownies to satisfy your sweet tooth.
Look out for the oat milk and syrups that contain gluten.
Coffee – Americano, Caffe Latte, Hazelnut Machiatto
Refreshers – Very Berry, Strawberry Acai, Mango Dragon Fruit
Tea – Jasmine Orange, Chamomile, Mint Blend
Gluten-free Brownies
Syrups – Vanilla, Mocha, Hazelnut, White Mocha
The Coffee Bean & Tea Leaf
The Coffee Bean & Tea Leaf is a popular American coffee chain specializing in freshly brewed coffee. You can order a ton of gluten-free beverages from their menu. They have a detailed allergen guide that'll help you navigate the menu.
Brewed Coffee
Flat White
Flavored Lattes
Espresso Cappuccino
Americano
Cafe Latte
Iced Coffee
Cold Brew
Variety of Teas