Tired of the old, boring stuff your usual subs have? If so, Capriotti's is the perfect place for you. The menu features sandwiches made with top-notch ingredients that give each item a creative twist.
Capriotti's indeed brings your sandwich experience to the next level.
But… does Capriotti's offer anything gluten-free?
We're not going to sugarcoat our answer. Unfortunately, Capriotti's doesn't have a lot of gluten-free options. You can get proteins without a bun if you wish or a bowl of soup for something lighter.
Aside from these, there's nothing else for our gluten sensitive readers. Sorry!
Capriotti's doesn't have a gluten-free bun, leaving you the option of getting the protein alone. Only two of four proteins are gluten-free: diced chicken and tuna fish.
You can get them with any of the available dressings and cheese since they're all gluten-free. If these don't sound like something you want, you can have some other options we'll share with you in a while.
The place isn't a dedicated gluten-free restaurant. The online nutritional information disclaims that some products can come into contact with different food allergens, including wheat.
Of course, this is a major alert for gluten-sensitive diners. Hence, anyone with severe gluten intolerance or celiac disease should drive past Capriotti's and look for something else nearby.
Don't be disheartened, though. We're here to share other options you can enjoy at Capriotti's, tips, and alternative places. Be sure to read on!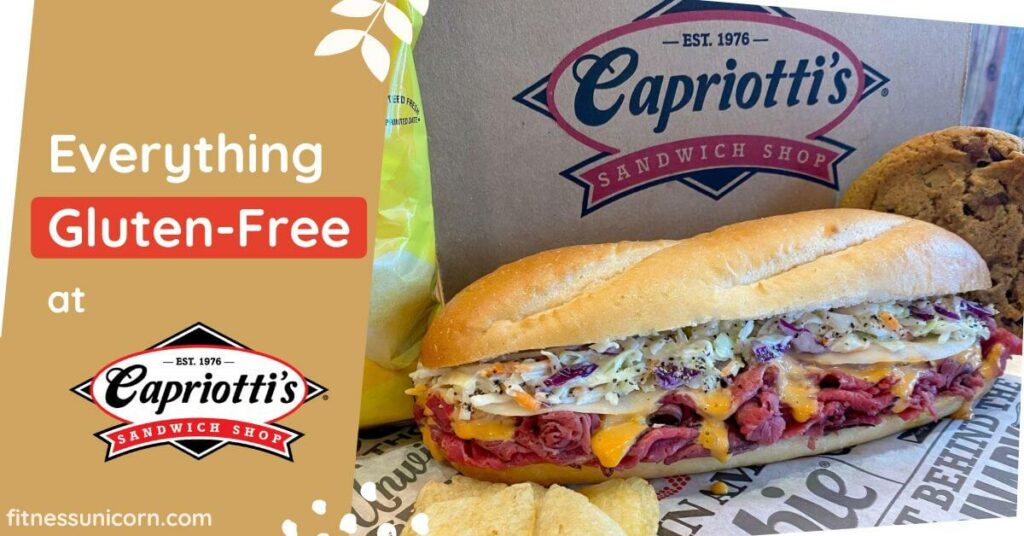 This post may contain affiliate links, which help keep this content free. (Full disclosure)
Capriotti's Gluten-Free Options
Capriotti's was founded in Delaware in 1976. It was named after Philip Capriotti, who was the founders' grandfather. They began franchising the restaurant later in 1991.
Ashley Morris, Jason Smylie, and other investors eventually bought Capriotti's in 2007. Morris became CEO.
In 2008 and 2009, Capriotti's became the official sandwich sponsor of the World Series of Poker in Las Vegas. It ranked fourth in overall satisfaction on the list of Top 10 Quick Service Restaurant Concepts last 2014.
It also won an award for the highest quality and taste in the same year.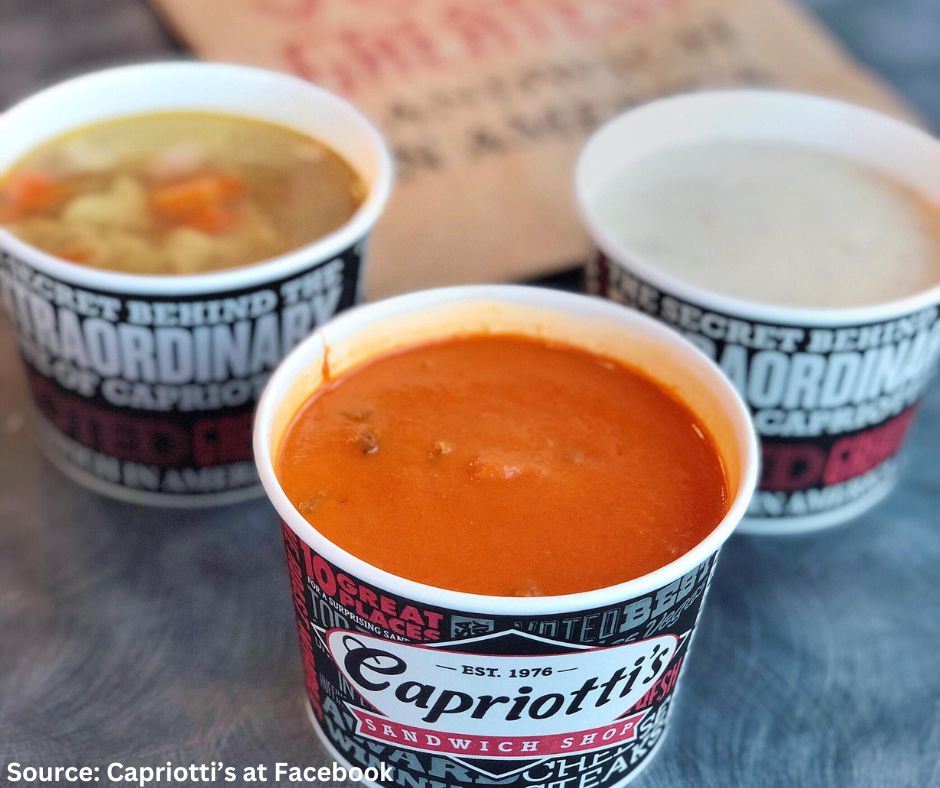 Capriotti's continues to serve high-quality subs to maintain its standing as an excellent sandwich shop. Although the options are scarce for gluten sensitive diners, there are still a few items you can enjoy on the menu. Let's get into it!
Note that this information is sourced from Capriotti's Nutritional Information List. All items listed have no "Wheat."
Protein
RECOMMENDED: Dickey's Barbeque Pit Gluten-Free Options
Soup
Broccoli Cheddar
Tomato Bisque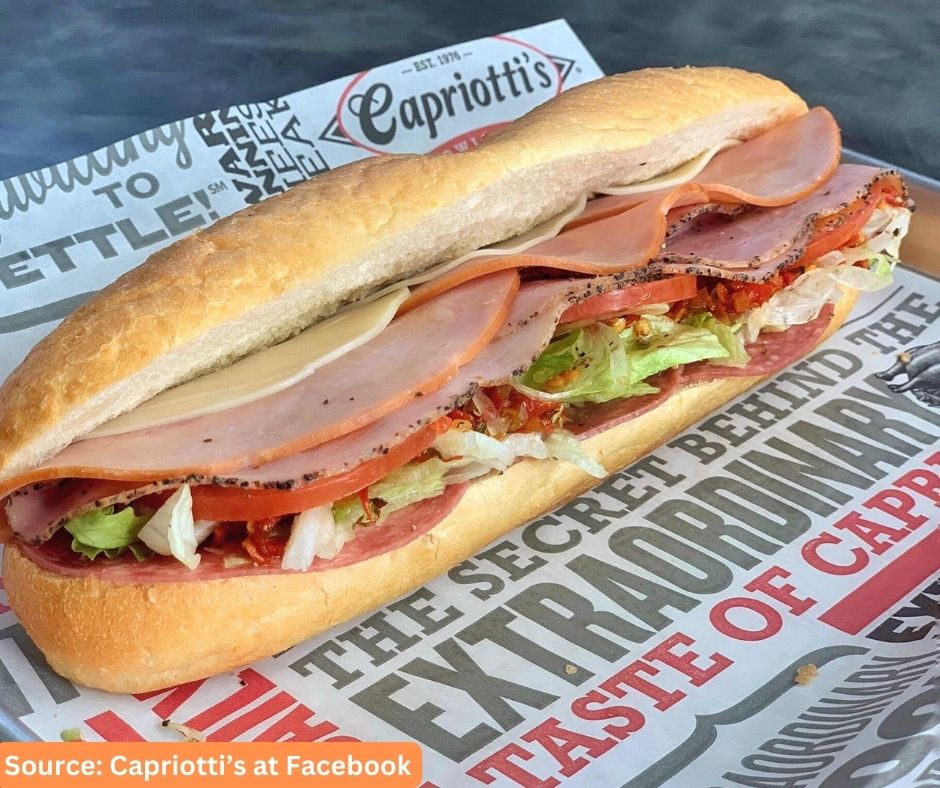 Cheese
American
Provolone
Romano
Swiss
Gorgonzola
Dressings
Mayonnaise
Balsamic Vinaigrette
Chipotle Ranch
Russian Dressing
Red Wine Vinaigrette
Gorgonzola Vinaigrette
Sides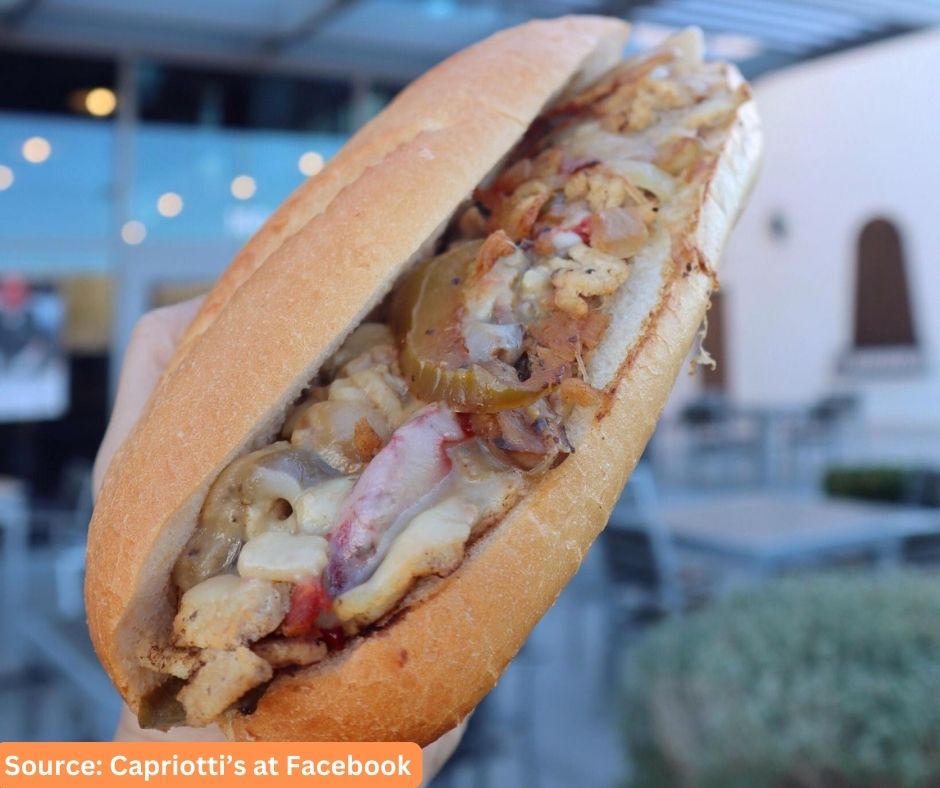 Tips for a Gluten-Free Meal at Capriotti's
Ask For No Bread
You're not alone on this one. A lot of customers are dying to see Capriotti's offer gluten-free buns. What's an all-time famous Bobbie without the buns?
Order subs without the buns. This is always the go-to option for gluten intolerant diners who don't have a choice at their favorite sandwich shop. Before ordering, ensure that your preferred sandwich's ingredients have no risky ingredients.
Communicate Politely
Unfortunately, there's nothing much on their website about the allergens in their salads. There isn't anything about the other subs either, aside from the list we curated for you above.
To be sure, politely talk to the server or manager before ordering. You can ask them about your preferred meal. What ingredients are used, how will it be prepared, or is there anything gluten-rich that goes into it.
RELATED: What's Gluten-Free at Moe's Southwest Grill?
Consider your Alternatives
Obviously, there are very few options for gluten-intolerant diners. The lack of choices gives gluten-sensitive diners a hard time weighing their options.
If you think that Capriotti's isn't your thing, consider going to other sandwich shops that offer more gluten-free options. This shouldn't feel like the end of the world, even though their sandwiches can be too hard to resist!
Read 'til the end of this article to see the best alternative places you can go to for a tasty, gluten-free meal.
Cross-Contamination Risk
Sandwiches are probably one of the hardest meals for any gluten-intolerant diner to fully enjoy. If you're lucky, you can find a place that offers gluten-free buns to give you the most out of your meal.
But for shops like Capriotti's, ordering sandwiches can be a bit of a struggle.
It's not just because of the lack of gluten-free buns. The nature of Capriotti's food really puts everything on the menu at risk due to cross-contamination.
Cross-contamination occurs when gluten-free food comes into contact with items containing gluten. It can happen even in the most unexpected ways.
For instance, gluten particles can transfer to a gluten-free meal when the same utensil is used for all dishes. Thus, informing the server of your condition and needs before ordering is very, very important.
Most restaurants often do not realize the danger of cross-contamination in the kitchen. Offering gluten-free options isn't enough.
Servers need to be aware of how to prepare these dishes in a dedicated workplace without the slightest amount of gluten. Otherwise, gluten-intolerant diners might suffer from the symptoms and get sick because of the food. 
Yup. Saying goodbye to their mouthwatering sandwiches can be pretty hard. However, Capriotti's does not eliminate the risk of cross-contamination, as stated in their disclaimer.
So, anyone with severe gluten sensitivity or diagnosed with celiac disease should take extra precautions when ordering at their place. Remember to prioritize your health over anything else.
Continue reading to see the insights of other gluten intolerant diners about Capriotti's.
What People Are Saying
It's always reassuring to read reviews from other gluten intolerant visitors to help ease your worries.
Here are some opinions of other gluten sensitive users to let you know their insights about the lack of proper gluten-free options at Capriotti's. Maybe you can find yourself relating to them one way or another!
One user said that Capriotti's is a great sub shop with no gluten-free options. It was the fifth time she had to walk out in two years.
Many people are asking Capriotti's to make gluten-free rolls and buns. Most of them are bummed that they can't eat at the place anymore due to their condition. One user even said that having a gluten-free option would maybe feel like being in heaven!
One visitor said that they had to order a sub in a bowl. Although another user recommended getting a lettuce wrap, we aren't sure if Capriotti's allows such a request.
Most users miss the award-winning Bobbie. (Who wouldn't?) But unfortunately, Capriotti's responded that they'll see what they can do about the gluten-free requests.
Gluten-Free Alternatives to Capriotti's
It's normal to think of going somewhere else after discovering that Capriotti's has very limited gluten-free options. We can only hope that they expand their menu to be more inclusive soon!
Before you think of going away to look for other places, search no more. That's what here for, remember?
Here are some of the best gluten-free alternatives to Capriotti's that you can eat at!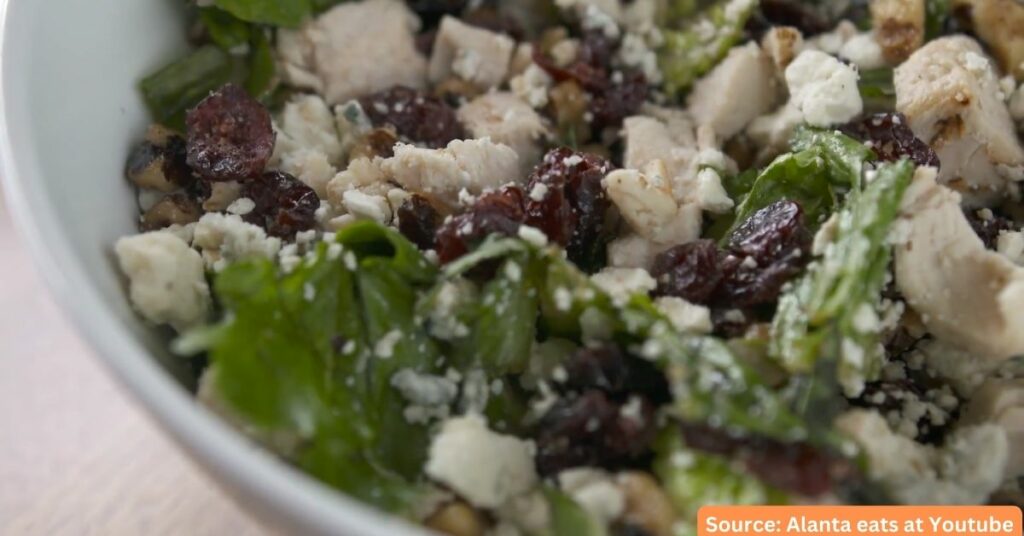 In-N-Out
In-N-Out is one of the perfect spots for anyone on a gluten-free diet. It guarantees that "Quality You Can Taste" includes all dietary regimes and taste buds!
Luckily, most items on the menu are gluten-free, so you don't have to worry so much anymore. You can get their burgers in a "Protein Style," which means having a lettuce-wrapped burger.
Pick from Hamburger, Cheeseburger, or Double-Double. The fries are gluten-free, too! Prepared in 100% sunflower oil, cooked in a dedicated fryer. To top it off, get a refreshing chocolate or strawberry shake.
Most visitors are interestingly in awe of how In-N-Out maintains its gluten-free burgers despite the nature of its business. Well, it wouldn't get 4.5/5 stars without a reason!
Chick-fil-A
Chick-Fil-A has lots of options to offer for its gluten sensitive diners. You'll surely be back for more!
Did you know that Chick-Fil-A offers a gluten-free bun? Yup. It's made from a mix of ancient grains to make eating a whole lot easier for those on a gluten-free diet. Heads up on the sandwich filling, though.
Your bun could still be contaminated by it.
For brunch, you can get Bacon, Sausage Patty, Hash Browns, and a Hash Brown Scramble Bowl with either a Grilled Fillet or Sausage.
Entrees on the menu include Grilled Chicken Filet (with a gluten-free bun), Grilled Nuggets, Cobb Salad with Grilled Nuggets or Filet, and Spicy Southwest Salad. These options are perfect for lunch or dinner!
You can always complete the combo by adding sides like Fruit Cup, Kale Crunch Side, Waffle Potato Fries, or a Greek Yogurt Parfait. Make sure not to include the toppings for your side salad and parfait.
Shake Shack
Not only is Shake Shack famous in America, but also worldwide! Americans, Asians, Europeans… almost everyone really loves their burgers.
Although Shake Shack says that most of their US Shacks offer gluten-free buns, you can also order their burger or flat-top dogs in a lettuce wrap. Gluten-free meats include hot dogs, cheeseburgers, and burger patties.
Avoid their fries, Shroom burger, and other fried stuff. All of these may be cooked in the same oil, increasing the risk for cross-contamination. Floats and shakes are gluten-free.
Chili's
While sandwiches can be a good meal replacement, you'll eventually want something heartier to eat. If so, Chili's is a good spot for you.
Surprisingly for a Tex-Mex restaurant, Chili's features tons of gluten-free options on the menu. You can order burgers without the bun, fries, or onion rings.
There's the Classic Bacon Burger, Guacamole, Oldtimer Cheese, Southern Smokehouse, Sunrise, Ultimate, Grass-Fed Beef, Thin Beef, or Turkey Patty Burger.
You can also have a Ribeye or Sirloin steak with some of their finest tasting sides.
These include Sweet Corn, Steamed Broccoli, Seared Shrimp, Mandarin Oranges, Mashed Potatoes, and Black Beans.
Looking for something healthier? Try one of their salads like the Santa Fe Chicken Salad without tortilla strips. You can have something lighter like the Southwest Chicken Soup without tortilla strips.
Before dining, make sure to triple-check your preferred choice with your server before ordering. Some visitors have varying experiences at different locations. It's better to be sure than sorry!
Jimmy John's
Like In-N-Out, Jimmy John's also has their brand of lettuce-wrapped burgers called the Unwich. Before anything else, avoid any item with cheese since it isn't entirely gluten-free.
Gluten-free meats include ham, roast beef, turkey, salami, capicola, and bacon. There are many spreads to choose from for your Unwich!
Avocado spread, Yellow Mustard, Jimmy Mustard, Hellman's mayo, Grey Poupon, Oil & Vinegar, Oregano-Basil, and Kickin' Ranch. Lettuce, tomato, cucumber, onion, and pepper should also be gluten-free.
Most reviews from other gluten sensitive diners on Find Me Gluten-Free agree that the staff is attentive to their needs. The servers are also aware of proper allergy protocol as needed.