My love for the Bang Bang Shrimp always pulls me into the door of a Bonefish Grill! The perfect amount of creamy, crunchy, and spiciness always gets me drooling even on a diet.
Seafood is one of the healthiest cuisines on the planet! It provides numerous benefits such as boosting brain health, elevating your mood, and providing you with the much-needed omega-3 fatty acids!
And since seafood is generally low-carb, can you survive keto at a Bonefish Grill?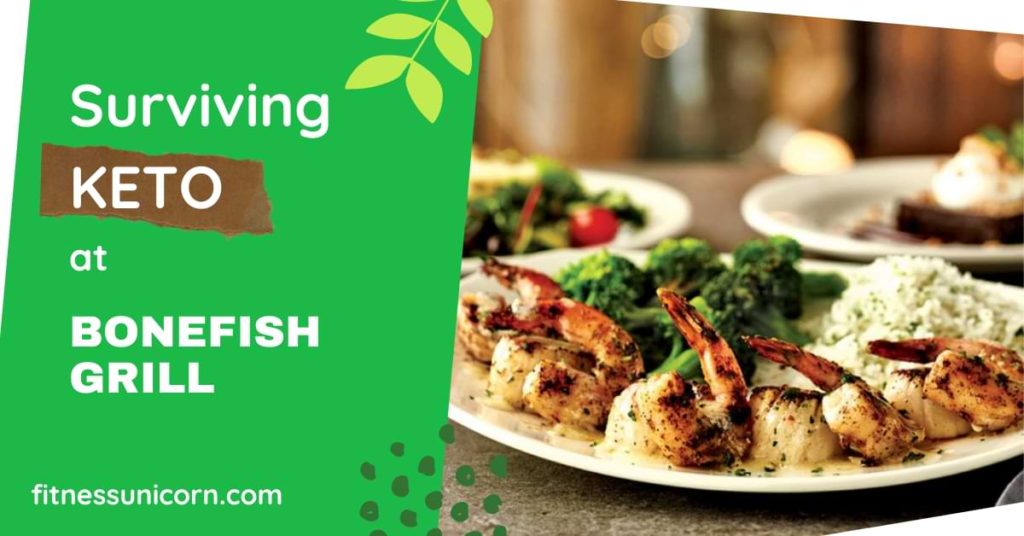 Tired of searching whether certain foods are keto? Download my keto cheat sheet with 210+ keto-friendly foods!
This post may contain affiliate links, which help keep this content free. (Full disclosure)
Can You Eat Keto at Bonefish Grill?
Bonefish Grill is a casual seafood dining chain dating back to January 15, 2000. Whether you want to celebrate an occasion, or simply want to enjoy a quality seafood experience, they've got it covered!
Gone are the days when Bonefish Grill was limited to dinner only. Today, the majority of the locations have opened up with breakfast and lunch options. It means you can satisfy your hunger pangs any time you want.
Surprisingly enough, Bonefish Grill is also one of the most keto-friendly restaurants out there! Other than being low-carb, they are quite open to customizations which is a cherry on the top!
Having said that, you need to be very picky in your choices!
With all that breading and extra sauces, it's easy to inflate the carbs of any seafood item. The keto gods won't be happy with you messing up your carb intake!
This guide will walk you through the most keto-friendly meals to choose at Bonefish Grill.
Is Bang Bang Shrimp Keto Friendly?
It's time to address the elephant in the room!
If you've ever set foot into a Bonefish Grill, I'm sure you tasted Bang Bang Shrimp!
For the uninitiated, Bang Bang Shrimp is the show stopper when it comes to Bonefish Grill.
Bang Bang Shrimp is not keto-friendly because a single serving has 26 grams of net carbs. It is a straight big NO because keto restricts your daily carb limit to 20g.
Well, I have some good news for you: There's a workaround to it!
If you are really craving the spicy creaminess of a Bang Bang Shrimp, you can have a tiny portion from your friend's plate. But don't forget that you still have to factor in those carbs.
Let's say that one serving comes with 10 pieces of Shrimp. It means each piece contains 2.6g net carbs. I highly recommend that you limit your intake to 2 pieces at a time.
READ: Is Crab Stick Keto?
Keto Friendly Options at Bonefish Grill
Let me walk you through all the low-carb options from Bonefish Grill. These delicious yet keto-friendly options will keep you from exceeding your carb limit!
Starters & Sharing
Ahi Tuna Sashimi is the only keto-friendly starter from this section. With 35g of protein in the "regular" variant, you'll feel full for a longer time. It is a sesame-seared delicacy with wasabi and pickled ginger.
It has 9g of net carbs, which is still a lot to be considered keto. But hey, we have a ton of other options down the lane! So keep scrolling.
Soups & Greens
Salads at Bonefish Grill aren't quite keto-friendly with all those tomatoes and sauces. But you can ask the server to provide you a lettuce base with a wood-grilled chicken or salmon add-on.
They also provide bacon and avocado for the beef burgers. So that means you can also add them to your salad!
It will round up to almost ZERO net carbs and you'll have a tummy full with no keto damage.
Bonefish House Side Salad
You can order this side salad which comes with 8g net carbs. While it's mostly lettuce, sauces and tomatoes are the main reason behind those carbs.
Don't forget to add in some wood-grilled salmon or chicken to enjoy a filling keto meal.
Seafood Specialties
You can enjoy cold water lobster tails and Cod Imperial with minimum net carbs.
Cod Imperial: 8g net carbs
Cold Water Lobster Tails (1 Tail, with Butter): 3g net carbs
Cold Water Lobster Tails (2 Tail, with Butter): 3g net carbs
Their Cod Imperial is stuffed with Mozzarella and Parmesan cheeses, hence the carbs.
From the Land
A few of these wood-grilled entrees contain minimum carbs and offer a great keto-friendly meal.
Filet Mignon (7 oz): It has 0 net carbs, feast all you want!
The Angler's Sirlion Steak (7 oz): 0 net carbs
Lily's Chicken: 7g net carbs
RELATED: What's Gluten-free at Bonefish Grill?
Grilled Fish
Bonefish Grill does a great job of wood-grilling your seafood! The smoky flavor combined of a perfectly grilled fish is too much to resist.
Here's the good news: EVERYTHING from the "Grilled Fish" (except Mahi Mahi) menu contains ZERO carbs, which means you don't have to worry about keto. The reason is simple – It's actually just grilled fish with no additives!
Ahi Tuna Steak: 0 net carbs
Atlantic Salmon: 0 net carbs
Chilean Sea Bass: 0 net carbs
Rainbow Trout: 0 net carbs
Bonefish Grill offers a wide variety of sauces to season your grilled meat. We shortlisted two of them which are keto-friendly:
Chimmichurri Sauce: 1g net carbs
Lemon Butter: 2g net carbs
PS: Be cautious about the serving size of your seasonings. It's easy to go overboard with them!
More: How to Order Keto at First Watch
Sides
Sides are the most important menu section when dining out on keto! It provides a ton of customizations to dilute down the carbs of your main dish!
Egg – Poached (Brunch only): 0g carbs
Egg – Fried (Brunch only): 0g carbs
Bacon: 0g carbs
Chicken: 0g carbs
Salmon: 0g carbs
Steamed Asparagus: 4g net carbs (use in moderation)
Broccoli: 6g net carbs
Green Beans: 1g net carbs
Note: The "Grilled Chicken" as an add-on is quite different from the one in the "Family Bundles" section. A goof-up in understanding can cause you 10g of net carbs!
Beverages
Zero-carb beverages work well to quickly fill up your belly alongside a light meal.
Non-Alcoholic Beverages:
Bottled Water (Obviously!)
Coffee
Coke Zero
Diet Coke
Espresso
Black Iced Tea
Hot Tea
Their Cappuccino comes loaded with sugar by default. Ask them for a sugar-free option and which will cost you just 1g net carbs.
Tip: Always keep a sachet of Swerve/Stevia to flavor your on-the-go beverages.
Bonefish Grill has a full bar, which means you have tons of options to choose from.
Alcoholic Beverages:
Beer (Craft/High Alcohol, Bottle, 12 oz): 0g carbs
Beer (Craft/High Alcohol, Draft, 13 oz): 0g carbs
Heineken (Bottle, 12 oz): 0g carbs
Beer: Light (Bottle, 12 oz): 4g net carbs
Red Wine (Glass, 6 oz): 5g net carbs
Rose Wine (Glass, 6 oz): 5g net carbs
Sparkling Wine (Split, 187 ml): 5g net carbs
White Wine (Glass, 6 oz): 5g net carbs
Remember, water and black coffee/tea is the healthiest and most keto-friendly beverage you can think of!
KETO Hacks for Bonefish Grill
You now have a fair idea of what to eat and what not to fall for! Here are some additional tips to make sure you don't upset the keto gods.
Honor Your Carb Limit
The thumb rule of keto simply comes down to honoring your daily carb limit! You shouldn't eat more than 20-25g of net carbs per day.
In fact, you should spread out these carbs evenly throughout the day to avoid a spike in blood sugar.
Feel free to mix and match between all the above items to arrive at your favorite combination. But make sure you count each and every carb that goes on your plate.
For example, you may be tempted to pick a piece of Bang Bang Shrimp from your pal's plate. That extra 2.6g of carbs shouldn't go unnoticed.
Most Keto-Friendly Option at Bonefish Grill
What's the most satisfying meal with the least amount of carbs at Bonefish Grill?
Here's the answer: Pick a wood-grilled fish (except Mahi Mahi, too many carbs!) and season it with Chimmichurri Sauce or Lemon butter.
For the side dish, ask for a lettuce base with Chimmichurri Sauce/Lemon butter and add-on salami/chicken/bacon.
There you have it! A perfectly filling meal with under 4g net carbs!
WORST Keto Foods That You Must Avoid
So far we talked about what foods to eat. But what about the blunders that you must avoid? Check them out below!
PS: Don't feel guilty if you find one of your favorite items listed below!
Tacos
This is a no-brainer when it comes to the keto diet! Tacos are far from keto-friendly, thanks to their corn tortilla shells.
Their Bang Bang Shrimp tacos have a whopping 418g of carbs per serving. Served with starchy French Fries, it contains the maximum amount of carbs out of all the menu items.
If you are really craving some tacos, make your own keto-friendly version with Mission Carb Balance wraps.
Bacon Mac and Cheese
Don't let the word "Bacon" trick you into thinking that it's a low-carb dish! One serving of Bacon Mac and Cheese (Panko) contains 176g of carbs alone. Macaroni is a luxury we keto-ers have to stay away from!
Saucy Shrimp
Shrimp contains a negligible amount of carbs. Throw in some tomatoes and a plethora of sugar-laced sauces, you get a dish with 101g carbs per serving!
This starter dish contains tender Shrimp sauteed with tomatoes, olives, and a lime-tomato garlic sauce. It has all the properties of an anti-keto food item!
Eggs Benedict
If you find yourself at a Bonefish Grill during Brunch, stay away from Eggs Benedict. It contains 55g of carbs with no fiber at all. That's a sure-shot way to be thrown out of ketosis!
You can get the same wholesomeness of eggs with a poached or a fried egg instead!
Conclusion
Bonefish Grill offers a good amount of low-carb options. You just have to know the right tweaks to minimize the carbs.
Avoid all breading and sauces, stick to fresh wood-grilled items with minimum seasoning.
Following my guidelines will help you easily slay keto at Bonefish Grill.