Who doesn't love the sound of sultry, sticky barbeque running down their hands while enjoying a delicious meal at Dickey's Barbeque Pit?
We know you do! Their extensive menu was designed for their hungry customers in mind, but the real question is, is anything gluten-free at Dickey's Barbecue Pit?
Dickey's Barbeque Pit offers a larger gluten-free menu compared to most other franchise restaurants. They provide an allergen disclaimer and allergen menu on their website, breaking down what meal consists of which allergens.
This makes it clear for the customer to see what they can eat and what they should avoid. Foods such as the melt-in-your-mouth ribs or the crunchy tacos are gluten-free whereas most fried food and sandwiches contain gluten.
If you currently suffer from celiac disease or are gluten intolerant, we would recommend communicating that clearly with the restaurant manager before dining at Dickey's Barbeque Pit.
The restaurant takes pride in ensuring a safe and comfortable experience for all its customers, which is why they have an entire allergen profile available on their website, disclosing every meal and the allergens it may or may not contain.
If you are wondering whether Dickey's Barbeque Pit has any gluten-free options available, continue reading to find out more.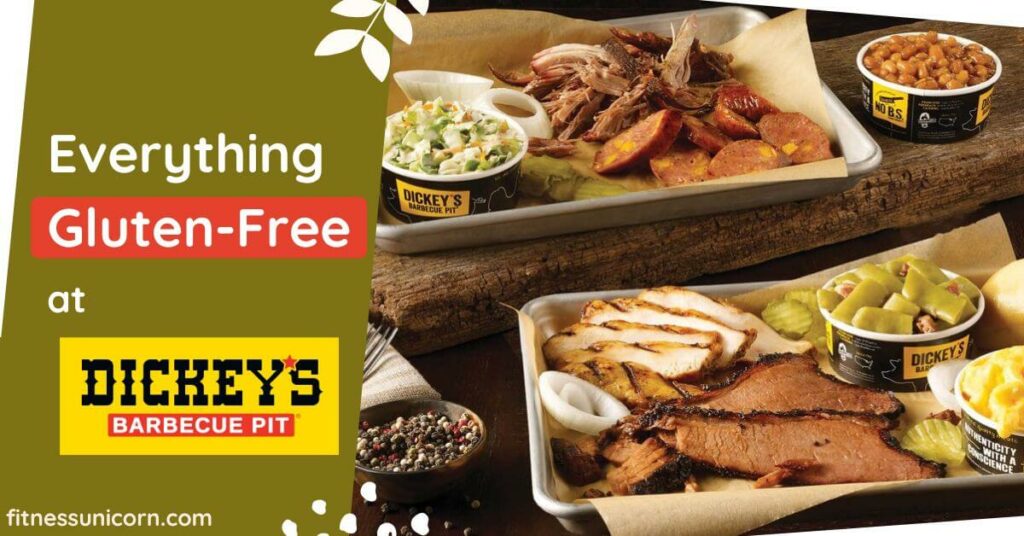 This post may contain affiliate links, which help keep this content free. (Full disclosure)
Dickey's Barbeque Pit Gluten-Free Options
The history of Dickey's Barbeque Pit dates back to 1941 when it was founded by WWI veteran, Travis Dickey.
Since opening a small restaurant specializing in slow-smoked barbeque, they have become the largest barbecue chain in the entire United States.
Since then, Dickey's Barbecue Pit has become well-known for its slow-smoked barbeque, friendliness, and hospitality. Something all restaurants should strive for daily!
Please note that items are subject to change according to the franchise you are planning on visiting.
It is always recommended to communicate your dietary preferences with your server and if they are unsure, the restaurant manager.
Be clear about the consequences if you consumed even the slightest amount of gluten and if you are still not convinced, rather don't eat it.
Let's find out what items on the menu do not contain gluten!
Limited Time Only Items
Birthday Cake Crispy Treat
Brisket Chili Walking Taco
Poblano Queso
Deal Of The Day Items
Unfortunately, it appears as though every item listed under the 'deal of the day contains some gluten or wheat. When you are dealing with an intolerance, it is better to not risk it than to risk it and not be aware of the consequences.
We are sure there are plenty of other items on the menu just for you!
RECOMMENDED: What's Gluten-Free at Moe's Southwest Grill?
Sandwiches
It is no doubt that most bread contains gluten, that is why there are no gluten-free options available when it comes to sandwiches. However, this does not mean that the ingredients inside the sandwiches contain gluten.
Perhaps speak with the server and query whether you will be able to adjust the meal slightly and have it without the bread. Not only will it then become a gluten-free meal option, but it is also a healthier option!
Plates/ Packs
There are a host of sides available on the Dickey's Barbeque Pit menu that do not contain gluten, such as:
Asiago Cheese Creamed Spinach
Bacon and Onion Green Beans
Baked Potato Casserole
Barbecue Beans
Cabbage Slaw
Dickey's Potato Salad
Fried Okra
Jalapeno Beans
Mac and Cheese
Choice Waffle Fries
Fall Off The Bone Ribs
6, 9, 12, 18, 24 Piece Rib Platter
with Rub Choice Lemon Pepper
with Rub Choice Rib Rub
with Sauce Choice Buffalo
with Sauce Choice Carolina Barbecue
with Sauce Choice Hot Buffalo
with Sauce Choice Original Barbecue
with Sauce Choice Sweet Barbecue
with Sauce Choice Texas Hot Barbecue
Pit Smoked Wings
6, 9, 12, 18, 24 Smoked Chicken Wings (with the same rubs/ sauces as the ribs)
ALSO READ: Gluten-Free Options at Checkers
Smoked Stacks
Brisket and Mac Stack
Buffalo Chicken Mac Stack
Fritos Chili Pie Stack
Texas Frito Pie Stack
Sides
All side items available on Dickey's Barbeque Pit menu contain no form of gluten and can be eaten and enjoyed stress-free!
Beverages
Every beverage on the menu is gluten-free, meaning you can have whatever you like, whenever you like!
Kids Meals
Unfortunately, if your children are sensitive to gluten, we would suggest avoiding Dickey's Barbeque Pit as every item on the kid's menu contains gluten.
Desserts
Contrary to popular belief, Dickey's Barbeque Pit has items on the dessert menu suitable for everyone, with any dietary preference! The following items do not contain gluten according to their allergen menu:
Blondie Brownie
Caramel Crunch Brownie
Chocolate Chunk Cookie
Ice Cream
Meats By The Pound Items (1, ½, ¼, ¾)
Chopped Beef Brisket
Ham
Jalapeno Cheddar Kielbasa
Polish Style Kielbasa
Pork Ribs
Red Hot Pork and Beef Sausage
Smoked Beef Brisket
Smoked Chicken
Smoked Pork Butt
Smoked Turkey
Extras and Add Ons
Luckily for us, sauces make all the difference in the world. Every sauce on the menu is gluten-friendly, meaning you can ask for any sauce with a gluten-(free) conscious mind!
Sandwich Plates
Some sandwich plates are gluten-free whereas the others need to be avoided at all costs. The only gluten-free sandwich plate you can eat is the Classic Sandwich Plate.
But be sure to avoid ordering it with a caesar salad or Lays BBQ Potato chips as those are the only sides containing gluten. The Westerner Sandwich Plates are to be avoided completely.
Tacos
Beef and Cheese Taco
Chicken and Cheese Taco
Bakers
All Bakers contain no gluten and can be eaten with peace of mind!
Salads
Unfortunately, the only salad on the menu is a chicken caesar salad which does contain gluten. It is recommended to avoid this completely when ordering at Dickey's Barbeque Pit.
Catering Items
Baker Bar with Sides
Chicken Taco Platter
Full / Half Rack of Ribs
Iced Tea, Gallon
Jalapeno Cheddar Kielbasa
Lemonade, Gallon
Loaded Baker Box Lunch with Sides
Loaded Baker with Meat Box Lunch
Polish Kielbasa
Pulled Pork Taco Platter
Smoked Beef Brisket, Large / Small
Smoked Pork Butt
Sweet Tea, Gallon
Tips For A Gluten-Free Meal At Dickey's Barbeque Pit
We understand that eating out when gluten-intolerant or celiac can seem overwhelming at times, but it doesn't need to be.
These days restaurants and cafes are slowly becoming more gluten and celiac friendly, giving you the chance to order with ease and enjoy a meal stress-free.
Despite that, it is still important to understand that every restaurant you go to handles food, allergens, and dietary preferences differently. Some prioritize them, while others are simply aware of them.
This means you still need to be careful!
Below, we have put together a few tips on how to handle ordering and eating gluten-free meals when dining out. If you are interested, continue reading.
Do Your Homework
If you are new to the scene or don't eat out much, you will soon learn that Google is your best friend. You can find anything you need to know about eating a gluten-free diet by merely researching it.
This includes wanting to find out if certain restaurants offer gluten-free meals or are gluten-friendly.
It would also be wise to search for reviews on the particular restaurant you are planning on eating at.
This can be found on gluten-free dedicated blogs, where writers are honest about their opinions and will lay it all out on the table for you or on the restaurant's review page.
Be Picky
You need to be selective when deciding what restaurant you want to dine at. For your sake, and the sake of the guests joining you.
Before you call the restaurant and make a booking, search their website and see if they have even a single meal on their menu that is gluten-free.
This will most likely lead you to their allergen disclaimer and nutritional guide, which lists all the allergens and the meals.
If their website does not appear to be user-friendly, then you can always call them and speak to the restaurant manager. Ask them any questions you have and find out whether they can accommodate your needs or not.
Be The Last To Order
Having certain dietary preferences often comes with a list of complicated meal requirements, that is why you should order last.
Not only will this prevent order anxiety for you, but it will also allow the rest of the table to continue with the conversation.
This way you know you have unlimited time to speak to the waiter about your needs, what you require and what you expect of them.
Again, always be clear with what you want from them and make sure they understand the implications if your food gets contaminated!
Cross Contamination Risk
If you are gluten-intolerant or suffer from celiac disease, the likelihood that you have heard the term 'cross-contamination' before is quite large.
Understanding what it is and the risks you can be exposed to because of it are very important in ensuring your absolute health.
Cross-contamination takes place when a non-gluten ingredient comes into contact with an ingredient containing gluten. This can occur through the smallest amount and can create great harm to celiac or gluten-intolerant customers.
For example, if you order food from Dickey's Barbeque Pit and it gets cooked in the same oven that previously contained the allergen, cross-contamination would occur.
If you feel uneasy or unsure at any point while dining at the restaurant, rather send your meal back and order something else than risk it! You know what they say, better safe than sorry.
What People Are Saying?
Over time we have researched and sourced multiple different reviews from Dickey's Barbeque Customers about the gluten-free food that they offer, whether it is any good and if you can trust them when on a gluten-free diet.
Based on our findings, a customer mentioned that there is a gluten-free menu available, although it is not extensive.
They felt that Dickeys Barbeque Pit took the extra mile to make their customers feel safe when ordering gluten-free meals. However, it was mentioned that there aren't many gluten-free meats available at the franchise.
Another honest customer mentioned that she was quite impressed with their services when it came to avoiding cross-contamination.
She mentioned they wiped surfaces, changed gloves, and used new utensils before cooking her gluten-free meal.
However, a disappointed customer mentioned the importance of being clear to waiters when ordering from them. The waiters got their gluten-free order wrong purely because they didn't understand.
This is why we always recommend communicating with the restaurant manager first!
Although there might not be that many gluten-free options available at Dickey's Barbeque Pit, the restaurant is constantly making a conscious effort to ensure that every customer regardless of their dietary preferences has something to eat at the restaurant.
Gluten-Free Alternatives To Dickey's Barbeque Pit
Famous Dave's
Much like Dickey's Barbeque Pit, Famous Dave is known for their delicious barbeque meals. And as you guessed, they too offer gluten-free meals on their menu.
Famous Dave caters to most customers with dietary preferences, including gluten-intolerant and celiac customers.
Food items on their menu that are gluten-free are:
BBQ Chicken
Chicken Wings
French Fries
A host of sides
Baby back ribs and so much more.
They are a great alternative to Dickey's Barbeque Pit if you are wanting to switch things up with the family on the next Friday night dinner treat!