Every fitness enthusiast has a longing for Boston Market! Whether you are trying to lose weight or just eating "right", they've got you covered. But can you eat keto at Boston Market?
Dining out on a ketogenic diet seems counter-intuitive! Almost every item at a fast-food restaurant is loaded with carbs and sugar.
But then there exist wholesome restaurants like Boston Market, that offer a ton of healthy options without tasting like dog food!
In this article, we'll look at the most keto-friendly options available at Boston Market.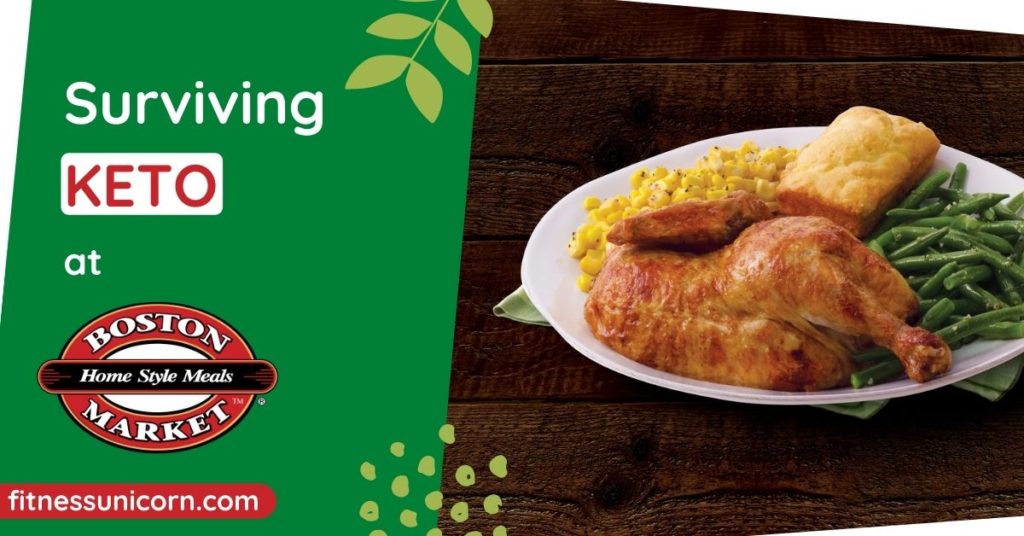 Tired of searching whether certain foods are keto? Download my keto cheat sheet with 210+ keto-friendly foods!
This post may contain affiliate links, which help keep this content free. (Full disclosure)
Is Boston Market Keto-Friendly?
Boston Market is well known for its slow-cooked meats and mashed potatoes (and cornbread too!). Their ever-so-famous Rotisserie Chicken has the least amounts of carbs and yet tastes delish!
They offer a ton of healthy options in terms of meats, sauces, veggies, and dressings. Luckily, they are also quite open to customizations and will happily accommodate your requests!
Some of their most keto-friendly options include:
Rotisserie Chicken
BBQ Ribs
Rotisserie Prime Rib
Turkey Breast
(*A lot depends on your choice of sauces and sides!)
The best part about Boston Market is that you get to choose your own side dishes. In fact, they have a whole range of keto-friendly sides to suit your taste buds. A serving of steamed broccoli is much better than the french fries that you get at most fast-food joints!
All of their Entrées are served with a piece of cornbread. As delicious as it tastes, this tiny piece of bread contains 31 grams of carbs! Opt for a serving of broccoli or steamed veggies instead. You may also top it with some beef or poultry gravy to spice things up.
If you find yourself at Boston Market in the middle of a tiring day, there are plenty of low-carb options to satisfy those hunger pangs!
What is There to Eat at Boston Market on KETO?
Ordering low carb at Boston Market is quite an easy process when compared to most of the fast-food restaurants. A lot of their menu items are keto-friendly right off the bat! Others need just a little tweaking to eliminate the carb-heavy items (such as the black beans).
Pick any of the following for a perfectly low carb meal at Boston Market:
Individual Meals
Individual meals at Boston Market consist of your choice of meat and an accompanying sauce to spice things up! It is served along with two gourmet sides and a piece of cornbread.
As you can guess, cornbread isn't a part of the low-carb strategy. Luckily, the staff is quite accommodating and they would be willing to replace your cornbread with a portion of steamed veggies.
Whether you are on the keto diet or just eating healthy, lean meats are always a super-food! Choose from the following low-carb options:
Chicken:
Creamy Garlic Half Chicken: 5g net carbs
Creamy Garlic Quarter White Chicken: 5g net carbs
Creamy Garlic Three Piece Dark (2 Drumsticks, 1 Thigh): 5g net carbs
Creamy Garlic Three Piece Dark (1 Drumsticks, 2 Thigh): 5g net carbs
Rotisserie Chicken – Half Chicken: 1g net carbs
Rotisserie Chicken – Quarter Dark (1 Thigh & 1 Drumstick): 1g net carbs
Rotisserie Chicken – Quarter White: 0 carbs
Rotisserie Chicken – Quarter White, Skinless: 1g net carbs
Rotisserie Chicken – Three Piece Dark (2 Drum, 1 Thigh): 1g net carbs
Rotisserie Chicken – Three Piece Dark (1 Drum, 2 Thigh): 1g net carbs
Prime Rib:
Rotisserie Chicken and BBQ Ribs (Quarter White Chicken and Quarter Rack Ribs): 3g net carbs
Rotisserie Prime Rib: 2g net carbs
Turkey:
Turkey Breast – Large: 0.5g net carbs
Turkey Breast – Regular: 0g net carbs
Sauces
You have to be cautious about your sauces as these can quickly inflate the carb count of your meal!
Surprisingly enough, the same type of sauce can have varying amounts of carbs at different restaurants. For example, the homemade horseradish sauce has a mere 1.5g net carbs per tablespoon, while the one at Boston Market contains 3g net carbs per tsbp! (or 6g per oz)
Every restaurant has its own unique recipe for its sauces. However, the majority of them are laced with sugar and corn starch to entertain your taste buds. So make sure you do your homework before adding sauces to your meats.
Here are some keto-friendly sauces at Boston Market:
(serving size: 2 tbsp/1 oz)
Beef Au Jus: 2g net carbs
Beef Gravy: 2g net carbs
Poultry Gravy: 2g net carbs
MORE: Hooter's Low Carb Options
Sides
Boston Market gives you full freedom to choose your own sides. Yup, that means there isn't going to be any awkwardness for asking the server to replace your X side dish with Y!
When ordering low carb, you just can't go for your usual Mac 'N Cheese side dish at Boston Market. Instead, pick any of the following keto-friendly sides:
Fresh Steamed Vegetables (regular size):

4g net carbs
Steamed Broccoli: 2g net carbs
Unfortunately, the much-loved creamed spinach doesn't make it to the keto-friendly category! Even the smaller serving has a whopping 9g of net carbs!
Salads
Salads are a go-to keto-friendly option at any restaurant! Whenever in doubt, simply order a mixed greens salad with minimum sauces. Toss in some low-carb meats like chicken, turkey breast, or beef, and enjoy your low carb meal guilt-free!
Salads at Boston Market need a bit of tweaking in order to be truly keto-friendly. You'll have to let go of the toppings like tortilla strips or croutons.
Caesar Side Salad (swap caesar with ranch dressing, add some avocado): 4g net carbs
Chicken Caesar Salad (ditch the croutons and replace caesar with Ranch): 7g net carbs
House Side Salad (drop the carrot and croutons): 3g net carbs
Southwest Cobb Salad (replace all veggies with avocado, swap lettuce blend with romaine): 7g net carbs
Southwest Cobb Side Salad (replace all veggies with avocado, swap lettuce blend with romaine): 3g net carbs
Luckily, Boston Market allows you to build your own keto-friendly salads! Mix and match the following ingredients to have a filling low-carb salad:
Greens: Romaine lettuce, avocado, bell pepper
Meats: Bacon, chicken
Cheese: Medium Cheddar Cheese, 3 cheese blend
Dressings: Ranch has the least carbs
READ: Healthiest Subway Options
Tips for Ordering Keto at Boston Market
After carefully analyzing the whole menu, we have come up with the most practical tips to eat low carb at Boston Market.
1. Add Fat to Your Meats
Boston Market is hugely famous for its Rotisserie Chicken. But unfortunately, chicken alone doesn't have enough fats to be called truly keto-friendly.
The keto diet is a very high-fat diet with a small percentage of carbs. Your main goal is to deprive yourself of carbs so that the body starts burning fat directly for energy (ketosis). It's a proven method of burning stubborn fat!
However, we must stick to the "keto pyramid" i.e. eating macros in the right proportion. Have a look: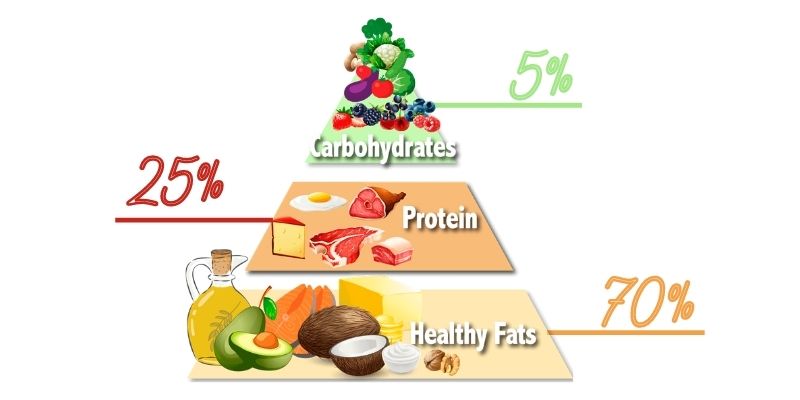 Since chicken lacks sufficient fats, you must pair it with a high-fat item like cheese. Boston Market offers two varieties of added cheese: Medium Cheddar Cheese and a 3-cheese blend. Both of them are low-carb and high in fats.
You can also add a serving of avocado to your salads for some fruity fat!
2. Use the Nutrition Calculator to Your Advantage
Boston Market has their own premium nutrition calculator to calculate the exact information of your order. You can input every selection and find out the complete macro details i.e. fats, carbs, and proteins.
So if you are wondering whether to add those red onions or avocado to your side salad, this calculator will come in handy!
Since they have so many customizations, having such a user-friendly tool is a blessing! This tool is frequently updated, which means you'll not have to dig through the Google results to find out carbs in any latest offering.
3. Stick to Your Daily Carb Limit
"Whatever you do, just stay below your daily carb limits!" – That's a thumb rule for dining out on the keto diet.
So you have gone through this whole keto menu and already planned your meals ahead in time. But what if you start craving another dish as soon as you enter the restaurant? Watching your pals eat your favorite foods can be quite tempting, right?
I'm all about discipline and sticking to your meal choices. But there are times when the temptations just take over our logical reasoning.
During those situations, your only aim must be to MINIMIZE the damage caused! Here is the complete nutrition guide for Boston Market. Even if you take a small portion from your friend's plate, make sure your count those carbs.
Since you can only have 20-25g of carbs per day, you shouldn't go over 8-9g carbs per meal. Because anything above this has two possible consequences:
You'll not be left with enough carbs quota for the rest of your meals.
If those carbs come from a high G.I. food (glycemic index), you risk being thrown out of ketosis.
You have to strike the right balance between taste and carbs, without overdoing it. Dining out is a beautiful experience. Don't let the dieting worries clog up your mind! If you are well prepared in advance, ordering a keto-friendly meal is a cakewalk at any restaurant.
READ: Is Lettuce Keto Friendly?
How Many Carbs Are in Boston Market Creamed Spinach?
Creamed spinach is one of the hot dishes at Boston Market! But unfortunately, it has too many carbs to be considered keto-friendly!
A regular serving (7 oz) of creamed spinach contains 9g of net carbs. On a diet with a daily carb limit of 20 grams, the creamed spinach isn't a very smart choice.
What's worse, their cream cheese is made using skimmed milk. It means you get all the carbs with even less amount of fats. This could be a healthier choice for a low-calorie diet, but that's definitely not the case for keto.
However, if you are really craving some, you can have a tiny portion from your friend's plate. But even then, make sure you factor in those carbs for your calculation.
Conclusion
Surviving keto at Boston Market is a breeze, thanks to their customization-friendly menu! You can choose from a range of low-carb meats and veggies and combine them in any way you like.
Their sauces go as low as 2g carbs per oz, which is better than most fast-food restaurants out there! Use their online nutrition calculator to make the right tweaks in your order.