Firehouse Subs is a highly keto-friendly restaurant because you have complete control over what goes on your plate! Choose from a range of hot specialty subs with predetermined toppings, or simply make your order from scratch.
Follow these golden rules when trying to eat keto at Firehouse Subs:
Have your favorite subs served in a bowl. The bread contains as much as 75g of carbs!
Go easy on the dressings. You may have Cajun Seasoning, Italian Dressing, Light Mayo, and Spicy Mustard in moderation.
Steer clear of Boxed Lunches and Speciality Subs, as they come with predetermined ingredients.
Have more cheese to increase satiety and add more fat to your salads. Pepper Jack and Montery Jack cheese have zero carbs.
Their keto-friendly meat options inlcude Pepper Bacon, Pepperoni, Salami, Beef Brisket, and Roast Beef.
Use this online nutrition calculator to know the exact carbs in your order.
These were just some of the practical tips to minimize your carb intake! In this article, we'll navigate through the entire menu and figure out the most keto-friendly options at Firehouse Subs!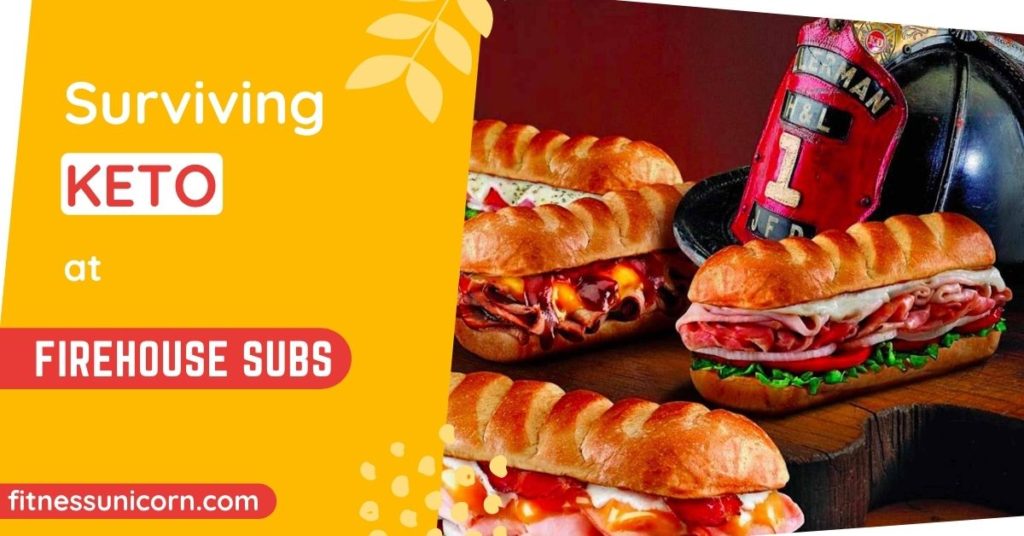 Tired of searching whether certain foods are keto? Download my keto cheat sheet with 210+ keto-friendly foods!
This post may contain affiliate links, which help keep this content free. (Full disclosure)
Firehouse Subs Menu: An OVERVIEW
Firehouse Subs is a casual fast-food restaurant serving fresh subway sandwiches since 1994! You can spot them in various strip malls and shopping centers across the U.S. and neighboring areas.
Their concept is quite similar to Subway, but you'll find a lot more options at Firehouse Subs! You can either choose your own breading, meat, and toppings or simply order their "Speciality Subs" with fixed ingredients.
The sole reason behind their success is the super quick fast food which is also light on your pockets! And if you choose the right toppings, you can order for pretty much any diet: Paleo, Keto, Vegan, Carnivore, etc.
Firehouse Subs offers 3 sizes of Sub:
Small Subs: 4 inches long
Medium Subs: 8 inches long
Large Subs: 12 inches.
Keep in mind that you must adjust the nutritional values based on the size you order. I've seen a lot of people mess this up! Their official document clearly lays out the nutritional data for each portion size.
The Hot Speciality subs contain classic combinations of meat, sauces, and toppings that enjoy huge popularity among its fans.
Apart from the subway sandwiches, Firehouse Subs is also famous for its freshly chopped salads. The Hook & Ladder salad always gets me drooling! (You have to toss out the ham to make it truly keto-friendly.)
Let's talk beverages. I must say they have a humungous range of beverages to choose from! At Firehouse Subs, you can find every Coca-Cola drink present on Earth! Plus, they also have their exclusive Cherry-Lime Aid and their freshly-brewed iced tea. The law of keto says we can have anything as long as it's sugar-free.
Tip: Always carry a pack of liquid stevia or any other sweetener to light up your sugar-free drinks at restaurants!
Making the Perfect KETO Salad at Firehouse Subs
If you are on the ketogenic diet, you know how hard it is to stay within your carb limit!
Having a salad is a no-brainer on any kind of weight-loss diet. And it becomes all the more important on keto. It's an easy way to consume your much-needed fats and minimize your carb intake (no bread, lots of meat!)
Firehouse Subs offer three salads be default in their menu:
Italian Salad with Grilled Chicken: 9g net carbs

Firehouse Salad: 9-22g net carbs (depending on your choice of meat)
Hook & Ladder Salad: 16g net carbs
You can further lower the carb count with a few changes in the toppings. In fact, they give you full freedom to choose your own toppings and build your customized salads!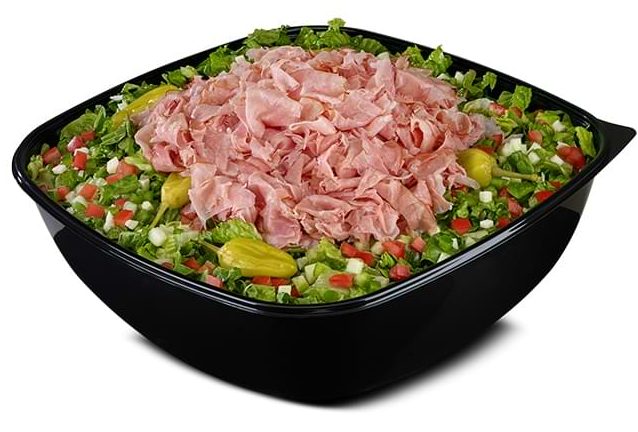 This saves you a ton of time and the pain of removing unwanted, high-carb items manually (such as tomatoes). Plus, it also avoids food wastage!
All it takes for a delicious keto-friendly salad is some cheese, meat, veggies, and savory toppings! Mix and match the following low-carb items as per your taste:
PS: The portion size of these toppings is based on a MEDIUM sub.
RECOMMENDED: Gluten Free options at Firehouse Subs
Low Carb Meats:
Chicken Breast: 5g net carbs
Oven Roasted Chicken: 2g net carbs
Pepper Bacon: 0 carbs
Pepperoni: 0 carbs
Salami: 0 carbs
Sauteed USDA Choice Steak: 4g net carbs
Smoked Turkey Breast Roast: 4g net carbs
Tuna Salad: 7g net carbs
USDA Choice Beef Brisket: 0 carbs
USDA Choice Corned Beef Brisket: 0 carbs
USDA Choice Pastrami: 2g net carbs
USDA Choice Roast Beef: 0 carbs
The worst choice of meat for a keto-friendly salad at Firehouse Subs is the Honey Ham with 24g of carbs.
Choice of Cheese for KETO:
The harder cheese varieties have a lesser amount of carbs because they contain minimum lactose. The carbs in cheese are majorly due to the lactose present in milk.
Add any of the following low-carb cheeses to make your Firehouse Subs salads more filling:
Cheddar Cheese: 1g net carbs
Monterey Jack Cheese: 0 carbs
Pepper Jack Cheese: 0 carbs
Provolone Cheese: 1g net carbs
Swiss Cheese: 1g net carbs
Dressings & Condiments for a Keto Salad:
Sauces and condiments act like a bridge between your taste buds and the "healthy" greens! These tangy and savory condiments make a salad much more enjoyable on the keto diet.
Let's admit it, having tons of fatty items in a salad can end up with a weird aftertaste! That's why we need low-carb dressings and condiments to light up your keto salads at Firehouse Subs:
Balsamic Dressing: 2g net carbs
Cajun Mayo: 3g net carbs
Cajun Seasoning: 2g net carbs
Cream Cheese: 1g net carbs
Garlic Blend: 2g net carbs
Honey Mustard: 4g net carbs
Italian Salad Dressing: 1g net carbs
Italian Seasoning: 1g net carbs
Light Mayonnaise: 1g net carbs
Marinara Sauce: 4g net carbs
Mayonnaise: 2g net carbs
Peppercorn Ranch Dressing: 2g net carbs
Spicy Mustard: 0 carbs
Sriracha Sauce: 4g net carbs
Sweet Mustard: 0 carbs
Also Read: Sonny's BBQ Keto Friendly Options
Keto-Friendly Toppings at Firehouse Subs
Veggies and toppings provide the required micronutrients and powerful antioxidants! Use these low-carb options to add variety to your meaty salads:
Au Jus Bell Peppers: 0.5g net carbs
Au Jus Mushrooms: 0.5g net carbs
Au Jus Onions: 1g net carbs
Avocado: 1g net carbs
Black Olives: 0 carbs
Cherry Pepper Rings: 1g net carbs
Chopped Green Peppers: 0.5g net carbs
Chopped Pickle Spear: 1g net carbs
Iceberg Lettuce: 1g net carbs
Onion: 2g net carbs
Pickle Spear: 1g net carbs
Sliced Pepperoncini: 1g net carbs
The Coleslaw served at Firehouse Subs is quite high in carbs (7g net carbs) because it contains carrots and a lot of mayo.
Now you are well prepared to make your own deliciously low-carb salad! Mix and match from the above ingredients to suit your taste buds.
PS: I highly recommend that you don't cross the "10g carbs" mark with a salad. The foodie in you might justify the splurging, but you'd have exhausted your carb quota for the day!
Also Read: Going Keto at Which Wich Superior Sandwiches
My #1 KETO Order at Firehouse Subs
Firehouse Subs is undoubtedly my favorite keto restaurant. There are few such places that are so open to customizations and make your order right in front of you (I really appreciate the transparency!)
Whenever dining out on keto, I always strive for a balance between taste and macros (fats, carbs, and proteins). I look for options that will keep me full for at least the next few hours.
This is my staple keto salad at Firehouse Subs:
Provolone Cheese
USDA Choice Corned Beef Brisket
USDA Choice Pastrami
Italian Salad Dressing
Spicy Mustard
Nutrition: 500 calories | 25g fat | 6g net carbs | 0g fiber | 4g sugar | 61g protein
The portion size of toppings is the same as that of a large Speciality Sub. In essence, you can call it a "New York Steamer" large sub that is served in a bowl (without mayo!)
Conclusion
In a nutshell, eating keto at Firehouse Subs involves having your favorite subs served in a bowl! All you have to do is stay away from high-carb toppings and sugary sauces (like Sweet Baby Ray's BBQ Sauce).
Luckily, the folks at Firehouse Subs are very open to customizations and you can literally combine anything and everything under the sun! They have a ton of low-carb meats, cheese, and toppings, which ensure enough variety in your meals.