Being on a ketogenic diet is one thing, but finding a keto-friendly restaurant is another and may even be more challenging. So, if you're a fan of Quiznos, there are plenty of low-carb options to satisfy your taste buds (hint: no bun!). So what's keto-friendly at Quiznos?
At Quiznos, you can get any sandwich served as a salad, which saves up plenty of carbs. For example, an 8″ Turkey Club Sandwich rakes in 73g of carbs, whereas the salad would set you back by just 6g net carbs. You can try different combinations of meat, cheese, and veggies along with low-carb dressings.
A keto diet caps your daily carb intake to 20-25 grams. So your menu options are highly limited on such a low-carb diet. However, with the right knowledge of nutrition, you can find plenty of ways to savor some dishes without upsetting the keto gods!
In this article, we'll take you through all such keto-friendly dishes available at Quiznos.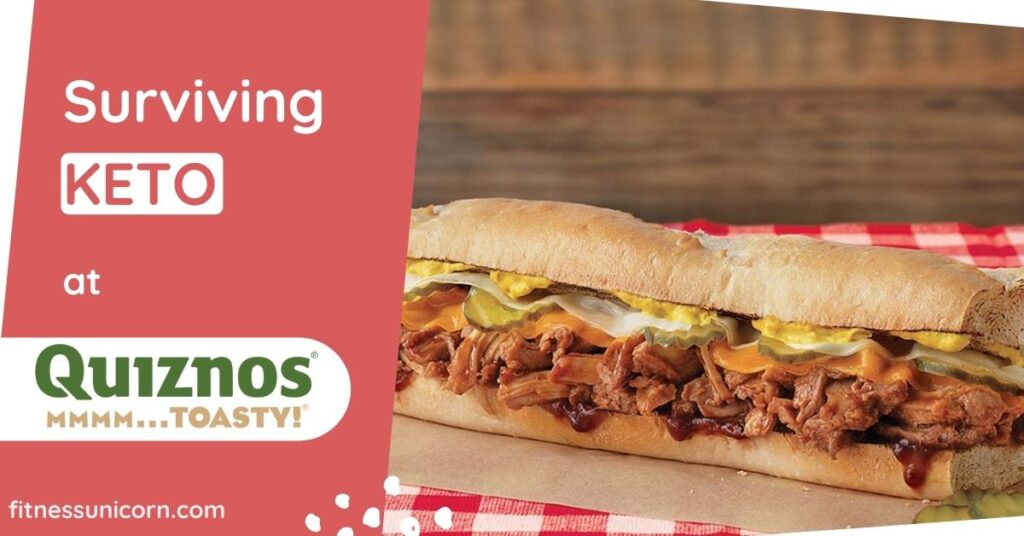 Tired of searching whether certain foods are keto? Download my keto cheat sheet with 210+ keto-friendly foods!
This post may contain affiliate links, which help keep this content free. (Full disclosure)
How To Survive Keto At Quiznos
Quiznos is an American fast-food chain serving toasted sub sandwiches. Did you know? It was once the second-largest name in the industry right after Subway. Even though its popularity has declined over time, Quiznos is still a worthy contender for the submarine sandwich game!
The best part about sub sandwiches is that they are very versatile. You can choose from an infinite range of combinations of meat, cheese, and veggies. That's why they are highly keto-friendly as well!
Quiznos is a common hangout spot for gym freaks and those trying to lose weight. It's a fast-food restaurant with plenty of low-carb, yet delicious options. What else do you need on a ketogenic diet?
Nonetheless, you can maneuver through the menu and make a couple of selections that match your diet perfectly. So, it would be best not to get discouraged when you see a lot of high-carb food items on the menu (e.g. Honey Bacon!)
Furthermore, Quiznos offers a lot of meals. Ranging from the "Classics" to "Steak", "Kids", "Desserts" and even the "Limited Time Offer" section, there are a couple of keto dishes on most sections on the menu.
Here's the holy grail of ordering keto at Quiznos: Simply choose your favorite salad and load it up with additional meat, veggies, and toppings. Go easy on the dressings though!
But keep in mind that you aren't just limited to salads! In fact, you can order your sub as a lettuce wrap if you don't really fancy a salad. Just stay away from the bread and you are golden.
To give you an idea, even a 4″ bread has upwards of 25g carbs. Heck, it's even more than your whole day's carb allowance on the keto diet!
Their low-carb dressings include Buttermilk Ranch, Red Wine Vinaigrette, and Yellow Mustard. If you really like drowning your meals in dressings, always pick the Yellow Mustard – it has 1g of carb and 1g of fiber – making it a zero-net-carb dip. (Confusing it with the Honey Mustard would be a major keto blunder!)
Bonus: Quiznos also serves Guacamole – the flag-bearer of the keto diet. It's made with avocadoes, lime, cilantro, and onion – and it's the perfect low-carb dish that can work as an:
Appetizer
Or Side Dish
Or a Dip
Or Dressing
A 100g serving of their wholesome guacamole contains just 1g of additional net carbs!
What really makes a meal keto-friendly? Is it a concrete science?
Hell no!
You see, a ketogenic diet is broadly defined as a high-fat, low-carb diet that helps you lose weight through a bodily state called ketosis (hence the name!) There are various versions of the keto diet recommending anywhere from 20-50g of daily carb intake.
When trying to lose weight, most people benefit from a 20-25g daily carb limit. It's the most optimum way to put you into deep ketosis. This loosely translates to 7-8g carbs per meal. And hence, a single meal under 8g carbs would be considered keto-friendly.
But just like everything on Earth, even this rule has an exception (which definitely works out in your favor!). Sometimes when dining out, you can have a higher carb meal and compensate for the carbs in other meals during the day. For example, if your breakfast and lunch together contribute just 5g net carbs, you can very well enjoy a 20g meal with your pals!
Moving on, would you like to join me as I take you through all the keto-friendly options in Quiznos' menu?
MORE: Jason's Deli Keto Sandwiches
Quiznos Restaurant Keto-Friendly Options
#1. Side Garden Salad
Carbs: 9g
Fiber: 2g
Net Carbs: 7g
Total Fats: 26g
Protein: 2g
Calories: 270kcals
The Side Garden Salad is a light and fresh side dish, that can also be a main dish on keto. It contains black olives, tomatoes, onions, and cucumbers, providing you with all the essential vitamins and nutrients for healthy functioning. Tip: Throw in some bacon or turkey to up the fat count.
#2. Tomato Basil Bisque (Small)
Carbs: 12g
Fiber: 0g
Net Carbs: 12g
Total Fats: 12g
Protein: 2g
Calories: 160 Kcal
This is one hell of a creamy appetizer for those cozy evenings with friends and family. You can sit through it for as long as you want, sipping slowly.
#3. Italian Full Salad
Carbs: 18g
Fiber: 5g
Net Carbs: 13g
Total Fats: 57g
Protein: 31g
Calories: 700Kcal
This exotic salad contains romaine, pepperoni, salami, ham, capicola, tomato, provolone, red onion, black olives, and is topped with banana peppers. It has the perfect fat-to-carb ratio that puts even a lot of home-cooked meals to shame!
RECOMMENDED: Keto-Friendly Restaurants in Denver
#4. Chef Salad (Full)
Carbs: 13g
Fiber: 2g
Net Carbs: 11g
Total Fats: 46g
Protein: 32g
Calories: 590Kcal
Loaded with Ham, Turkey, Bacon, and Swiss Cheese, the Chef Salad is the ultimate keto-friendly meal that you could ask for. In fact, it's my favorite salad from the entire Quiznos' menu. It is tasty, filling, yet super low in carbs!
#5. Chili (Small)
Carbs: 19g
Fiber: 6g
Net Carbs:13g
Total Fats: 5g
Protein: 11g
Calories: 160 Kcal
Chili is a spicy stew made of chili peppers, meat, and tomatoes. You can have it as a soup while dining out in order to not feel left out while your friends order the most exotic subs! With just 13g net carbs, it keeps you occupied while still honoring the keto limits.
#6. Chicken Noodle (Regular)
Carbs: 8g
Fiber: 0g
Net Carbs: 8g
Total Fats: 4g
Protein: 7g
Calories: 120g
Want something really tasty but with low carbs? Try out the Regular Chicken Noodle. It lags a bit behind in the fiber content, but that's completely forgivable with 8 grams of total carbs. Some keto "gurus" would say that noodle is strictly a NO on keto. However, if it fits my macros (mainly carbs), then I'd go for it!
#7. Broccoli Cheese (Small)
Carbs: 10g
Fiber: 1g
Net Carbs: 9g
Total Fats: 8g
Protein: 4g
Calories: 120g
Broccoli cheese soup is thick and creamy, which almost feels like a cheat meal on keto. It has a hidden sweetness, which is definitely not sugar! Quiznos' broccoli cheese soup is high in taste and low in everything else – fats, carbs, and protein. Although the Broccoli is super cooked and chopped to "rob" you of that crunch, the dish makes up for this with its deliciousness.
Keto Ordering Tips for Quiznos
Now that you know all the low-carb options at Quiznos, follow these tips and take your keto game to the next level:
Just avoid the bread and go easy on the dressings – and most of your job is done! While most dressings are low-carb in a single serving, the numbers can easily add up if you aren't careful.
Low carb meat options at Quizos include Sausage, Eggs, Bacon, Turkey, Chicken, Steak, Salami, and Ham. The Italian meatballs are also a great appetizer.
Most beverages have an incredible amount of carbs in them because of their high sugar content. So, it's best to stick with a Diet Coke or a Coke Zero if you must have a drink that's not water. Minute Maid Light is also a good option for 3-5g carbs
Feeling confused about toppings and add-ons? Always opt for more meat because you can't ever go wrong with it!
Conclusion
Dining out at Quiznos on the keto diet? Well, you have plenty of low-carb options to share with your friends and family. It's one of those restaurants that has something to offer to everyone.
From low-carb salads to keto-friendly sides like guacamole, they've got you covered! Other options include the small chili, bisque, and some of the soups that are thick and creamy.
Cheers!
Next: Keto at Pita Pit