How about a juicy burger to kick-start start your busy day? Huddle House has a huge and diverse menu that has something for everyone! Whether you are trying to cut down calories or going low-carb, this restaurant won't disappoint you. So what's keto-friendly at Huddle House?
Ribeye Steak, Small Tossed Salad, Grilled Chicken, Chicken Wings are a few dishes with the least amount of carbs. At Huddle House, you can choose from various combinations of eggs, meat, and cheese along with some low-carb veggies. Avoid bread, waffles, and pancakes and you are good to go!
Their huge and diverse menu brings a lot of opportunities for a low-carb eater. But it also brings an added risk of making the wrong choice!
In this article, we'll look at the most keto-friendly options available at Huddle House (and some tips to avoid a disaster!).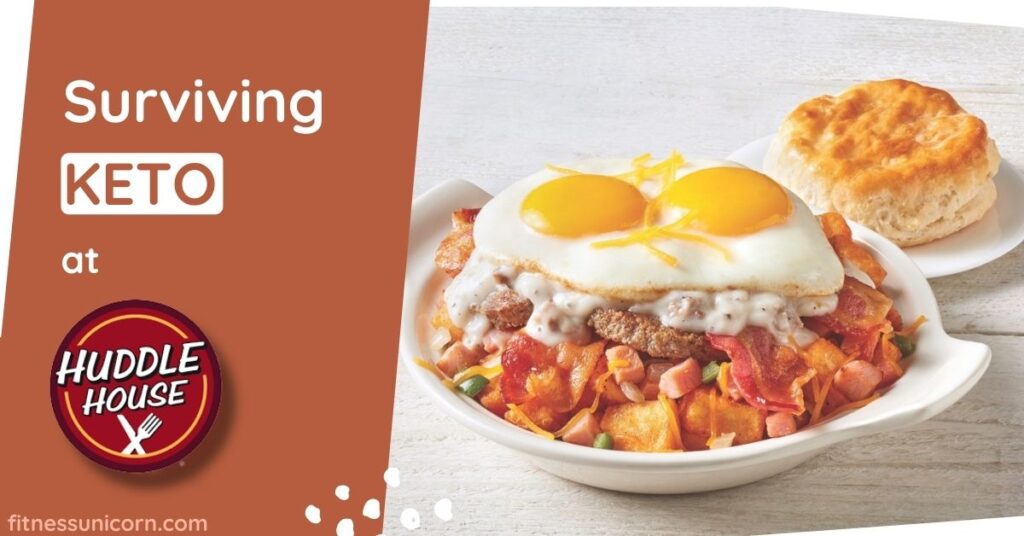 Tired of searching whether certain foods are keto? Download my keto cheat sheet with 210+ keto-friendly foods!
This post may contain affiliate links, which help keep this content free. (Full disclosure)
How to Survive Keto at the Huddle House Restaurant?
Huddle House is a Southern casual dining chain that is present in over 350 locations in the USA alone. Founded more than 50 years ago, this eatery has a diverse menu offering breakfast, lunch, snacks, and dinner options. (Not to forget the mouthwatering desserts!)
The biggest challenge with keto is to find a restaurant that values your dietary demands. Dieters often order foods that lead to a huge keto blunder. We won't let it happen to you! Keep reading to OWN your next keto order at Huddle House!
This Southern chain offers plenty of customizations in every dish you order. For example, you can choose your preferred toppings, cheese, dressings, and other add-ons. The servers would happily comply with your requests because they are used to it (unlike small-time eateries which frown upon even when you ask to "switch the bun with a lettuce wrap".
If you are a chicken fan (like me!), then Huddle House won't disappoint you. But you've got the pick the right option. You see, there's the boneless chicken tenders for 97g of carbs. And then there's the buffalo chicken wings for a mere 5g of carbs!
Oh, and don't forget to ALWAYS pick buffalo sauce over the BBQ sauce. The latter has buckets full of sugar that puts even a candy bar to shame!
This restaurant got great options in fluffed and stuffed omelets, salads, and there is also a kid's menu with smaller portions! If you are going "rogue" and ordering your cheat food, at least switch to the kid's menu.
We do not say every meal served at the Huddle House is keto-friendly. Some dishes, such as Chili Cheese Fries, Crispy Chicken Club, Double Mushroom Swiss Burger, etc. are loaded with carbs. You will have to avoid them otherwise you won't meet your fitness goals.
But then there are some that fall in a grey area. These are the dishes ranging between 15-20g of net carbs. My personal fav are the Bacon Cheddar Grits, Hashbrowns, and Homestyle Grits. You may half only half the portion size and still not overdo the carbs!
Now without any further ado, let's jump to the most keto-friendly options available at Huddle House!
Related: Keto at White Castle? Sure!
Huddle House Restaurant Keto-friendly Options:
The following keto-friendly foods are served at Huddle House:
Philly Cheesesteak Omelet w/ American Cheese:
Carbs: 12g
Fiber: 2g
Net Carbs: 10g
Total Fats: 56g
Protein: 28g
Calories: 520 cal
This dish provides 388 calories per serving and it contains the least amount of carbs. It's a perfect alternative to high-carb breakfasts most of us take in the morning. Don't forget to add veggies and toppings that are also low in carbs.
Ham & Cheese Omelet:
Carbs: 6g
Fiber: 1g
Net Carbs: 5g
Total Fats: 52g
Protein: 22g
Calories: 450 cal
This delicious omelet offers 662 calories per serving. It's an excellent choice if you want to consume a protein-rich post-workout meal!
Ribeye Steak 6oz:
Carbs: 2g
Fiber: 0
Net Carbs: 2g
Total Fats: 38g
Protein: 28g
Calories: 340 cal
This is as low-carb as it gets. The ribeye steak has the perfect amount of fats that make for a great fat-to-carbs ratio. If you are watching your carb intake, this is one of the best options.
Carbs: 17g
Fiber: 0g
Net Carbs: 17g
Total Fats: 22g
Protein: 16g
Calories: 330 cal
Even though it's a bit high in carbs, these grits are comfort food for many! So if your cravings are eating you alive, you can have this with some amount of portion control.
Grilled Chicken:
Carbs: 0g
Fiber: 0g
Net Carbs: 0g
Total Fats: 2.5g
Protein: 24g
Calories: 120 cal
Feeling low on protein? Order a plate of juicy grilled chicken for exactly ZERO carbs. Top it with your favorite cheese and veggies and you have a satisfying meal for minimal carbs!
Sugar Cured Ham:
Carbs: 3g
Fiber: 0g
Net Carbs: 3g
Total Fats: 6g
Protein: 16g
Calories: 120 cal
A more delicious alternative to the regular ham. In my opinion, the carbs for this one are really justified (I may be biased coz I love ham!)
Stuffed and Smothered Omelet Chicken Tenders:
Carbs: 19g
Fiber: 1g
Net Carbs: 18g
Total Fats: 16.5g
Protein: 13g
Calories: 250 cal
It is another protein-rich dish served at the Huddle House with a very low amount of carbohydrates. You will love the taste and order this cuisine time and again!
Turkey Chef Salad
Carbs: 11g
Fiber: 2g
Net Carbs: 15g
Total Fats: 22g
Protein: 38g
Calories: 380 cal
For the Turkey lovers out there! Add in some ranch dressing or pair it with some crackers (2g net carbs each).
Recommended: Bonchon Chicken's Low-Carb Options
Low-Carb Beverages at Huddle House
Want something to wash down your food? Or perhaps your sweet tooth is craving some diet coke. Here are all the low-carb drinks you can find at Huddle House:
Hometown Blend Coffee: 1g
Diet Pepsi: 0g
Unsweetened Tea: 0g
Hot Tea: 0g
There isn't much variety for sugar-free drinks. But I'd give you one tip to help in such scenarios: Carry a pack of liquid stevia in your bag/vehicle at all times – Sweeten your tea/coffee without adding carbs!
Tips for Ordering Keto at Huddle House
Now that you know everything low-carb at Huddle House, here are some tips to further up your keto game.
Turkey Sausage, Grilled Chicken, and Slow Cured Ham are three options that have exactly zero grams of carbs. Double down on these if you're out of carb budget and still hungry.
If you are in a hurry and no time for customizations, order anything from Stuffed and Fluffed omelets. You can't go wrong with these (6-9g of carbs)
While shrimp is generally low in carbs, you really don't want the Shrimp from Huddle House (a whopping 58g carbs!). It's that crispy and crunchy breading that contributes the major bulk of carbs.
Always plan your order ahead of your visit. It's the most simple yet most impactful piece of advise while dining out on keto. Now that you know all the low-carb options, go inside with a fixed order and don't give into temptations. Even if your friends are enjoying a waffle, you are less likely to cheat because you have your order right on your tips!
Conclusion
There you go! You are now equipped with all tools and strategies to survive keto at Huddle House.
From keto-friendly omelets to low-carb beverages, Huddle House has plenty of options to satisfy your taste buds. You can also be creative and make tons of different combinations from meat, cheese, and eggs.
Happy Keto-ing!
Next: Bojangles Low-Carb Menu