There is nothing better than treating yourself to a good steak to break up the week. There is something particularly special about sharing a deliciously soft, melt-in-your-mouth steak at the end of a long day.
Saltgrass Steakhouse has an extensive menu, but the real question is, are there any gluten-free options at Saltgrass Steak House?
Saltgrass Steak House does not have a dedicated gluten-free menu that you can choose from. However, this does not mean they do not have gluten-free options for you.
In addition to their gluten-free buns, you can enjoy a delectable steak or grilled seafood with your meal as long as you do not order something that is fried, these you want to avoid completely.
If you have gluten intolerance or suffer from celiac disease, you must have an open communication policy when dining at Saltgrass Steak House.
In a large franchise, with over 80 locations spread around, there is the possibility of cross-contamination regardless of whether there are protocols in place to prevent it from occurring.
If you are interested to find out whether Saltgrass Steak House has any gluten-free options on their menu to ensure a stress-free and enjoyable meal.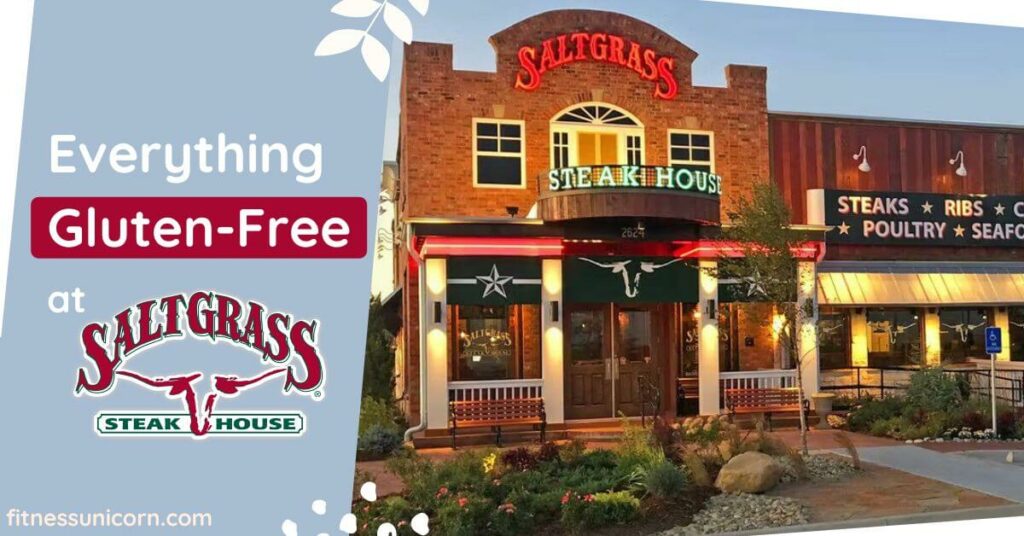 This post may contain affiliate links, which help keep this content free. (Full disclosure)
Saltgrass Steakhouse Gluten-Free Options
Saltgrass Steak House is a chain of American restaurants that cater to those who adore steak, chicken, and seafood. The restaurant was founded over 30 years ago in Texas. They take pride in their grass-fed meat.
Interestingly, the name originated from the 1800s when it was known for cattle to be driven down the Texas Gulf Coast. Here they grazed on the rich saltgrass only found along the coastal line.
Please note that Saltgrass Steak House does not have a dedicated gluten-free menu option, making it extra important that you speak to the restaurant manager before ordering your gluten-free meal.
Every branch is subject to change, depending on where you are dining. Continue reading for a more in-depth overview of Saltgrass Steak House's gluten-free options.
RECOMMENDED: EVERYTHING Gluten-Free at Mellow Mushroom
Appetizers
Range rattlers
Fried mushrooms
Cheese fries
Fried onions
Pickles and peppers
Queso fresco with brisket
Shrimp cocktail
Soup, Salad, and Sandwiches
It is best to veer away from any wheat. Items such as bread, croutons, or fried ingredients should be avoided. To avoid accidentally ingesting gluten, we recommend getting a bunless burger and having a salad without croutons.
Homemade Soup of the day
Hill country salad (croutons – avoid)
Grilled salmon Caesar salad (croutons – avoid)
Cheeseburger (wheat – avoid)
Vaquero tacos
Grilled chicken sandwich (wheat – avoid)
Homemade Soup of the day and salad
Grilled chicken salad (croutons – avoid)
Steak salad
Brisket burger (wheat – avoid)
Nashville hot sandwich (wheat – avoid)
Favorites
Fried chicken (avoid)
Chicken Laredo
Original chopped steak
BBQ pork ribs
Fried shrimp (avoid)
Double-bone pork chop
BBQ pork ribs and chicken
Classic chopped steak
Country fried steak (avoid)
Grilled chicken breast
Steaks
Typically, red meat is a great gluten-free option. Saltgrass Steak House does not offer any more information regarding how the steaks are cooked or what marinade it is cooked with if any.
Be sure to discuss and get clarification with the restaurant manager before ordering a steak.
Wagon boss center-cut top sirloin
Bone-in ribeye
Texas T-bone
Maureen's center-cut fillet
Pats ribeye 
New York strip 
Sliver star porterhouse 
ALSO READ: What's Gluten-free at Long John Silver's?
Steak additions
Anything fried should be avoided, always opt for grilled.
Grilled or fried shrimp
Smother your steak (lack of information, confirm with staff)
Sautéed mushrooms
Cajun topping
Grilled onions
Cognac pepper sauce
Chimichurri and sautéed mushrooms
Urban cowboy topping
Paired for you (GF)
Gulf coast steak and grilled shrimp
Urban cowboy
Bacon-wrapped filet and grilled shrimp
Cajun ribeye
Center cut chimichurri filet
Seafood (GF)
Blackened redfish
Grilled shrimp
Atlantic salmon
Sides
Note, that any meal or ingredients that contain herbs should be avoided as dry herbs do have the potential of containing gluten.
Baked potato
Mashed potatoes
Green beans
Smoked Mac and cheese (avoid)
Sweet potato fries
Upgrade to asparagus
French fries
Broccoli
Brussels sprouts
Herb rice (avoid)
Upgrade to baked sweet potato
Lunch and early dining (GF)
Classic chopped steak
Grilled chicken breast
Tenderloin tips
Chicken tenders
Tips For A Gluten-Free Meal At Saltgrass Steakhouse
Trying a new restaurant can seem like a daunting task when you suffer from celiac or are gluten-intolerant. But honestly, it shouldn't.
Restaurants have evolved and have found new and innovative ways to meet every customer's needs, including those with strict dietary preferences.
With that said, always communicate and keep your wits about you when your meal is busy being prepped.
Mistakes do happen and if you are completely uncertain of whether one meal is entirely gluten-free, rather send it back and order something else. It is always better to be safe than sorry!
Continue reading to find a few tips that you can take with you when you are planning on eating at Saltgrass Steak House.
Speak To Someone
The moment you arrive at Saltgrass Steak House, try and get the restaurant manager to come over and talk to you or speak to the staff about your condition.
Additionally, if this causes anxiety rather call ahead and explain everything to them, so they can be prepared and you know what you will be walking into.
Determine whether or not the restaurant has gluten-free options available. Most restaurants these days have gluten-free options on the menu, but they are not all disclosed online.
Speaking to someone directly is always a better approach. This will give you peace of mind and will allow you to enjoy your evening, stress-free.
However, it is important to make sure that the kitchen staff is aware of your aversion to gluten. Find out how they prepare their meals and make sure they know to separate your meal from any other that may contain gluten.
No Visible Gluten-Free Options? No problem.
As previously mentioned, not all restaurants disclose that they have a specific menu for their gluten-intolerant customers.
Sometimes the internal restaurant doesn't have a separate menu at all, but that does not mean you will not be able to eat anything.
Once you have communicated with the staff and everyone is on the same page, you will be able to find something that works for you.
Firstly, salads are always a good idea. Just be sure to avoid croutons, those are a big no-no in the world of gluten! You can even opt for a balsamic vinaigrette if you are wanting a little something extra.
Vegetables are also another great option as they are easy to cook and should already be prepped separately.
Further, meat, fish, and poultry are all gluten-free as long as it is not fried or marinated and doesn't come with a sauce you are not sure of.
Make sure you request that your meat and vegetables are cooked plain, sometimes olive oil and salt go a long way! Only ever ask for meats to be grilled, broiled, or baked on a clean and separate surface to the rest of the food.
Lastly, most dairy products do not contain gluten with some cheeses being the exception. And to fill the meal up a bit more, a plain baked potato or rice should be perfect for you!
Trust the process
More often than not we feel the need to control everything that is going on just to avoid cross-contamination but in reality, you cannot go into the kitchen and cook the meal yourself.
If a restaurant says they have a protocol in place to avoid cross-contamination, trust them.
In this day and age, making sure allergens don't mix is becoming more and more prominent within the hospitality industry thus they know what they are doing.
This is not to say you shouldn't let them know that you are gluten-intolerant or celiac, but just be a bit more patient when it comes to the process of cooking your meal.
Regardless of how strict the protocols are, unfortunately, there is always the risk of allergens mixing.
Cross Contamination Risk
Saltgrass Steak House does not state anywhere on their website that they have strict protocols in place to ensure cross-contamination of allergens doesn't happen. Nor do they address the potential risk it can cause their customers.
This is something to keep in mind when eating here. Cross-contamination is when one allergen gets transferred to another. This can happen in any restaurant and in those that are more known to be fast-paced and busy.
For example, when one is preparing a bun-less burger on a countertop where the buns were kept, cross-contamination of the allergen can occur, putting you at potential risk.
If at any moment you are unsure of your meal and how it was made, it is best to send it back and request something else. It is not worth the risk if you are uncertain.
What People Are Saying?
We have taken the time to source different reviews from the internet about Saltgrass Steak House and the gluten-free food options that they have.
Lucky for us, the majority of the reviews we found were all positive with a 5-star rating. Many customers raved about how delicious their food was and how attentive the staff was when speaking to them about their gluten allergen.
Another customer mentioned that they have introduced gluten-free bread into the mix, making your limitations to eating there even less!
Another customer reiterated how they do not have a gluten-free menu on hand but the staff was helpful on the matter.
Unfortunately, there were one or two negative reviews stating that there was a long wait time but luckily that has nothing to do with whether or not the food was gluten-free!
All-in-all, the 5-star reviews supplied us with a sense of reassurance when it came to eating at Saltgrass Steak House, regardless of the location.
The happy customers and their positive reviews of the delicious gluten-free food are always a relief at the end of the day.
Gluten-Free Alternatives To Saltgrass Steakhouse
Perry's Steakhouse and Grille
This incredible steak house is home to not only some of the best steak you will taste but also many gluten-free options. They have several locations scattered around the U.S so the menu is subject to change from each branch.
Reviewers stated that it was the best steak they had had and their menu had a large variety of gluten-free options on it. So if you are looking for a new restaurant to try out, Perry's Steakhouse and Grille is the one for you.
Del Frisco's Steakhouse
Not only are customers saying this restaurant has great food and a good gluten-free menu, but their staff is also very helpful and knowledgable on the matter.
This restaurant is claimed to be celiac-friendly and even offers gluten-free dessert, which is such a rare find these days! If you are looking to change things up and treat yourself at the end, Del Frisco's Steakhouse has got you covered.