Steak Burgers and Milkshakes aren't really the "ideal" keto food. But Steak 'n Shake has plenty of low-carb options that can satisfy your mid-day cravings! While there's no workaround for the milkshakes, the steakburgers can be enjoyed with a little twist!
So what's exactly keto-friendly at Steak and Shake?
Most of their burgers and sandwiches are low-carb if you ditch the bun. You can also choose from a wide range of keto-friendly ingredients (such as bacon) and have them in a lettuce wrap or as a salad bowl.
They also have plenty of low-carb beverages such as Diet Coke, Bud Light, etc.
What's more, they also have breakfast options that are highly customizable (Yup, more than just eggs, cheese & bacon!).
With such a diverse menu, comes a greater risk of falling into a carb-trap. So I've brought you this ultimate guide that explores EVERYTHING Keto at Steak and Shake.
So read on!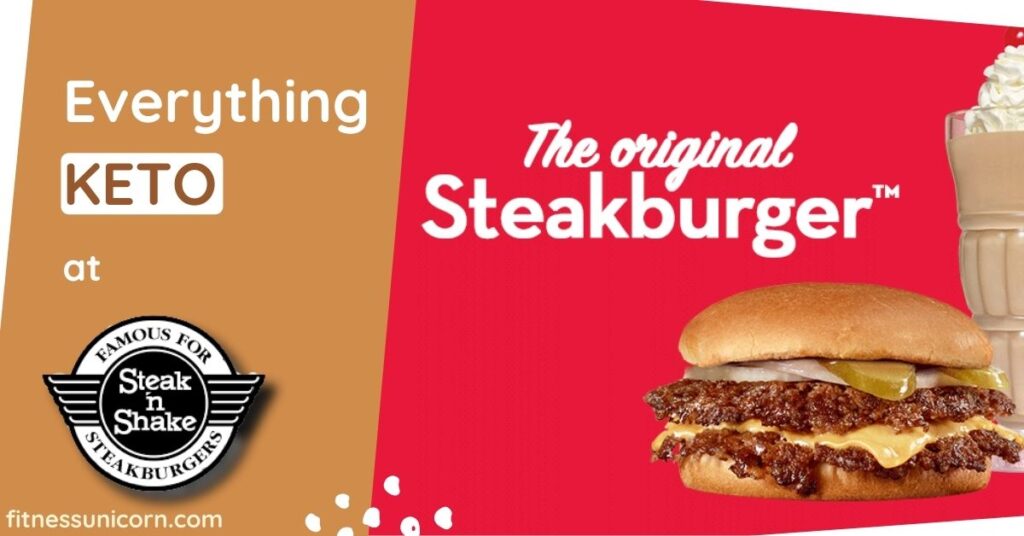 Tired of searching whether certain foods are keto? Download my keto cheat sheet with 210+ keto-friendly foods!
This post may contain affiliate links, which help keep this content free. (Full disclosure)
Surviving Keto at Steak 'N Shake
Founded in 1934 (yup, it's that old!), Steak 'N Shake is now present in over 600 locations across the US, mainly concentrated in the Midwestern US. After Freddy's, this is my go-to burger chain whenever I'm craving some juicy meat patties!
As the name suggests, this place is loved for its steakburgers and hand-dipped milkshakes. Though there are other delicious sides and entrees too! Some of the stores are even open 24×7, catering to a large pool of midnight cravers.
Steak & Shake has a good amount of low-carb options, only if you know how to order them correctly. There are also meals with carb-dense items like bread, sugar, breadcrumbs, etc that can take your carb intake through the roof.
You can choose from their bun-less burgers in order to enjoy the taste with minimum carbs. A burger bun consists of 28g net carbs, which is more than your daily allowed carb limit of 25g.
To enjoy a Footlong or a Hot Dog, again you'll have to avoid the high carb bread and steer clear of sugary sauces such as Ketchup and BBQ sauce. Instead, go with low-carb alternatives like blue cheese or ranch.
They also have a huge variety of beverages, both alcoholic and non-alcoholic. It's important to choose the low-carb drinks and also keep a check on the portions. It's highly likely to fall for more than one glass of wine or beer, so please do not cross the limit.
Although Steak 'N Shake is known for its Milkshakes, unfortunately, there are none for you keto guys. But their huge range of low-carb beverages pretty much makes up for it!
So, without any delays, let's explore what all keto-friendly options Steak & Shake has in store for you.
RECOMMENDED: Gluten Free options at Steak and Shake
Keto-Friendly Options at Steak 'n Shake
Steaks and Shakes have plenty of low-carb options to please your appetite. Let me take you through all of them –
Keto-Friendly Steakburgers (Bunless)
7*7 ( 1g )
Bacon 'n Cheese-Double & SIngle ( 1g )
Bacon Lovers ( 6g )
Cajun Double ( 2g )
Cheddar Cheesy ( 7g )
Garlic Double ( 5g )
Guacamole-Double & Single ( 5g )
Portobello & Swiss ( 7g )
Signature ( 5g )
The Original Double ( 4g )
Single ( 2g )
Triple ( 2g )
Wisconsin Buttery ( 5g )
Mind you, these are all bun-less burgers (since a bun itself contains 28g carbs). Furthermore, you can put add-ons and sauces as you desire (given in the next section).
Keto-Friendly Steakburger Shooters
BBQ ( 15g )
Cajun ( 13g )
Chipotle ( 13g )
Frisco ( 14g )
Garlic ( 13g )
Ketchup & Mustard ( 14g )
Ketchup & Onion ( 14g )
Plain ( 12g )
If you are really craving the bun, you may have a single shooter (i.e. a mini hamburger) out of the options listed above. All of them are available with cheese (without any added carbs!), so you can enjoy them guilt-free on keto!
Footlongs & Sandwiches (Without Bread)
Steak Frank ( 5g )
Classic Footlong(w/Mustard) ( 5g )
Chicken Fingers ( 8g )
Turkey Club ( 15g )
You can customize your footlongs and toss away the bread as it contains 27g of carbs and sandwich bread contains 14g of carbs.
Also Read: Bareburger Low-Carb Options
Salads
Grilled Chicken ( 16g )
Garden Bowl Salad ( 17g )
Small Garden (7g)
Although two of them cross the 15g mark, if you can avoid the sauces and dressings, it'll reduce the carb count drastically.
Low-Carb Salad Dressings at Steak 'N Shake
Blue Cheese ( 2g )
Lite Italian ( 1g )
Thousand Island ( 5g )
Honey Mustard ( 8g )
Ranch ( 1g )
Try not to be too lenient with the sauces, and do more with less.
Sides & Add-Ons
Cottage Cheese (4g )
American Cheese ( 0g )
Grilled Onions ( 2g )
Guacamole ( 1g )
Bacon ( 0g )
Jalapeno Slices ( 1g )
Steakburger Patty ( 0g )
If you can pull off a meal out of these, it will be legendary ( and also low on carbs )
Breakfast Items for Keto
Breakfast Bowl with Hash Browns ( 10g )
Breakfast Bowl without Hash Browns ( 4g )
Egg ( 0g )
Egg Scrambled ( 1g )
Slice of Bacon ( 0g )
Cheddar Scrambler ( 6g )
Hash Browns- Shredded ( 14g )
Probably the best segment of their keto menu is their breakfast, with so much variety and taste.
Breakfast Sides
Bacon ( 0g )
Sausage ( 0g )
Toast-Rye ( 13g )
Toast- Wheat ( 11g )
Low-Carb Beverages at Steak 'N Shake
Budweiser Light ( 5g )
Budweiser ( 11g )
Dos Equis XX Lager ( 9g )
Shiner Bock Draft ( 13g )
Kendall Jackson Chardonnay ( 5g )
Kendall Jackson Cabernet ( 3g )
Melomi Pinot Noir ( 4g )
Fresh Lemonade, Light ( 5g )
Coffee-Brewed decaffianted ( 0g )
Coffee Brewed ( 0g )
Coke Zero ( 0g )
Diet Coke ( 0g )
Diet Dr Pepper ( 0g )
Diet Pepsi ( 0g )
Fuze Raspberry Iced Tea ( 9g )
Reduced Fat Milk – Small ( 14g )
Mountain Berry Blast ( 13g )
Hot Tea ( 1g )
When you get so many low-carb drinks at one place, who would wanna eat, right? (I'm already drooling!)
Tips for Ordering Keto at Steak & Shake
The Steakburger patty, American Cheese, and Bacon are a few of the zero-carb options here.They might come in handy if you have exhausted your carb quota and are still craving for more!
If you are tempted by their sweet milkshakes or desserts, you can seek solace in sugar-free beverages like Diet Coke, Diet Pepsi, etc.
Consider Steak 'N Shake for breakfast: While it's famous for the steakburgers, they have a pretty impressive range of low-carb breakfast options too- Sausage, eggs, bacon, cheese, and whatnot! After all, eggs and bacon are the ultimate keto staple.
Be Cautious of Combos, Deals, and Value Meals: These may sound really affordable and tempting, but chances are that you'll always end up eating more (might even cross your carb allowance!)
What makes a meal keto-friendly? People have been debating this from ages! But the truth is that there is no fixed answer. A keto diet caps your daily carb intake to 20-25g carbs, or 8g carb per meal (assuming you have 3 meals a day). But in practical day-to-day life, you'll end up having more carbs in a meal and then cut back in others to maintain your daily limit.
Does steak and shake have sugar free shakes?
There are no sugar free milkshakes at Steak 'N Shake as of 2021. If you are on the keto diet, or simply cutting back on sugar, go for a Diet Coke instead!
Does steak and shake do bunless burgers?
Yes, Steak 'N Shake is always willing to serve your burger bunless. You can request them to have it in a bowl or wrap it up in a lettuce wrap.
Is steak keto-friendly?
A steak is a thick slice of high-quality meat (generally beef) cooked by broiling or frying. Steaks are extremely keto-friendly because meat always has negligible carbs. But a steak served with sugary sauces (like BBQ sauce) or other carb-dense items (like rice) can't be considered keto-friendly.
What shakes are keto-friendly?
Most shakes served in restaurants are not at all keto-friendly. However, you can build your own at home with dairy-free milk (like almond milk) and sugar-free sweeteners (such as Erythritol).
Conclusion
Evidently, 'Steak & Shake' proves to be a keto king. It offers a complete meal package from burgers to salads to footlongs to low-carb drinks (along with fully-customizable options).
You now have all the tools and weapons to survive keto at Steak 'N Shake. Still, if you wanna know about the different nutritional components of your food, check out their official nutrition guide here.
Till then, Happy Ketoing 🙂
Read Next: Keto at Sheetz Stores