Every generation of hungry diners must have tried Steak n' Shake at any hour, from family dinner to late-night food runs.
There are tons of reasons you should visit this throwback food chain aside from the hand-dipped shakes, delicious steak burgers, and stylish paper hats.
But is there anything gluten-free at Steak and Shake?
Frankly, it may be challenging for anyone with celiac disease or gluten intolerance to eat at Steak and Shake since there are no special menus.
There are still gluten-free options, so you shouldn't worry as much; these include Taco Beef, Coleslaw, and Baked Beans. However, there is no gluten-free bun on the allergen menu, requiring those with gluten sensitivities to order 'bun-less' burgers.
The risk of cross-contamination is always there, especially in places like this. Thus, think twice if it's worth taking the risk.
Fear not, though, because not only will we share with you the available gluten-free options but also some alternatives you should consider when Steak and Shake isn't your thing.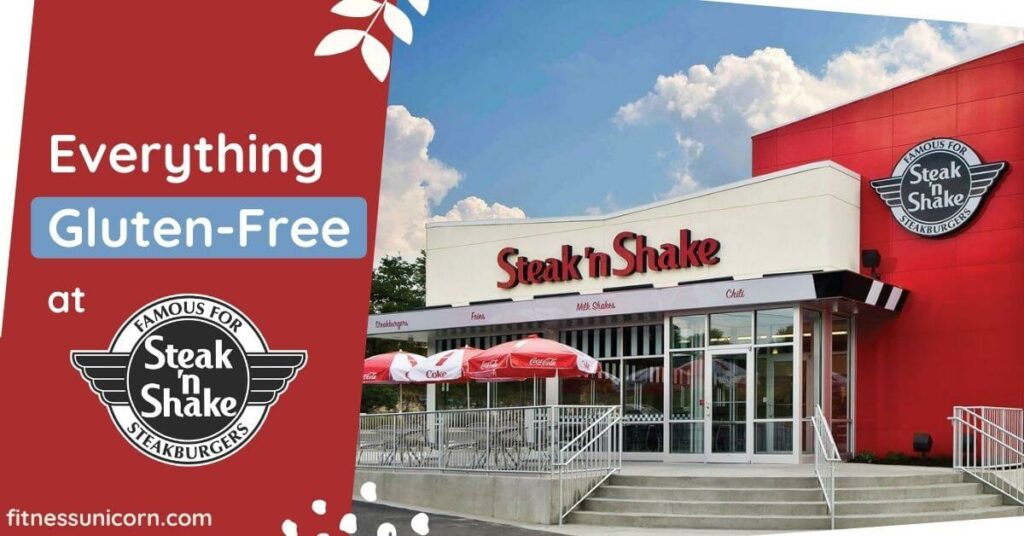 This post may contain affiliate links, which help keep this content free. (Full disclosure)
Steak and Shake Gluten-Free Options
Founder Gus Belt founded the first Steak n' Shake in 1934 in Normal, Illinois. His creation of exceptional burgers and milkshakes is credited for the restaurant's success.
The company has triumphantly lived up to its name and rich heritage for over 85 years. 'Steak' refers to their famous hamburger, while 'Shakes' are hand-dipped milkshakes. Gus was determined to always offer the best after being known for his premium burgers and shakes.
To prove that his burgers were exceptionally sumptuous, he would grind steaks into burgers in front of the guests.
If you worry about being gluten intolerant while still craving American food, you can still give Steak n' Shake a shot! As promised, here are the offered gluten-free options at the restaurant:
Gluten-Free Breakfast Options at Steak and Shake
Cheddar Cheese Sauce
Eggs (they have to be farm fresh)
Sausage Patties
Scrambled Eggs
Cholesterol-free Egg Products
Steakburgers and Sandwiches (with no bread, tortilla shell, bun)
Taco Beef
Grilled Chicken Breast Fillet
Sliced Turkey
Steakburger Patties
Hickory Smoked Thick Bacon
RECOMMENDED: Gluten-Free Options at Marco's Pizza
Gluten-Free Sides at Steak and Shake
Baked Beans
Coleslaw
Cottage Cheese and Pineapples
Deluxe Garden Salad
French Fries
Small Garden Salad
Genuine Chili
Chili
Chili Beans
Chili Deluxe
Chili Beef
Chili Mac Sauce
Chopped Onions
Gluten-Free Milkshakes and Desserts at Steak and Shake
Chocolate Shake
Strawberry Shake
Vanilla Shake
Sundae
Hershey's Special Dark Shake
Very Very Strawberry
Orange Freeze Shake
Hot Fudge Sundae
Orange Freeze
Bits n Pieces Milk Shake
Double Chocolate Chip
Outrageous Parfait
Strawberry Sundae
Low-fat Frozen Yogurt
Premium Vanilla Ice Cream
Gluten-Free Milkshakes Sauces at Steak and Shake
Cheddar Cheese Sauce Dressing
Blue Cheese Dressing
Frisco Sauce
Fat-Free Italian Dressing
Honey French Dressing
Thousand Island Dressing
Honey Mustard Dressing
Buttermilk Ranch Reduced Calorie Dressing
Gluten-Free Beverages at Steak and Shake
Tea
Soft Drink
Coffee
Milk
Orange Juice
Hot Chocolate
ALSO READ: EVERYTHING Gluten-Free at Bonchon
Tips For A Gluten-Free Meal At Steak And Shake
Wait, can you still eat a gluten-free meal at a restaurant that isn't gluten-sensitive or celiac-friendly? Of course, you can! We'll show you the tips you need to make it possible!
Always Give A Heads Up
Any gluten-sensitive person visiting a restaurant that isn't gluten-friendly should always give the waiter a heads up.
For instance, Steak and Shake doesn't have a separate fryer for their fries. After being alerted of your health condition, they may find a way to prepare a safer meal or tell you that preparing an allergen-free meal is impossible for them.
The risk of cross-contamination is always inevitable. Inform the staff about your concerns about it or simply request your preferred meal without the buns.
It Isn't Worth The Health Risk
No meal is worth the health risk. If you're eyeing to eat at a restaurant that isn't very gluten-friendly, like Steak and Shake, you can always opt to eat at an alternative restaurant like the ones provided in the following section.
Other restaurants understand that some clients have varying allergies. Thus, they put out their menu for customers to see and study which item is worth it.
Talk Directly To The Chef Or Manager
From the server to managers or chefs, back-and-forth relaying of questions is inefficient and often overlooks complex requests such as avoiding cross-contamination (which is never easy). Ingredients may get mixed up in the process.
The server may also not know the preparation of gluten-free meals, regardless if he claims otherwise. You can never be sure unless you ask tons of questions. Besides, meal preparation is the kitchen staff's job, not the servers.
Ask to directly speak with the chef rather than entirely trusting your server to get everything right. Chefs are well-versed with these requests and are always willing to assist people with food allergies.
Check the Steak and Shake Website For More Details
Restaurants often share the menu's nutritional information on their website or during your physical visit to their place.
Before visiting, check out Steak and Shake's website to understand the menu's nutritional details and see if some items are prepared using ingredients that can trigger allergies.
For example, Steak and Shake fries aren't gluten-free because there is no dedicated fryer for their preparation. These are things that you must look out for. They can be trivial but definitely lifesaving.
Cross-Contamination Risks
Cross-contact occurs when gluten grains such as wheat, barley, or rye are close to gluten-free food. Contamination can also occur when food is prepared or cooked with the same equipment used in gluten-containing food.
Similarly, if gluten particles are not adequately removed from surfaces or utensils before food contact, they can contaminate gluten-free foods they contact with through these surfaces.
Thus, there is always a high risk of cross-contamination because Steak and Shake isn't solely gluten-free. More likely than not, restaurants like this publish a disclaimer on their websites.
Their meals are likely prepared in the same fryers or space since they never claimed to be a gluten-free restaurant. It is now up to you to decide if it's still worth the risk or not.
According to one of the reviews, trusting the restaurant for zero cross-contamination in meal preparation is not recommended.
Although some meals do not contain allergens like milk. Regardless, the non-dairy items are still prepared in fryers used in cooking gluten-containing foods.
What People Are Saying
One interviewee said that Steak and Shake has no gluten-free menu or any dedicated gluten-free fryers. The servers had no clue of the extra precautions needed for celiac patients or what gluten sensitivity is.
Moreover, he said that his chili deluxe order, topped with well-chopped onion and cheese, tasted more like canned chili. Overall, he rated his experience with two stars. He later confirmed that the chili didn't make him sick.
Another user believes that the best gluten-free item on the menu was the 'mediocre' garden salad coupled with runny chili. Internal documents also have salad except for salad containing wheat.
He still gave the restaurant a poor rating though.
Other users don't seem to have problems with the other gluten-containing options. However, some users attest to the fries making them sick despite that there was a separate fryer for it.
One person says that the waiter and cook weren't knowledgeable of gluten sensitivity or celiac disease. The supposedly gluten-free coleslaw and chili were, in fact, not gluten-free after she experienced a violent reaction after consumption.
Thus, going back to eat there is crossed on her bucket list. She also confirms the presence of cross-contamination.
A disappointed customer claims that the fries aren't gluten-free despite the waiter's claim that it was safe to eat the said meal.
She further states that the waiter should have had a level of understanding as far as celiac or gluten sensitivity is involved. Moreover, the restaurant had no dedicated fryer intended for gluten-sensitive customers.
Gluten-Free Alternatives To Steak And Shake
Even though Steak and Shake is an ideal place for those with gluten sensitivity or celiac disease, there are still other available options for you. Besides, you may be looking for a specific item that isn't on their menu.
This section will guide you through other alternatives to Steak and Shake:
Wendy's
Unfortunately, Wendy's isn't a typical gluten-free restaurant. Nonetheless, you'll be fine by just skipping the buns of their burgers.
Like any other fast-food chain, Wendy's also has an extensive food selection. The website explicitly states that Wendy's isn't gluten-free since some of their items contain wheat. So– are there gluten-free items at Wendy's?
Chili
Variety of baked potatoes with toppings
Taco salad
Frosty
You can check out their salad with no fried chicken. The croutons are somewhat gluten-free, too.
Wendy's might not be the perfect spot for a gluten-free menu. Undoubtedly, there are still a few gluten-free options you can try!
Like for any other fast-food restaurant, keep an eye out for cross-contamination especially in places that clearly state not having an intended gluten-free environment.
Chipotle
Yes, their full-blown burrito is definitely worth indulging in— if you don't suffer from gluten intolerance (sorry!) Chill out; you can still get a gluten-free taste of Chipotle by getting a Chipotle burrito bowl or corn tortilla.
All fixings are available without the flour tortilla, which must be avoided. Choose from rice, meat, beans, or any fixing you prefer. You can even enjoy their salsa and guacamole with tortilla chips.
Chipotle is indeed one of the more gluten-free restaurants you can find on this list by allowing people to watch the food preparation through an assembly line!
Five Guys
If you're a five-guy fan, we have some good news: gluten-free meals are now available at Five Guys. How? Forgo the buns.
You can also check the chart on their website for gluten sensitivities or other food allergies. The toppings on the menu are similarly gluten-free.
You can also opt to get burgers with lettuce rather than buns. Most importantly, their fries are prepared using a gluten-free fryer, which is commendable for this restaurant.
Some of the gluten-free options on the menu are:
Hot dogs
Fries
Burgers with no buns
Plain milkshakes
Chick-Fil-A
Although this spot isn't really gluten-free, there are still a few options worth trying, including their gluten-free buns. Yes, you heard that right. Chick-Fil-A offers gluten-free buns.
Their unique buns are, in fact, a big deal, although it sounds quite trivial. Other gluten-free items offered include:
Grilled chicken
Waffle potato chips
Side salads
Fruit cups
Grilled chicken nuggets
Added bacon without breading
Anyone can get a great meal at Chick-Fil-A! But if you're a celiac or with any gluten sensitivity, just give the staff a friendly heads-up when ordering to eliminate any risk of cross-contamination.