The quickly growing prominence of gluten-free meals over time is truly amazing, isn't it?
Even typical fast-food joints with gluten-rich meals are joining on board by offering more inclusive choices for celiacs and those with non-celiac gluten sensitivity.
Although not all fast-food chains and casual dining places offer excellent gluten-free options, some are naturally better than others.
Jack In The Box has all in one package! Get all the food you want in one place— name it, they have it: burgers, chicken sandwiches, fries, tacos, breakfast, and milkshakes.
However, do they have gluten-free options at Jack In The Box?
While there isn't a separate menu for gluten-sensitive customers, Jack In The Box luckily features an excellent selection of dishes that may pass as gluten-free. Some of which are their salads such as the Chicken Club Salad and sauces like the Tartar Sauce.
Keep an eye out for some items not fit for a gluten-free diet. These include the creamy Italian sauce, vanilla and strawberry shakes, sandwiches, and burgers prepared with gluten-rich bread.
On their website, Jack In The Box says that their products are made and served with soy, egg, fish, milk, and wheat.
While an ingredient statement does not include one of the said allergens, they may prepare other dishes with the same equipment used in other products containing one or more of the allergens.
Thus, you should take extra precautions in determining which food can be consumed at their restaurant if you have any food allergies.
We also advise you to regularly check their Ingredient and Allergen information since the menu and ingredients are subject to change.
Without further ado, here are the gluten-free items at Jack In The Box: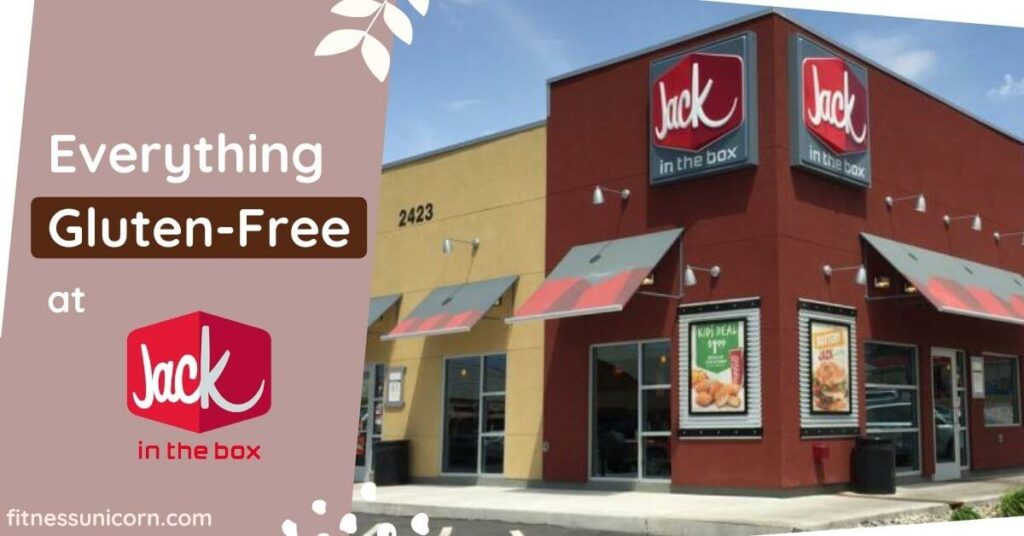 This post may contain affiliate links, which help keep this content free. (Full disclosure)
Jack In The Box's Gluten-Free Options
Jack In The Box, founded in 1951 in San Diego, California, is a successful fast-food restaurant famous for its sandwiches. Its headquarters are still located in San Diego.
It operates almost 2200 locations across the West of the United States and in a few cities in the East. With this expansion, many view them as the industry leader in the fast-casual dining industry.
Each of the chain's restaurants features food using a myriad of exceptional ingredients, innovative menus, artisan cooking, and warm service. It does so by rotating the menu frequently and providing the best taste.
After knowing what the restaurant is all about— let's walk you through their gluten-free options.
Sides
● Hashbrown Sticks (5 pcs.)
● Chiquita Apple Bites with caramel
Gluten-free Sauces and Condiments at Jack in the Box
● Buttermilk House Dipping Sauce
● Fire Roasted Salsa
● Frank's
● RedHot
● Buffalo Dipping Sauce
● Honey Mustard Dipping Sauce
● Log Cabin
● Syrup
● Sweet & Sour Dipping Sauce
● Tartar Sauce
● Zesty Marinara Sauce
● Substitute Sauces Allergens Soy Egg Fish Milk Peanuts
RELATED ARTICLE: What's Gluten-Free at Dutch Bros?
● Chipotle Sauce
● Creamy Italian Sauce
● Creamy Ranch Sauce
● Mayo-Onion
● Mustard
● Peppercorn Mayo
● Sun-Dried Tomato Sauce
● Fire Roasted Salsa
● Grape Jelly
● Grilled Onions
● Ketchup
● Mayonnaise
● Mustard
● Pride Margarine Spread
● Red Onion
● Secret Sauce
● Sour Cream
● Strawberry Jelly
● Taco Sauce
The following selection features salad choices without wheat or gluten. We want to reiterate, however, what Jack In The Box's Allergen Handbook states: "Allergen information does not include salad dressing or crunch toppings."
RELATED: Gluten-Free Options at Steak and Shake
Gluten-free Salad
● Chicken Club Salad with Julienne Chicken
● Grilled Chicken Salad
● Side Salad
● Southwest Chicken Salad with Julienne Chicken
Shakes & Desserts
● Shake, Chocolate with Whipped Topping
● Shake, Strawberry with Whipped Topping
● Shake, Vanilla with Whipped Topping
FIND MORE: Everything Gluten-Free at Marco's Pizza
Drinks
● Barq's Root Beer
● Coca-Cola
● Coffee, High Mountain Arabica (Regular & Decaf)
● Dasani Bottled Water
● Diet Coke
● Diet Dr. Pepper
● Dr. Pepper
● Fanta Orange
● Fanta Strawberry
● Gold Peak Classic Blend Iced Tea
● Hi-C Fruit Punch
● Iced Coffee, Caramel M x
● Iced Coffee, Mocha M x
● Iced Coffee, Original M x
● Jumpin' Jack's Splash
● Jumpin' Jack's Splash, Diet
● Milk, Low Fat 1% M x
● Minute Maid 100% Apple Juice
● Minute Maid Lemonade
● Minute Maid Orange Juice
● Sprite
Tips For A Gluten-Free Meal At Jack-In-The-Box
Dining out while being on a gluten-free diet can be gruesome, right?
Although many of these restaurants have "gluten-free" options, how can anyone be confident that there are existing measures to eliminate cross-contamination and that all items used are completely safe?
To bid your worries adieu, we'll give you some valuable tips that will help you know if your meal is safe to consume or not when dining out at a restaurant that isn't gluten-free.
Look Up The Restaurant's Menu Online
If feasible, download your preferred restaurant's menu online before your visit and share them with the companion you'll be eating with. For Jack In The Box, their menu is displayed and regularly updated.
Check Out The Allergy Guide
The Allergy Guide is a great deal if you're going to eat at Jack In The Box. Fortunately, their allergy guide is easily accessible on their website, or ask for it when you walk in.
An allergy guide informs you about any possible allergens, such as gluten, wheat, or soy, included in the dishes or their components. However, this guide does not eliminate the risk of cross-contamination, which can still occur in the kitchen.
Call Ahead Of Time
Calling the restaurant prior to visiting, on that day or a day before, improves your overall dining experience and promotes safety. You can ask the chef to go through the available food options for your needs.
Inquire With The Server Or Chef If Gluten-Free Options Are Available
It is always better to speak with the restaurant's manager or chef because some waiters are unsure of how "gluten-free" a dish can be since they aren't responsible for the preparation. Regardless of their doubts, servers may still tell diners that their meal is gluten-free.
Dine Early or Late
Avoid dining during "rush hour" to maximize the staff's time in assisting you. Have your meal before or after the busiest mealtime for everyone. If not, then even the most accommodating server may not be able to attend to your needs.
Before You Begin Dining, Confirm Your Order
Confirm with your server if they followed your gluten-free specifications in the meal preparation and that what you've been served is the "special" dish you intently requested.
Don't Overcomplicate Your Custom Order
When all else fails, and there isn't anything on the menu that meets your needs, you can ask the kitchen to customize a meal simply by mixing up a rice salad or grilling or steaming fish and vegetables.
A simple customized order gives you a better chance of avoiding gluten when dining out because a gluten-free meal is always prepared in almost every kitchen when kept simple.
You can do so by selecting dishes with the fewest ingredients and by avoiding items with sauce or marinades. To be particularly aware of your salad dressing's components, ask for salt, pepper, lemon juice, olive oil, and lemon on the side.
Lastly, brace yourself with extra patience. Modifying the preparation of particular dishes slows down the production a bit. Hence, you should be aware of it and allow the chef to take more time to provide you with a safe, gluten-free meal.
ALSO READ: Church's Chicken Gluten-Free Options
Relax And Enjoy Your Gluten-Free Meal!
After doing your homework, it's now easier to relax and sit back as you enjoy your gluten-free lunch! Be wary of the menu, regardless of how gluten-free it appears, by being more cautious than an allergy-free person would by asking the right questions.
Cross-Contamination
The worst of it all comes cross-contamination, which occurs when a gluten-free food item directly or indirectly contacts an item containing gluten.
Picture buttering a gluten bread with a knife, then the same knife is used in buttering a gluten-free bread. Or when pouring wholemeal flour into the container with gluten-free flour.
These instances of cross-contamination pose critical harm for celiac disease patients, even with just a trace of gluten. Thus, celiacs must avoid cross-contamination in all circumstances as they maintain a rigorous gluten-free diet.
However, a restaurant cannot be liable for cross-contamination if clearly declared possible. Note that most of the food on Jack In The Box's gluten-free menu is prepared using shared kitchenware, proving the risk of cross-contamination.
What Others Have To Say
We gathered the opinions of some Jack In The Box visitors online, together with some personal interviews. Well, what did they say?
Some users can not believe that their French fries could be gluten-free since there is no special fryer.
An interviewee says that Jack In The Box stands out for its customer service out of all fast-food restaurants they've ever tried. The staff is concerned for the customers.
Alison raves about the restaurant's grilled chicken pieces and mashed potatoes.
The grilled chicken is completely on the top tier compared to anything on the standard menu, but you may need to inquire about it before ordering since it isn't advertised well. The hash browns are also available all day.
Gluten-Free Alternatives To Jack In The Box
Lili and Loo
If you didn't have any reason to visit Midtown East before, now you have one! Lili and Loo are famous in the city for serving some of the most sumptuous gluten-free Asian fusion cuisines.
Satiate your appetite with their extensive gluten-free menu, ranging from Pad Thai noodles, Pork dumplings, and Thai basil chicken down to their rainbow volcano sushi roll.
With heaps of alternatives to choose from, you definitely won't feel like having a food restriction. Lili and Loo's Oriental Pork Dumplings are some of the best around— one to die for.
Take a bite of their spiced pig meat packed in a soft, fluffy, gluten-free encasing to eliminate any more desire for dumplings.
The Beet Table
With the menu built on a mission statement for its guests, everything gluten-free on the menu shall include Ipswich Saison, soup bowls, and cavatelli.
The dynamically changing main courses offered at The Beet Table include the strip steak and the roasted branzino. Some see this restaurant as the slightly more formal version of the fast-casual place, Little Beet.
Boston Market
The chain spotlights an extensive range of meals and sides on its gluten-free menu, which gluten-sensitive customers can enjoy.
You can choose from their most refined, gluten-free dishes such as Turkey breast, roasted vegetables, steamed salad with Southwest Cobb Dressing, Holiday Ham, Rotisserie chicken, and Thanksgiving turkey.
Even their gravy is gluten-free. Unfortunately, Boston Market doesn't offer gluten-free desserts.
Conclusion
That's it! Eating with dietary restrictions isn't the end of the world as it seems.
Hopefully, this guide summarizes everything you need for your next visit to Jack In The Box if you (hopefully!) find a good gluten-free dish that will satisfy your needs.
Like always, it's best to educate yourself before visiting any restaurant. Know their menu, determine if they can accommodate specific requests, or call the chef if the restaurant can mix up a customized meal for you!
If none of these ways work out, it would be best to look for an alternative rather than to compromise your health. Ultimately, that gives you a 'win-win' sort of situation of enjoying a meal while also being safe!