Have you had a Whataburger? If not, you're probably thinking of getting one right now— which is why you're reading this! Texas residents are likely to be aware of Whataburger's menu.
This popular place just celebrated its 70th-anniversary last year, proving its success in the fast-food industry.
You're probably curious about their famous menu, right? This begs the question: is there anything gluten-free at Whataburger?
Truthfully, Whataburger isn't an ideal option for people looking for exclusively gluten-free choices. However, this shouldn't discourage you!
There are still options that are safe to consume for gluten-sensitive clients, such as Garden Salad, Chicken Salad, and anything on the drinks and dessert menu.
Sandwiches can also be safe by requesting to make the "bun-less" burger, making it gluten-free. These burgers are usually deconstructed since lettuce wraps are often unavailable.
If you suffer from Celiac disease, then it would be best to avoid places that do not specifically accommodate the requests of customers with food allergies. There is a higher risk of cross-contamination, resulting in serious health consequences.
After getting that clear, let's now get into the complete gluten-free options at Whataburger. We'll try to explore the little they offer since there isn't much on the menu.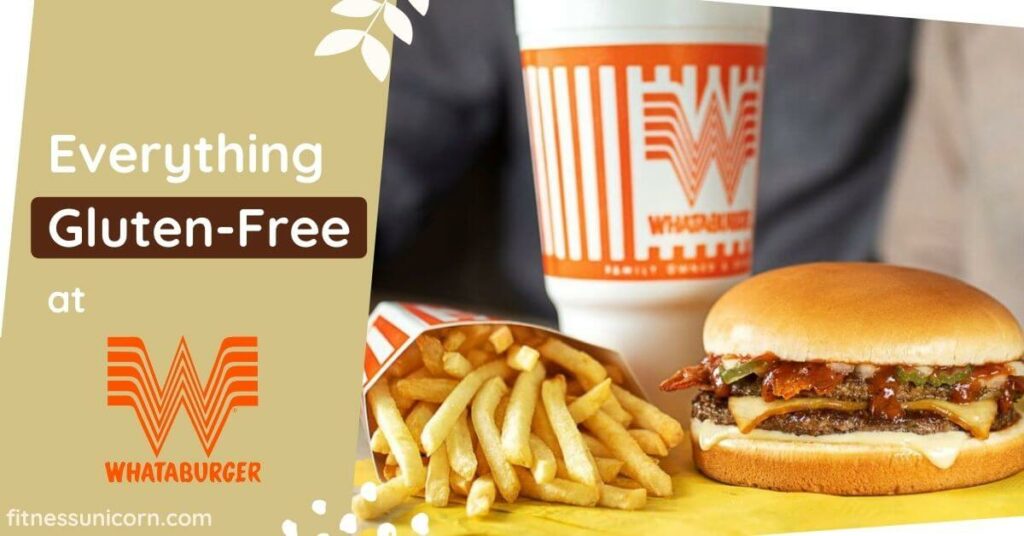 This post may contain affiliate links, which help keep this content free. (Full disclosure)
Whataburger Gluten-Free Options
Whataburger, situated at Corpus Christi in Texas, is a fast-food restaurant chain founded in the fifties during the golden age for drive-in restaurants after a decade of suffering from recession and oil shortage.
Harmon Dobson founded the company, starting with his own little burger stand. People started to experience something new, thanks to his burgers.
Customers found it impossible to eat Dobson's burgers without using both hands since the burgers' length stretched up to 5 inches!
With the success of Dobson's idea, Whataburger quickly expanded to other markets. The restaurant successfully built about 20 locations by the end of the decade, with Pensacola, Florida, as its first location outside Texas.
Among the first ones to sign on to the chain was Grace Williamson, Dobson's long-time girlfriend, whom he married in 1955.
Moving on to their current menu, we've compiled Whataburger's few gluten-free options. Heads up! These items are still at risk for a high possibility of cross-contamination with traces of gluten.
Gluten-Free Salads at Whataburger
Garden Salad
Apple and Cranberry Chicken Salad
Gluten-Free Sandwiches at Whataburger
Eggs with no bun
Burger with no bun
Grill chicken with no bun
FIND MORE: What's gluten-free at Baskin Robbins?
Gluten-Free Shakes and Desserts at Whataburger
Fruits Chews
Vanilla Shake
Dr Pepper Shake
Chocolate Shake
Strawberry Shake
Gluten-Free Sides at Whataburger
Hash Brown Sticks
Apple Slices
Apple Slices
Gluten-free Drinks at Whataburger
Beverages
Coca Cola Soft Drinks
Sweet and Unsweet Tea
Coffee
Simply Orange Juice
Chocolate Milk
RELATED: What's Gluten-free at Popeyes
Tips For A Gluten-Free Meal At Whataburger
Navigating a gluten-rich menu like Whataburger's to search for a gluten-free meal can be challenging. No worries, as we've done the heavy lifting part for you.
Their burgers, for instance, are prepared using beef patties and condiments like jalapeno— a high-calorie sauce. This being said: we are sharing some handy tips that you may want to adhere to!
Look Out For The Diet Specifications
Unfortunately, Whataburger lacks some diet-specific options. But, there are still available choices for customers with dietary requirements ranging from gluten-free, vegan to low-carb.
Beverages and a few salad options are good-to-go for those with gluten-free diet specifications.
For example, Whataburger's apple and cranberry chicken salad tops the restaurant's most nutritious options!
Overall, extra precaution is needed when dining at Whataburger since it isn't a gluten-friendly place.
Ask When In Doubt
It's always best to ask the waiter about the menu's possible allergens and their safety procedures when an emergency occurs. You may also check their website for in-depth information on allergens before your visit.
Request for appropriate modifications if the meal you are served isn't what you expected. If you become wary, a burger can be ordered without a bun, and a salad can similarly be served without cheese or dressing.
ALSO READ: EVERYTHING Gluten-Free at Panda Express
Choose Your Dishes Wisely
There are still other options out there if Whataburger isn't exactly your thing!
A good head start would be to look at ethnic restaurants since a lot of them offer gluten-free options. These gluten-free restaurants train their staff on safe food preparation, including preventing cross-contamination.
Eating at a local eatery might be another sound option, although careful choices should still be made. You may feel unsafe with flour particles floating in the air of your local bakery or café or when gluten-free options are unavailable.
Hence, a restaurant that makes most of its food from scratch is your best bet.
Cross-Contamination Risks
Of course, the Achilles' heel of people with celiac disease is cross-contamination.
Be very wary of cross-contamination in gluten-rich food such as hash browns, French fries, etc. The same fryers are used for most meals. Whataburger's meals on the menu comprise ingredients expected from a regular fast-food's menu.
While the gluten-free menu is typical of those in traditional fast-food places.
This common gluten-free item is the bun-less burger. What's the twist with Whataburger, then? If they make it, it will be worth it. Customers surely won't be missing out on anything.
Whataburger's fries are also safe, although you should watch out for the fryer they use in the preparation. While their usual Apple and Cranberry salad should definitely be on every gluten-sensitive person's menu.
All in all, Whataburger isn't the most gluten-friendly place if you have celiac disease or sensitivities to gluten. Besides, they never prided the place as a gluten-free restaurant. Thus, it should be every customer's responsibility to be extra careful when going there for a gluten-free meal.
Otherwise, there are still some alternative restaurants that we compiled for you. Before we go to that, let's look at what other people have to say first about Whataburger!
What People Are Saying
While traveling to Alabama, an interviewee stopped by a Whataburger. She ordered the burger with bacon and avocado without the bun and told the waiter about her gluten allergy.
Luckily, the waiter who brought her food changed his gloves and marked her burger as "special" which she loved. Jessica also says that their fries are fairly gluten-free, although they weren't prepared in a special fryer.
Overall, she had a great experience.
One reader says that the waiter offered to prepare the grilled chicken differently and served it with no buns. The waiter also asked if she preferred to have their gloves changed.
Unfortunately, she ran the Nima Gluten Test and found that the meal was not gluten-free. She also discovered that the same oil was used for the fries and onion rings.
So she tells those with celiac disease or gluten sensitivities to avoid eating at Whataburger.
A user claims that he was impressed by the staff's knowledge on the matter. He says that the staff had assured him that all precautions were observed to avoid cross-contamination.
Aside from the food tasting good, he mentions that the fries were prepared using a different fryer.
Gluten-Free Alternatives To Whataburger
As promised, we also compiled the following alternatives after letting you know that Whataburger isn't the best ideal option if you are gluten-sensitive or with celiac disease.
Keep on reading to find out more about the alternative restaurants we prepared for you!
ALSO READ: Church's Chicken Gluten-Free Options
Wheat's End Café
As its name suggests, Wheat's End Café offers a range of "no-no" foods such as pancakes, biscuits, chicken, and waffles. Celiacs and gluten-free food lovers can happily enjoy brunch at this gluten-free place!
There are tons of gluten-free options available to satisfy any of your breakfast cravings which includes cinnamon rolls, biscuits and gravy, and omelets! Other food allergies are also accommodated at Wheat's End Café.
Senza Gluten
Zero gluten enthusiasts can enjoy Italian food made delicious again at Senza Gluten in New York! You can expect your usual finds like a great selection of pasta, lasagna, and pizza along with their classic desserts like tiramisu.
Truly, dining at New York's Senza Gluten gives you a refined and pleasurable experience despite not eating strictly gluten-free!
Bonefish Grill
If you're someone who'd die for fresh seafood, then Bonefish Grill is the best spot for you. This upscale restaurant will surely leave you thrilled with its top-notch gluten-free menu, unlike Whataburger.
Thankfully, most of the seafood dishes are gluten-free.
Bonefish Grill has healthy selections on the menu, from appetizers to salads. You can start your meal with one of their seafood delicacies. Then dive into your seafood dish, a chicken entreé, or just a plain steak.
Some of the gluten-free items on their menu include:
Filet Mignon or Lily's Chicken
Mussels Josephine appetizers and Seasonal Vegetables
Grilled fish with gluten-free sauces such as lime tomato, mango salsa, lemon butter, or chimichurri.
Classic Caesar salad with no croutons or Bonefish House Salad
You also got an option for the dessert: the Macadamia nut brownie spiced with raspberry sauce.
Carrabba's Italian Grill
Can an Italian restaurant be gluten-free? This is an entirely logical question that can cross anyone's mind. But this restaurant is, indeed, gluten-free.
Owned by the same company that founded the Bonefish Grill, Carrabba's Italian Grills is currently located across over 30 states in the United States.
There are several gluten-free items on the menu. For starters, you can get their famous grilled asparagus with Italian lettuce wraps, prosciutto, tomato Caprese, Mama Mandola's chicken noodle soup, or minestrone.
You can also try their strawberry salad which is just one of their well-known salads. But, anyone with celiac disease or gluten sensitivities should give this place a heads up. You'll be good, just an entreé that isn't prepared on their grills.
Regardless, it's best to ask your server prior to order to eliminate the risk of cross-contamination.
Chili's Bar and Grill
We have Chili's Bar and Grill, located across the United States and in 30 other countries worldwide, as our last alternative. Their gluten-free menu features a wide selection of items.
Thanks to this, their restaurant fits into the "casual dining" category more than it does in the fast-food section.
These are some of the gluten-free options on the menu:
Ancho Salmon
Richly baked potato soup
Craft burgers with no buns
Baby back ribs
Santa Fe grilled chicken salad
Quite of bad news though, Chili's says that they are not responsible for any flaw because their gluten-free items are mainly based on their food suppliers.
They've also added a disclaimer saying that the absence of gluten in their meals cannot be guaranteed.
​​Conclusion
No matter how awfully delectable their food looks, it is undoubtedly better to be safe than sorry. Thus, steering clear of Whataburger is best for those with gluten allergies.
But if you really fancy one of their burgers, keep our tips to heart to ensure a safe and pleasant experience while dining! Remember that an ounce of prevention is always better than a pound of cure.
If worse comes to worst and zero gluten cannot be assured, you should probably look out for one of our alternatives already. Don't worry because you can still treat yourself to a nice meal at one of these places!
After all, your health should be your top priority over the temporary pleasure of a potentially unsafe meal.