There's nothing like a scoop of delectable ice cream on a hot summer day. Whether you're celebrating an achievement or feeling a bit low, ice cream makes everything better. And what better place to get it than Baskin Robbins.
Baskin Robbins came into being in 1945 when two ice cream enthusiasts, Burt Baskin and Irv Robbins, set out to bring a revolution in the ice cream industry.
They reimagined ice cream by creating 31 unique flavors other than the usual chocolate, strawberry, and vanilla. Today, they boast over a thousand unique flavors that pay homage to the founders and their love for ice cream.
When it comes to Baskin Robbins, your dietary preference doesn't matter. With such a wide variety of flavors, they can cater to almost everyone.
So what's gluten-free at Baskin Robbins?
Baskin Robbins offers an expansive range of gluten-conscious flavors prepared without compromising the quality or taste of the ice cream.
There are about 30 gluten-free flavors, ranging from fruity and nutty to decadent chocolate and coffee ice creams, a little something to please every palate.
The exciting menu at Baskin Robbins also offers a range of gluten-free beverages like smoothies, milkshakes, and coffees. Other than that, you can also enjoy some of their signature sundaes that do not contain gluten.
Having said that, the risk for cross-contamination is ever-present. Baskin Robbins has plenty of gluten-containing items on their menu, like the ice cream cones, cakes, and a few flavors.
This increases the risk of cross-contamination significantly if the staff isn't following stringent protocols.
Hence, if you suffer from Celiac disease or a severe form of gluten sensitivity, it's paramount that you practice extreme caution with the food you consume.
This article is going to be an in-depth scrutinization of the Baskin Robbins menu to filter out all the possible gluten-free options.
We've conducted some hefty research to shortlist all the items safe to consume and come up with some pro-tips that will help you stay away from gluten on your next ice cream escapade.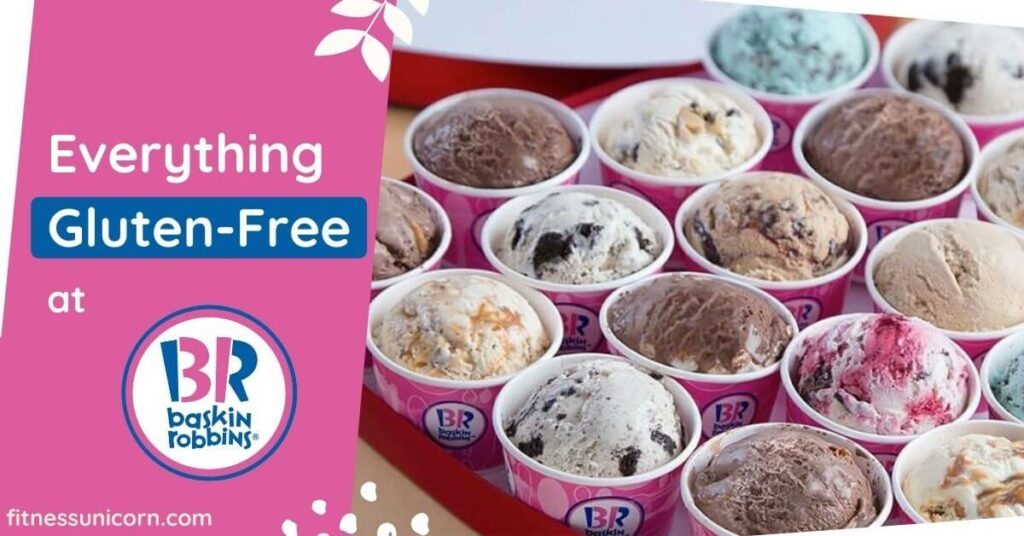 This post may contain affiliate links, which help keep this content free. (Full disclosure)
Gluten-Free Options at Baskin Robbins
Baskin Robbins has been around for over 75 years. During this time, they've created an ice cream empire that has expanded to over 7800 stores across 50 countries.
This immense success is a true tribute to their success and dedication to serving some of the best ice creams in the world.
They are constantly pushing to create unique flavors of ice cream. With over 1400 flavors in constant rotation, Baskin Robbins offers options for people with most kinds of dietary restrictions.
Baskin Robbins has a dedicated list of gluten-conscious ice cream flavors with complete nutrition guides available on their website. In their stores, they mark their gluten-free ice cream tubs as gluten-conscious.
We're going to be taking a look at their most popular flavors, along with their sundaes and beverages.
Disclaimer: Ask the server to use a clean scooper along with a fresh pair of gloves. Also, order your ice cream in a cup; all the cones at Baskin Robbins contain gluten.
Icecream Flavors
Baskin Robbins has almost 30 gluten-free flavors. We'll be looking at some of the most popular ones below.
Gold Medal Ribbon
Rich chocolate and vanilla ice cream with a caramel ribbon running through the center. This one's a true fan favorite.
Chocolate Fudge
A decadent blend of creamy chocolate, perfect for true chocolate lovers!
Jamoca Almond Fudge
This is one of my personal favorites. The perfect combination of Jamoca, rich chocolate fudge, and roasted almonds.
Mint Chocolate Chip
Cool minty ice cream coupled with chocolate chips makes for one of the most popular flavors of ice cream in the world.
Peanut Butter 'n Chocolate
Another one of my all-time favorites. Swirls of delicious peanut butter incorporated into rich chocolate ice cream.
Rainbow Sherbet
A delicious blend of raspberry, pineapple, and orange sherbets.
Triple Mango
A blend of real mangoes, mango sorbet, and sweet mango ribbons is incorporated into their delicious mango ice cream. If you love mangoes, this one's for you.
Cotton Candy
Your favorite carnival treat in the form of ice cream. The kids love it and I know the adults secretly do too!
Golden Hour
Salted honey-flavored ice cream with swirls of strawberry lemonade running through it.
Daiquiri Ice
Lime flavored ice with a splash of rum flavoring.
Other Gluten-Free Flavors
Watermelon Burst Sorbet
Ube Coconut Swirl
Baseball Nut
Cherries Jubilee
Caramel Turtle Truffle (no sugar)
Chocolate
Chocolate Chip
Jamoca
Nutty Coconut
Pineapple Coconut (no sugar)
Pink Bubblegum
Pralines 'n Cream
Reese's Peanut Butter Cup
Rocky Road
Non-Dairy Salted Fudge Bar
Vanilla
Fat-free Vanilla Frozen Yogurt
Very Berry Strawberry
Wild 'n Reckless Sherbet
World Class Chocolate
ALSO READ: Gluten-Free Options at McAlister's Deli
Sundaes
Baskin Robbins has an amazing selection of gluten-free sundaes that will have you coming back for more!
Banana Royale Sundae
Two gluten-free ice cream flavors of your choice are topped with bananas, caramel praline, chopped almonds, whipped cream, and a cherry.
Classic Banana Split
Three gluten-free ice cream flavors of your choice are topped with two banana slices, toppings of your choice, roasted almonds, whipped cream, and cherries.
Reese's Peanut Butter Cup Layered Sundae
This sundae is so rich and decadent that it's to die for! Three scoops of Reese's peanut butter cup ice cream are topped with Reese's peanut butter sauce, chopped Reese's peanut butter cups, hot fudge, and whipped cream.
Scoop Sundae
You can get the scoop sundae in a single, double, or triple serving. Your favorite gluten-free ice cream will be topped with hot fudge, whipped cream, nuts, and cherries.
RECOMMENDED: What's gluten-free at Dutch Bros?
Beverages
If you're not big on ice cream, Baskin Robbins has a selection of amazing gluten-free beverages that you can enjoy.
Tiger Milk Bubble Tea
The tiger milk bubble tea is regular bubble tea that is topped off with a scoop of vanilla ice cream. The perfect drink for a hot summer day.
Cappucino Blast
The cappuccino blast at Baskin Robbins is a combination of fresh coffee with a scoop of gluten-free vanilla ice cream. It makes for the perfect pick-me-up!
You can enjoy the cappuccino blast in 4 delicious flavors that are free of gluten.
Original Cappuccino Blast
Caramel Cappuccino Blast
Mocha Cappuccino Blast
Turtle Cappuccino Blast
Milkshakes
Baskin Robbins has some of the creamiest and thick ice cream shakes. They're made with different flavors of gluten-free ice cream blended with milk and simple syrup.
Chocolate Milkshake
Chocolate Chip Milkshake
Gold Medal Ribbon Milkshake
Mint Chocolate Chip Milkshake
Peanut Butter 'n Chocolate Milkshake
Vanilla Milkshake
Very Berry Strawberry Milkshake
Smoothies
The smoothies at Baskin Robbins are made with real fruit and non-fat vanilla-flavored yogurt. There is nothing like a cool refreshing smoothie when the summer heat is pouring down.
These smoothies are gluten-free if there are strict cross-contamination measures in place.
Mango Banana Smoothie
Strawberry Banana Smoothie
Tropical Banana Smoothie
Tips to Stay Gluten-Free at Baskin Robbins
Baskin Robbins has a complete allergy and nutrition guide that will help you navigate through their menu, making it easier to order gluten-free.
But, you must have some background knowledge about the ingredients that go into their products. To make your experience smoother and risk-free here are some pro tips you can follow to stay gluten-free.
Research Before you Visit
Carry out some research on your local Baskin Robbins before you go out to grab some ice cream. Look over the ingredient profiles of various flavors and the extensive gluten-conscious options available on the menu.
This will ease your anxiety because you'll know exactly what's going into the ice cream you order.
The best part is that Baskin Robbins has extensive ingredient profiles that make it easier for you to order and you'll know exactly what to order beforehand.
Communicate your Preferences
Before placing your order, let the staff know you're allergic to gluten. Baskin Robbins has adequate protocols in place and communicating your problem will alert the staff.
The staff will be extra cautious with your order, making sure you leave satisfied.
If in Doubt, Throw it Out
Don't consume something if you're not sure whether it's gluten-free or not. It is not worth risking your health over. Only consume items you are absolutely sure of.
Avoid Rush Hours
The servers are preoccupied during rush hours and they may forget about your allergy while preparing your order. This increases the risk of cross-contamination manyfold.
Hence, try to visit during off-peak hours. This is when you'll get the staff's full attention.
Cross Contamination Risk at Baskin Robbins
Cross-contamination occurs when gluten-free food comes into contact with gluten through food, utensils, and gloves that have been contaminated with gluten.
If you suffer from Celiac disease or extreme gluten sensitivity, you know how serious this problem really is. The smallest amount of gluten can be extremely detrimental to a celiac's health.
Therefore, strict cross-contamination protocols must be in place to ensure the safety of customers.
Baskin Robbins has a complete allergen guide and their gluten-free flavors are labeled as gluten-conscious. They strive to provide the best service to their customers and cater to their allergies.
But, even the most stringent protocols can sometimes fail therefore, Baskin Robbins advises you to inform the server of your food allergy before ordering.
This is to alert the staff, so they can enforce the necessary measures to keep your order free of contamination.
Here are a few tips to avoid cross-contamination while ordering at Baskin Robbins;
Let the server know about your gluten allergy.
Specifically, ask about their gluten-free options.
Don't hold back questions if you're not sure about something.
Inquire about the strictness of cross-contamination protocols.
Request the server to put on a fresh pair of gloves before preparing your order.
Ask the server to use a clean scooper before scooping your ice cream.
Request the server to scoop out your ice cream from a fresh tub.
Even if the staff follows these steps on their own, it is important to remind them to minimize the chances of contamination. These steps will ensure your order is free of gluten.
This is What The Public is Saying
After some extensive research, we have compiled a series of reviews from people with gluten allergies who visited Baskin Robbins. These reviews have been sourced from the internet.
The majority of the reviews we came across were positive. The customers mentioned that the staff was well equipped to cater to people with gluten allergies.
The gluten-conscious flavors of ice cream were clearly labeled and the server washed the scooper before preparing a gluten-free order.
Special effort was made by the staff to scoop ice cream out of fresh tubs in order to limit the risk of cross-contamination.
Another positive was that many Celiacs also mentioned their satisfaction with Baskin Robbins. But, it is always important to practice caution to protect your health if you have extreme gluten insensitivity.
Words of Wisdom
To wrap it all up, Baskin Robbins is an amazing allergy-friendly place to enjoy gluten-free ice cream with your friends and family. They have dedicated flavors that are prepared without any gluten.
This makes their ice cream the perfect treat in the summer.
Moreover, the staff is courteous and they'll make sure you're satisfied with your order. If you inform them about your allergy, they'll follow strict protocols to ensure your safety and satisfaction.
Next time you're craving some amazing ice cream, give Baskin Robbins a try. Open up our article for the best advice to navigate through your order!