McAlister's Deli has an extensive menu that comprises their famous sandwiches, giant spuds, salads, and their famous sweet tea. And, if you follow a gluten-free diet, there's good news for you!
Their menu boasts plenty of gluten-free options that will surely satiate your appetite.
So what's Gluten-free at McAlister's Deli?
The best part about McAlister's Deli is that they've recently introduced gluten-free bread. This means you can enjoy most of the famous sandwiches on offer.
The extensive menu at McAlister's Deli gives you a decent gluten-free variety to choose from.
If we broadly categorize other gluten-free items on the menu they would include salads, signature spuds, and a few sides. These delicious options are sufficient to satiate anyone's cravings. We'll be going to look at these items in-depth later in the article.
Having said that, some items on McAlister's Delis' menu, unfortunately, contain gluten. This increases the risk of cross-contamination in the kitchen if at any point your food comes into contact with a gluten-containing ingredient.
Therefore, if you suffer from Celiac disease or extreme gluten sensitivity it's better if you remain cautious and try to avoid eating out as much as possible.
This article will be an in-depth analysis of McAlister's Delis' menu. We're going to be filtering out all the delicious gluten-free options they have so you don't have to.
We're also looking at some awesome tips to ensure a hearty meal free of gluten at McAlister's Deli.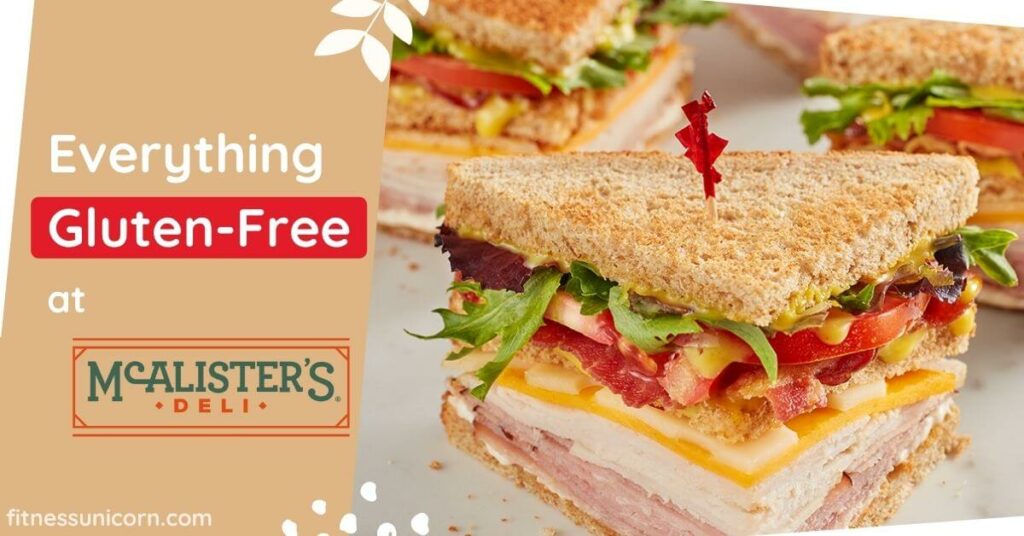 This post may contain affiliate links, which help keep this content free. (Full disclosure)
Gluten-Free Options at McAlister's Deli
McAlister's Deli started over three decades ago as a casual neighborhood restaurant. A place for friends and family to gather to enjoy hearty meals with an amazing ambiance.
Dr. Don Newcomb established McAlister's Deli in 1989 to serve handcrafted food prepared from locally sourced ingredients. The success of his restaurant reflects his love and passion for serving the community.
Today, McAlister's Deli has over 400 locations spread across 28 states.
After all these years, the restaurant has maintained its classic menu and hospitality. They stand true to their slogan, "our table is your table" by providing the best possible service to all their customers.
McAlister's Deli takes pride in its locally sourced ingredients and soulful food that is made fresh to order. They have a detailed menu on their website that mentions all of their gluten-free items for the convenience of their customers.
They also have a detailed allergen menu which will make it easier for you to pick and choose items that are safe for your consumption.
After carefully studying McAlister's Delis' menu and ingredient profiles, we've devised a list of gluten-free items that are safe for consumption.
If you have severe gluten allergies we would highly suggest you carry out your own research as well.
RECOMMENDED: Does Waffle House have anything Gluten-Free?
Savory Shareables
The savory shareables are a great snack if you don't feel like having a full meal. They're prepared with gluten-free ingredients and should be safe for consumption if proper cross-contamination protocols are followed.
#Nacho Basket
The nacho basket consists of corn tortillas that are served with a cheese dip and jalapenos. The serving size is perfect for sharing amongst friends.
#Ultimate Nachos
The ultimate nachos consist of corn tortillas that are topped with veggie chili, cheese sauce, cheddar jack, tomato, black olives, jalapenos, green onion, avocado, and sour cream. This makes for the perfect gluten-free snack.
The regular chili is not gluten-free, ask the waiter to replace it with veggie chili.
Fresh Salads
McAlister's Deli has a variety of scrumptious salads that can serve as the perfect meal if you're looking for something light and healthy.
Just make sure you ask the wait staff to exclude the croutons from your salad to make it completely gluten-free.
Some of the delicious gluten-free salads at McAlister's Deli include;
Caesar's Salad (no croutons)
Garden Salad (no croutons)
Grilled Chicken Caesar's Salad (no croutons)
Grilled Chicken Salad (no croutons)
McAlister's Chef Salad (no croutons)
Savannah Chopped Salad
Southwest Chicken & Avocado Salad
Harvest Salad
Handcrafted Sandwiches
Some locations of McAlister's Deli have gluten-free bread. This means you can enjoy the best item on their menu – their Handcrafted Sandwiches.
There is an extensive variety of sandwiches with variable toppings and meats that put your tastebuds into flavor overdrive.
If your location does have gluten-free bread then here are just some of the sandwiches you can enjoy;
The McAlister's Club
BLT
The Veggie
Memphian
The Italian
The Newyorker
Reuben
Spicy Turkey Melt
Sweet Chipotle Chicken
Spicy Southwest Chicken
Four Cheese Melt
Ham & Cheese Melt
Note: Avoid the caramelized onions and au jus because they contain wheat and will trigger gluten allergies.
RELATED: Bojangles Gluten-Free Options
Giant Spuds
McAlister's Deli uses the finest locally sourced Idaho Russet potatoes to prepare their famous giant spuds. You choose from various gluten-free toppings of choice and make a fully loaded spud that will surely satiate your cravings.
The best part is that most of the ingredients for these spuds are gluten-free except for the black angus roast beef.
Chipotle Chicken & Bacon Spud
Freshly baked potato topped with juicy grilled chicken, bacon, cheddar jack cheese, green onion, and chipotle ranch.
Justaspud
Baked potato topped with sour cream which can be topped with bacon or cheese.
Spud Max
Baked potato topped with ham, turkey, bacon, cheddar-jack, green onion, black olives, and sour cream.
Veggie Spud
Baked potato topped with spinach, broccoli, red onions, house-roasted peppers, and cheese sauce. Perfect for vegetarians!
Craft Your Own Spud
You can also create your own spud by choosing gluten-free toppings of your choice.
Sides
McAlister's Deli has plenty of gluten-free sides that you can enjoy with your meal or on their own.
Spud Chips
Mac & Cheese
Potato Salad
Steamed Broccoli
Tomato & Cucumber Salad
Fresh Fruit
ALSO READ: Tropical Smoothie Cafe Gluten-Free Options
Beverages
McAlister's Deli is famous for its sweet tea that is completely gluten-free. They also have other refreshing drinks that are free of gluten.
Sweet Tea
Blackberry Tea
McAlister's Famous Tea
Sweetened Lemonade Tea
Unsweet tea
Strawberry Lemonade
Blackberry Lemonade
Salad Dressing & Condiments
The various gluten-free salad dressings and condiments at McAlister's Deli include;
Buttermilk Ranch
Caesar Salad
Chilli Lime Vinaigrette
Chipotle Ranch
Fat-free Raspberry Pecan Vinaigrette
Thousand Island
Herb Mayo
Honey Mustard
Horseradish Dijon
Orange Cranberry Sauce
Spicy Brown Mustard
Tips & Tricks for a Gluten-Free Meal at McAlister's Deli
McAlister's Deli has a complete gluten-sensitive menu and allergen guide to help you navigate through its menu. But, you must have some background knowledge about ingredients that generally contain gluten.
For instance, if there is wheat or barley in any ingredient profile, that dish would be an absolute no-go.
Here are some tips that will make it easier for you to navigate your way through McAlister's Deli and other restaurants while following the gluten-free diet.
Know The Restaurant
Whenever you visit a new restaurant you should always look it up on the internet beforehand.
Check what kind of cuisine they serve, whether they're open to modifications, how stringent are their cross-contamination protocols, and do they have an allergy-friendly menu or not.
This information will help you gauge just how gluten-friendly a restaurant might be.
For instance, McAlister's Deli has made it clear that they have shared preparation counters for all their food. This increases the risk of cross-contamination and is something you should be wary of if you have severe gluten sensitivity.
Communicate your Preferences
It is paramount that you let the wait staff and manager know about your gluten allergy and inquire about gluten-free options before ordering.
The manager will alert the kitchen staff so they can take the necessary precautions to make sure your food is free of any gluten contamination.
McAlister's Deli has extremely hospitable staff that will take into account your needs and make sure you're served a meal according to your preference.
On the off chance that you're not satisfied with the staff's response, just forbear ordering since risking your health is not worth it.
Personalized Orders
If the restaurant you go to is open to modifications and special requests, make sure to utilize this to minimize any risk of contamination.
Request the wait staff at McAlister's Deli to prepare your meal following these steps;
Ask for a single person to prepare your order from start to finish to avoid any confusion.
Ask the chef to clean the prep surfaces before preparing your order.
Ask the chef to wear clean gloves and use clean utensils to prep your meal.
Ask the chef to use ingredients from a fresh batch (if possible) to avoid any contamination.
Keep it Simple
Remember to stick to simple items like fresh vegetables, grilled meats, and cheese that you're sure will be free of gluten.
Avoid complex dishes that might contain hidden gluten in the form of breading or thickeners, for instance, gravies and soups.
When in Doubt, Throw it Out
If you're not sure about a certain dish or ingredient on the menu, it's wise to just avoid it altogether.
Only order items that you're certain of because no food item is worth risking your health over if you suffer from severe gluten intolerance or Celiac disease.
Avoid Rush
Wait staff and kitchen staff are highly rushed and preoccupied during rush hours. This can cause a lapse in concentration or mistakes, leading to an increased risk of contamination. Hence, it is better to visit during off-peak hours.
Cross Contamination Risk at McAlister's Deli
Cross-contamination is always a risk when you go out to eat unless you're going to an exclusively gluten-free place.
Your food can be contaminated by gluten if it comes into contact with already contaminated food, utensils, gloves, or prep surfaces. This is a Celiacs nightmare because it can be very detrimental to their health.
Therefore, strict cross-contamination protocols are a must to ensure the safety of customers.
McAlister's Deli openly admits that its food prep is carried out in a shared environment which is a significant risk for cross-contamination.
Thus, it is extremely important to practice caution and avoid McAlister's Deli if you suffer from Celiac disease or severe gluten sensitivity.
This is What The Public is Saying
We have compiled a series of reviews of people who are sensitive to gluten and visited McAlister's Deli. These reviews have been sourced from various platforms on the internet.
The majority of reviews on McAlister's Deli were positive which reflected upon the courteous and hospitable staff there.
People are big fans of the gluten-free bread at McAlister's Deli because it allows them to enjoy their amazing sandwiches without having to risk their diet.
Other reviews stated that the staff takes adequate precautions if you inform them about your gluten allergy beforehand.
Many Celiacs have also reported that they didn't get sick from McAlister's Delis' food. But, it is still important that you remain cautious while dining out at McAlister's Deli.
There were a few negative reviews that highlighted the unavailability of gluten-free bread at certain locations and the fact that some of the staff weren't so knowledgeable about gluten allergies.
Conclusion
In conclusion, we can say that McAlister's Deli is a great place for people who don't have any severe gluten sensitivity. The risk of cross-contamination is high since the restaurant openly admits that their prep area is the same for all kinds of food.
So, if you're someone who suffers from a severe gluten allergy or Celiac disease, it might be best for you to avoid the place altogether.
Overall, McAlister's Deli has great food and some amazing gluten-free options. Their nutritional guide is extremely detailed with every ingredient and allergen mentioned clearly which not many restaurants have.
If you're someone who is a casual gluten-free eater with negligible health risks, then this place is perfect for you. Their classic sandwiches and giant spuds really hit the spot.
If you follow the gluten-free regimen and catch yourself at McAlister's Deli, remember to give this article a read for the best gluten-free options and ordering tips!