Taking stock of your health habits by focusing on making healthy choices is an ideal thing to do. To "take stock of your health" can also mean watching out for foods with allergens that may risk your health.
For gluten intolerant people, it could be looking for gluten-friendly restaurants like Tropical Smoothie Cafe!
If you're hearing this for the first time, Tropical Smoothie is a healthy food, smoothie, and juice restaurant. It's one of the friendliest gluten-free restaurants in the USA.
But are all smoothies at Tropical Smoothie Cafe gluten-free?
Sadly, not all items on the menu are gluten-friendly—nothing to be sad about, though. You can still choose among their alluring gluten-free smoothies like the Kiwi Quencher, Peanut Paradise, Pomegranate Plunge, and more!
They can also be loaded with sugar, despite being healthy.
With no special menu for gluten-sensitive diners, the risk of cross-contamination in the kitchen runs high. We recommend that you talk to the restaurant's staff to ensure a safe experience before visiting for a delicious smoothie.
If things don't work out, you can always choose an alternative place that caters to your needs.
Reading articles like this is essential in making smart decisions. You'll see some of the best gluten-free options on the menu later and other places you can go to.
Slow down from being too "health-based" and do the needed research, starting by reading this article. Let's see what gluten-free options are available for you at Tropical Smoothie Cafe.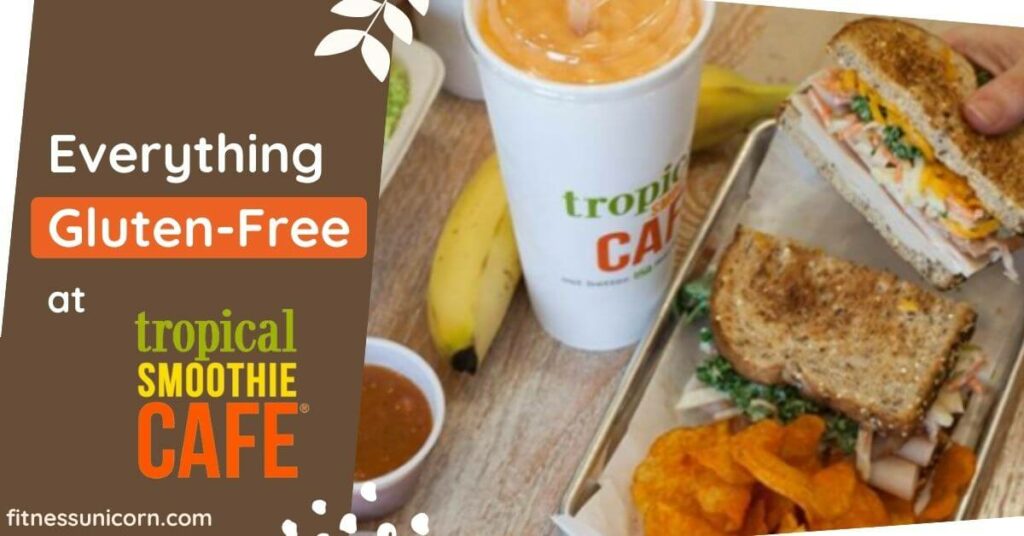 This post may contain affiliate links, which help keep this content free. (Full disclosure)
Tropical Smoothie Cafe Gluten-Free Options:
Tropical Smoothie Cafe is a smoothie shop located in the Florida panhandle. It was founded in Destin, Florida, in 1993 and officially launched its franchise five years later in Tallahassee. Its headquarters are currently in Atlanta, Georgia.
Introducing a lineup of food items such as sandwiches and wraps in 1999 heralded them a niche in the smoothie category.
Although Tropical Smoothie Cafe claims to have gluten-friendly meals, no one can really take their word for it due to the design and nature of their kitchen.
When ordering a gluten-free item, consider it only as a meal replacement since the menu could feature items with high sugar and calories.
We also recommend anyone with other food allergies to consult a health professional first to help you determine the safest ideal options.
Having said that, let's explore all the available options:
Sides and Salads
Kale and Apple Slaw
Lay's Baked Original
Loaded Spinach
Gluten-Free Smoothies
Avocado
Blimey Limey
Island Green
Acai Berry Boost
Detox Island Green
Blueberry Bliss
Kiwi Quencher
Lean Machine
Mango Magic
Jetty Punch
Peanut Paradise
Paradise Point
Sunrise Sunset
Pomegranate Plunge
Kids Smoothies
Kids Lil' Lime Berry
Kids Jetty Junior
Tips for a Gluten-Free Meal at Tropical Smoothie Cafe
Opt For Fruits
Natural versions of fresh fruits are safe to say, mostly gluten-free. Luckily, Tropical Smoothie Cafe serves fresh fruits to health-conscious customers, making them a top spot for a healthy fast food option.
The fresh fruit is a clear winner for a gluten-free and celiac-friendly treat. An apple is enough to provide you with a few calories, sugars, and carbs.
Fruits are also less risky for cross-contamination since you won't be seeing them in the kitchen with shared equipment. Overall, you can never go wrong with fruits.
RECOMMENDED: Is There Anything Gluten-Free At Whataburger?
It's in the Smoothies
Tropical Smoothie Cafe is an ever-growing, one-stop-shop for all things fruits and smoothies. You'll enjoy every item on the menu like other people do, thanks to the wide selection of smoothies, including those made with fruits and vegetables.
There are also optional supplements to make the meals more appealing for everyone.
The menu works perfectly for most lifestyles since the items are also adjustable to your preferences. The fruit and vegetable smoothies remain as one of the healthiest options they have.
They contain basic yet definitely nutritious ingredients close to whole foods.
Take Advantage of the Internet
Review apps like Find Me Gluten Free and Yelp are some of the great tools you can use to locate restaurants in your neighborhood that have been reviewed before.
Local gluten-free online groups also have good reviews and recommendations.
Consider looking at the date when the review was published. No one wants a review written five years ago since that wouldn't be very reliable. You can also find a copy of the menu on the restaurant's website.
Look for gluten-free labels, if there are any. This should help you determine whether any information about the foods' allergens is available or if any tweaks can be made for people with dietary restrictions.
Restaurants don't always offer gluten-free options on their menu. However, they can still prepare and serve safe food for diners with needs.
Do Your Research
Restaurants exert efforts in adding gluten-free options, and they label these items for your convenience if you have any allergies like gluten sensitivity or celiac disease.
But, there should still be room for improvement on their side, especially when dealing with gluten-sensitive customers.
They can start by modifying their environment and making the kitchen more gluten-friendly to cut down the risk of cross-contamination completely. Hence, some items should be tagged "gluten-friendly" instead of "gluten-free."
RELATED: Do They Have Gluten-Free Options At Jack In The Box?
Cross Contamination Risk
In contrast to lactose or gluten intolerance, celiac disease is not a type of intolerance. Those with celiac disease suffer from a serious autoimmune condition despite the health benefits of their gluten-free diet.
Recovery can take days for a celiac who has accidentally eaten a crumb of an oven-toasted English Muffin. This severity is what most restaurants don't know.
Many restaurants don't realize that gluten-free items should not be prepared in the same area or counter as gluten-containing products.
Tropical Smoothie Cafe has taken strict measures to ensure that some options are ideal for vegetarians and gluten-sensitive customers. Thanks to the labels on these items, prospective customers will find it easier to pick a perfect meal.
Unfortunately, as we've said earlier, their kitchen design makes it pretty hard to undoubtedly claim it's truly a gluten-free place.
There's still a likelihood that contamination occurs in the prep area of "gluten-free" labeled meals. So, take their word with a grain of salt.
The menu features several gluten-free items such as Brewed tea, smoothies, fresh fruit, kale, and apple slaw.
What People Are Saying
By taking into account opinions and personal experiences on the internet, here is a list of insights that we compiled:
One user emphasized that there weren't many options on the menu. But, if you request any wrap in a bowl, they'll provide it for you. Interestingly, these wrapped meals are also carefully made.
The user adds that they've never dealt with cross-contamination.
Contrastingly, one user says that the restaurant isn't celiac safe. The wraps, flatbread, and rolls stored above the ingredients can be risky for cross-contamination— especially if you picture the crumbs falling all over the place.
They also said that the staff picked the ingredients with bare hands and not with gloves, so you could say that the food making process wasn't safely clean.
Another user pointed out that the place is indeed a smoothie cafe worth exploring, despite not having a lot of gluten-free options. One user says point-blank that the restaurant had no-gluten free food. But, the fresh fruit and chips are exceptions.
The smoothies were also indeed gluten-friendly. The user commends the easy-to-read label and nutritional facts on the menu and their website that you should check before visiting.
Gluten-Free Alternatives To Tropical Smoothie Cafe
Being gluten-free and gluten-friendly are two different things. Gluten-friendly restaurants don't necessarily have a suitable environment to accommodate gluten-sensitive customers.
Despite the efforts made by a restaurant to minimize the risk of cross-contamination, the truth remains that curbing an environment to be gluten-free can be challenging.
Tropical Smoothie is only gluten-friendly, but other options on the menu are still worth a shot. But if you still can't find the ideal dish for you, try out one of the alternatives we curated for you!
Outback Steakhouse
Outback remains as one of the pioneers of gluten-free restaurants. They're also known for prime cuts of tantalizing kinds of beef.
The dedicated gluten-free menu spotlights ideal options for you like the filet mignon or center-cut sirloin, both of which can be eaten with a baked potato. You can opt for a grilled chicken or grilled tilapia if you're in for a light appetite.
Finish these dishes with a sweet, gluten-free dessert like the Pecan Brownie drizzled with warm sauce and ice cream or the chocolate thunder from down under. You can never go wrong with these options.
California Pizza Chicken
Can you eat a whole pizza in one go? If so, then this place is for you!
The four famous seasonably inspired, gluten-free pizzas available in this restaurant guarantee a unique meal for every visit. One of their bestsellers is the BBQ Chicken Pizza.
Panera Bread
Just as the name suggests, Panera Bread is famous for being one of the most traditional bread companies worldwide. Some of its well-known, expensive menu options are the Green Goddess Cobb, and Modern Greek topped with quinoa.
Other gluten-free items include black beans, corn chowder, coconut macaroons, and triple chocolate cookies.
But, if you're gluten-sensitive, think twice about eating at this restaurant. Panera Bread can't guarantee entirely gluten-free products, so cross-contamination could still be a risk.
PF Chang's
PF Chang's is one of the restaurants that you could boldly say has some gluten-free options. It's an Asian-inspired restaurant that makes its food from scratch, making it impressive for diet-conscious consumers.
The gluten-free chicken lettuce wraps are a superb item to try. There's also something for seafood lovers out there! Try the gluten-free shrimp mixed with lobster sauce, chopped black beans, and mushrooms.
What's more appealing is that gluten-sensitive customers can also enjoy gluten-free sauces made with oyster sauce, chicken broth, gluten-free soy sauce, water, white pepper, rice wine, white pepper, and sugar.