With summer peeking right around the corner, everyone's surely looking for something cool to beat the heat. But, you can always bring the flavors of the beach to home by getting a smoothie at Smoothie King!
Is there anything gluten-free on the menu?
Yup. Not just one item, but all options are gluten-free. You can enjoy everything on the menu without worrying every time you take a sip. Gluten is one of the things on Smoothie King's 'No-No List,' so it definitely won't be in your cup.
There are loads of flavors to choose from, whether you want to fuel up or keep an eye on your health. Boost your energy with one of their Feel Energized Blends, such as Coffee D-Lite Mocha, Pure Recharge Pineapple, and The Hulk Coffee.
You can also get protein-loaded smoothies like the Gladiator Chocolate, Original High Protein Banana, Peanut Power Plus, or The Hulk Vanilla.
If you wanna keep on track of your calorie intake, get Manage Weight Blends like Keto Champ Berry, Angel Food Slim, and Slim-N-Trim Vanilla.
Smoothie King indeed stays true to its word: A Blend For Every Purpose.
However, Smoothie King doesn't completely guarantee that cross-contamination won't occur. So if you're someone with severe gluten sensitivity or celiac disease, you might want to think twice about getting one of their smoothies.
Or, if the urge to get one is still strong, double-check your order with the server and let them know of your condition.
Ready to see more of Smoothie King's awesome blends?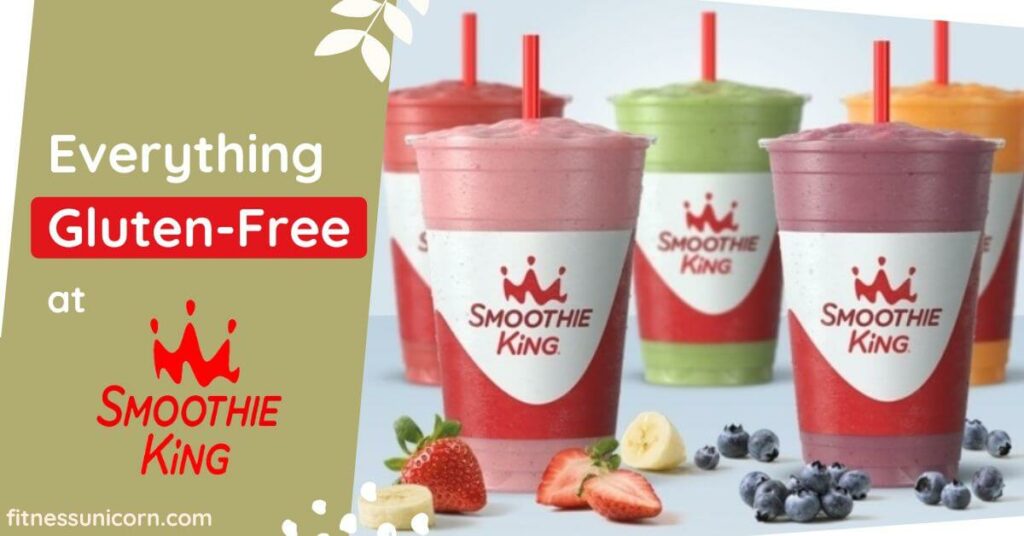 This post may contain affiliate links, which help keep this content free. (Full disclosure)
Smoothie King's Gluten-Free Options
Smoothie King started as Steve Kuhnau's venture to improve his health in 1973. It finally launched its first juice bar franchise in 1989 in New Orleans, Louisiana, to help other entrepreneurs and communities.
In 2012, South Korean Wan Kim bought the company from the Kuhnaus. He was one of Smoothie King's franchisees.
Kim experimented with offering sandwiches and wraps in other locations, successfully generating over 20% of his revenue in South Korea.
In 2014, Smoothie King closed a deal with the New Orleans Pelicans to rename the New Orleans Arena as the Smoothie King Center. This contract would last until 2024.
Today, Smoothie King prides itself with over 1347 stores worldwide!
Without further ado, here are the best gluten-free smoothies available on the menu:
Note that Smoothie King states that gluten is not in their cups. So, all blends should be gluten-free.
Feel Energized Blend
Boost your energy and fuel your day with one of nine blends!
FIND MORE: Is anything gluten-free at Zaxby's?
Get Fit Blends
Loaded with protein-rich ingredients to boost you up faster.
Gladiator Chocolate
Gladiator Strawberry
Gladiator Vanilla
High-Intensity Workout Chocolate Cinnamon
High-Intensity Workout Veggie Mango
Original High Protein Banana
Original High Protein Chocolate
Original High Protein Lemon
Original High Protein Pineapple
Peanut Power Plus
Peanut Power Plus Chocolate
Peanut Power Plus Strawberry
Power Punch Plus
Stretch & Flex Pineapple Kale
Stretch & Flex Tart Cherry
The Activator Recovery Pineapple Spinach
The Activator Recovery Blueberry Strawberry
The Activator Recovery Blueberry Tart Cherry
The Activator Recovery Chocolate
The Activator Recovery Pineapple
The Activator Recovery Strawberry Banana
The Hulk Chocolate
The Hulk Strawberry
The Hulk Vanilla
RELATED: Cheddar's Scratch Kitchen Gluten-Free Options
Manage Weight Blends
Helps you stay on track with less than 350 calories for every 20 oz.
Angel Food Slim
Keto Champ Berry
Keto Champ Chocolate
Keto Champ Coffee
Lean1 Chocolate
Lean1 Pineapple Mango
Lean1 Strawberry
Lean1 Vanilla
MangoFest
Metabolism Boost Banana Passion Fruit
Metabolism Boost Mango Ginger
Metabolism Boost Strawberry Boost Strawberry Pineapple
Slim-N-Trim Blueberry
Slim-N-Trim Chocolate
Slim-N-Trim Strawberry
Slim-N-Trim Vanilla
Slim-N-Trim Veggie
The Shredder Chocolate
The Shredder Strawberry
The Shredder Vanilla
FIND MORE: Gluten-Free Options at Bar Louie
Be Well Blends
Mixed with essential vitamins to help you have a healthy body.
Blueberry Heaven
Daily Warrior
Greek Yogurt Pineapple Mango
Greek Yogurt Strawberry Blueberry
Immune Builder Mixed Berry
Immune Builder Orange
Immune Builder Vegan Superfood
Vegan Dark Chocolate Banana
Vegan Mango Kale
Vegan Mixed Berry
Vegan Nutty Super Grain
Vegan Pineapple Spinach
Veggie Apple Kiwi Kale
Veggie Carrot Kale Dream
Veggie Lemon Ginger Spinach
Enjoy a Treat Blends
Simple treats you can reward yourself with to enjoy the day.
Angel Food
Banana Berry Treat
Banana Boat
Berry Punch
Caribbean Way
Green Tea Tango
Island Impact
Lemon Twist Banana
Lemon Twist Strawberry
Muscle Punch
Orange X-Treme
Passion Passport
Pineapple Surf
Strawberry X-treme
Strawberry Kiwi Breeze
Tart Cherry X-treme
Yogurt D-Lite
Kids Blends
Flavors specially made for kids.
Apple Kiwi Bunga
Berry Interesting
Choc-A-Laka
CW Jr.
Lil Angel
Strawberry Bluegurt Blitz
Tips for A Gluten-Free Meal at Smoothie King
Ask About Your Smoothie
Most reviews about Smoothie King on Find Me Gluten Free are very positive. This means that many customers were satisfied with their experience.
However, one Celiac user says that the location she visited uses protein powder containing gluten which is, of course, unsafe for celiacs.
Hence, to be sure of your drink, ask your server first about your smoothie. Be sure to check if the location you're at uses gluten-free ingredients to be sure. It's better to be extra, extra cautious of your health than to be sorry!
Don't Be Afraid To Ask
Nothing beats triple-checking what goes into your drink and how the staff prepares your drink.
You can always ask the staff if you have any doubts, clarifications, or questions about a certain item on the menu. You can even ask them not to put protein powder in your smoothie (like some visitors did) if you feel uncomfortable with it.
The staff at Smoothie King is surprisingly very accommodating to requests and questions, so don't be afraid to let them know how you want your drink prepared.
Do Your Part
Restaurants like Smoothie King do their best to keep the kitchen gluten-free.
However, customers should still do their part by alerting the staff before ordering to trigger appropriate protocol, regardless of your knowledge that the smoothies are gluten-free.
Additionally, you can do your part by calling ahead of your visit. Some customers also reportedly called their location to ask if the smoothies were gluten-free before placing an order.
Cross-Contamination Risk
Smoothie King boasts a healthy menu with no "bad stuff". One of which includes gluten.
The place offers lots of inclusive flavors, which are perfect for every diet regime. However, Smoothie King does not pride itself as a gluten-free facility.
In fact, on its website, a statement below Food Allergies says that "Cross-contamination may occur."
Unlike bacteria, gluten is a protein that cannot be eliminated through heat. This common misconception in the foodservice industry does a lot of harm that most people don't realize.
Gluten cross-contamination occurs when gluten is transferred and comes into contact with gluten-free items. Ingestion of contaminated gluten-free items can cause an unwanted reaction among gluten intolerant people.
If you have celiac disease, you might get a bad immune response.
Unfortunately, cross-contamination can happen at all stages of food preparation. Thus, kitchen staff and servers must be proactive to ensure the safety of the meals they prepare.
Although everything at Smoothie King is gluten-free, you can always ask your server about your order if you have any doubts. Remember that your health should always be your priority everywhere you go.
What People Are Saying
We compiled the following reviews from other reliable sites, based on opinions and personal experiences.
We hope this can help you make a decision!
Majority of the reviews say that Smoothie King has an exceptional gluten-free accommodation. Besides the 100% gluten-free menu, the kitchen staff is reportedly aware of proper allergy protocols to avoid cross-contamination.
Most celiac visitors have had a great experience with their usual favorites. One celiac user said she's happy she can still freely get smoothies there without worrying.
Some visitors also said that the staff can replace other ingredients in your order. For instance, one celiac visitor asked to replace the whey blend with peanut butter. Another customer asked for his drink to have no protein powder in it.
One visitor said that Smoothie King has the option of swapping ingredients at no extra charge.
One celiac customer said that the staff is aware of celiac disease and knows how to handle allergens. There was also a dedicated space for smoothies in the location she visited.
However, one celiac customer said Smoothie King was no longer gluten-free after being told that the protein powder used for the smoothies contains gluten. Interestingly, this is the only review that says otherwise out of most reviews about the menu.
Gluten-Free Alternatives To Smoothie King
Smoothie King definitely sounds too good to be true! To have a place with a 100% gluten-free menu? Wow.
But that doesn't mean you shouldn't give other smoothie places and restaurants a shot! Especially when we consider that Smoothie King has super few snack options you can munch your teeth on.
Try one of the alternatives we curated specially for you!
Tropical Smoothie Café
Like Smoothie King, Tropical Smoothie Café also offers a range of healthy, gluten-free smoothies for health-conscious customers.
Unlike Smoothie King, however, you can have more sides at Tropical Smoothie Café. These include Kale and Apple Slaw, Loaded Spinach, and Lay's Baked Original.
Smoothies also have tons of fun flavors like Blimey Limey, Island Green, Blueberry Bliss, Jetty Punch, Pomegranate Plunge, Mango Magic, Acai Berry Boost, Peanut Paradise, or Paradise Point. Kids can also get the Lil' Lime Berry or the Jetty Junior.
Jamba Juice
There's nothing a good, old Jamba Juice can't fix! With lots of options on the menu, have you ever wondered if they offer anything gluten-free?
Luckily, Jamba Juice has lots of gluten-free drinks and smoothies you can pick from. Aloha Pineapple, Banana Berry, Chili Mango, Razzmatazz, Strawberries Wild, or the Peach Pleasure!
You can also get a Protein Smoothie if you're looking for something healthier. The Energy Bowls like Fruit & Greek Yogurt and Island Pitaya is also gluten-free!
What's great about Jamba Juice is that they keep wheat grass separate, which should alleviate your worries somehow.
Fresh&Co
A top destination for chef-inspired, organic food that's guaranteed fresh and tasty. Fresh&Co brings a healthy twist of the usual meals to New York.
For breakfast, you can have gluten-free pancakes, bagels, or the Keto Energy Bowl containing eggs, zucchini noodles, avocado, cheddar, and smoked bacon.
There's also a Fonio yogurt parfait drizzled with maple syrup, vanilla extract, cinnamon, sea salt, blueberries, and cashews.
You can enjoy a specially crafted chef-designed Chipotle Ranch Salad for lunch. It's a bowl filled with cabbage, kale, romaine, tortilla chips, avocado, kidney beans, cotija cheese, tomatoes, corn, and blackened chicken thigh.
If you're in a hurry, grab a Chicken Mango Side Salad to go. Or get a Turkey Chili soup for something simpler.
Customers can also build their own salad or grain bowl according to their preferences and dietary restriction.