Crispy, crunchy, and zesty are all the wonderful flavors Zaxby's is made of. Whether it be their mouthwatering crispy chicken, flaming hot wings, or a burger fit for a king, they have it all!
The American restaurant chain has a large menu with an array of different options available, but the real question is, is anything gluten-free at Zaxby's?
Zaxby does not offer an extensive menu when it comes to offering gluten-free options on their menu, but that is not to say that they do not offer any.
They provide a nutritional guide on their website, informing customers of what foods contain certain allergens and other important nutritional information.
Items such as grilled chicken and the traditional wings are gluten-free but unfortunately, all their fried chicken does contain gluten.
If you suffer from gluten intolerance or have celiac disease, it is recommended to plan your meal before entering the restaurant or speak to the restaurant manager as soon as you arrive.
This will ensure everyone is on the same page and will avoid any possible disappointments that may arrive.
Cross-contamination is unfortunately always something you will need to be wary of, regardless of the protocols the restaurant may have in place. It is better to be safe than sorry!
If you are interested in finding out whether Zaxby's offers gluten-free meals, continue reading on.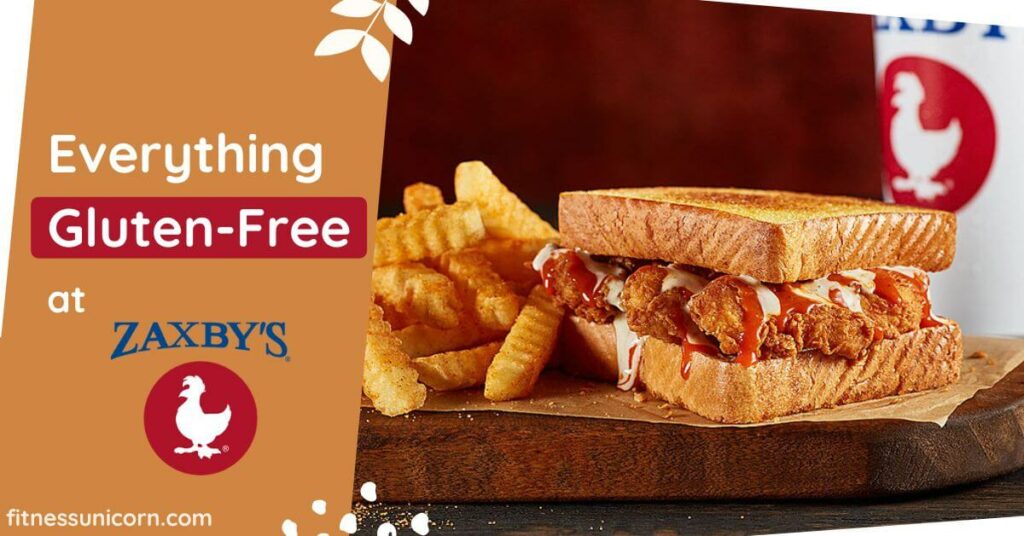 This post may contain affiliate links, which help keep this content free. (Full disclosure)
Zaxby's Gluten-Free Options
Zaxby's was founded in Georgia, in 1990. It is an American fast chain restaurant that operates in the Southern United States and offers a host of delicious chicken, sandwiches, salads and so much more.
Although Zaxby does have a nutritional guide for each item on their menu, very little is known about whether they have protocols in place when it comes to preparing for specific foods or allergens.
Please note that menus for franchise restaurants are subject to change, so always double-check before dining there.
Zaxby's takes pride in their extra-crispy and delicious chicken. But unfortunately, crispy chicken often means ingredients containing gluten to give it the extra crunch.
Let's find out what meals a gluten-intolerant or celiac customer can eat.
YOU MAY ALSO LIKE: Cheddar's Scratch Kitchen Gluten-Free Options
Salads
Every salad on their menu contains gluten, wheat, and in some cases soy. It would not be a good idea to choose from any of these, rather opt for something else to remain on the safe side.
Sandwich Meals
We all know by now that bread is one of the most obvious food items to contain gluten. That is why you should refrain from eating any meal that contains bread.
If you are craving a sandwich, perhaps opt for an open sandwich and replace the bread with lettuce. It is becoming more common and a healthier option for sandwiches or burgers around the globe!
1/5/10/20 Boneless Wings With Each Sauce
When it comes to Zaxby's, I believe it is not the sauces that contain gluten, but rather certain pieces of chicken on their menu.
According to their nutritional guide, their boneless wings contain gluten thus it is recommended to veer well away from these when browsing the menu.
1/5/10/20 Traditional Wings With Each Sauce
At Zaxby's, you can indulge in their amazing wings with sauce. Most of the flavor in food comes from sauce and almost every sauce on the menu is gluten-free.
The only two that contain the allergen are sweet and spicy and teriyaki sauce so be sure to ignore those when choosing which topping you would like! 1/5/10/20 Chicken Fingers With Each Sauce.
As delicious as chicken fingers sound, they, unfortunately, contain gluten so you would not be able to choose these when deciding on your meal for the evening.
FIND MORE: Carrabba's Gluten-Free Options
Desserts
It is not uncommon for restaurants to not have gluten-free desserts and unfortunately that is the case for Zaxby's. Currently, there is no gluten-free option available on their menu.
Sauces
The following sauces are all gluten-free on Zaxby's menu
Honey mustard
Marinara sauce
Zax sauce
Spicy zax sauce
Tongue torch
Wimpy
Nuclear
Insane
Buffalo garlic blaze
Hot honey mustard 
BBQ
FIND MORE: 14 BEST Gluten-Free Bakeries in Dallas, TX
Shareable's and Sides
Crinkle fries (regular, large, or basket)
Cole slaw
Zax Kid Meals
If you are planning on having a family night out at Zaxby's and your children are sensitive to gluten, we would suggest choosing an alternative restaurant. Aside from their fries, every kid's meal on the menu contains gluten.
Drinks
Every beverage on the menu is gluten-free so you can enjoy a drink with a stress-free mind!
Tips For A Gluten-Free Meal At Zaxby's
So, you are eating gluten-free because you are gluten-intolerant or suffer from celiac disease, this can make eating out seem daunting (and sometimes sickening) or impossible. But it shouldn't be!
Eating gluten-free in a restaurant in this day and age is a learned skill. You need to understand how restaurants work and how every restaurant is different.
It can be a scary place for those who cannot eat any ounce of the allergen, you always have to be so careful.
We have put together four tips on how to avoid consuming gluten in restaurants that will encourage you to feel more at ease when eating gluten-free at a restaurant.
Do Your Research First
The best way to get an understanding of anything is to research it. Whether it be common ingredients used in restaurants that are gluten-free or whether restaurants offer gluten-free meals.
You can also look up reviews and blog posts to see if customers have had any issues with certain meals.
There are a whole host of gluten-free blogs on google, they are a reliable source as they come from those who suffer from the same intolerance or disease.
They are honest and open about their opinions and will not hide a thing when it comes to reviewing a restaurant and their gluten-free ability.
Additionally, you could download gluten-free specific applications such as Find Me Gluten Free on your phone, here they give you everything you need to know about restaurants, meals and so much more.
Be Selective
You have to be picky when choosing what type of restaurant you want to dine at. Before deciding, check the restaurant's website and see if they offer any gluten-free menu and whether they have an allergen disclaimer or not.
If their website doesn't clarify a lot for you, call the restaurant and speak to the restaurant manager. Ask them if they offer any gluten-free meals and if they can accommodate your needs.
It is always easier to avoid allergen-specific mishaps in a restaurant that has a gluten-free menu, their staff will be used to inform the kitchen about your dietary needs and the kitchen staff will know how to prepare the food and prevent cross-contamination.
But this is not to say that you cannot get adequate gluten-free service at a regular restaurant, just be sure to communicate with them before entering the restaurant.
Order Last
We all know that ordering a gluten-free meal tends to be a bit more complicated than ordering a standard meal. So, to prevent order anxiety and fear of keeping people waiting, always order last.
This will give you a moment to speak freely with the waiter about the menu and your meal.
Ordering the last meal will allow the dinner party to continue with their conversation and will make you feel as though you aren't holding the table up.
If the waiter is unsure, request if you can speak to the manager to get a clearer idea of how things are run in the kitchen.
Be Clear About What You Need
Many people who don't deal with strict dietary restrictions aren't aware of the consequences that can come from consuming the allergen.
That is why you have to be extra clear about what is required when ordering a meal at a restaurant.
The best way to communicate what it is you require and avoid consuming gluten in restaurants is to be clear with the wording you use. Use words such as 'gluten allergy' and mention how severe it is to the waiter.
Even if this is not particularly the case, phrasing words this way will make the waiters and kitchen staff more careful when putting your order in, resulting in a safe and enjoyable gluten-free meal.
Cross Contamination Risk
Being aware of the implications that cross-contamination has is crucial in understanding the risk you could be at when eating out.
Cross-contamination occurs when gluten-free food or ingredients come into contact with gluten, whether it be the smallest amount or not.
For instance, if the fries you order are dunked in the same oil that is used to make the fried chicken, cross-contamination would occur, putting you are greater risk of illness.
Cross-contamination doesn't have to happen in a large dose for it to cause long-term damage to your gut.
If at any point you are unsure of the restaurant's dietary etiquette and whether the meal you are eating is gluten-free, rather send it back and order something else. The risk is not worth it at the end of the day!
What People Are Saying?
We have sourced multiple reviews from the internet about Zaxby's and the gluten-free food that they offer.
Based on the research, there are limited gluten-free options available on their menu. One customer mentioned how the only real item on their menu that is gluten-free is the traditional wings.
The restaurant does offer grilled chicken which is a good alternative when ordering.
A satisfied customer mentioned that the staff are knowledgeable on gluten-free options and can answer any question you may have.
Unfortunately, a customer did mention that there is not a dedicated workspace within the restaurant's kitchen, increasing the chances of cross-contamination.
Not is there a dedicated gluten-free fryer, indicating that if you want any food fried – it will most likely occur in the same fryer as gluten-containing food.
Although there are limited gluten-free options at Zaxby's, it appears as though the restaurant is aware of those with strict dietary restrictions and are constantly working towards making it an easy and comfortable experience for their customer.
Gluten-Free Alternative To Zaxby's
Chick-Fil-A
Chick-Fil-A has a larger gluten-free menu compared to most fast-food restaurants. They are very aware of their customer's dietary preferences, restrictions, and what they may need thus being prepared for any person who steps in their doors.
They are conscious of how their food is prepared and the importance of avoiding cross-contamination. Chick-Fil-A offers waffle potato fries that are fried separately from the gluten-containing foods and their crumbed chicken.
They also offer grilled chicken and grilled chicken nuggets that are gluten-free. It is important to make it clear that you do not want it to be crumbed/fried chicken because that will contain gluten.
Chick-Fil-A is also one of the first fast-food chains to offer a gluten-free bun, meaning you can enjoy a delicious gluten-free grilled chicken burger.