Did you know? Only one in 10 adults eat enough fruits or vegetables in a day! And smoothies are an excellent way to make up for the lost nutrients!
Enters Smoothie King, an American smoothie company having more than 1100 locations worldwide. It's a fitness enthusiast's paradise with over 80 different blends to choose from. Name any fruit, veggie, or "super-food" and they've got you covered!
If you are on a low-carb diet, you'll be happy to know that they use Stevia in the majority of the recipes (instead of high fructose corn syrup – the keto enemy!)
So what's keto-friendly at Smoothie King?
Smoothie King blends range from 0 to 147 grams of carbs in a 20-ounce serving. Their least-carb options include Keto Champ and Gladiator Smoothies that come in multiple flavors. They use Stevia, which is a 100% sugar-free plant-based sweetener. Avoid any fruity flavors as they contain tons of natural sugars.
Today you'll find out exactly what to order the next time you step foot into Smoothie King (or a drive-thru, but you get the point!)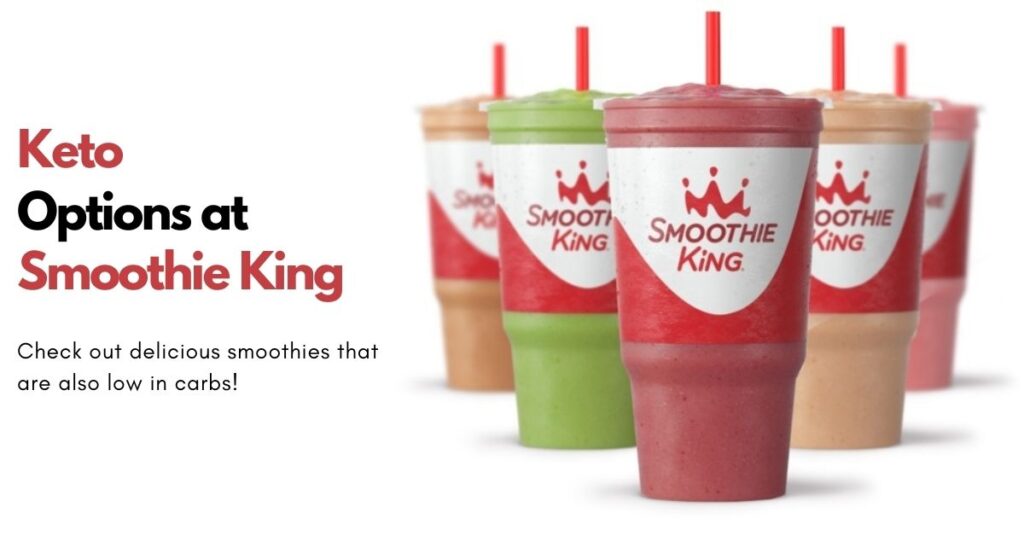 Tired of searching whether certain foods are keto? Download my keto cheat sheet with 210+ keto-friendly foods!
This post may contain affiliate links, which help keep this content free. (Full disclosure)
Keto Champ Smoothies
Smoothie King came out with the Keto Champ smoothies back in August 2019. That's around the time when the keto trend started gaining insane momentum! Social Media was full of shocking transformation images and every other person was following some kind of low-carb diet (there's no reason not to!)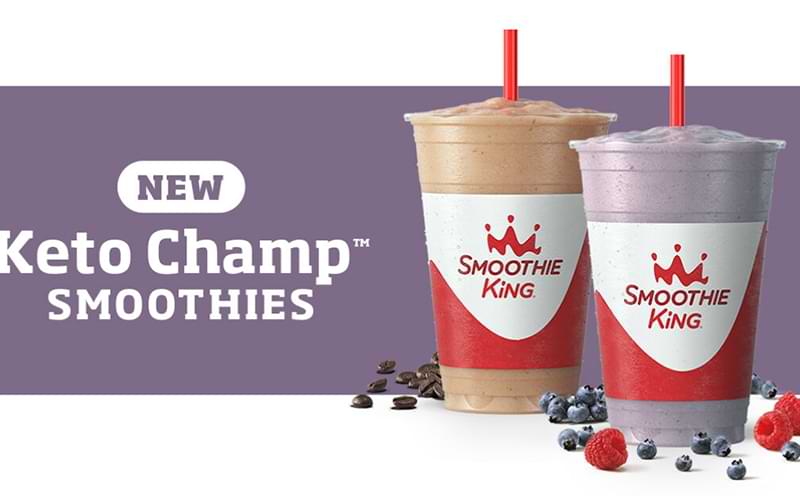 Keto Champ smoothies are a part of their "Get Fit Blends" which are protein-rich for faster recovery. However, they make for an excellent meal replacement on the ketogenic diet!
Before the launch of Keto Champ, ordering keto at Smoothie King was a serious struggle! There were no low-carb blends and you had to take the build-your-own route. That stuff can get really overwhelming if you are new to keto.
Fast forward to today, you can simply order a Keto Champ and move on with your day. No modifications or customizations (and no repeating the instructions 10 times before the server finally understands what you want!)
They come in 4 different flavors and each smoothie on average contains 11g of net carbs. If you are out and about and craving a refreshing beverage, look no further than these almond milk baddies!
YOU MAY ALSO LIKE: Gluten Free options at Smoothie King's
1. Keto Champ Coffee
The Keto Champ Coffee smoothie contains Cold Brew Coffee, Keto Protein Blend, Almond Butter, Califia Farms® Almond Milk, and 100% Cocoa.
Check out the nutrition facts for search serving size:
| Serving Size | Net Carbs | Fat |
| --- | --- | --- |
| 20 oz | 9g | 31g |
| 32 oz | 15g | 50g |
| 40 oz | 19g | 61g |
A Ketogenic diet recommends that you stay within 20-25g of net carbs per day. So a 20 oz serving of Keto Champ Coffee is an ideal meal replacement with 31g of quality fats (thanks to almond butter!)
In fact, it's so filling that you won't be needing another meal for a few hours.
You could even have a 32 oz serving and still be in keto. However, you got to compensate for the carbs in the rest of the meals that day. For example, if you are planning to grab a smoothie for lunch, make sure that your breakfast and dinner have the bare minimum carbs (2-3g each).
Now comes the best part about Smoothie King: You can add a ton of different ingredients i.e. butter, blends, fruits & veggies, and enhancers (discussed in detail later)
2. Keto Champ Berry
The Keto Champ Berry smoothie is made from blueberries, raspberries, protein powder, almond butter, almond milk, and cocoa.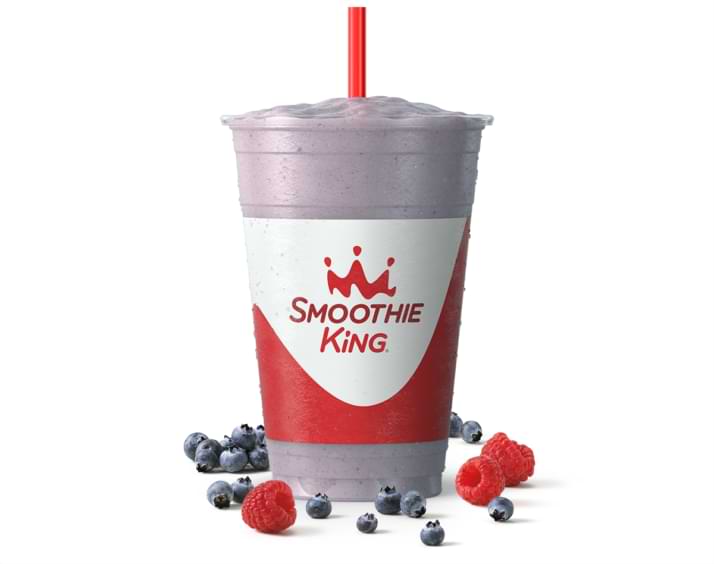 | Serving Size | Net Carbs | Fat |
| --- | --- | --- |
| 20 oz | 11g | 31g |
| 32 oz | 17g | 50g |
| 40 oz | 22g | 62g |
Berries are the only fruit that is acceptable on the keto diet. Hence, you can include a moderate amount of these nature's candies in your smoothies as well.
The Keto Champ Berry smoothie has an amazing texture and tastes fruity as well. I often double down on Stevia to satisfy my sweet tooth!
My recommendation: Just stick to the smallest serving size i.e. 20 oz. This smoothie is complete in itself and you don't need any extra stuff to feel the punch!
3. Keto Champ Chocolate
Keto Chocolate Champ smoothie contains Califia Farms® Almond Milk, Almond Butter, Keto Protein Blend, Protein Blend, 100% Cocoa, Stevia Plant-Based Sweetener.
Even though it's a "smoothie", there are no fruits or veggies present in this blend (and I'm not complaining.)
This baddy has the highest number of net carbs (13g in the smallest serving size) among all the Keto Champ variants. That is definitely a LOT of carbs for a keto beverage. But it tastes like a super thick and creamy chocolate milkshake so I keep it reserved for an occasional treat.
These are the detailed nutrition stats:
| Serving Size | Net Carbs | Fat |
| --- | --- | --- |
| 20 oz | 13g | 31g |
| 32 oz | 19g | 50g |
| 40 oz | 27g | 61g |
4. Keto Champ Pumpkin
The Keto Champ Pumpkin is a smooth and spicy blend for those trying to cut down on carbs. It has 9 net grams of carbs, over 10 grams of protein, and no added sugar. It's made with Califia Farms almond milk, organic pumpkin, almond butter, a keto protein blend, and some seasonal spices.
Here's how they score nutrition-wise:
| Serving Size | Net Carbs | Fat |
| --- | --- | --- |
| 20 oz | 11g | 31g |
| 32 oz | 17g | 50g |
| 40 oz | 22g | 62g |
The Keto Champ series comes as a relief when the average Smoothie King blend contains over 40g of carbs!
Related:
Gladiator Protein Smoothies
Gladiator® is the healthiest smoothie you'll find at Smoothie King. It has minimum carbs, sugar, and calories (and lots of protein)
In fact, you can have a creamy-smooth gladiator for as low as 4g of net carbs!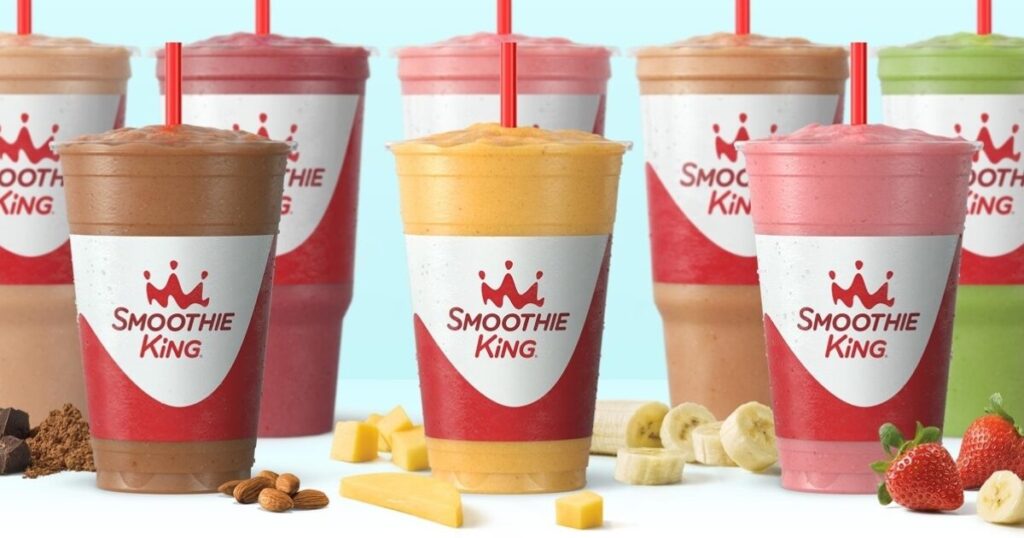 If you are a vegetarian on keto, the Gladiator range of smoothies is the biggest bang for your buck! I know how hard it is to fulfill your protein requirements. My friend Tanya has given up meat and she relies on low-carb protein shakes to keep up with her macros.
Gladiator smoothie is vegetarian but not vegan because it contains eggs and dairy.
The only ingredients in this blend are the Gladiator® protein and a tiny amount of fruit (hence fewer carbs).
Gladiator® protein is the company's proprietary blend having all nine essential amino acids, important electrolytes, and more. You can even buy it separately as a protein powder supplement (they make money either way, lol!)
It's a pretty lean smoothie and you get to choose 2 additional ingredients of your choice. Your selection will decide whether you end up with a keto-friendly smoothie or a total carb disaster.
Below are the nutrition stats for each smoothie (without added ingredients):
5. Gladiator Chocolate
| Serving Size | Net Carbs | Fat |
| --- | --- | --- |
| 20 oz | 4g | 3.5g |
| 32 oz | 4g | 3.5g |
| 40 oz | 4g | 3.5g |
6. Gladiator Strawberry
| Serving Size | Net Carbs | Fat |
| --- | --- | --- |
| 20 oz | 4g | 3g |
| 32 oz | 4g | 3g |
| 40 oz | 4g | 3g |
7. Gladiator Vanilla
| Serving Size | Net Carbs | Fat |
| --- | --- | --- |
| 20 oz | 3g | 3.5g |
| 32 oz | 3g | 3.5g |
| 40 oz | 3g | 3.5g |
I personally love Gladiator smoothies without any added ingredients. The reason is pretty simple: You get to slurp a good enough smoothie without the extra carbs that come with the toppings.
It's always a trade-off between carbs and flavor (the latter usually wins xD).
If you are in the mood for a full-fledged smoothie, here are some keto-friendly additions worth noting:
Wild Blueberries & Spinach
Raspberries
Almonds and Cold Brew Coffee
Peanut Butter and Cold Brew Coffee
Spinach and Kale
Don't forget to track your carbs. Smoothie King's official website has a simple and effective calculator at the bottom of each Smoothie page.
For example, you'll see this box as you scroll down the Gladiator Chocolate Smoothie's page: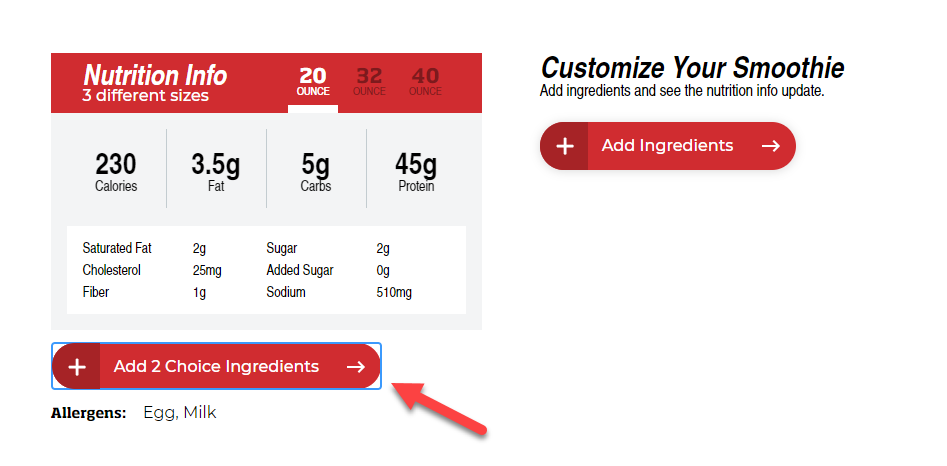 The macros will be updated as soon as you select your choice of ingredients.
Tips for Surviving Keto at Smoothie King
Now you've seen the 7 best keto-friendly options at Smoothie King (and the right way to customize them!)
But we don't stop there…
You see, our goal at Fitness Unicorn is to help you make the most out of your diet. We just don't stop at the surface-level stuff and leave you scratching your head!
Follow my proven keto strategies for your next order at Smoothie King:
#1 Fiber Blend Enhancer is Your Friend
Do you know the most important thing that's usually missing on a keto diet? A little bit of roughage!
A low-carb diet prohibits most fruits, grains, and legumes. These are also the most common sources of fiber to the common man.
Fiber is an essential nutrient that keeps your gut healthy (aka your secondary brain). And it has a much broader role to play than just regulating your bowel movements.
Luckily, Smoothie King offers a fiber blend enhancer that contains pure fiber. No carbs. No extra fluff.
A single topping contains 5g of pure fiber for a 20 oz smoothie. Consider adding this enhancer and I'm sure your tummy will thank you later.
#2 Too Much Protein is a Trap
Most keto-friendly smoothies at Smoothie King are super rich in protein. For example, the Gladiator Chocolate smoothie contains a whopping 45 grams of protein!
Sure, protein is one of the most important nutrients that are vital for healthy functioning.
But how much protein is too much protein on keto?
Most keto experts suggest an average of 70-80% fat from total daily calories, 5-10% carbohydrate, and 10-20% protein. For a 2000-calorie diet, it comes to around 75 grams of protein.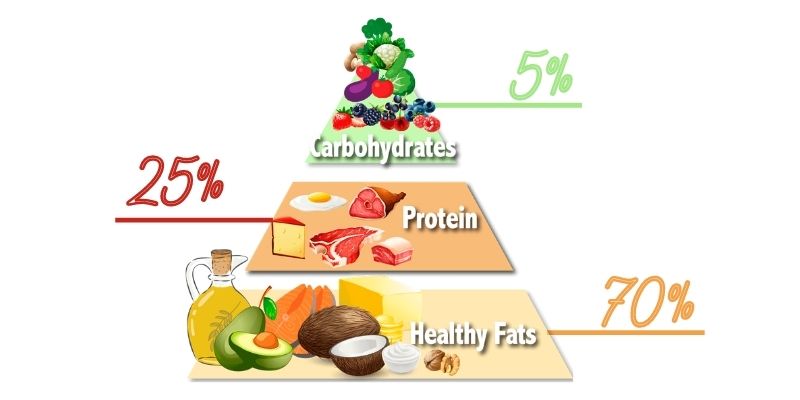 But what happens when you eat too much of it? Your body turns excess protein into glucose (yup, that's what carbs are converted into).
So even if you are cautiously watching your carbs, too much protein can knock you from behind!
The phenomenon is called gluconeogenesis, where some of the amino acids are converted into glucose to fuel your body.
Keto is mostly a meat 'n cheese diet and we are always prone to overconsumption of protein. Throw in a high-protein smoothie and you might already be out of ketosis!
It's always a good idea to track your meals and stick to the macros.
#3 Pick the Right Customizations
Smoothie, in its true sense, is a blend of fruits and veggies and possibly any other edible food on the planet.
You may want to customize your blends with the vast range of ingredients available at Smoothie King.
Here's the exact carb count (net) for each added ingredient based on a 20 oz serving size:
Note: The added carbs will highly vary depending on the smoothie size. A 40 oz smoothie requires more strawberries than a 20 oz. one.
Fruits & Veggies
Ginger: 1
Kale: 1
Bananas: 16
Blueberries (wild): 7
Carrots: 2
Dates: 19
Mangoes: 10
Pineapples: 12
Pumpkin: 2
Raspberries: 3
Spinach: 0
Strawberries: 7
Strawberries (with sugar syrup): 33
Extras:
100% Cocoa: 3
Almonds: 2
Butter Pecan Ice Cream: 17
Kalifa Farms Almond Milk: 0
Coconut Water: 2
Cold Brew Coffee: 1
Greek Non-Fat Yogurt: 3
Matcha Green Tea: 0
Peanut Butter: 6
Vanilla Frozen Yogurt: 17
Almond Butter: 2
Dairy Whey Blend: 5
Electrolyte Blend: 11
Hulk Blend: 9
Non-Fat Milk: 5
Nutrient Blend: 6
Oatmilk by Califa Farms: 3
Protein Blend: 3
Spice Blend: 0
Turbinado sugar: 25
In Summary: KETO Rules for Smoothie King
Smoothie King has a sugar-laden menu which is really tempting to your taste buds.
However, there are plenty of low-carb options that taste just as good. The Keto Champ range and the Gladiator smoothies are your friends on the keto diet.
Always stick to the smallest serving size i.e. 20 oz. It is by no means "small" and you'll save up on a ton of carbs.
NEXT: