I get it. You have hopped on the keto wagon and now surviving on a very tiny carb allowance! But what about your love for Shake Shack? Can you really eat keto at Shake Shack?
Shake Shack burgers are extremely keto-friendly if you let go of the bun. Their classic burger patty has exactly zero carbs and 12g of fats. You can also opt for a lettuce wrap for an additional 1g of net carbs. However, their shakes, fries, and icecreams are completely off-limits on keto.
In this article, we'll look at the best practical strategies for ordering keto at Shake Shack.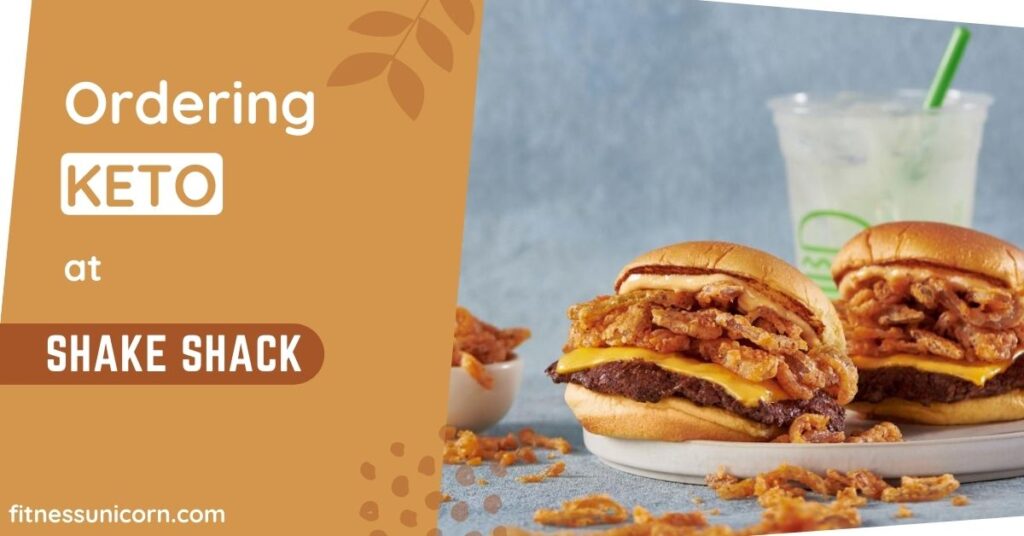 Tired of searching whether certain foods are keto? Download my keto cheat sheet with 210+ keto-friendly foods!
This post may contain affiliate links, which help keep this content free. (Full disclosure)
How to Survive Keto at Shake Shack
There are few burger chains that witness as massive success as Shake Shack! What started out as a hot dog cart in NYC, saw a bumper $100 million IPO just a decade later.
We are crazy about their proprietary beef blend that is made using 100% all-natural Angus beef! Their beef is pasture-raised, grain-finished, and is free from any hormones or antibiotics!
Shake Shack is an American fast-food restaurant giant headquartered in New York. Their menu includes a wide range of burgers, sides, flat-top dogs, shakes, and ice cream.

But is there anything to eat on keto at Shake Shak?
If you are on the keto diet, forget the "Shake" from the "Shake Shak" and simply stick to their burgers. You also have to let go of the bun!
Shake Shack uses Martin's Potato Rolls that are made with wheat flour, potato starch, nonfat milk, and sugar. A single bun contains a whopping 24g of net carbs. That's even more than your whole day's worth of carb quota!
Follow these simple strategies when ordering keto at Shake Shack:
Ditch the bun and have your burger in a lettuce wrap.
Their burger patty and bacon slices have exactly ZERO carbs.
Keto-friendly condiments include American cheese, cherry peppers, pickle, and shack sauce, and herb mayonnaise.
Going for the bar? Grab a Shack White (6 oz) for just 4g net carbs.
For other beverages, stick to plain water, iced tea, or diet soda.
Shake Shack has some of the most keto-friendly condiments that changes the whole game! The hot dog cheese sauce, herb mayo, and pickles have exactly zero grams of carbs. They can add a magical spark to even the most boring meals (with no added carbs!)
Now let's talk about their shakes (after all, it's Shake Shack!). As delicious as they taste, there's no way you can have them on the keto diet. The average shake has over 80g of carbs! What's worse, the majority of those are coming from sugar.
Related: Flame Broiler's Keto Menu
Shake Shack Low-Carb Menu
I've been ordering from Shake Shack ever since I started keto! Their staff is very accommodating in terms of customizations and luckily, I've never had my order messed up (fingers crossed!)
Here's the exact Shake Shack low-carb menu straight out from my keto handbook:
Zero-Carb Burgers!
Yup, that's right! You can enjoy a Shake Shack burger with negligible carbs by simply swapping out the bun with a lettuce wrap!
Their burger patty is a blend of 100% all-natural Angus beef that is free from any additives or sugar. It means you can load up as many patties as you want without worrying about your carb intake.

Well, I know there's no fun in eating the patties alone! That's why I've brought you the most keto-friendly condiments to light up your lettuce burgers:
(along with the carb count)
Bacon (2 slices): 0g

Lettuce:

0g

Pickle:

0g
Shack Sauce: 0g

Herb Mayo:

0g
Lettuce Wrap: 0.5g
Tomato: 1g
Onion: 1g
Cherry Peppers: 2g
Make sure you factor in each and every carb that goes on your plate. That tiny amount of carbs can easily add up big time!
Is it your first time going bun-less? Then be prepared for a bit saltier burger than usual. The reason is that the bun soaks up all the flavors and balances out the strong taste. You may want to go easy on the dressings to minimize the salt.
Here I would like to warn you about the Shroom burger. It is a heavenly delight for vegetarians, but a total nightmare for those on the keto diet.
The Shroom burger patty is a crisp-fried portobello mushroom that has over 20g of net carbs! It is breaded with flour-based crumbs that inflate the carb count.
Note: Don't go crazy with the beef patties (or any other fast food for that matter!). Even though they are carb-free, all kinds of processed foods are high in sodium and not healthy for regular consumption.
Chicken Bites
By now you must be aware that anything starting from the word "crispy" is not so keto-friendly. But if you are really craving that crunch, you may have a piece or two (only for the disciplined folks!)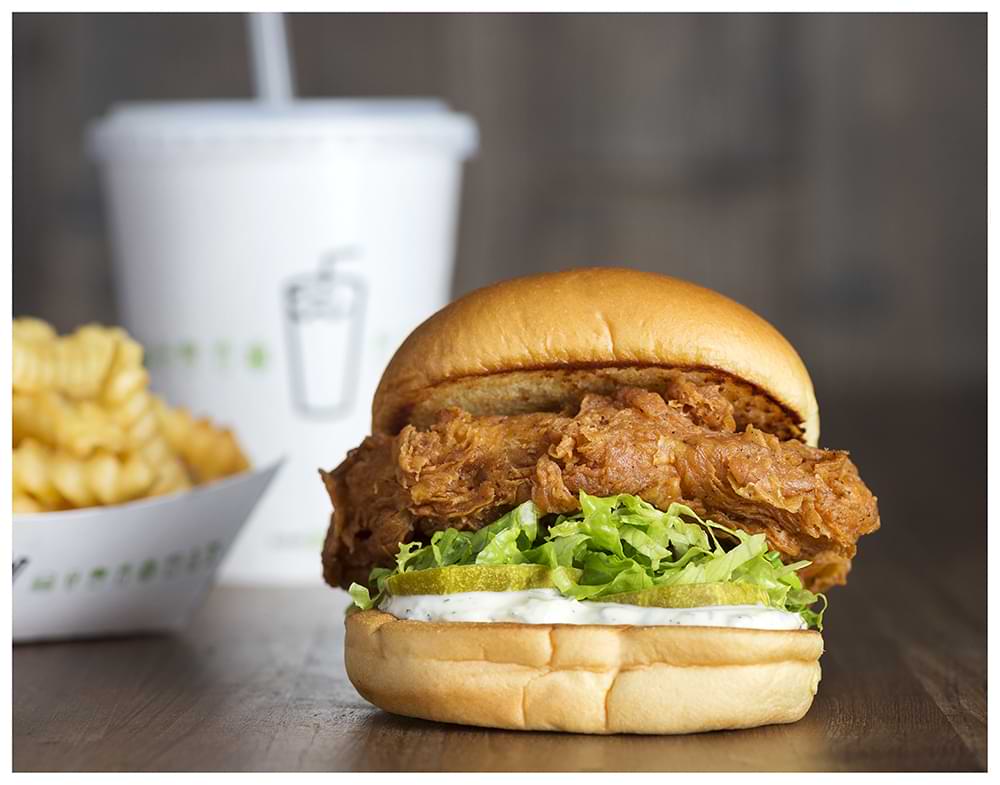 Each piece of Shake Shack's chicken bite has exactly 2.5g of net carbs. You may have one or two pieces and still end up with under 5g carbs.
Their chicken bites are made with fresh chicken breast, which is hand-breaded and fried to perfection. However, there's a little sneaky hack that can help you eat more with even fewer carbs:
Simply pull off the breading to eliminate most of the carbs!
This same strategy has worked for me at many restaurants, including Bojangles, Wingstop, and Raising Cane's! Keep in mind that you'll still get a tiny amount of carbs from leftover breading.
Hot Dogs
The flat-top dogs at Shake Shack are super keto-friendly. All you have to do is ditch the bun and enjoy your sausage in a bowl.
Each of their sausage links has 2g of net carbs. Top it with your favorite Shake Shack cheese sauce for an additional 1g carbs.
So that means you can have a keto-friendly bun-less hot dog for just 3g net carbs.
Let me remind you that hot dogs fall into the "dirty keto" category. For the uninitiated, dirty keto refers to food choices that are low-carb but contain questionable ingredients.
Deli meats like sausage and salami are highly processed foods with exorbitant amounts of sodium. Industry experts claim that these lunch meats are made with the lowest-quality meat trimmings. After all, we consumers only get to see the final product which is smooth and shiny!
SUGGESTED: Are Nathan's Hot Dogs Keto?
Keto Beverages at Shake Shack
First things first – their shakes are completely out of the equation! But Shake Shack has plenty of other low-carb drinks to suit your taste buds.
Shake Shack has a really keto-friendly bar where you can enjoy a SHACK WHITE (6OZ) for just 4g net carbs.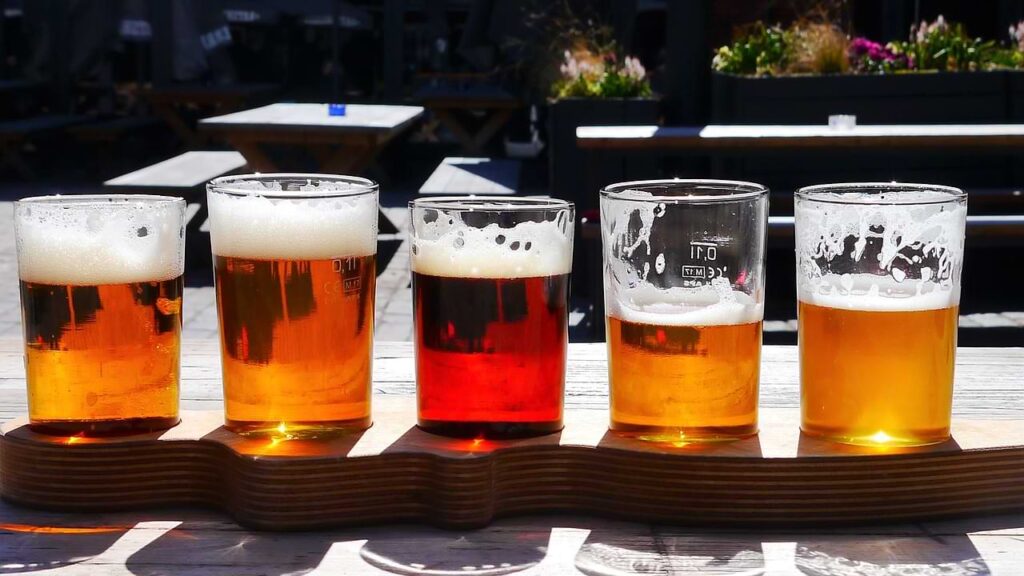 Here's a list of all keto-friendly beverages to accompany your lettuce-wrapped burgers:
Beer and Wine:
Shack Red (6 oz): 5g carbs
Shake Red Can (8.4 oz): 6g carbs
Shake Sparkling Can (8.4 oz): 6g carbs
Shack White (6 oz): 4g carbs
Shack White Can (8.4 oz): 5g carbs
Drinks:
Coke Zero: 0 carbs
Diet Coke: 0 carbs
Diet Dr. Pepper: 0 carbs
Diet Mountains Dew: 1g carbs
Diet Pepsi: 0 carbs
Pepsi Max: 0 carbs
Fresh Brewed Iced Tea (unsweetened – small): 1g carbs
Fresh Brewed Iced Tea (unsweetened – large): 2g carbs
Seasonal Lemonade (small): 1g carbs
Seasonal Lemonade (large): 2g carbs
Shack | 20: 0 carbs
Conclusion: Can You Survive Keto at Shake Shack?
Ordering keto at Shake Shack is a cakewalk if you just toss out the bun. Their sausage and burger patty is made with 100% all-natural beef that is free from any carbs.
Always plan your meals ahead of your visit to avoid last-minute temptations. When in doubt, simply refer to their official nutrition guide to keep your macros in check!
Dining out on a keto diet is like playing with fire! Almost every dish on the menu is laced with sugar and carbs (because that's what sells!) So you must be well prepared ahead of your visit. Follow bookmark our keto restaurants guide section to stay updated with the latest trends!