To many people, visiting Joe's Crab Shack means savoring buckets of seasonal seafood and fish dishes. And indeed, the restaurant's name suggests seafood – from sea and shore (especially crab). They are also quite famous for other options like sandwiches, steak, and chicken.
Looking at the myriad of options, one may wonder: Is ANYTHING keto-friendly at Joe's Crab Shack?
One of my go-to keto dishes at Joe's Crab Shack is the Joe's Garden Salad (without croutons). Other options include Crab-stuffed mushrooms and the Classic Caesar (also without croutons.)
Joe's Crab Shack makes eating a fun experience by offering a sustainable, fresh, and delicious menu. As a result, many foods are quite dense in carbs! So you are very likely to be tempted toward the wrong options (which leads to a keto disaster!)
That's why I've brought you this in-depth guide for a smooth keto dining experience at Joe's Crab Shack! Read on.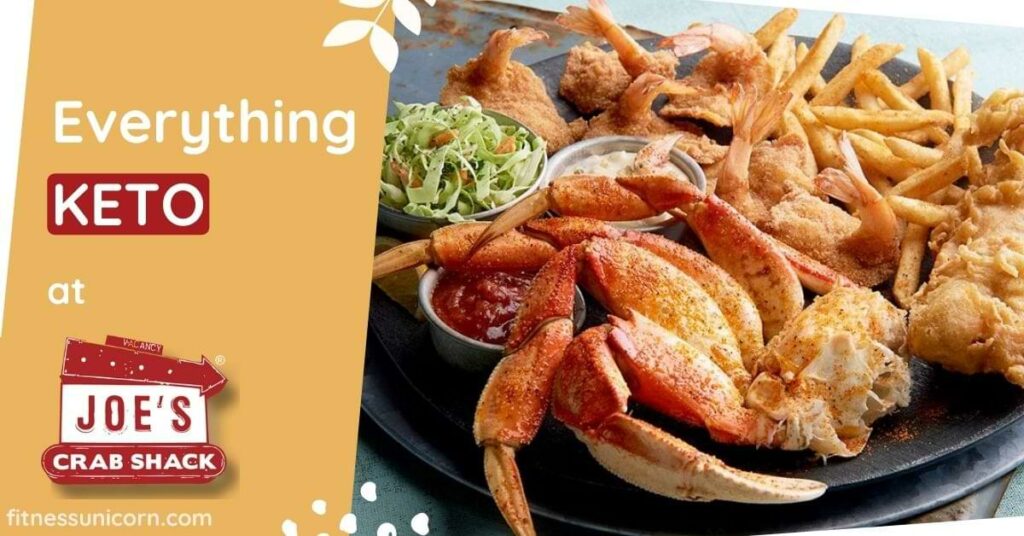 Tired of searching whether certain foods are keto? Download my keto cheat sheet with 210+ keto-friendly foods!
This post may contain affiliate links, which help keep this content free. (Full disclosure)
How to Survive Keto at Joe's Crab Shack
Running since 1991, Joe's Crab Shack is famous for offering varying favorites from the sea and shore to their customers. But that's not all; they also include mainland options like chicken and steak, which is a welcome development for the customers who aren't seafood fans.
What's more, they also have a retail store in place for selling their merchandise.
Joe's synonymy with 'fun' stems not only from their creative and oversized cocktails (like the Shark Bite that is garnished with a shark toy) but also from their T-shirts with phrases like, "Peace, Love and Crabs." Yet, the best part of the restaurant has remained its extensive and impressive menu.
If you are in a hurry and don't have time to ponder upon the menu, simply order "House Salad without croutons". This Joe's House Salad comes widely recommended for anyone on a keto diet.
But if you have some time to spare, and are willing to make adjustments to your meals, then I have great news for you! There are multiple options awaiting you at this seafood chain.
You definitely can't stick to one dish for so long, which makes it essential to know your options regarding the menu at Joe's. This would help you customize your order appropriately and stay within your carb limits.
Here's a brief breakdown for your keto-friendly food basket at Joe's Crab Shack:
For Meat – There are so many options of keto-friendly meat to choose from. They include clams, grilled chicken, and chicken breasts.
For Dairy – As you may or may not know, dairy isn't always bad on keto. One primary option of dairy obtained at Joe's is the cheese for low carb.
For Veggies – Make sure you AVOID sweet 'n starchy veggies like beans (including black beans!) This is because they have a pretty significant amount of carbs. However, you may fill up your plates with broccoli, seasonal vegetables, pickle, tomato, onions, and lettuce at Joe's. Also, always let go of the legumes and go for the lettuce.
For Sauces – Sauces are always a great addition to foods as they add flavor effortlessly, and your keto diet could really use some. Some keto-friendly sauces at Joe's include the BBQ Snow Crab Sauce, which should be taken in moderation.
For Beverages – Yes, you can have some healthy beverages to accompany your keto meals. For example, you would find Unsweetened Tea and Water at Joe's. (Hack: Keep a bottle of stevia in your car, and sweeten your drinks without any carbs.)
Still, while there are many keto-friendly menus to select from, there is also a lot to AVOID at Joe's Crab Shack:
Clam chowder (contains thickeners and potatoes)
Mozzarella bricks and balls of fire (breaded)
Hushpuppies
Pasta
Garlic bread and rice
Chicken tenders
Coconut shrimp
If you are successful in keeping the above items off your plate, half your job is done! The other half involves eating the low-carb options in moderation. Because ultimately it comes down to honoring your daily carb limit.
Now let's proceed and look at all the keto-friendly options that you may enjoy at Joe's Crab Shack!
Keto-Friendly Options at Joe's Crab Shack
Now that you know mostly what Joe's Crab Shack is about, it is also right that you understand your options as it concerns keeping up with a keto lifestyle. While you may be in on Joe's fun menu ideas, you may want to opt for an easy meal to stay on the safer side.
Here are some options to consider when choosing a keto-friendly meal at Joe's Crab Shack:
Note: Joe's Crab Shack doesn't have an official nutritional guide on its website. So we used our best judgement brought you a compilation of all low-carb meals (3-12g of carbs).
Chopped and Souped Options
Joe's Garden Salad – No Croutons.
Joe's House Salad – No Croutons.
Classic Caesar – No Crotons (you may add as many grilled chicken or shrimp because they contain zero carbs).
Lobster Bisque
Snacks
Crab stuffed mushrooms – leave out the garlic bread that is served along
Crispy calamari – in moderation because it has a layer of crispy breading.
Spinach and artichoke dip – no tortilla chips.
Surf & Sandwiches
Burgers, sandwiches, and tacos are best without the bread and shells, respectively. Enjoy them in a salad bowl or have them wrapped in lettuce.
ALSO READ: Keto Options for Bubba Gump Shrimp Co.
Crab Buckets
Opt for non-sweet flavors like old bay, garlic, spicy, and sunset fire grill.
While these are some popular keto-friendly meals at Joe's crab shack, the ingredients are secret, which may be the not-so-down-side of the restaurant.
So it's best to let your server know beforehand about your low-carb preferences. At least they will be wary of using too much sauces and breading!
You may also choose low-carb fish and other seafood from combos and plasters that they are parts of; for instance:
Grilled tilapia
Seafood stuffed crab
Cheese and jalapenos
Grilled shrimp
Bacon-wrapped shrimp filled with sea-food stuffing
Salmon with vegetables or Mahi Mahi
Shrimp scampi
BBQ snow crab (be careful with the sauce as it concerns a lot of carbs)
Chicken breasts topped with herb butter
Smoked sausage
Coleslaw (in moderation)
Steamed mussels, clams, and shrimps
USDA choice top sirloin
SUGGESTED: True Food Kitchen's Keto Options
Conclusion
Being on a keto diet can be challenging, especially as not every restaurant offers keto-friendly meals as part of their menu. It makes it hard for busy people looking to maintain a keto diet to walk into a restaurant and place an order that supports their diet.
Even when they know the necessary ingredients that form a good keto meal, the risk of oversight from using unnatural ingredients can be worrisome for anyone.
Luckily, seafood chains like Joe's Crab Shack restaurant are excellent for a keto-friendly meal because – after all – seafood is always low in carbs (if prepared the right way!). Even better, there's little or no need for your expertise in calculating the net carbs of every ingredient before deciding on an order. Instead, you would simply look through their website for every menu option's nutrition guide.
So, instead of sitting back to make food after a long day or while your friends go to enjoy great meals and hang out at restaurants, Joe's Crab Shack ensures that everyone gets a place at the table (or on the menu). Now, you can rest assured that your keto needs are taken care of.