MOD Pizza attracts plenty of fitness enthusiasts because of its ease of customization! You can choose your own crust and toppings without even breaking the bank.
But can you survive keto at MOD Pizza?
They are equally famous for their salads, as they're known for their make-your-own pizzas! Both the options seem contrasting, right?
A pizza place specializing in salads seems kinda fishy. But that's not the case for MOD's Pizza! In fact, even their pizzas could be customized for a super healthy meal if you pick the right options.
In this article, we'll look at all the keto-friendly options that MOD Pizza has to offer!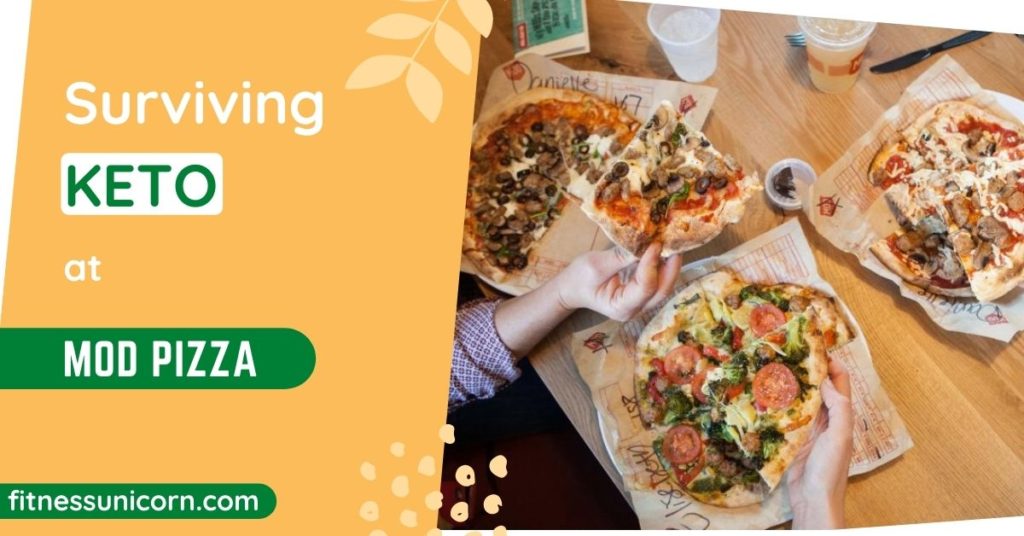 Tired of searching whether certain foods are keto? Download my keto cheat sheet with 210+ keto-friendly foods!
This post may contain affiliate links, which help keep this content free. (Full disclosure)
Is MOD Pizza Keto-Friendly?
MOD Pizzas is one of the few places that offer some soul-satisfying keto-friendly meal options!
Their make-your-own-order allows space for a lot of creativity and customizations. That means you can easily curate a low-carb meal without sacrificing on taste.
When compared to huge giants like Domino's, MOD Pizza is a relatively new chain that started out of Seattle in 2008.
Its founders are young-age entrepreneurs who didn't just want to add another pizza option in the world. But instead, they focused on the modern consumer who wants much more flexibility.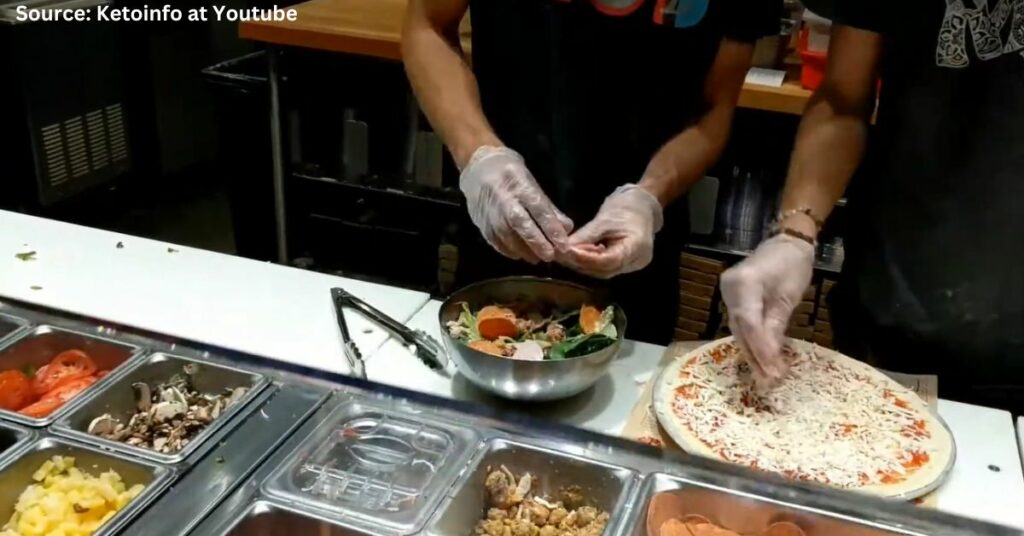 Gone are the days of choosing between "Pepperoni" and "Cheese" pizza. You can now pick your own combination of crusts, toppings, and sauces and let your imagination run wild!
Luckily for us, MOD Pizza has tons of low-carb dressings and meat options that are extremely keto-friendly.
For example, their fleet of low-carb veggies includes spinach, romaine lettuce, mixed greens, greek olives, and arugula. In the meats section, you can find bacon, sausages, pepperoni, grilled chicken, and other keto-friendly meat options.
What's more, you also get a ton of low-carb dressings like bleu cheese, red wine vinegar, olive oil, and ranch.
Tips to Order Keto at MOD Pizza
If you find yourself inside MOD Pizza in the middle of an exhausting day, there's no need to worry! Follow these simple strategies to enjoy a guilt-free keto-friendly meal at Mod Pizza.
1. Create Your Own Keto Salads at MOD
Ordering salads at a MOD Pizza is quite similar to getting a subway! You stand in front of the salad counter and they add your ingredients as you speak.
Since you control everything that goes inside the bowl, there are no chances of a carb goof-up! Choose from the various low-carb ingredients for the perfect keto-friendly salad at MOD Pizza:
Keto-Friendly Veggies (per 1/4th cup):
Arugula: 0 carbs
Banana Peppers (limited locations): 1g net carbs
Basil: 0 carbs
Black Olives: 2g net carbs
Roasted Broccoli: 2g net carbs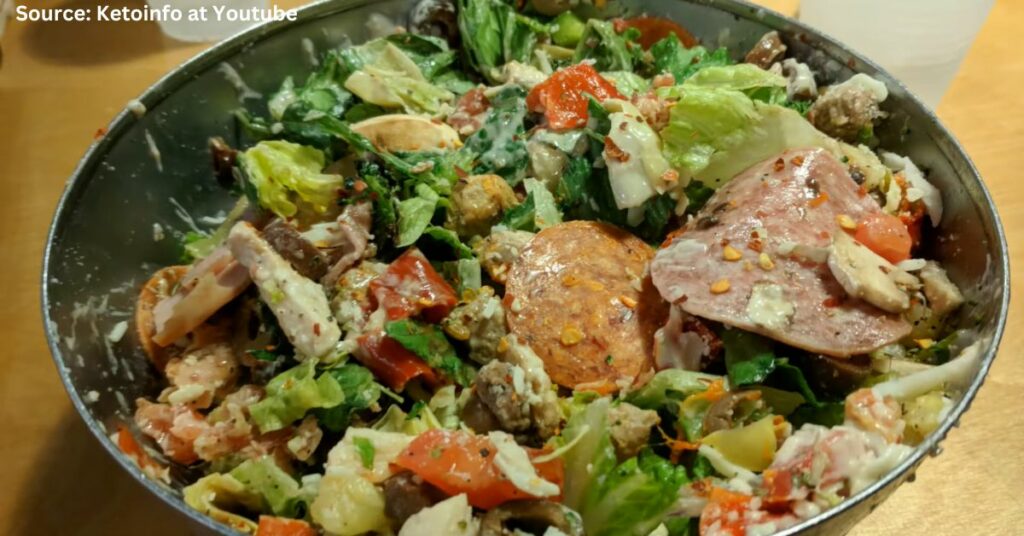 Cilantro: 0 carbs
Cucumbers: 2g net carbs
Greek Olives: 0 carbs
Green Bell Peppers: 2g net carbs
Jalapenos: 1g net carbs
Mushrooms: 1g net carbs (limit your intake!)
Romaine Lettuce: 0 carbs
Rosemary: 1g net carbs
Spinach: 0 carbs
Mixed greens: 1g net carbs
Keep in mind that the above carb count is only for single servings (1/4th cup). The carbs can easily add up if you increase your serving size.
Low-Carb Meats (per 1/4th cup):
Anchovies: 0 carbs
Bacon: 1g net carbs
Canadian Bacon: 2g net carbs
Scrambled Eggs (limited locations): 2g net carbs
Grilled Chicken: 1g net carbs
Ground Beef: 3g net carbs
Mild Sausage: 0 carbs
Pepperoni: 0 carbs
Salami: 1g net carbs
Spicy Chicken Sausage: 0 net carbs
Taco-Spiced Sausage (limited edition): 0 net carbs
Keto-Friendly Salad Dressings (1 tbsp):
Balsamic: 1g carbs
Blue Cheese: 0g carbs
Caesar: 1g carbs
Extra Virgin Olive oil: 0g carbs
Italian dressing: 0g carbs
Oil and vinegar: 0g carbs
Ranch Dressing: 1g carbs
Red Wine Vinegar: 0 carbs
Greek Herb and Tahini: 2g carbs
Sherry Dijon: 2g carbs
The carbs listed above are only accounted for 1 tbsp of the dressing. But in reality, we often end up with much larger serving size. So go easy on the dressings to keep it low carb!
Salads are the most keto-friendly option at MOD's Pizza! Remember not to inflate the carb count with fancy items like croutons (10g net carbs!)
PS: Their pre-set salads aren't suitable for the keto diet. They have an average of 10g net carbs per serving. You are better off building your own salads.
MORE: Mellow Mushroom Keto Options
2. MOD Pizza's Cauliflower Crust is NOT Keto
MOD Pizza's cauliflower crust is great… Just don't eat it on Keto!
Confused? Well, you'll be shocked to know that their so-called cauliflower crust has a whopping 84g of net carbs!
If you have ever tasted a real keto-friendly pizza (like Quest's), you know how "weird" it tastes. So when I tried MOD's cauliflower crust for the first time, I was baffled with amazement! It felt almost like the real thing!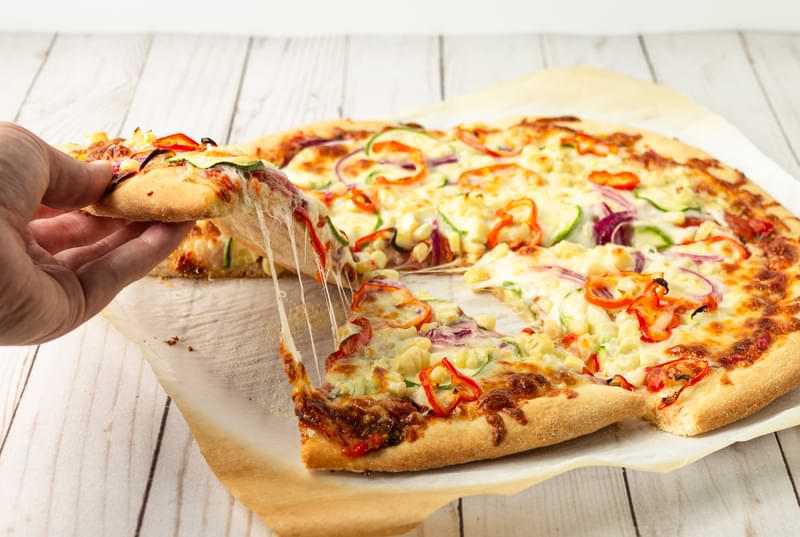 There was no cardboard-ish texture and no signs of crumbling. I was floating on cloud 9, but soon enough, the keto-detective in me sprung into action. That's when I realized what a horrendous mistake I had committed!
What's more, the cauliflower crust has even more sugar than the original thin crust itself! I empathize with those uninformed who fall into such marketing traps.
Even half a serving of their cauliflower crust is enough to throw you out of ketosis! You are better off sticking to a salad at MOD Pizza.
3. Go for Harder Cheese Varieties
You'll find a lot of cheese varieties when dining at MOD Pizza. But it's important to know which one is low-carb and which one is not!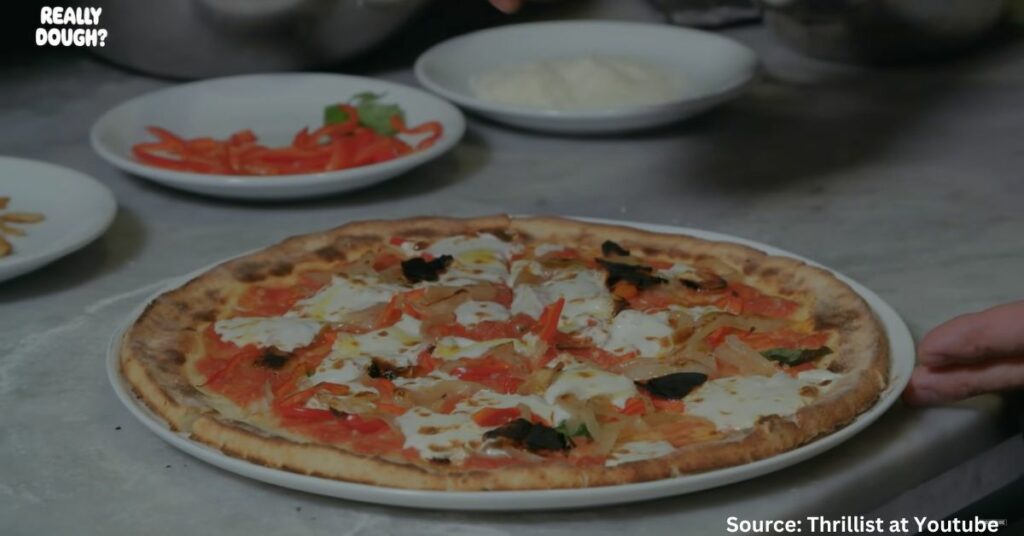 Cheese is one of the most keto-friendly items that promote satiety. Whether it's used inside a salad or simply served as a side dish, cheese helps curb those untimely cravings!
As a rule of thumb, soft cheeses are less keto-friendly than hard ones. The reason behind their softness is lactose, which is a type of sugar found in dairy products (that's exactly why we can't have regular milk on keto!)
Choose from the following low-carb cheeses at MOD Pizza:
Asiago: 1g net carbs
Cheddar Cheese: 1g net carbs
Feta Cheese: 2g net carbs
Gorgonzola: 1g net carbs
Mozzarella: 1g net carbs
Parmesan Cheese: 2g net carbs
Sharp Cheddar (limited locations): 1g net carbs
Whatever you choose, stay away from their dairy-free cheese at all times! A single serving will cost you 8g of carbs.
SUGGESTED: Is Pepper Jack Cheese Low-Carb?
Low-Carb Beverages at MOD Pizza
MOD offers a wide range of beverages to sip along with your favorite pizzas! But if you are on a weight-loss diet, don't fall into the trap for "drinking your calories" (or carbs, in case of keto!)
Let's face it – A dining experience feels incomplete without an accompanying drink! There's a high chance you'll give in to your soda temptations without having a proper plan in place.
Here are all the low-carb drinks available at MOD Pizza:
Unsweetened tea: 1g net carbs
Diet Coke: 0 carbs
Coke Zero: 0 carbs
Gold Peak Unsweetened Black Tea: 0 carbs
Every other beverage from their menu is ridiculously high in carbs!
Tip: Always carry a sachet of Splenda/Stevia to sweeten your unflavored beverages. They have zero carbs and taste just like real sugar.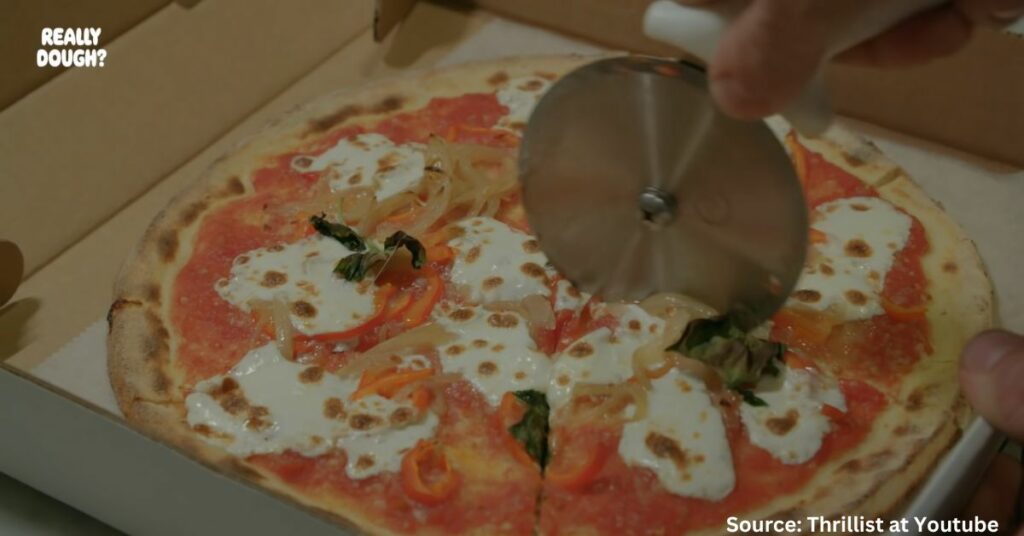 Conclusion
So can you eat Keto at MOD Pizza?
Ordering keto at MOD pizza is super simple, thanks to their ease of customization! They have tons of low-carb toppings and sauces to suit your taste buds. Sadly, their much popular Cauliflower Crust is not at all keto-friendly. It has the same number of carbs as a regular pizza crust!
But here's the good news: You can build your own salad live in front of you. Choose from your favorite low-carb meats, veggies, and dressings for a perfectly keto-friendly salad.
NEXT: